The Great Lakes Geek has always been fortunate to live near a physical library. But many, especially in rural areas, have had to rely on Bookmobiles to deliver books.
Now that we have digital content, Internet delivery capability and great software from Cleveland's own OverDrive, Inc. people can download all kinds of digital content 24x7 from any Internet connection to almost any device.
The OverDrive Bookmobile travels the continent showing people what they can do and how easy it is.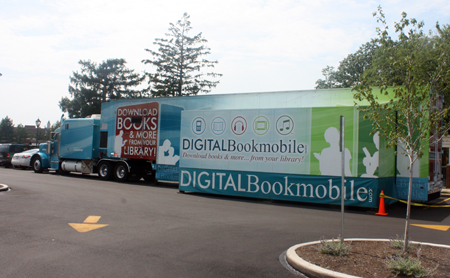 Since 2003, OverDrive has partnered with more than 7,500 public libraries to develop 'Virtual Branch' download websites. As library partnerships grew, so did the need for an outreach program to complement the libraries' promotional efforts: The story of digital audiobook, eBook, music, and video downloads from public libraries needed to be told on a larger scale.
OverDrive CEO Steve Potash, inspired by the exceptional growth of OverDrive's public library partners, had an idea: Develop a mobile space where library patrons in North America could discover and interact with a library's download website. It would be part patron education vehicle, part training center, and part family fun area. The result would be the Digital Bookmobile, an immersive download experience for readers of all ages.
The Geek caught up with the Bookmobile at Shaker Heights Public Library and took a quick tour.
Personal note - It turns out that my tour guide Dan Conochan is the son of my old friend and football teammate Pat Conochan from back in the day.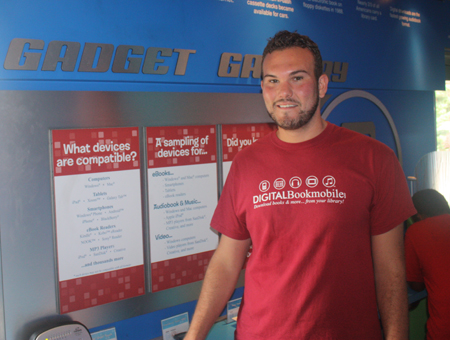 OverDrive's Dan Conochan in Bookmobile



The Digital Bookmobile is a community outreach vehicle for public libraries to promote downloadable eBooks, audiobooks, music, and video. Developed inside a 74-foot, 18-wheel tractor-trailer, the nationally touring vehicle is a high-tech update of the traditional bookmobile that has served communities for decades.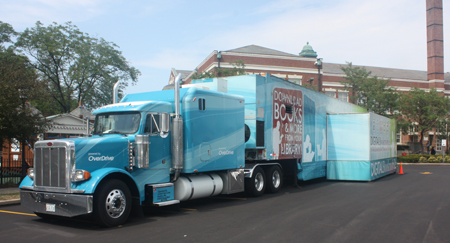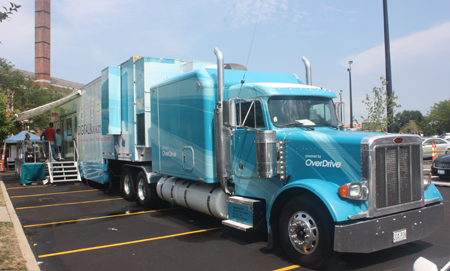 The semi-tractor trailer vehicle is 74' long, 8' 6" wide, and 13' 6" tall. Fully deployed, the clear set-up area needed is approximately 74' long and 23' wide.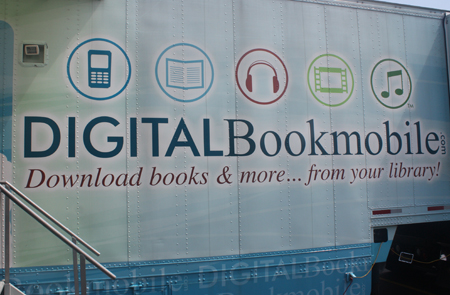 Inside, the Bookmobile is a Geek's dream. It has:
Three 53" high-definition televisions
Three 46" high-definition televisions
Six interior PC computer stations
Four exterior PC computer stations
One Mac computer station
Gadget Gallery with eight high-tech portable devices for demonstrations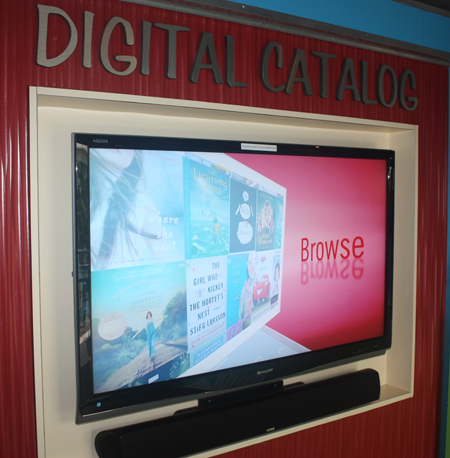 It's equipped with onboard broadband Internet connections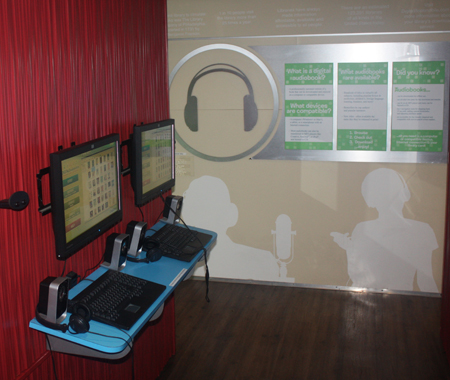 If you visited the Bookmobile you would know the answer to this question. What was the first electronic text ever created? If you are first to answer correctly you will win a prize from the Great Lakes Geek.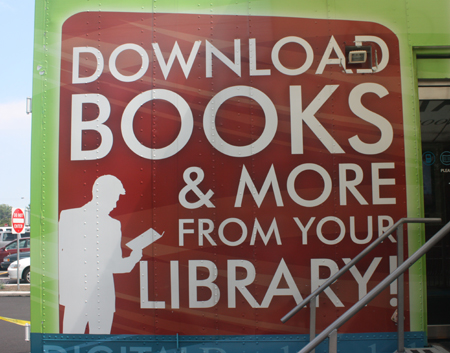 The Digital Bookmobile is just another example of the tremendous vision of Steve Potash and OverDrive. It's terrific to have the leading expert and company in the digital content space right here in Cleveland.
---
Top of Page

Back to Great Lakes Geek Events

Back to OverDrive CEO Steve Potash podcasts