After listening to Joe Tait as Voice of the Cavs for so many years it was hard for all of us to hear that he was sick. Then we felt relief that he was recuperating and finally a little melancholy that he was retiring.
So it was with eager anticipation that hundreds of people flocked to the Corporate Club luncheon put on by Executive Caterers at Landerhaven on January 19th to hear Joe Tait and Plain Dealer sports reporter Terry Pluto talk sports.


Joe Tait and Terry Pluto



Moderated by Fox 8 Sports Anchor John Telich an interesting look into sports - especially basketball ensued. Tait admitted he does not follow the games anymore - he is in all aspects of the word - retired. This is not to say he didn't know quite a bit about Kyrie Irving and Byron Scot, He is excited about both of them.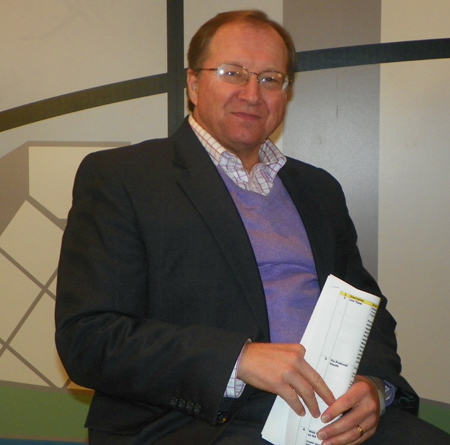 John Telich



Together Tait and Pluto have written Joe Tait: It's Been a Real Ball (Stories from a Hall-of-fame Sports Broadcasting Career)
a book that has both chronicled Joe's life and Cleveland sports.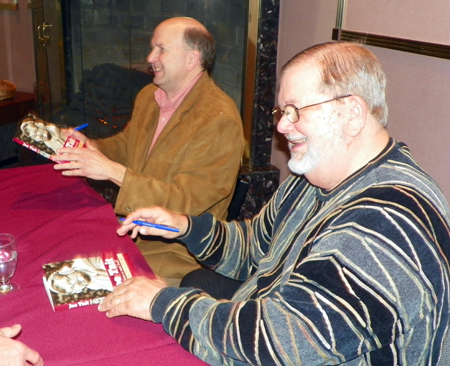 Terry Pluto and Joe Tait signing books



So many of the names and stories they talked about brought up memories for the audience"
"The Shot"
Rick Mahone's crushing cheap shot directed at Mark Price
Miracle at Richfield
The Danny Ferry for Ron Harper trade
Lebron James
Joe Tait believes Lebron James is a great player - but with no ability to assume the role of leader.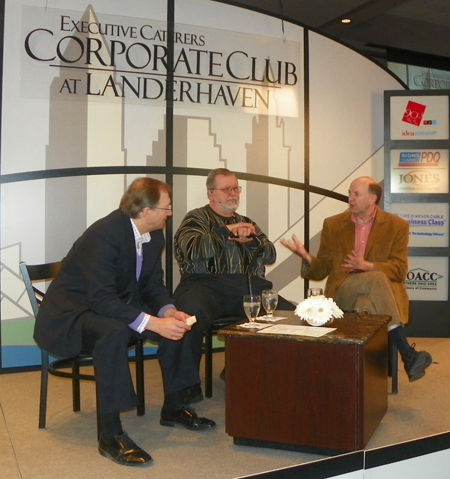 John Telich, Joe Tait and Terry Pluto



The conversation was full of interesting facts and opinions. For example, Tait would like to have seen World B Free's number retired, and often argued with Wayne Embry about it.

He thinks Dan Gilbert is the perfect person to be the owner of the Cavs at this time and doesn't hesitate to list Danny Ferry and Austin Carr among his all-time favorite players. "With a good set of knees his (Austin Carr) record would still be unstoppable today."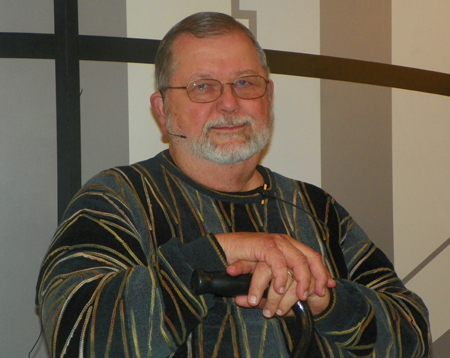 Joe Tait at Landerhaven Corporate Club



Tait is known for his signature lines such as 'WHAM with the right hand!', 'the Detroit Pistons just got Booby-trapped', 'To the line, to the lane...' and so many more. Pluto is known for putting together a story that makes you feel like you were there. They both know their stories and their audience. Together, their book is a must-read for sports fans.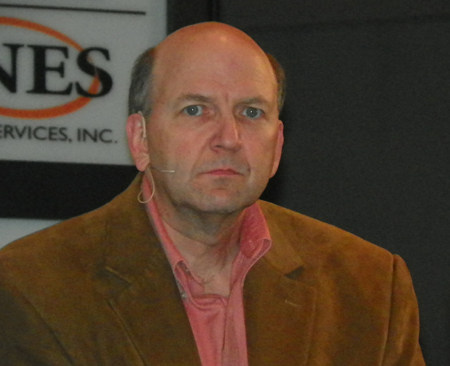 Terry Pluto



Joe Tait once told ClevelandSeniors.Com that he would never write a book. "It's not worth it. People could be embarrassed or families could feel bad. I would never do that. Someday I'll be sitting in the county home in a rocking chair telling my stories and nobody will believe me then. But I could never exploit other people for my own benefit."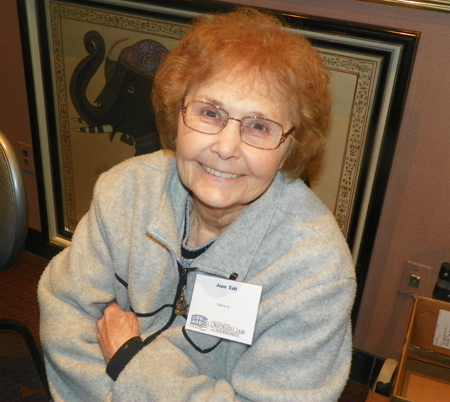 Joe Tait's wife Jean



Although the book is written, the sentiment is the same. He did not exploit anyone in his book, nor did he write anything that would embarrass anyone.

As always, Corporate Club provides a wonderful venue and an opportunity to listen to and meet some of our favorite experts in their field. You never know who you might see there.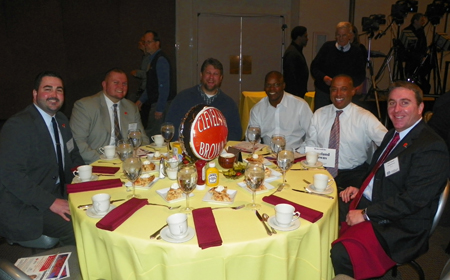 Cleveland Browns table - Matt Wilson, Eric Lapointe, Anthony Dick, Kevin Mack, Robert Perry and Jason England


---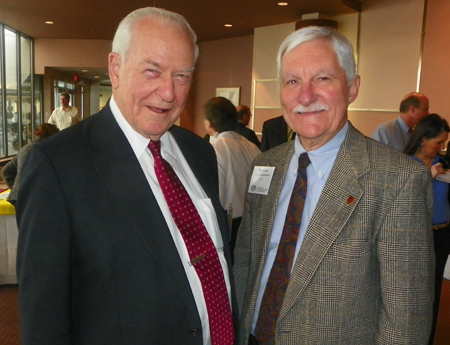 Dick Pogue and Paul Stephan


---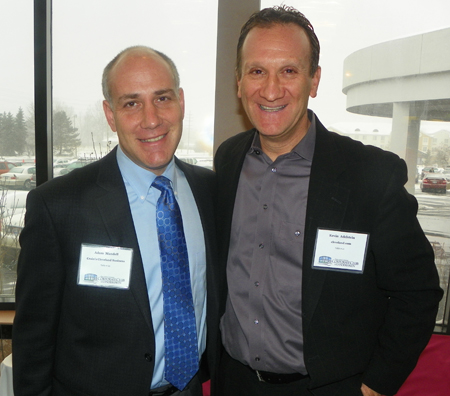 Adam Mandell and Kevin Adelstein


---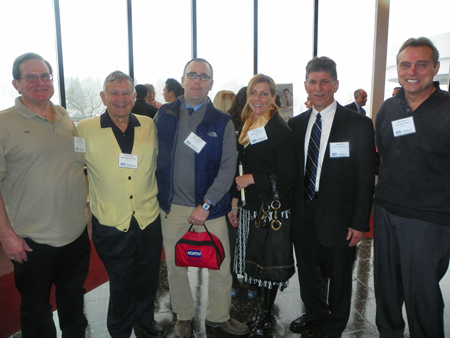 John Carroll University - Hal Daugherty, Doc Daugherty, David Pfundstein, Jane Evans, Regis Siofe and Mike Moran


---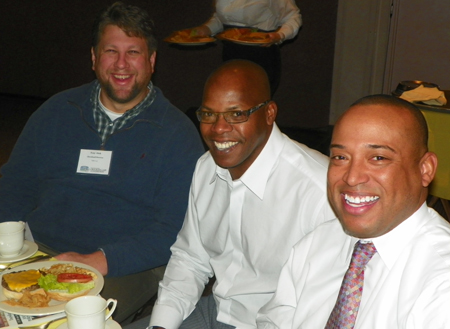 Tony Dick, Kevin Mack and Robert Perry at the Browns table


---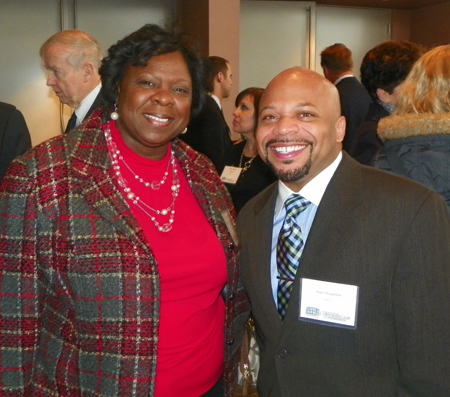 Ellen Thrasher with Sean Singleton


---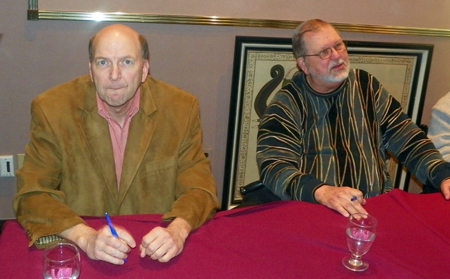 Terry Pluto and Joe Tait


---
The February Corporate Club, titled, Cleveland Rocks - 2012 Induction Ceremony will feature Rock and Roll Hall of Fame Foundation President Joel Peresman and Rock and Roll Hall of Fame and Museum President Terry Stewart in a discussion moderated by Lee Jordan of Channel 5.

See more about the February 21, 2012 Corporate Club event.
---
Top of Page
Profile of Joe Tait
Back to Great Lakes Geek Events