Putting a Face on Manufacturing. That was the title of a two-day expo produced by The Manufacturing Mart at the Galleria in Cleveland on February 14 and 15, 2012.
The goal was to "rekindle the bond between supplier and OEM through feature breakout sessions presented by industry experts, conversations with some of the best process experts in the world and good, old-fashioned, person-to-person interaction."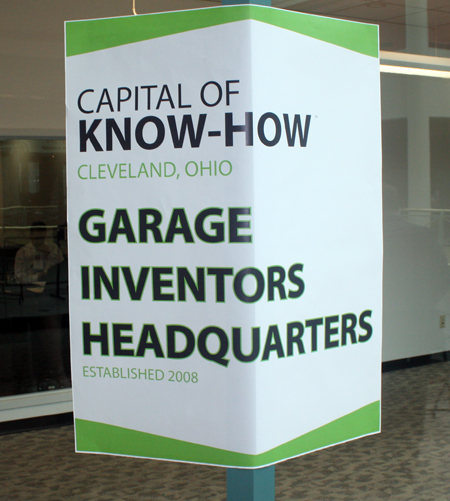 "This is a golden opportunity for Tier 1 and Tier 2 manufacturers and suppliers to make important connections, with the potential to form vital partnerships," says Mary Kaye Denning, president and founder of The Manufacturing Mart. "The Manufacturing Expo will highlight the strengths of North American manufacturing. There are approximately 350,000 manufacturers in the United States, and about 300,000 of these are companies that make the starting materials and parts and pieces. Unfortunately, this is not widely known, and it's high time we let the strength of American manufacturing out of the box."


Astronaut Gregory Johnson and
Manufacturing Mart President Mary Kaye Denning



The Manufacturing Mart officially opened its doors within The Galleria in Downtown Cleveland on November 8, 2010. Cleveland is located within 600 miles of 60% of all U.S. & Canadian manufacturing locations.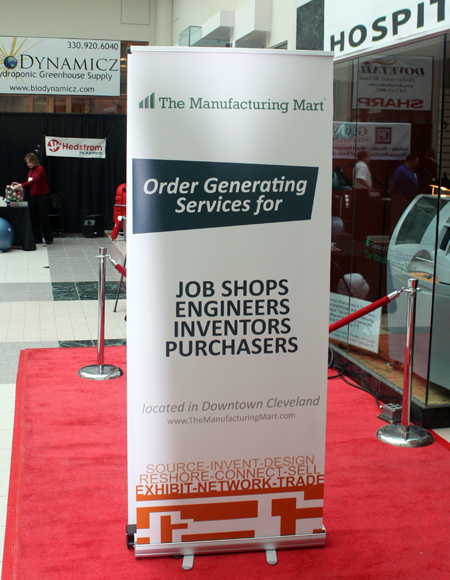 Mary Kaye Denning founded The Mart with the intention of reinvigorating the manufacturing industry in the Rust Belt. Her goal was to unite manufacturers of components, equipment, and consumer products with OEMs. Traditionally, these cutting-edge manufacturers lacked a definitive and effective way of illustrating their capabilities to a hungry OEM market.
The Mart was created to provide just that type of venue. The Mart facility encompasses 3,250 square feet of permanent exhibition space, and will be expanding to 10,000 square feet over the next 18 months.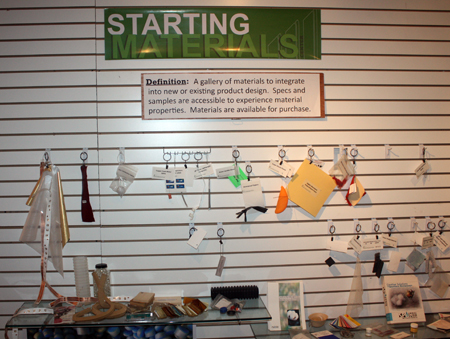 The Manufacturing Mart is a Permanent Trade Show featuring exhibits for North American manufacturers making components, equipment, and consumer products. Through the displays, visitors can find information about North American manufacturing companies and their process expertise.
The displays feature parts and pieces that are made domestically and that are used to build and repair industrial equipment, machines, tools, cars, planes, boats and so on.
On a typical visit one can expect to view several manufacturing processes including multi-axis CNC machining, grinding, milling, boring, water-jetting, tool and die making, injection molding, and fabricating.
The Manufacturing Mart helps purchasers and buyers locate job shops and companies, process expertise and services, and new product ideas. The network of custom manufacturing suppliers is experienced.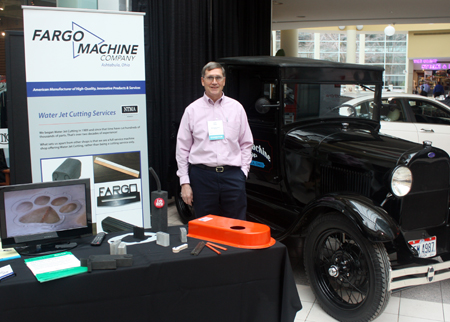 Larry Fargo of Fargo Machine Company demonstrated
their Water Jet Cutting



Most already build components and subassemblies for the top manufacturers - Ford, Honda, GM, Toyota, Boeing, McDonald Douglas, GE, Whirlpool, Caterpillar, Parker Hannifin, Eaton, and hundreds more. The Mart's onsite engineer can assist manufacturers in turning a design into an assembly, explode it into components, create a bill of materials, source the assemblies, and fabricate the product.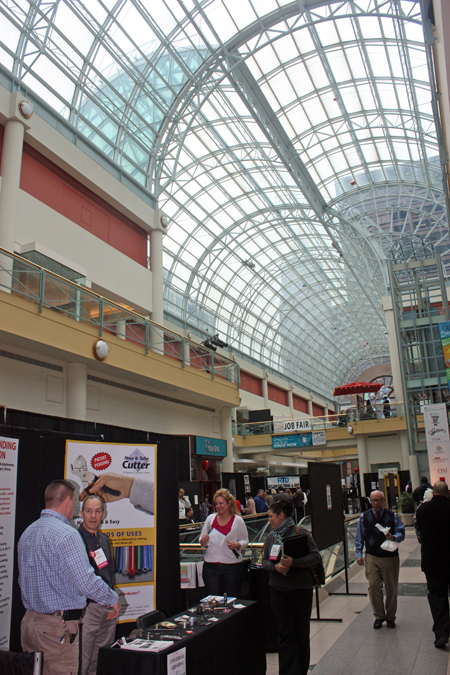 The Expo featured over 150 exhibitors, 3000 North American manufacturers, engineers, inventors and purchasers covering all industries.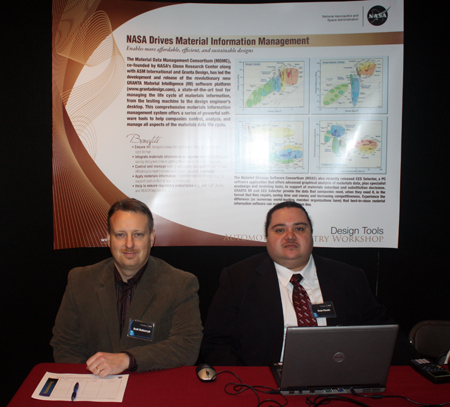 Brett Bednarcyl, Ph.D. and Evan Pineda
from NASA's Glenn Research Center



NASA Glenn Research Center had about 12 engineers with licensable technologies present at The Manufacturing Expo, including advanced single-wall carbon nanotubes, high-temp/low-met resins for liquid molding, advanced materials design and analysis tools and materials data management software.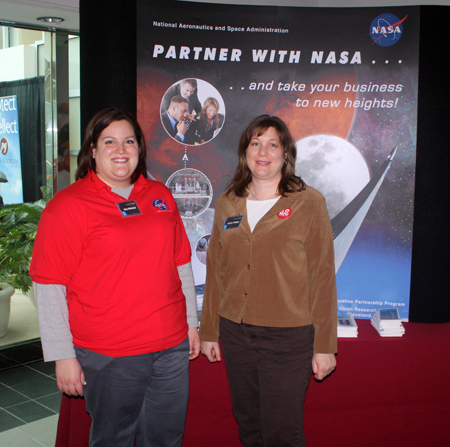 Amy Hiltabidel and Denice Phillips from NASA



"This event presents a significant opportunity to strengthen NASA Glenn Research Center's continued success and its value to the region," says NASA Glenn Director Ray Lugo. "By developing partnerships with local entities, we hope to move commercially relevant technologies farther along the path to commercialization."

Lugo was also one of the featured speakers at The EXPO. He spoke about NASA's role in an Ohio "manufacturing revolution."

Other speakers included Jack Schron, President of Jergens who spoke about A common strategy between manufacturing and politics? and Grady Cope, Chairman, National Tooling and Machining Association, who spoke about Selling Manufacturing to America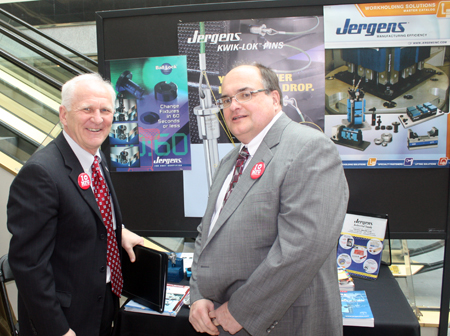 Jergens President Jack Schron and Alan Preis



A popular topic was the new patent law 'America Invents Act.'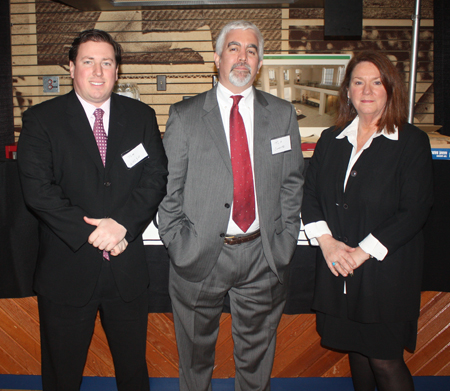 Tom Welsh, Tim Connors and Anne Cummings from Calfee



Tim Connors said that "Manufacturing is an important sector" for Calfee which has 1/6th of its firm involved in Intellectual Property concerns.

AlphaMicron Inc. from Kent, Ohio displayed products using their patented e-Tint technology.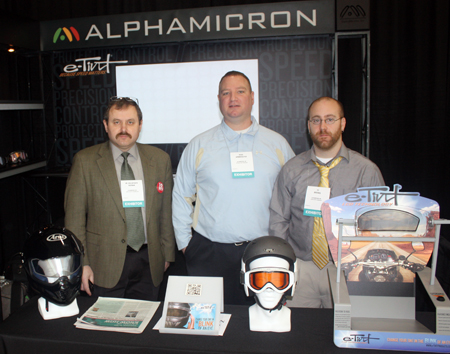 Dr. Volodymr Bodnar, Ross Ambruster and Ty Brooks
of AlphaMicron



Products ranged from visors for US Air Force pilots to consumer applications such as motorcycle tint inserts and energy efficient adaptive windows.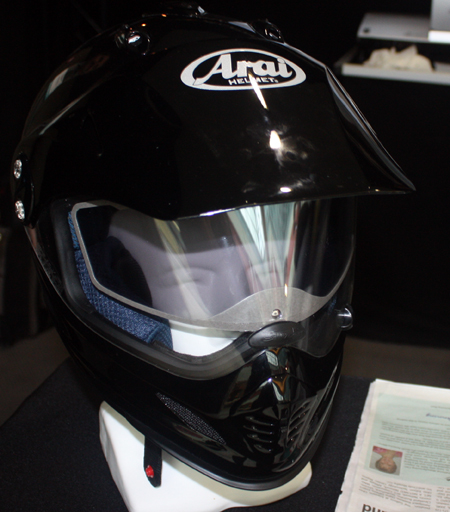 The Liquid Crystal technology can be set for manual or automatic control. I was impressed by the speed that the products returned from a dimmed state.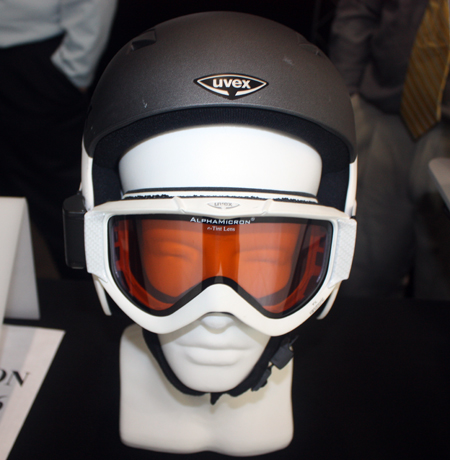 Another interesting technology is Rapid Prototyping using 3-D printing technology. Kevin Johnson of DASI Solutions is an agent for Objet, the 3D printing technology.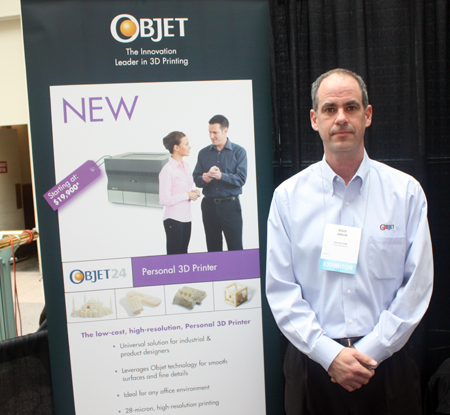 Kevin Johnson of DASI Solution



The printer created 3-D prototypes such as these: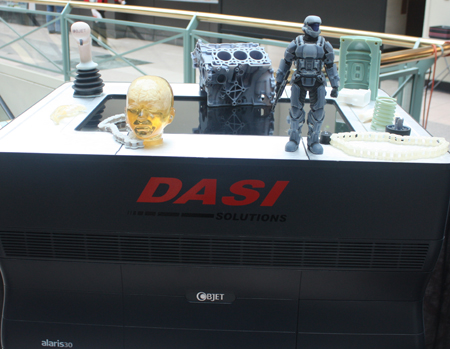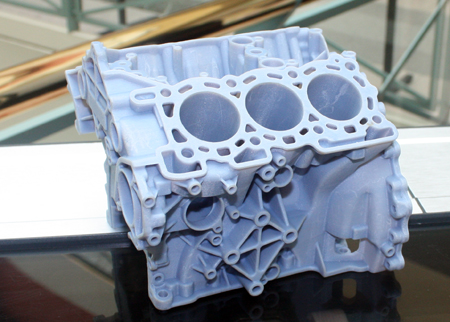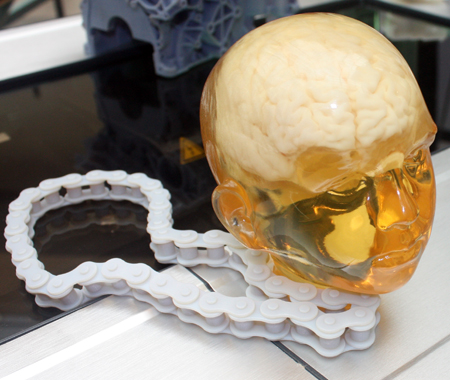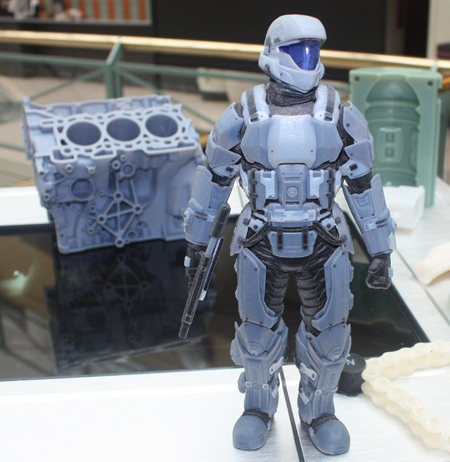 The Expo also had a Job Fair and other exhibitors to facilitate the business of manufacturers.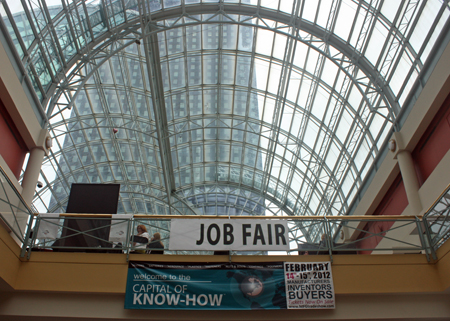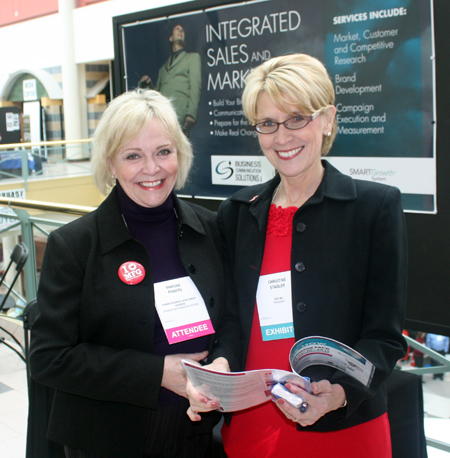 Attendee Marcia Powers with Christine Stadler
of Business Development Solutions, Inc.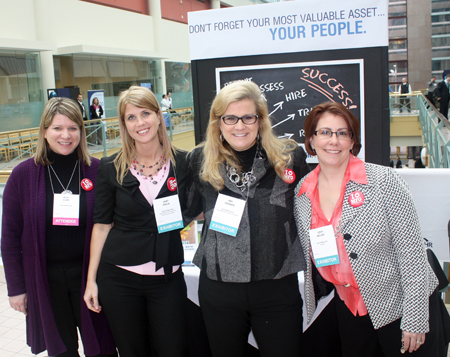 Your Partner in HR representatives Becky Clark, Janet Rohlik, Amy Shannon and Sonya Weiland
Manufacturing has a higher multiplier effect on the economy than any other sector. For every $1 in manufacturing value added, $1.4 in additional value is created in other sectors. (US Dept. of Commerce - EE Times).
The Expo was a well-attended, well-produced event aimed at restoring this important and lucrative sector to Cleveland and the rest of the US. Congratulations to Mary Kaye Denning and her team.
More on the 2012 Manufacturing Expo
---