The Cleveland Indians continue their pioneering efforts re sustainability (solar panels, recycling, etc.) with the installation of a wind turbine at Progressive Field. Assistant director of operations Brad Mohr says they worked on the wind turbine with their neighbors from Cleveland State University.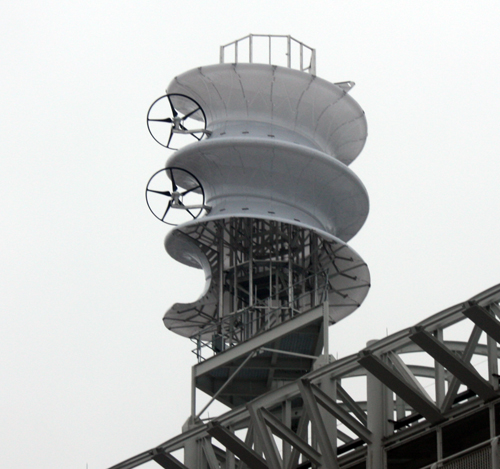 The wind turbine is located on the south-east corner of the ballpark.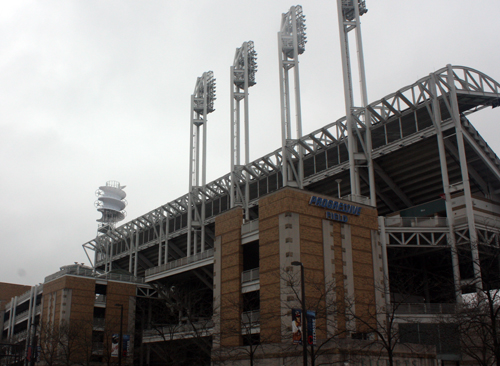 Dr. Majid Rashidi, a professor of Mechanical Engineering at Cleveland State University's Fenn College, is the creator of the innovative "helical wind turbine" design, which amplifies airflow around a central cylinder to power four small turbine fans. This innovative new design is more conducive for urban areas and confined spaces than a traditional long-blade wind turbine and rated at 25,000kWh per year.
A number of local companies also contributed towards the installation: Lewin and Associates assisted in the design, Burghardt Metal Fabricating Inc. built the metal compartments, and Astro Manufacturing & Design created the molded plastic panels.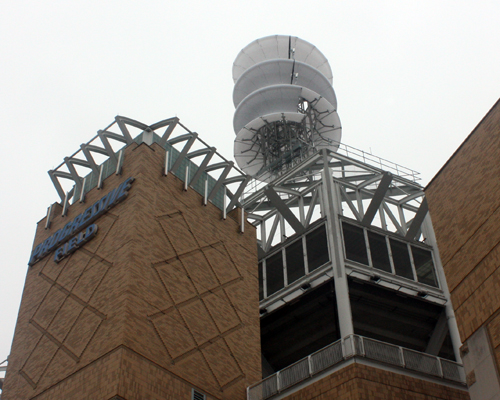 "Dr. Rashidi's new technology is playing a significant role in the advancement of wind energy," said CSU President Ronald Berkman. "We are proud to showcase this exciting new design in our hometown along with the Cleveland Indians, and use this venue to move the technology closer to commercialization."

Development of the wind turbine has been funded through grants from the U.S. Department of Energy and the State of Ohio. The structure installation is an ongoing effort of the Cleveland Indians to continue and promote sustainability initiatives within Northeast Ohio. The organization is the first Major League Baseball team to install a wind turbine. Also, Progressive Field was the first American League ballpark to install solar panels in 2007.

"With this project we hope to not only benefit the environment by increasing our use of renewable energy, but also help an impressive new technology generate local jobs by taking advantage of Cleveland's great manufacturing workforce and factories," explained Brad Mohr, Indians Assistant Director of Ballpark Operations. Working together with Cleveland State we can take advantage of this great opportunity to continue to teach our fans about clean energy technologies."

The Tribe has been a leader in sustainability. Consider these accomplishments:

There are 125 recycling receptacles in the public areas of Progressive Field that recycle cardboard, paper, aluminum, plastic, scrap metal, cooking oil, fluorescent bulbs and ballast, batteries, electronics, organic waste and wood. They have recycled over 625 tons (1.25 million lbs) of materials since 2008. They also compost unusable food items, Progressive Field grass clippings and other organic materials.

Retail bags within all Indians Team Shops are biodegradable and they use Green Seal 100% recycled content paper products throughout the ballpark.

The Cleveland Indians were the first American League ballpark to go solar in 2007. Green Energy Ohio partnered with Doty and Miller Architects to design and install the 42 GE solar panel array. The solar installation is rated at 8.4 kilowatts of clean, renewable electricity and over 38,500 Kilowatt hours of electricity has been produced.

Unused food and materials are donated to the Cleveland Foodbank after home games. Over 18,400 pounds of food has been donated which converts to 14,300 plus meals to assist those in need.

---
Cleveland Indians and Social Media

Cleveland Indians 2012 Season Preview
Albert Belle's return, Food, Fun Facts and more


---