If you think a "Microsoft Store" doesn't make sense because Microsoft is "just a software company", you need to visit the new Microsoft Store in Beachwood Place. Before this, the nearest Microsoft Store was in Cincinnati. Now Cleveland and NE Ohio have our own.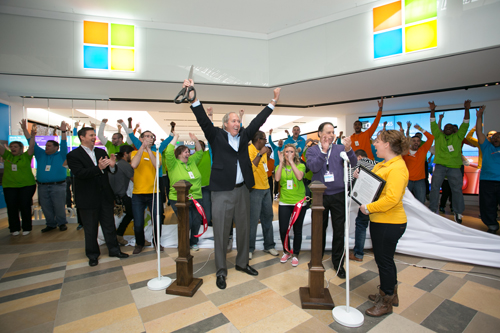 John Fikany, general manager, Heartland District cutting the ribbon on the new Microsoft retail store in Beachwood Place mall



The Microsoft Store is located on the lower level of the Mall in the Nordstrom wing. Right across from the Lego store.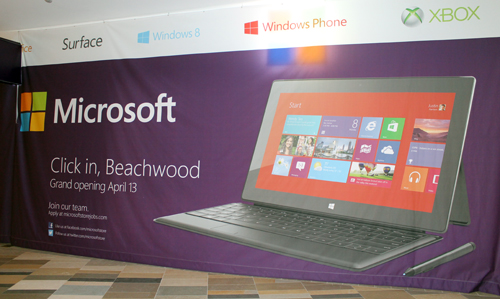 Outside the new Microsoft Store



Don't expect sterile shelves of boxes of Word or Excel. The store is bright and colorful and designed to let customers come in and try the latest and greatest technology from Microsoft and their partners.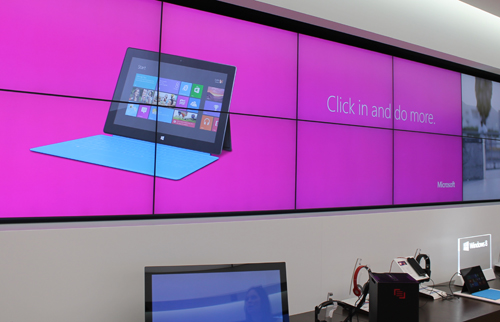 You will be instantly drawn to desks, almost in a lab or library arrangement, featuring various models of one of the coolest technologies, Microsoft Surface. You can see Surface devices running both Surface RT and Surface Pro. Don't worry if you don't know which is better for you. There are helpful tech advisers on hand to answer your questions.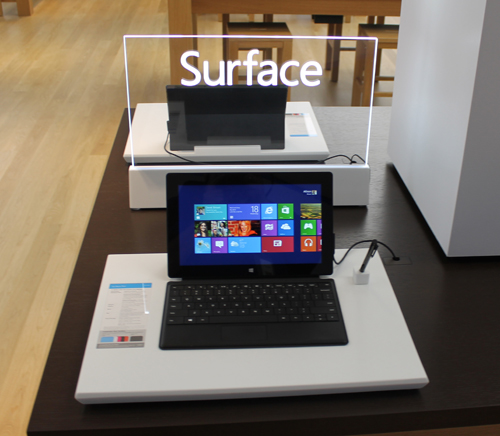 The Great Lakes Geek hasn't decide yet which Surface to get. The RT version is sleek and light and the 8 hour battery life is appealing. The Pro model will let me work on larger files and more like a typical desktop with only a slight increase in weight. Either way, you can get 16:9 widescreen, ClearType full HD display with 1080p resolution. Use touch, a pen or the keyboard whenever you want. And the builtin kickstand makes it really handy to use.

Or maybe I should get a convertible or ultra-light device. All come with apps that are fun and will appeal to social media types as well as business people. Need to get to Excel real fast? Just snap the aps to the side of the screen and check the spreadsheet.

Windows Phone, with the cool Windows 8 user interface, is also featured in the Microsft Store.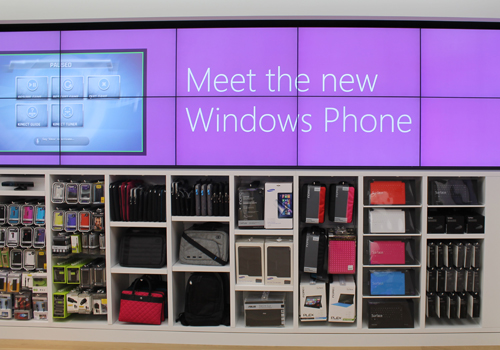 The live tiles and the robust customization are features I wish my Droid had.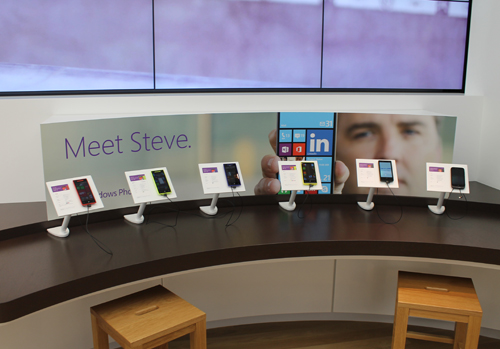 It's all based on Windows 8 and if you haven't experienced Windows 8 yet, the Microsoft Store is a good place to check it out and get your questions answered.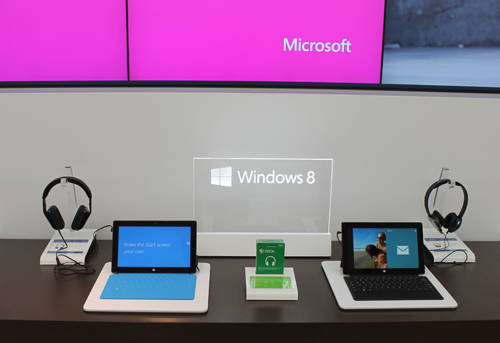 Don't believe the rumors that there is no longer a Start Screen. You can still choose the traditional Start button but once you try the tiles, especially the live tiles, of the new UI, you will be reminded that the Start button is technology from Windows 95!
And yes there is still Bitlocker encryption, Windows Defender, Windows Update, the ability to run Office and connect to the company network and so on.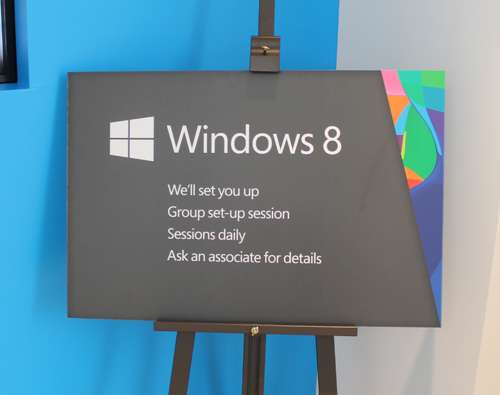 If you are still an XP user (you know who you are), you may want to take advantage of the services offered at the Store to get you up to speed on a modern OS.
Besides asking experts at the Answer Desk, there is a theater space in the store that has a 103" touch screen display. In this area, groups (up to 35 max) and individuals can meet and learn and have fun. They have Tech Talks for 3-5 year olds and other classes for people of all ages.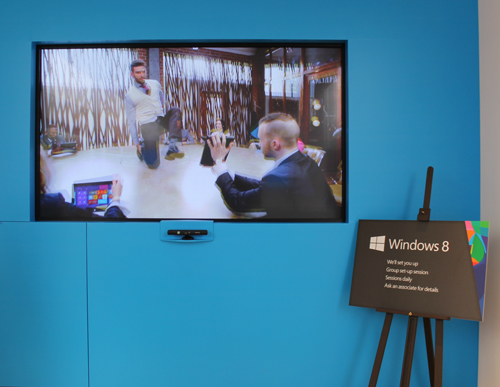 103 inch touch screen in Microsoft Store



Of course, games are an important part of the store. There are areas where you can play Xbox, try Kinect and check out the latest games.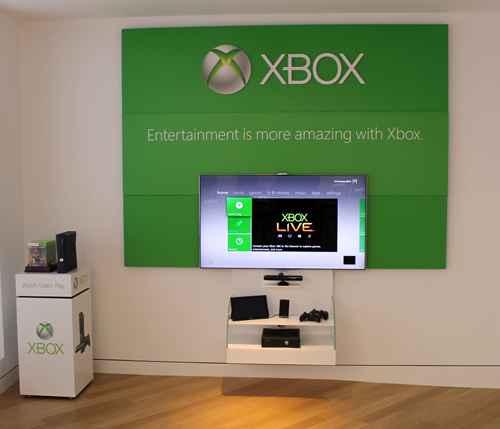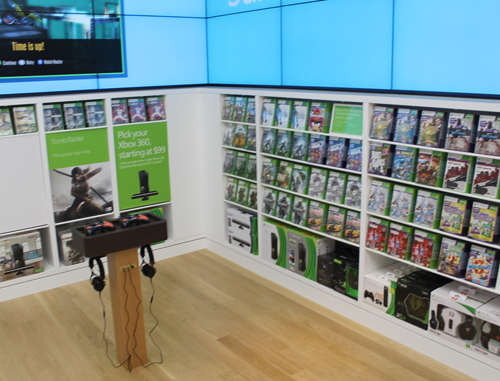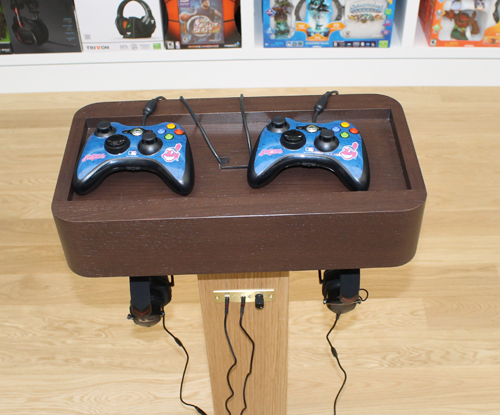 Store Manager Stacey Vyas promises store specials and midnight madness sales.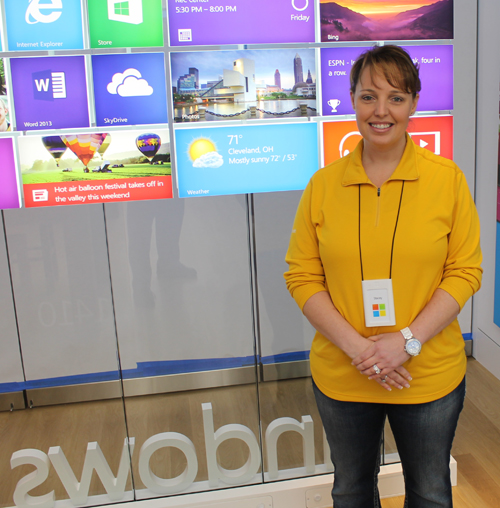 Microsoft Store Manager Stacey Vyas



Until you can visit the Microsoft Store in person, watch this preview interview with Microsoft Store Manager Stacey Vyas as she explains some of the features of the store.
---
Top of Page
Back to Great Lakes Geek Events