First for all you GiveCampers who are looking at this. Yes, I know the Great Lakes Geek site needs an update but the content gathering and producing has taken lots of time leaving little left to work on site updates and redesigns.
GiveCamp is a weekend-long event where software developers, designers, database administrators, project managers and creative professionals donate their time to create software and web-based applications for non-profit organizations. The Cleveland GiveCamp event takes place at the LeanDog Boat (former Hornblowers) and Burke Lakefront Airport on the shores of Lake Erie.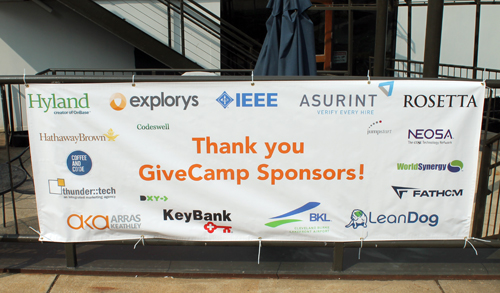 And yes, many of the volunteers do camp out.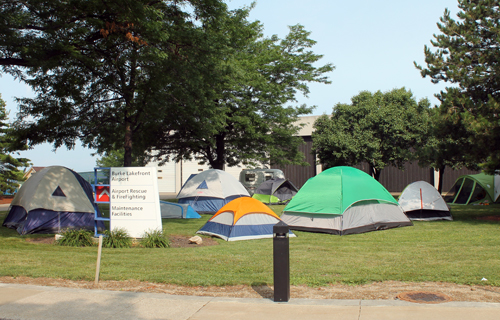 I had been to a GiveCamp before, in 2012, as an observer and to write some columns about it. Check out my 2012 impressions and some photos and videos.

This year I attended as a representative of one of the 21 non-profits that were selected for help. Computers Assisting People (CAP) has lots of great hardware focused volunteers but our website was dated HTML and we didn't have the volunteer resources to update it. CAP volunteers have refurbished over 15,000 PCs and countless peripherals and donated them to over 450 schools and non-profits in the Cleveland area. Check out the new CAP website.

There was an intro meeting at LeanDog the week before the event to explain what we needed to bring, how it would work and so on. In addition we had voice and e-mail conversations with team leaders (Howard Pearce and Cath Smith in our case) before the weekend.

Once we had some details I let the CAP volunteers know about the weekend and asked who could attend one or more days. Arthur Phelps was there much of the weekend and Len Nagel did all day Saturday.

The event began with a cookout (tons of food all weekend - thanks Team Z! and sponsors) and an orientation to meet the project teams.

Mark Schumann cracked us all up in his introduction.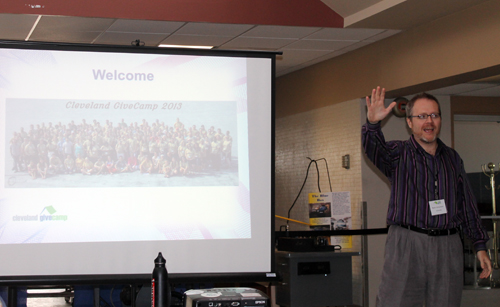 Mark Schumann



Andy Craze was supposed to be the bad cop but he's too nice a guy and too well-respected.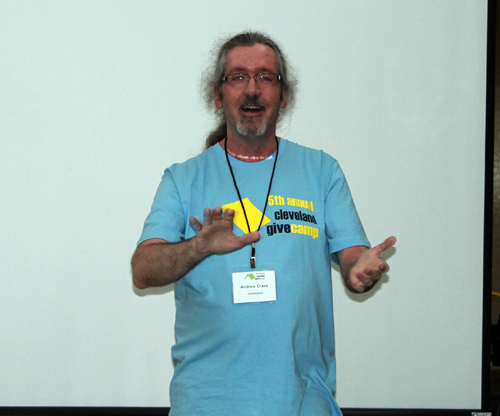 Andy Craze



Project teams got together and began the weekend of intense work. I really liked their practice of having StandUps. StandUps are regularly scheduled (4 hours apart max) meetings of project team leaders (and anyone else) to give short updates, determine needs, shift resources and so on.

The meeting is kept short because all are standing up. Very effective. Here are some shots from one of the StandUps.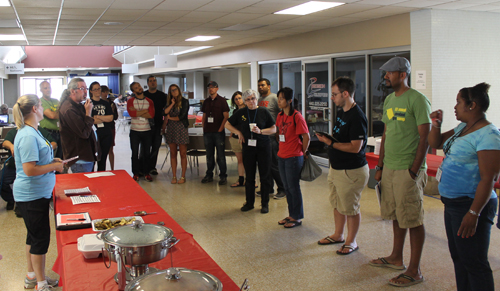 ---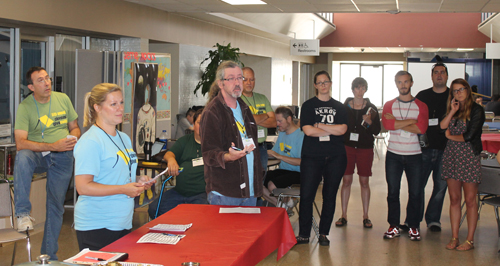 ---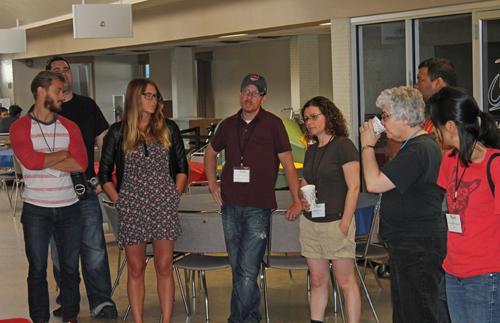 ---
---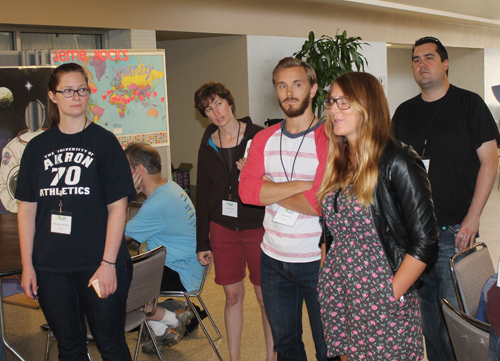 ---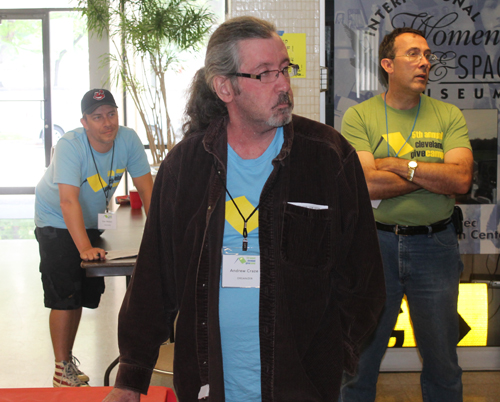 ---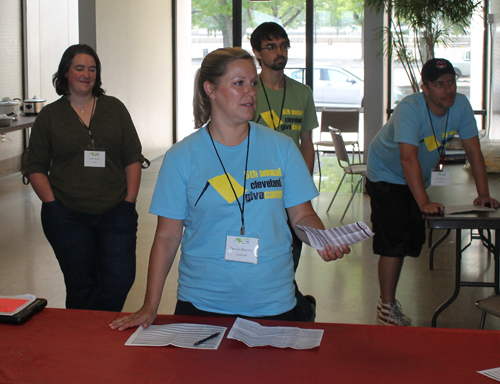 ---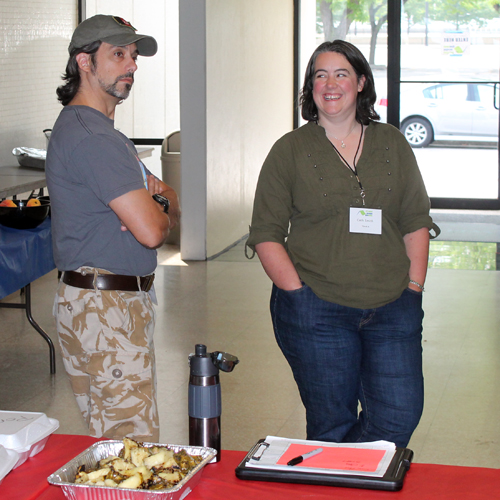 ---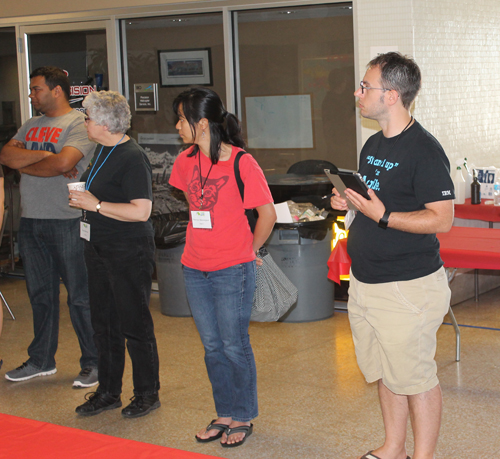 ---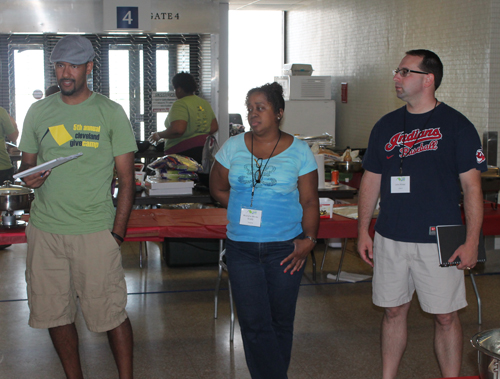 The 2014 Cleveland GiveCamp was extremely successful - batting 1.000 in assisting 21 of the 21 non-profits chosen. See a short video of each of the 21 projects.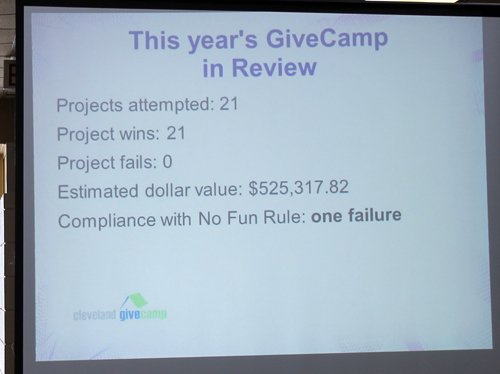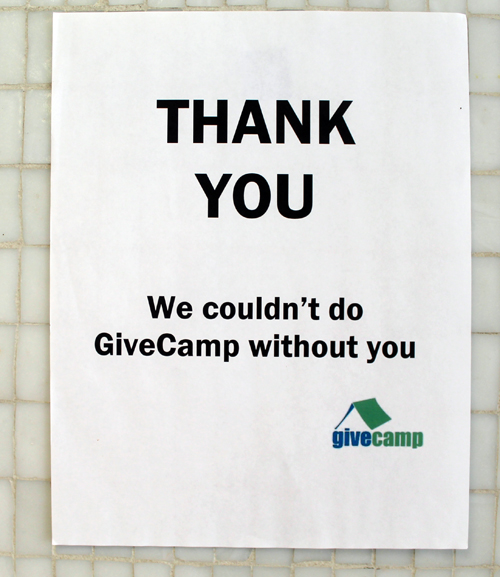 At the end of the 5th annual Cleveland GiveCamp weekend, Steering Committee member Mark Schumann gave a review of the event. The estimated dollar value of services to the 21 non-profits was over $525,000.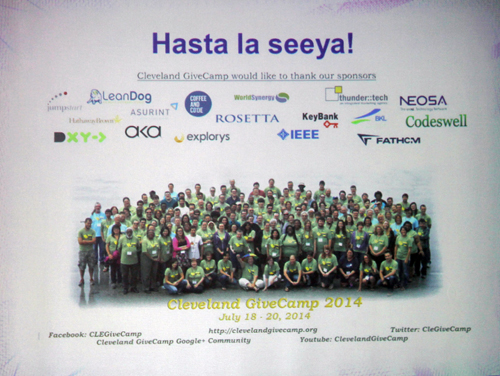 ---
The People Page - Some of the GiveCampers in action
The 21 projects from Cleveland GiveCamp 2014
---
Top of Page
Back to Great Lakes Geek Events