Despite the historic low temperatures, the Rotunda of City Hall was full of well wishers as Cleveland Mayor Frank G. Jackson took the oath of office for the 3rd time on Monday morning January 6, 2014.
Since the Cleveland Schools were closed because of the weather, a member of the Cleveland Police Department stepped in and led the crowd in the National Anthem to begin the ceremony.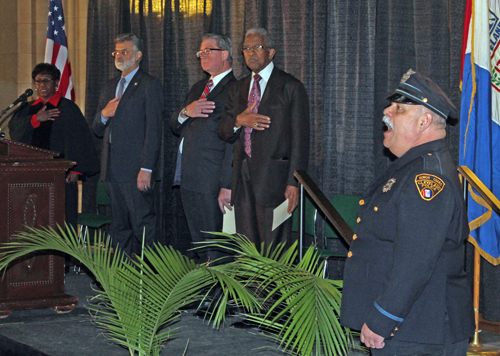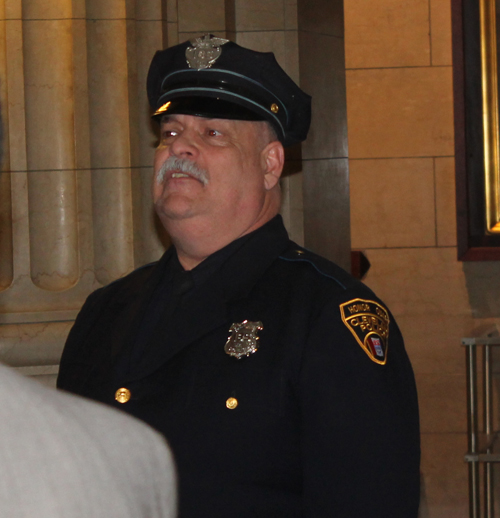 Next, Reverend Kenneth Chalker gave the Invocation.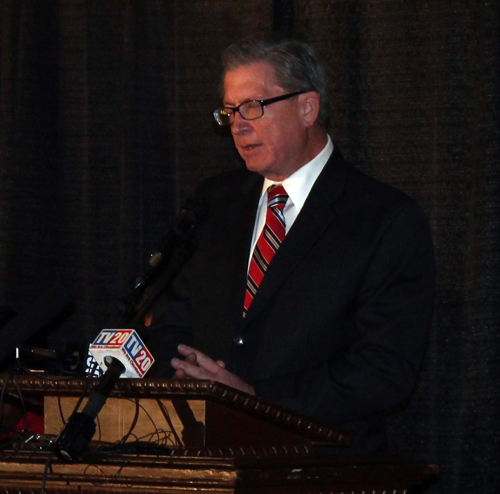 Reverend Kenneth Chalker



Then the Honorable Patricia Ann Blackmon made a few remarks before administering the Oath of Office to Mayor Jackson.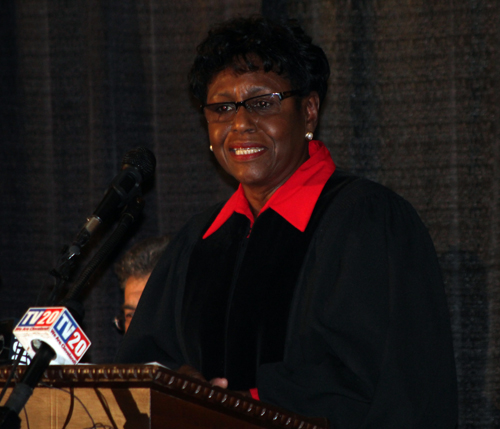 Honorable Patricia Ann Blackmon
Honorable Patricia Ann Blackmon administering the Oath of Office
to Mayor Frank G. Jackson



Following a standing ovation from the crowd, Mayor Jackson then gave his inaugural address. Here is a transcript of the prepared remarks from the Mayor's Inaugural Address.

Good morning. First, I want to thank Judge Blackmon for being here.

I also want to thank you for your support throughout the campaign. I want to recognize my wife, Edwina and my family who are here today. When you're in these positions you spend a lot of time away from your family.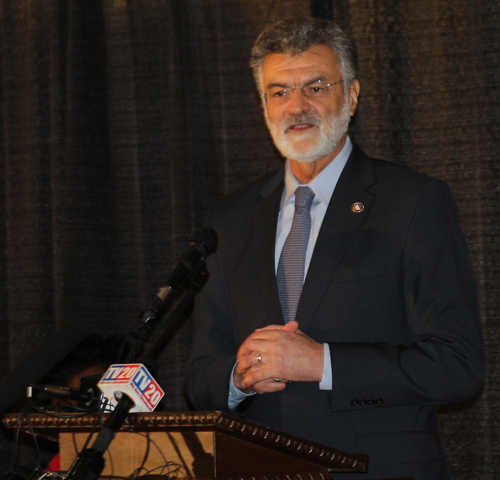 I want to give a special thanks to Mr. Arnold Pinkney who could not be here today. He was my first campaign manager and intricately involved in my second and third campaigns for mayor.

I want to thank those who voted for me and put their confidence in me. Public service is a great calling but it is not for everybody. Those who chose it and work at it and do well at it have the greatest opportunity to make substantive changes for our community and individuals. It is a great calling. It is an honor to serve you as Mayor. I believe that whatever you campaign on is what you should accomplish in office. And all of what we do and all of our individual initiatives must be tied to the purpose.

My purpose has not changed: My purpose is to leave the city of Cleveland better off and the measurement of that success is whether the least of us is better off. Then Cleveland will be a great city. Cleveland is right there and positioned for greatness.

But there is much work to do to institutionalize that pathway to success and greatness. It starts with education.

We are well positioned with the Cleveland Plan for education, the Transformation Alliance and the Higher Education Compact; but these initiatives are not institutionalized yet.

The Cleveland Plan for Education has given us the tools to be successful. Now, it is about implementation. Our failure to implement will result in the extinction of the public education system as we know it in the City of Cleveland. This will not be in the best interest of our children, high performing charters, unions or the city of Cleveland.

The Transformation Alliance has challenges in fulfilling its purpose of monitoring charter sponsors and will be seeking legislative changes to be better able to meet its purpose.

The Higher Education Compact is making good progress, but is heavily dependent on the success of the Cleveland Plan, the Transformation Alliance and the ability of our children to receive financial support. The State has changed how it measures college and university success from enrollment to completion. I and the Higher Education Compact are in support of this new measurement, but we are concerned that colleges and universities will meet the new standards by restricting access.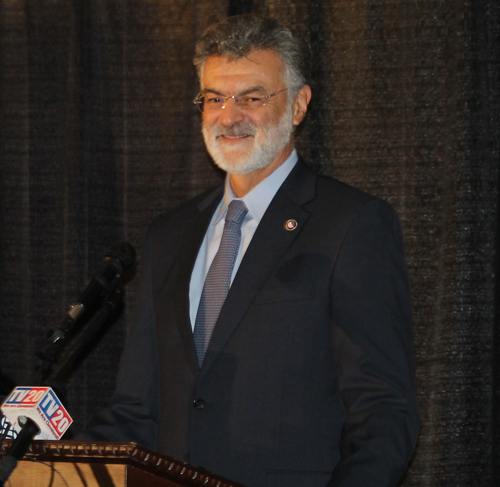 Cleveland is also well positioned for prosperity. Billions of dollars of investments and development have occurred in Cleveland over the last few years. The only question is if the people and businesses of Cleveland and the region benefited from it. Some progress has been made but not enough. The Community Benefits Policy is designed to better ensure success. Equitable sharing of prosperity and true economic empowerment are essential to fulfilling the purpose of being a great city. Again, implementation is key.
Over the next four years, we will focus on entry to the building trades and skill development, as well as ensuring business opportunities for local, minority and female companies. We will also work to eliminate barriers to employment and business opportunities. We will encourage the private sector to give opportunities to ex-felons and others with barriers.
All of this cannot and will not happen without sound fiscal and budgetary management. Sound fiscal and budgetary management will create stability and the certainty needed for investment and economic growth. The city of Cleveland is well positioned in this, but we are not completely there. Our goal was to be structurally balanced for 2014. We did not achieve that goal; but we will be balanced for 2014 and are closer to our goal.
The city of Cleveland survived the worst economic crisis in decades and the loss of tens of millions of dollars in revenue from the state. Despite these two major events, the city of Cleveland has not only survived, but has done better than many other cities in investments and economic growth. This happened because of sound fiscal and budgetary management. There is still work to be done to institutionalize a structurally balanced budget; but it will be done. A structurally balanced budget is essential to meeting the city's bottom line of delivery of quality city service. An equitable and uniform delivery of quality city service to all of our citizens, businesses and visitors is part of the quality of life that is a measurement of our success.
A major indicator of successful delivery of quality of life is public safety. At one time, crime was concentrated in Cleveland and only in certain parts of Cleveland. That is no longer the case. Crime is broadly spread throughout the city and suburban communities.
Our ability to address crime depends on our ability to cooperate across boundaries with federal, state and local law enforcement agencies. We have had some success but much more work is needed. We will put greater emphasis on drug and gun trafficking as well as enforcing basic laws of Cleveland. The police by themselves, however, cannot resolve the problem of crime.
Crime is a symptom of a greater ill that we are addressing through education and access to wealth and prosperity but also through building a Healthy Cleveland and creating a Sustainable Economy.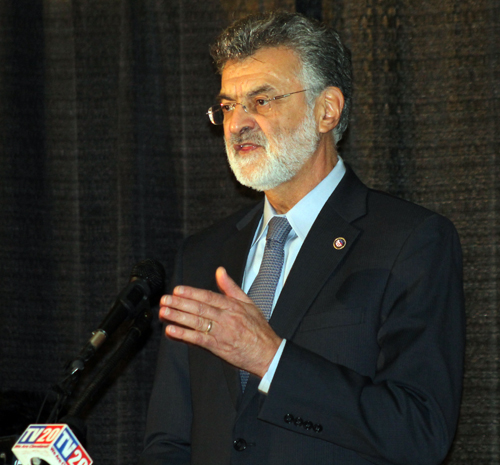 A Healthy Cleveland is one in which Clevelanders have access to preventive care; have resources to fight and prevent chronic illnesses like diabetes and heart disease; can get help with drug addiction and mental health issues; with neighborhoods that are walkable, have green space and access to local foods; neighborhoods that are invested in a way that builds on their strengths and addresses their weaknesses.

A Sustainable Economy will make the best use of our financial and environmental resources to grow our economy without further jeopardizing our natural resources, improving our environment and creates employment and business opportunities locally that will help Clevelanders prosper in an equitable manner. These are some of the things that I campaigned on and have spent the past eight years building. Any one of these alone would be a nice accomplishment but would not be sufficient for meeting our purpose of making Cleveland a great city; but together, these initiatives will create a sustainable future for the City of Cleveland.

When we institutionalize these initiatives, then we will become a city of choice – where businesses choose to invest and create economic growth; where people choose to live because there are job and business opportunities; where there are excellent schools; where there are safe and healthy neighborhoods with excellent city services; where people choose to immigrate to from across the country and around the world.

A city where everyone is better off as a result of the work we do. When we accomplish all of this, then Cleveland will be a great city.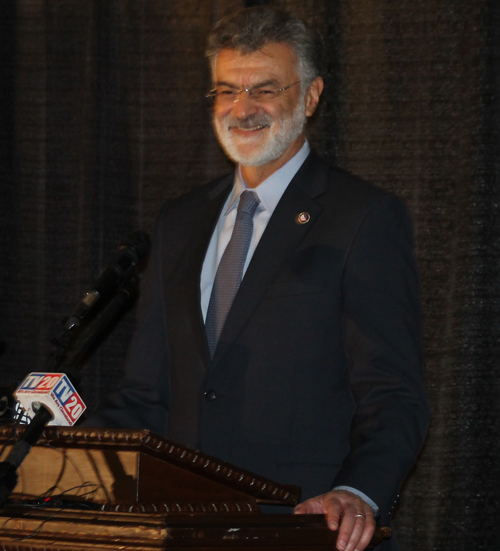 After another standing ovation, the formal event closed with a Benediction from Bishop F.E. Perry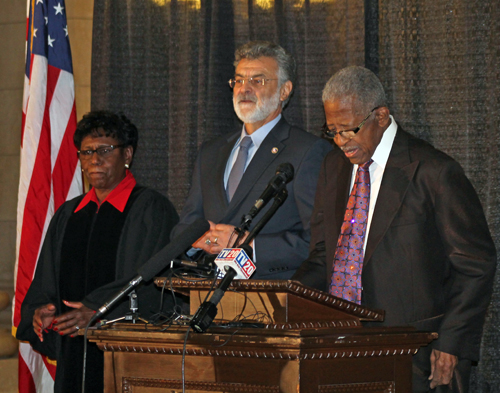 Judge Blackmon, Mayor Jackson and Bishop F.E. Perry



Everone wanted their picture taken with the Mayor during the recpetion after the formal program. Enjoy these images from the event.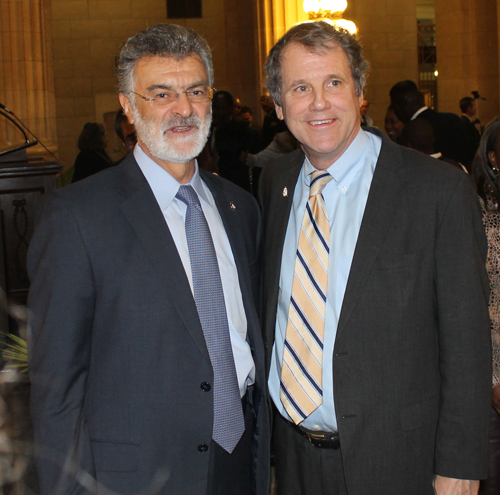 Mayor Frank Jackson and Senator Sherrod Brown


---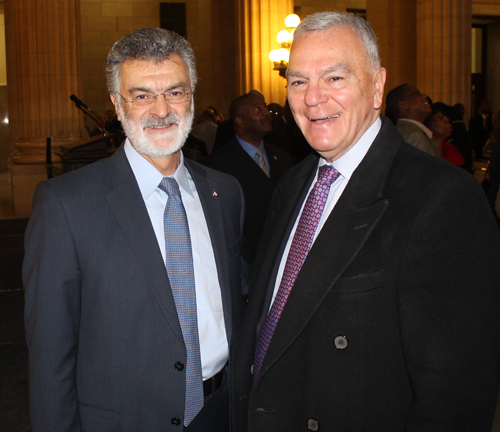 Mayor Frank Jackson and Alex Machaskee


---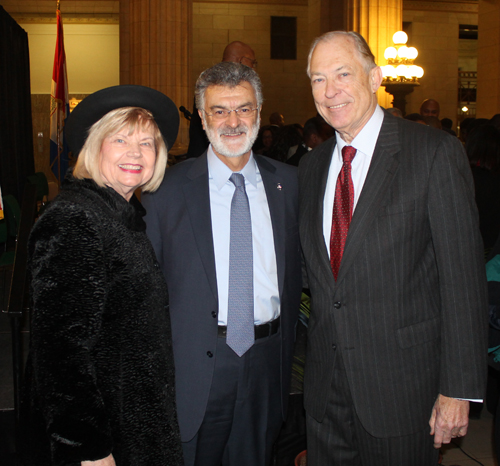 Lithuanian Consul Ingrida Bublys with husband Romas
and Mayor Frank Jackson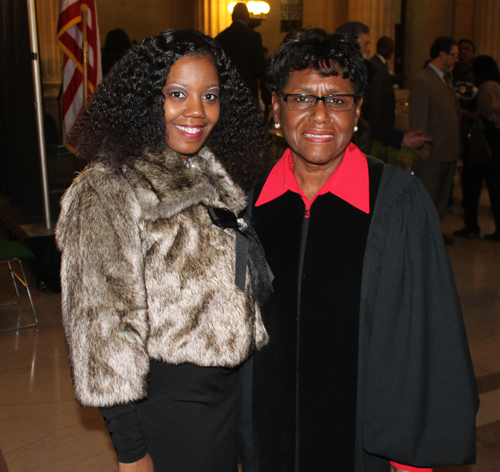 Chief Valarie McCall and Judge Patricia Ann Blackmon


---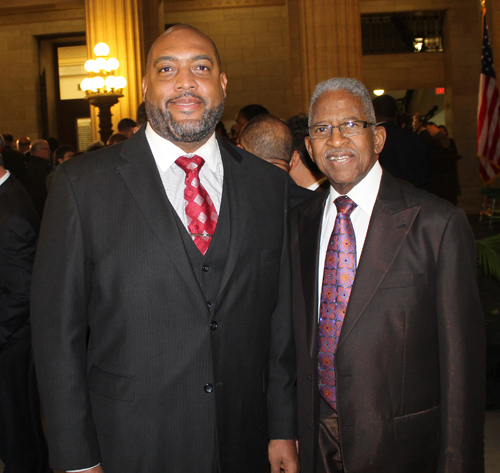 Director Blaine Griffin and Bishop F.E. Perry


---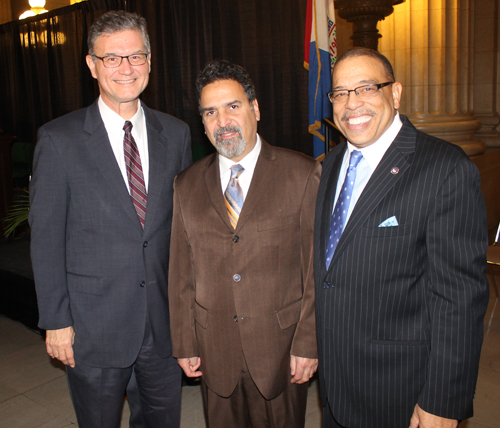 Director Ed Rybka, Anthony Jackson and Director Michael Cox


---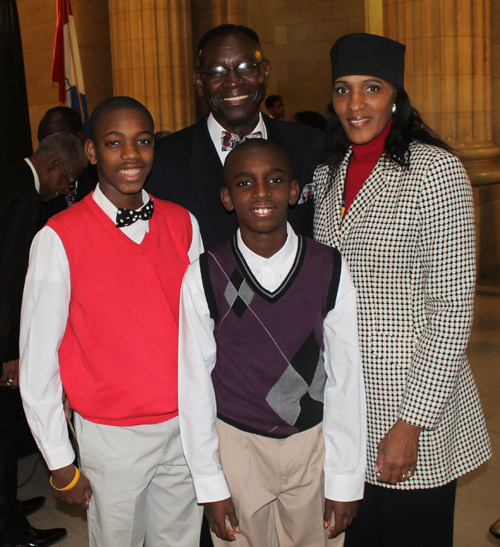 Minister Roland Muhammad and Jacqueline Muhammad
with sons Armand and Arshad


---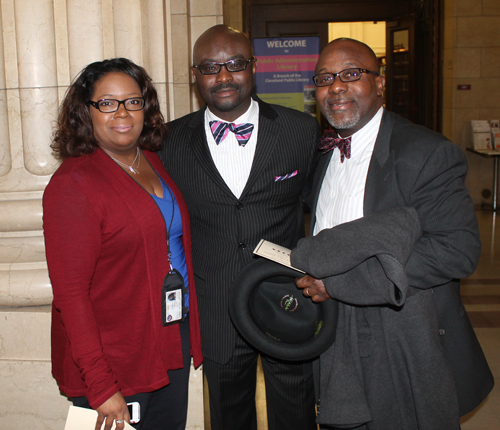 W. Mona Scott, Freddy Collier and Newton Cargill


---


Catherine Carulas, Donna Jackson Gray and Chief Valarie McCall


---
Top of Page
Back to Great Lakes Geek Events