Great Lakes Geek News


Subscribe to the e-mail version of the free Great Lakes Geek e-news
for timely news, events, tips and more

---
Follow us on Twitter for breaking news and updates.
@DanHanson and @greatlakesgeek


---
Microsoft TechNet Feed
This widget pulls the latest RSS feeds from TechNet and has selections from Videos, Webcasts, TechNet Magazine, TechNet Flash and TechNet Podcasts

---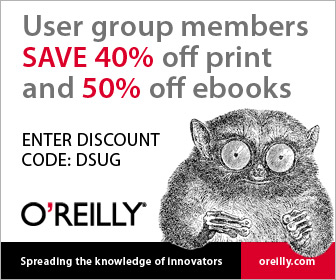 ---
Youngstown - again
Geek News
Yet one more Youngstown Business Incubator portfolio company has moved onto the international stage.
Congratulations to Accupoint Software on closing its first two foreign sales. The firm's Interlink QES quality, environmental and safety solution technology has been selected by a gas and oil exploration firm with headquarters in London, England and an international mining concern with operations in Australia, Canada and Ukraine. The firm expects to close additional international sales very shortly.
Jim Cossler, CEO & Chief Evangelist of the Youngstown Business Incubator says, "Not that long ago, when we announced we would be launching world class software companies into global markets from Youngstown, Ohio, very few people thought that was even a remote possibility. But, despite the skepticism, that is exactly what we keep on doing. Over and over again. You just gotta believe."
---
Computer Bowl at Technic
Geek Event
Lots of Geeky fun in the heat at the 2nd annual Technic Picnic.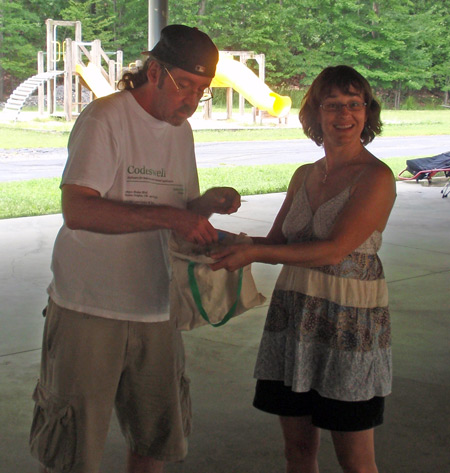 Andy Craze draws a raffle ticket from Heidi Hooper



New this year was the Computer Bowl. In honor of Cleveland champion Anamika Veeramani, the Computer Bowl was in a spelling bee format. Contestants lined up to hear a question from the Great Lakes Geek. If they answered it correctly, they advanced to the next round. If they missed, they endured a long walk of shame back to their seat.

See the Computer Bowl winner

Top of Page
---
VOIP Roadshow at House of Blues
Geek Event
No, it wasn't Spinal Tap but the team from Ohio.net turned the amps up to 11 at their VOIP Live presentation at the House of Blues on July 22, 2010.
See more from the VOIP show

Top of Page
---
Best ever for Intel
Geek News
"Strong demand from corporate customers for our most advanced microprocessors helped Intel achieve the best quarter in the company's 42-year history," said Intel President and CEO Paul Otellini.
"Our process technology lead plus compelling architectural designs increasingly differentiate Intel-based products in the marketplace. The PC and server segments are healthy and the demand for leading-edge technology will continue to increase for the foreseeable future."
Paul Thurrott says "Microprocessor giant Intel reported its best-ever quarter this week, with net income of $2.9 billion on revenues of $10.8 billion. The company credited surging PC and server sales for the lift, including surprisingly strong demand from corporate customers. That last bit suggests that the PC industry has finally ridden out the recession and that corporate PC spending is back after several years of hibernation."

Top of Page
---
Russian Spy
Geek News
Apparently one of the Russian spies worked as a software tester at Microsoft.
Insert your own joke here.
"The man, Alexey Karetnikov, entered the United States in October and was living in the Seattle area, where he worked at Microsoft, according to federal officials and the company. Karetnikov, a Russian citizen in his early-to-mid-20s, had been held on immigration violations because there was insufficient evidence to charge him with a crime, the government officials said."
Lou Gellos, a Microsoft spokesman, confirmed that Karetnikov had worked at the company for about nine months as a software tester."
Washington Post article

Top of Page
---
Lebron James - Joke of the Week (Year?)
Geek Picture

Top of Page
---
Lebron James - The Chosen One Falls From Grace
Geek Guest Column

Talk about a botched job on an image. LeBron James could have used some advice from Crisis Communications experts Bruce Hennes and Barbara Paynter.
Bruce and Barbara talk about Lebron and what he could/should have done in this guest column.
Bruce Hennes/Barbara Paynter column on LeBron James

Top of Page

---
Lebron James is a RAT
Geek Witness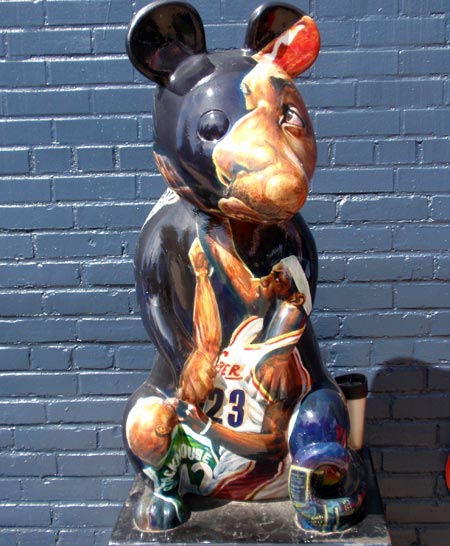 Lebron James is a Rat - Here is (more) proof
Top of Page
---
Year of the Tiger
Geek Art
The Chinese Year of the Tiger began with the new moon on February 14, 2010. The St. Clair Superior Development Corporation (SCSDC) has installed 25 fiberglass tiger sculptures featuring unique designs created and applied by Northeast Ohio artists/organizations.
Check out pictures of the Tigers and then vote on your favorite.
The Geek likes the Cleveland: The Tiger of Champions which includes images of Jesse Owens, Lou Groza, Bob Feller, Jim Brown and LeBron James.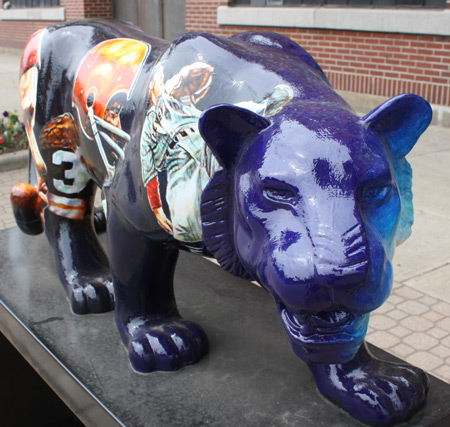 Year of the Tiger sculptures

Top of Page

---
What Cleveland must do to survive
Geek Video
Albert Ratner, Co-Chairman of the Board of Forest City Enterprises, was the keynote speaker at the Cleveland International Hall of Fame Induction on Wednesday May 12, 2010.
He was very clear in the steps that Cleveland must take to survive.
Watch the video highlights of Al Ratner's keynote.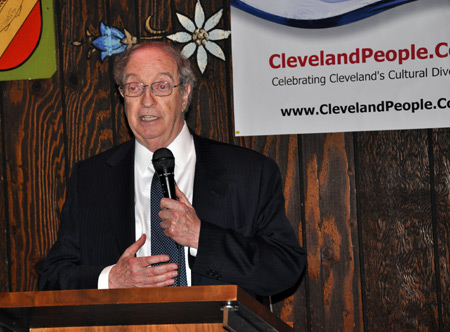 Top of Page
---
Engineer's Advice
Geek Profile
Tony Sumodi is a pretty brilliant engineer. So when you get a chance to hear advice from someone that smart, you take it. Here's a couple minute video of Tony.


Top of Page
---
Secret Knock
Geek Gadget
How cool would it be if you didn't need a key for your locks but could open the door with a secret knock that you came up with? Need to let friends in to your house? Just tell them the secret knock.
Steve Hoefer has created just such a gadget.
As Hoefer says in his blog, "A microphone (okay, really a speaker) presses against the door and listens for knocks. If it hears the right number of knocks in the right cadence it triggers the motor to turn the deadbolt and unlock the door. If the sequence isn't recognized, the system resets and listens for knocks again.
The default knock is Shave and a Hair Cut but you can program your own secret knock. I'm thinking of using the drum solo from Moby Dick by Led Zeppelin but that would take at least 6 minutes every time I wanted to open the door.
Watch the video for more.


Top of Page

---
Security Quiz
Geek Test
Can you figure out which is the real site and which is the phising site when you see them side-by-side? It's not as easy as you may think.
The site is created by Verisign who wants to sell you high-end certificate services but it does a good job and may open some eyes.
---
Attention all Chemistry Geeks
Geek Science
There is a new (beta) add in for Microsoft Word that will interest those who use chemical info in their documents.
The Chemistry Add-in for Word makes it easier for students, chemists, and researchers to insert and modify chemical information, such as labels, formulas and 2-D depictions, from within Microsoft Office Word.
In addition to authoring functionality, Chem4Word enables user denotation of inline "chemical zones," the rendering of high-quality and print-ready visual depictions of chemical structures, and the ability to store and expose semantic-rich chemical information in a semantically rich manner.
It requires Word 20-07 or Word 2010 (RC1 or later) and Windows XP with SP3 or later.
Download the free Chemistry Add-in for Word.
There is also a user's guide.
---
Free app to check network for open ports
Geek Freebie
This iPhone app is only going to be free for a limited time so you may want to check it out now. The Net Status host monitor lets you see what's happening with your hosts, routers and other network devices.



More info and the iPhones app store.

Top of Page


---
Rock Paper Scissors for 20,000
Geek News
Cavaliers fans attending the Friday, April 9th game vs. the Indiana Pacers will be the first in the NBA to experience a new level of fan interaction with the debut of "CrowdWave,"­ a game system designed specifically to allow fans to play together simply by moving their arms. The CrowdWave game platform is a mass-participation technology that uses the collective movement of a crowd to control the video games that will appear on Q-Tube, Quicken Loans Arena's video scoreboard.
The technology, developed by Bent 360: Medialab Inc. in Ottawa, Canada, uses cameras to monitor the movement of fans. Eight high-definition cameras situated around the arena send images to a server that analyzes the timing, direction and magnitude of the crowd's movement, as a whole or section by section, to generate commands that control a game or answer a poll. The system turns every fan in the arena into a human controller, enabling them to work together or to compete with each other to play a game.
"We take pride in giving our fans one of the best game entertainment experiences in sports, and with that comes the responsibility of looking for the next big thing that is going to provide the 'WOW' factor," said Amanda Greco, Cavaliers director of game presentation. "That is what we found in CrowdWave. The technology is truly interactive and engages everyone in the arena to participate in a way they never have before in an arena setting. We are very excited about its debut on April 9th and for the Cavs playoff run."
The Cavaliers CrowdWave launch line-up will include five applications (two games and three polls):
Dance Off brings the energy of 20,562 players to a game and gets the crowd moving to a popular song while corresponding arrows mark the beat on huge video displays. Sections are ranked by the accuracy and timing of the movement.
Rock, Paper, Scissors pits one lucky fan against the entire crowd. The crowd votes for rock, paper or scissors by moving their body in a particular direction as the player reveals his or her choice. The quick nature of this game allows for a tournament style multiple rounds over the course of the evening.
CrowdWave Polls let fans "vote" by moving their arms, for instant feedback on almost any question. The system calculates the percentages of people waving in a particular direction, and matches that to the fan's choice. videos, favorite music tracks and a Q&A trivia quiz.
For Mark Edwards, CEO of CrowdWave, the goals of the system is fun, interactive game day entertainment. "No matter how good the technology is in your living room, there's no comparison to the experience of going to a game, of seeing it live in a crowd of 20,000 plus fans," said Edwards. "We wanted to build on that unique experience with CrowdWave, to get fans working together or competing against each other by providing an entertainment medium that engages them."
---
RIP Ed Roberts
Geek News
Ed Roberts, founder of MITS and creator of the the Altair 8800, died of pneumonia in Georgia last week. He was 68.
The Altair 8800 was the world's first PC, though it came in kit form. The Popular Science cover story of the Altair 8800 inspired Bill Gates and Paul Allen to travel to Albuquerque and connect with Roberts. They wrote a BASIC for the Altair and started Microsoft.
Bill Gates visited with Roberts last week and he and Paul Allen issued a joint statement saying, "Ed was willing to take a chance on us-two young guys interested in computers long before they were commonplace-and we have always been grateful to him."
---
Top 10 Riskiest Online Cities
Geek News
Norton from Symantec teamed up with independent research firm Sperling's BestPlaces to find and expose the nation's top 10 cities most vulnerable to cybercrime.
The following are ranked the Norton Top 10 Riskiest Online Cities:
Seattle
Boston
Washington, D.C.
San Francisco
Raleigh, N.C.
Atlanta
Minneapolis
Denver
Austin, Texas
Portland, Ore.
The rankings were determined through a combination of Symantec Security Response's data on cyberattacks and potential malware infections, as well as third-party data about online behavior, such as accessing wifi hotspots and online shopping.
At the top of the rankings, Seattle claims the dubious distinction of America's leading riskiest cybercrime city, placing near the top in categories such as cyberattacks and potential infections; online behavior that can expose people more to cybercrime, such as online shopping and banking online; and wireless Internet access.
Boston and Washington, D.C. follow in second and third place. Both cities experience a very high level of cybercrime, perhaps due in part to their large number of WiFi hotpots.
High-tech hubs San Francisco and Raleigh are ranked fourth and fifth. San Francisco tops the list for riskiest online behavior and highest number of WiFi hotspots per capita. Many of these cities are considered some of the most tech-savvy cities in the nation, proving that even skilled and experienced Internet users are at risk when it comes to cybercrime and online insecurity.
Rounding out the top 10 are Atlanta, Minneapolis, Denver, Austin and Portland. According to the Norton research, Atlanta residents experience the most cyberattacks and potential infections. Minneapolis and Portland are near the top for risky online behavior, while Denver and Austin score high across the board.
Of the 50 U.S. cities examined, Detroit came in as the least risky online city. Motor City's residents were less likely to participate in risky online behavior compared to other cities in the study, and it also ranked low in cybercrime, access to the Internet, expenditures on computer equipment, and wireless Internet access. El Paso, Texas and Memphis, Tenn. came in second and third, respectively, on the list of least risky online cities.
So where was Cleveland? Sitting pretty at #43.
Cincinnati is 31, Pittsburgh is 17, Indianapolis is 25 and Columbus is 21.
---
Fake Intel CPUs
Geek News
System Builders are probably already aware of the fake processors that came in some Intel Core i7-920 processor boxes that were bought from Newegg.
Someone posted that it was D&H Distributing's fault but they have been cleared. In fact Newegg wrote, "Newegg is currently conducting a thorough investigation surrounding recent shipments of questionable Intel Core i7-920 CPUs purchased from Newegg.com.
Initial information we received from our supplier, IPEX, stated that they had mistakenly shipped us "demo units." We have since come to discover the CPUs were counterfeit and are terminating our relationship with this supplier. Contrary to any speculation, D&H Distributing is not the vendor that supplied us with the Intel Core i7-920 CPUs in question."
More (including pictures) of the fake CPUs and fans
---
Energizer Battery backdoor
Geek News
No this isn't an early Easter Bunny joke.
The United States Computer Emergency Response Team (US-CERT) has warned that the software included in the Energizer DUO USB battery charger contains a backdoor that allows unauthorized remote system access.
Symantec testing said "We recently received a file (from CERT) for analysis. We found that the file was a Trojan that opens a back door on a compromised computer and listens for commands on port 7777. This by itself is not very unusual, but what surprised us was that this file was being distributed by Energizer Inc as part of a USB charger-monitoring software package."
Read the US-CERT advisory
---
EBS is Dead
Geek News
From the Windows Essential Business Server Team Blog: "Four years ago, we committed to building an infrastructure solution for the mid-market. Windows Essential Business Server (EBS) which was the first of its kind to meet the unique needs of mid-market IT pros. Since that time the market landscape has naturally changed.
Today, we announced the decision to streamline our server product portfolio and will discontinue future development of EBS, effective June 30th, 2010.
Since the launch of EBS, several changes have occurred that drove our decision to streamline our server product portfolio. First, midsize businesses are rapidly turning to technologies such as management, virtualization and cloud computing as a means to cut costs, improve efficiency, and increase competitiveness. Those capabilities are already available through other offerings, including Windows Server 2008 R2, Microsoft System Center and the Microsoft Business Productivity Online Suite (BPOS)."
As SBS gets more robust and Server 2008 gets easier, EBS got squeezed out.
Read the rest of the announcement.
---
OneCommunity
Geek News
A national coalition led by nonprofit OneCommunity will receive $18.7 million in federal stimulus funds to promote the benefits of high-speed Internet access and provide training, equipment and support for 26,000 low-income individuals and their households.
A two-year grant from the U.S. Department of Commerce's Broadband Technology Opportunities Program will allow OneCommunity and its coalition of experts and partners to collectively develop and share effective broadband adoption and use strategies to serve as a national model.
Read the full press release.
---
Microsoft Money
Geek News
It's no secret that Microsoft makes most of its money on Windows and Office.
This chart from BusinessInsider.Com shows it clearly.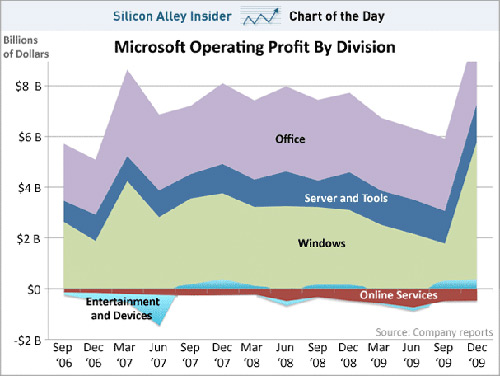 Still think it's a coincidence that Google is targeting Windows and Office?
---
Click the 'Test Me' Button
Geek News
Visit the Electronic Frontier Foundation webpage and check out their Panopticlick.
Panopticlick tests your browser to see how unique it is based on the information it will share with sites it visits. Click the Test me button and you will be given a uniqueness score, letting you see how easily identifiable you might be as you surf the web.
They only collect anonymous data.
For my test PC it came back with "we estimate that your browser has a fingerprint that conveys at least 19.23 bits of identifying information." and then it goes on to list them.
It's worth the few seconds it takes to test and by doing so you increase the sample size so the results will start getting better.
---
Retired Windows
Geek News
Sure your old version of Windows and Office may be working fine, but older versions are much more vulnerable to attacks than updated versions. That's one of the reasons that they eventually get retired. Here are some dates to plan for.
Windows 2000. The extended support phase for Windows 2000 will retire on July 13, 2010. Customers will need to upgrade to a newer Windows version in order to continue receiving security updates.
Windows XP with Service Pack 2.XP SP2 will no longer be supported as of July 13, 2010. Microsoft recommends that users upgrade to Service Pack 3 (SP3) or to Windows 7.
Windows Vista (RTM). The initial shipping version of Windows Vista will no longer be supported starting April 13, 2010. Microsoft recommends that users upgrade to Vista Service Pack 2 (SP2) or to Windows 7.
Windows Vista with Service Pack 1 will no longer be supported starting July 13, 2011.
Top of Page
---
17 year old Windows bug
Geek News
Paul Thurrott has a great posting about an ancient bug discovered in all versions of Windows back to version 3.1
Paul wrote: "In a stunning example of how slow moving Microsoft really can be, this coming week Microsoft will patch a bug in various versions of Windows that first appeared in Windows NT 3.1 (the first "modern" version of Windows as we now know it, and the basis for all current Windows versions) 17 years ago. The bug was found by a Google security researcher (and, I presume, a Dead Sea Scrolls enthusiast) last month: It involves a backwards compatibility technology for running 16-bit DOS-style applications.
Apparently, it can be exploited in all currently supported Windows versions, including XP, Vista, and 7, as well as Windows Server 2003 and 2008. I wonder if the bug was found encased in amber. "
---
What's the word? Thunderbird
Geek News
The Geek has used Eudora as his main e-mail client for many years. It's no longer being supported and many recommend a move to Thunderbird.
Thunderbird 3 is now out and the Mozilla folks have some cool features. One is for the situation where you promise to attach a file to a message and then forget to attach. Thunderbird 3 will scan your message for words like 'attachment' and then prompt you if you don't actually attach anything.
The tabbed model, a la their web browser Firefox is also cool. But they still don't have a separate line for CC or BCC when you create an e-mail. Any addresses go to the To field by default and then you have to move to CC or BCC. That's too kludgy.
I wonder about the future of e-mail clients when so many seem to be going to the cloud (gmail, etc) for their mail.
---
Google Chrome # 3
Geek News
Just 15 months after its initial release, Google Chrome is now the number three web browser in the world, behind Microsoft Internet Explorer (IE) and Mozilla Firefox.
It's ahead of Apple Safari. But as Paul Thurrott says, "beating Safari wasn't hard: That browser has just 4.46 percent usage share because it's used almost exclusively by Mac users. Chrome, like IE and Firefox, is used by the much larger PC user base."
According to Net Applications, IE continues to dominate the web browser market, with nearly two-thirds of all browsing activity, or 63 percent, performed on some version of that browser. Firefox, in second place, commands about 25 percent of the market, while Google Chrome edged up to 4.63 percent. (Also-ran Opera barely makes the top five with 2.4 percent share.)

Top of Page


---
Google tax
Geek News
Andreas Pouros, COO, Greenlight wrote today that France's "Google tax" – Sounds like protectionism - and we agree.
Porous says "A report has been made public proposing that France begins taxing the likes of Google to subsidise its own creative industry. The authors of the report suggest that this new taxation could raise up to the equivalent of $28 million, which in the grand scheme of things isn't much money at all.
The suggestion that the tax will help France subsidize music artists and book publishers doesn't therefore sound like the sole objective here, given that this amount of money won't make much of a difference if it's spread so thinly across France's creative community.
On this basis it feels like protectionism of the worst sort – instead of collaborating with successful, innovative companies, or creating an environment that promotes innovation domestically, France appears to want to give its own industries an unfair commercial advantage by taking money from non-French firms.
If the proposals are made into law, this then obviously sets a precedent which would allow France to raise this taxation as it saw fit and usher in a period of conflict between the French government and some of the world's most innovative online firms.
It is of course understandable why France would be concerned, particularly given that Google has approximately 98% of the search engine market in that country, but instead of treating successful companies as the enemy it should look to the music and publishing industry to reinvent themselves and offer the consumer an alternative to Google et al. Google and other ad-driven websites exist because they offer something of value to the consumer.
If the creative community have left a vacuum in terms of how they serve the needs of their online-loving consumers, and then this vacuum is filled by the likes of MySpace and Google, then the blame shouldn't be put at their door.
Punishing innovators for innovating is a very short sighted stance to take."
---
Download Microsoft Office 10?
Geek Vote
Microsoft just released their pricing plan for Office 2010. One new idea is that buyers who choose to download and forego boxed, retail versions will enjoy significant savings.
The standard Office Home and Student version is priced at $149 for packaged software, or $119 for those who wish to download the software and activate it with a key card.
For home office workers and small businesses, Office Home and Business is available for $279 boxed, or $199 for a key card. Office 2010 Professional, which includes a number of tools geared toward enterprise environments, is $499 boxed, or $349 for a key card.
College students and professors can get a price break by purchasing Office Professional Academic. It's priced at $99 and will be available at campus bookstores and other selected retailers.
All versions of Office 2010 will include access to Office Web, which is a pared down, Internet-based version of the software. Microsoft also plans to make Office Web available for free to the public through its Windows Live portal.
So here's the question. Will you take advantage of the significant savings and download or do you want the box and media? Vote on the right-hand-side.
---
LimeRibbon.com Launch Party
Geek Event
The Great Lakes Geek was on hand at the LimeRibbon.Com launch at the Cool Cleveland party at Crop Bistro.
LimeRibbon.Com is the result of a group of local entrepreneurs who challenged themselves to exploit the growth of social media by tying it to a shopping platform.
Details and photos from the LimeRibbon Launch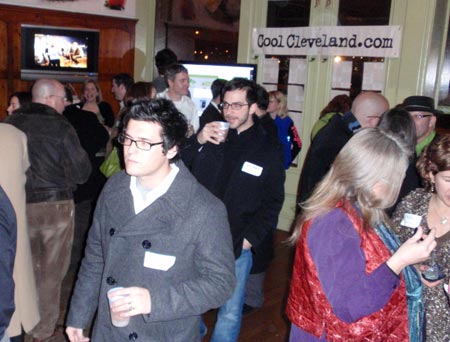 Top of Page
---
Going Global
Geek News
Tsingtao Brewery Co. signed a multi-year agreement with the NBA Cleveland Cavaliers to become the exclusive Chinese beer of Quicken Loans Arena. The partnership is the first between Tsingtao (pronounced CHING dow), China's most popular beer company, and an NBA team and arena in the United States.
It has ramifications far beyond another beer at the Q.

Details (photos and videos) of the Cavs Tsingtao agreement

Top of Page
---
Wolfram
Geek News
Popular Science, the world's largest science and technology magazine, has released its list of the top 100 innovations for 2009, and named Wolfram|Alpha as the "Best of What's New" Grand Award winner in the category of computing.
Popular Science's article begins: "A typical search engine is a reference librarian: Ask it a question and it suggests where to find the answer. Wolfram|Alpha, physicist and software guru Stephen Wolfram's lifelong labor of love, is the impatient geek who overhears your query and leaps in with the answer."
The entire text is on the Popular Science website.
---
Name that Tune
Geek Fun
Star Wars named best movie music of all time!
John Williams' score for the original 1977 Star Wars movie has been declared the best science fiction movie soundtrack of all time in a poll conducted by popular sci-fi website Totalscifionline.com. The score to Star Trek II: The Wrath of Khan, composed by James Horner, came in second place, while Vangelis' haunting electro soundtrack for Blade Runner - recently voted the best sci-fi movie of all time - completed the top three.
Matt McAllister, editor of Totalscifionline.com said: "With his score for Star Wars, John Williams created one of the most iconic and unforgettable soundtracks of all time. Most people could identify the movie from just a few bars of the main title music, and Williams' work across all of the Star Wars movies really does create a palpable sense of intergalactic space battles and galaxy-spanning adventures. For many moviegoers, this is now the definitive sound of science fiction."
Top Ten:
1) Star Wars (John Williams)
2) Star Trek II: The Wrath of Khan (James Horner)
3) Blade Runner (Vangelis)
4) Star Trek the Motion Picture (Jerry Goldsmith)
5) Flash Gordon (Queen)
6) 2001: A Space Odyssey (Richard and Johann Strauss, György Ligeti)
7) The Day the Earth Stood Still (Bernard Herrmann)
8) Close Encounters of the Third Kind (John Williams)
9) Aliens (James Horner)
10) Transformers the Movie (Vince DiCola / Stan Bush)
---
Cat Brain
Geek News
IBM scientists, using an ultra-powerful supercomputer, have just replicated the cerebral cortex of the average house cat. The simulated cat brain uses 147,000 CPUs.
"At the SC09 supercomputing conference in Portland, Ore., this week, Big Blue announced that it has made "significant progress" toward creating a computer that simulates a living organism's brain with abilities of sensation, perception, action, interaction and cognition. Best of all, perhaps, is that IBM said such a computer system could rival "the brain's low power and energy consumption and compact size."
Insert your own cat joke here.
---
RIP Incandescents
Geek Opinion
Jason Lomberg, Technical Editor of ECNmag.com has a terrific article about the forced obsolescence of older technologies such as the incandescent light bulb.
As Lomberg says, "Just as government shouldn't prop up legacy technologies, nor should they take the opposite approach—ban them. The European Union and the US government have taken the latter approach. The first phase of the EU's ban, covering 100 W bulbs, went into effect September 1st. 75 W will get the ax in 2010, followed by 60 W in 2011, and closing out with 40/25 W in 2012. "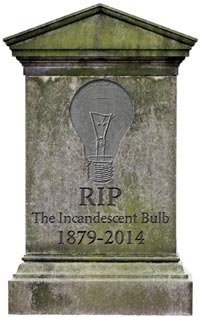 The bans are just leading to lots of purchases and hoarding.
"The ban has proved to be massively unpopular. In one poll, 64% of Austrians found the legislation "nonsensical." Holger Krahmer, a Member of the European Parliament (MEP) from Germany's FDP party, declared the ban "light bulb socialism." Czech President Vaclav Klaus is apparently urging consumers to buy up incadenscent bulbs in droves.
And the public is responding—with their wallets. Der Spiegel reports a huge increase in incandescent sales across Germany. For 100 W bulbs, sales rose by 80-150%. Clearly, the market has decided against CFL's."
In the US, the "100 W bulb will be the first to go, meeting its untimely demise in 2012. By 2014, incandescents will be completely eliminated. What happened to consumer choice? Fair competition?"
Read more of Lomberg's column

Top of Page


---
Technet Magazine
Geek News
The November 2009 issue of TechNet Magazine will be its last in printed form.
It joins many other tech publications that have moved to online only.
---
New KSU Degree
Geek News
Kent State University has received approval by the Ohio Board of Regents to offer a bachelor of science (B.S.P.H.) degree in public health. Kent State University is currently accepting applications for the B.S.P.H. program for fall 2010, and courses will be available this spring semester through the Experimental Programs (EXPR) Division. The College of Public Health is also planning an undergraduate certificate in public health.
This is the first degree program of Kent State's newly created College of Public Health, Ohio's second college of public health. The new college was established to help meet the demonstrated state and national need for public health professionals. In Ohio alone, the projected shortage of educated and trained public health professionals is estimated to be in excess of 10,000 workers by 2020. Kent State's College of Public Health is also a response to the University System of Ohio strategic plan, which asks universities to leverage existing areas of excellence to improve education, research, service and economic opportunities across Northeast Ohio and the eastern half of the state.
"This new public health bachelor's degree and our College of Public Health leverage our nationally recognized expertise in health and behavior, nursing, biopreparedness, and violence prevention," said Kent State President Lester A. Lefton. "Kent State is ideally positioned to produce knowledgeable, well-trained public health professionals to help meet this growing workforce demand for Ohio and our nation."
According to a February 2008 report by the Association of Schools of Public Health, America will need 250,000 more public health workers by 2020 – a well-educated, technologically savvy and multidisciplinary workforce that includes epidemiologists, biostatisticians, health educators, health program administrators, health policy analysts, public health physicians and nurses, and occupational and environmental health specialists.
---
New MSN
Geek News
Microsoft announced a revamping of MSN.com, the first such in years.
Besides the cleaner look with lots of whitespace, MSN now integrates with Facebook and Twitter. And, as expected, there are easy jumps to Bing, Windows Live and Hotmail.
Take a look at the MSN preview page.
---
Windows 7 Whopper
Geek Fun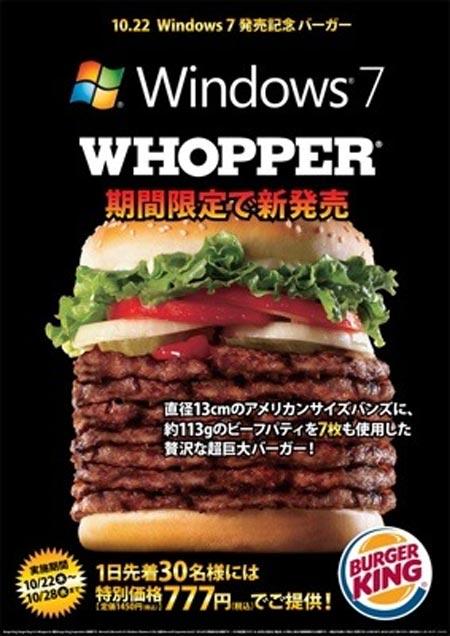 Have it your way. To celebrate the launch of Windows 7, Burger King in Japan has released a 7-pattie Whopper!
---
Windows 7 Deployment Guide
Geek Freebie
You can download the Deploying Windows® 7 Essential Guidance from the Windows 7 Resource Kit and TechNet Magazine for free here

Top of Page


---
We're # 2!
Geek News
HP is still the number one PC maker with about 20% of the market. Dell is still #2, right? Not so fast.
Strong netbook sales have pushed Acer at 14% past Dell at 11% into the # 2 spot.
Lenovo and Toshiba come in 4th and 5th.
The Mac is still less than 4% worldwide despite their great marketing.

Top of Page


---
Steve Ballmer
Geek News
I sent Microsoft CEO Steve Ballmer a link to the CAP video and he replied back with "Very cool thanks"
He is well known for reading and answering his own e-mail so no reason to believe that it wasn't SteveB himself.
Here's Steve Ballmer with Judy Lococo and me.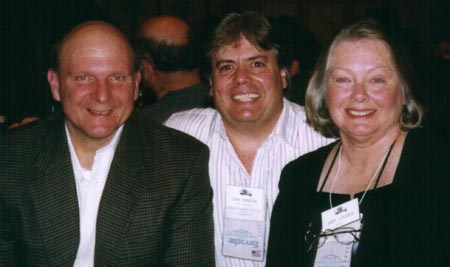 ---
CAP Milestone
Geek News
CAP has now refurbished and donated over 15,000 PCs to over 380 schools and non-profits in Cleveland (some in East Cleveland and other needy areas too).
CAP volunteers have created dozens of networked labs in community centers, schools, shelters and other non-profits. We have hundreds of stories where people's lives have been improved because of CAP. Just ask if you want to know more.
We put together a short (3 minute) video that lets some of our volunteers say 'hi' and celebrates CAP being one of the first Microsoft Authorized Refurbishers in the world a few years ago.
Check out the video and spread the word. http://www.youtube.com/watch?v=C81rS9XW5qo or watch below
---
O'Reilly and Microsoft Press
Geek News
O'Reilly Media, Inc. and Microsoft Corp. today (9-24-09) announced a joint arrangement to support and expand Microsoft Press from production through distribution, co-publishing and content development, marketing and management.
Through this strategic relationship, on November 30, O'Reilly will become the distributor of Microsoft Press titles in North America with a global roll out in a phased approach.
Both O'Reilly and Microsoft will develop Microsoft Press titles.
"There are more than 40 million people walking around the world with a mobile phone or digital device which essentially gives them a bookstore in their pocket. That's an enormous opportunity for publishers today," said Tim O'Reilly, founder and CEO of O'Reilly.
"We are no longer a print publisher that happens to sell digital books too. We're a digital publisher that also sells print books. All publishing is now digital publishing, and all writing is writing for the web. Books must behave like the web they're now a part of."
---
Sealed-in Batteries
Geek Editorial
I have a problem with the trend toward sealed batteries in laptops and other devices. Instead of the removable and replaceable batteries that we have seen, some are moving to sealed in batteries that you can't replace or carry a spare.
Dell has a new high-end laptop with sealed in batteries and of course the iPhone, iPod, etc. are sealed in. Apple seems to be converting its entire line to sealed in batteries. The new 13" and 15" MacBook Pro laptops have sealed in batteries.
They have a longer life and Apple claims they can be recharged up to 1000 times. That would last about 5 years for the average user which they say is all you need.
If the battery dies you are in trouble. You'd have to go to the Apple store for repair.
And forget about carrying a spare battery for a long trip or 'just in case.' That may be a moot point though as Walt Mossberg said less than 5% of consumer laptop owners have bought a spare battery. I have spares though and think that number is low.
My biggest problem with the sealed in battery is the planned obsolescence of the laptop. What do you do in 5 years when the battery is dead, dispose of it? Buy a new one? Many will want to buy a new device and can afford to. But many cannot.
At Computers Assisting People we get old laptops donated that are perfectly useful for the schools and non-profits that we help out. Usually the battery is dead or dying and we scour eBay and other websites for replacements to make them useful again. This could not happen with sealed in battery devices.
The people on the wrong side of the Digital Divide will again suffer.
Please let us know (vote on right-hand side) if you have ever bought a spare battery for a laptop or other device. Also, please leave comments about the prospect of sealed-in batteries.
Top of Page
---
Windows SBS 2008
Geek Column
Why small businesses should (and do) use Windows Small Business Server.
From The Official SBS Blog
---
Packy Hyland Sr.
Geek Comment
I'd like to express my condolences to the family and friends of Packy Hyland Sr. who passed away last week at the too young age of 67.
I first ran into Packy at a meeting of the John Carroll University Private Sector Group back in 1990. He knew I was in tech and asked me a few questions about what I thought of this idea his kids had for a business.
Later he stood up at the meeting and said that his kids had an idea for a business and they thought it would be a big success. He (self-deprecatingly) said he didn't understand it 100% but they thought it would be big. He asked the group for our opinions and support.
Of course, Hyland Software has become the most successful software story in the region. Sure the products and culture are terrific but the quality of the people, like Packy and his family, are what made Hyland succeed.
I'd run into Packy at events several times each year and he always had a good word and an interest in what would happen next. He could have easily rested on his Hyland Software laurels but he stayed active in working on new ventures. It was in his blood.
I last saw Packy when he stopped in at my church (St. Philomena's in East Cleveland) for Mass one weekend. I was surprised to see this Westsider in my neighborhood but Packy was always trying new things. We had a good chat about business and life and went our separate ways.
I will miss these meetups with Packy. He was truly one of a kind. Heaven just got themselves a heck of an entrepreneur and a heck of a guy.
---
Wolfram|Alpha launches
Geek News
Wolfram Alpha LLC announced the general availability of Wolfram|Alpha, the world's first computational knowledge engine, offered for free on the web.
Wolfram|Alpha draws on scientist Stephen Wolfram's groundbreaking work on Mathematica, the world's leading technical computing software platform, and on the discoveries he published in his paradigm-shifting book, "A New Kind of Science." Over 200,000 people from throughout the world have contacted the company to learn more about Wolfram|Alpha since news of the service first surfaced broadly in March.
The long-term goal of Wolfram|Alpha is to make all systematic knowledge immediately computable and accessible to everyone. Wolfram|Alpha draws on multiple terabytes of curated data and synthesizes it into entirely new combinations and presentations.
The service answers questions, solves equations, cross-references data types, projects future behaviors, and more. Wolfram|Alpha's examples pages and gallery show a few of the many uses of this new technology.
"Fifty years ago," said Stephen Wolfram, the founder and CEO of Wolfram Research, "when computers were young, people assumed that they'd be able to ask a computer any factual question, and have it compute the answer. I'm happy to say that we've successfully built a system that delivers knowledge from a simple input field, giving access to a huge system, with trillions of pieces of curated data and millions of lines of algorithms. Wolfram|Alpha signals a new paradigm for using computers and the web."
Wolfram|Alpha is made up of four main "pillars" or components:
Curated Data. Wolfram|Alpha contains terabytes of factual data covering a wide range of fields. Teams of subject-matter experts and researchers collect and curate data, transforming it into computable forms that can be understood and operated on by computer algorithms.
Dynamic Computation. When Wolfram|Alpha receives a user query, it extracts the relevant facts from its stored computable data and then applies a collection of tens of thousands of algorithms, creating and synthesizing new relevant knowledge.
Intuitive Language Understanding. To allow Wolfram|Alpha to understand inputs entered in everyday language, its developers examine the ways people express ideas within fields and subject matters and continually refine algorithms that automatically recognize these patterns.
Computational Aesthetics. Wolfram|Alpha also represents a new approach to user-interface design. The service takes user inputs and builds a customized page of clearly and usefully presented computed knowledge.
Wolfram|Alpha has been entirely developed and deployed using Wolfram Research Inc's Mathematica technology. Wolfram|Alpha contains nearly six million lines of Mathematica code, authored and maintained in Wolfram Workbench. In its launch configuration, Wolfram|Alpha is running Mathematica on about 10,000 processor cores distributed among five colocation facilities, using gridMathematica-based parallelism. And every query that comes into the system is served with webMathematica.
"Wolfram|Alpha is an extremely powerful way of harnessing the world's knowledge. Now, anyone with web access can tap into that knowledge to find relevant information and discover new insights," said Theodore Gray, co-founder of Wolfram Research.
The Wolfram|Alpha launch process has been broadcast live on Justin.tv and documented on the Wolfram|Alpha blog and on its Twitter and Facebook accounts. The site first went live for testing on Friday, May 15, 2009, and has been rigorously tested and further performance-tuned since then in preparation for today's official launch.
---

Free Stanford course on developing iPhone software
Geek Freebie
Want to know how to write programs for the iPhone and iPod touch? Beginning this week, a Stanford computer science class on that buzzworthy topic will be available online to the general public for free.
---

Free SharePoint Designer
Geek Freebie
Microsoft Sharepoint may be the most in demand skill right now. You can now download SharePoint Designer for free!
---

Wine & Gold make Green
Geek News
The Cleveland Cavaliers will participate in the inaugural "NBA Green Week 2009" April 2nd through April 10th to highlight the league's increasing involvement in environmental initiatives.
Fast Facts About How The Q and Cleveland Clinic Courts are Going Green:
Talkin' Trash. The Q collected over four tons of recyclable materials in 2007-08 and is on track to exceed that tonnage during the 2008-09 season. In cooperation with Allied Waste Management and an assist from Cavs fans, we will continue to be progressive in our greening recycling efforts.
Drink responsibly! Beverages at The Q are served in corn plastic cups that biodegrade in one to five years. Concessionaire ARAMARK, transitioned its beverage serviceware throughout the arena from traditional plastic to corn plastic.
SWEET! ARAMARK uses biodegradable to-go containers, plates and bowls that are made from bagasse­ this is what is left of the sugar cane plant after the edible portion has been extracted.
It smells so Green! Cleaning supplies like soaps, polishes and window cleaners used at Quicken Loans Arena and Cleveland Clinic Courts are 95% green sensitive and everything is wiped up with cloth towels instead of paper towels.
Who turned off the lights? Many areas in Quicken Loans Arena are equipped with motion sensors, which automatically turns off lights and helps save energy when no one is in the room. Throughout The Q standard light bulbs have been replaced with more efficient ballasts (fluorescent T8 units).
The Q powers down to save energy. All major equipment units in The Q and Cleveland Clinic Courts are controlled through an energy management software program called Metasys (provided by Johnson Controls) where the appropriate energy usage is scheduled for specific activities. Energy consumption is then monitored and provides feedback to make adjustments as needed. Twenty (20) mWhs of energy is used during a Cavaliers game at Quicken Loans Arena.
Pepsi, Thank You. Quicken Loans Arena and Cleveland Clinic Courts have 75 branded recycling Pepsi "bottle" collection containers located throughout both facilities. Courtesy of our preferred soft drink partner, it's hard to miss an opportunity to recycle!
We Get the Dangerous Stuff Out of Here. Quicken Loans Arena works with EnviroServe, a single source waste remediation, transportation and disposal contractor who appropriately collects and marks hazard waste materials such as chemical solvents, refrigeration oils and batteries with a US DOT description in compliance with the Uniform Hazard Waste Manifest.
---

Bye Bye Encarta
Geek News
Microsoft announced that they are shutting down Encarta's online encyclopedia. Why? Do you normally go to Encarta or do you go to Wikipedia? 'Nuff said.
The statement says" "The category of traditional encyclopedias and reference material has changed, people today seek and consume information in considerably different ways than in years past. On October 31, 2009, MSN Encarta websites worldwide will be discontinued, with the exception of Encarta Japan, which will be discontinued on December 31, 2009. Additionally, Microsoft will cease to sell Microsoft Student and Encarta Premium software products worldwide by June 2009."

Top of Page

---

Twitter Ninja
Geek News
You know that Twitter has entered the mainstream when you starts seeing tweeting mannequins.
This ninja caught our eye outside the Lakeside Apartments.
The sign says " Yo Grasshopper! Follow my tweets at ShellyTheNinja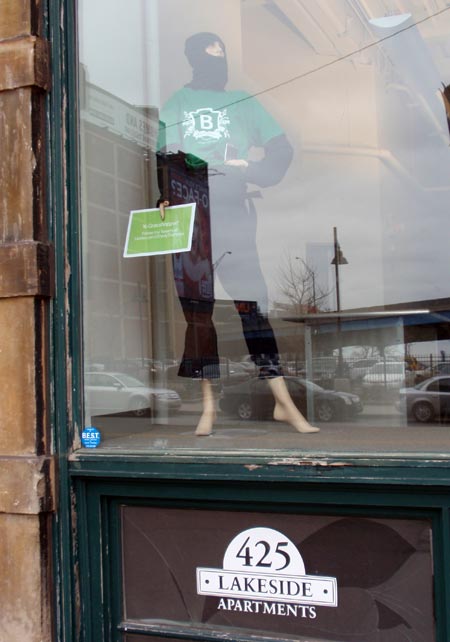 You can follow us on Twitter for breaking news and updates.
@DanHanson and @greatlakesgeek

Top of Page

---

The 5th Beatle - unmasked!
Geek News
Sandra Tsing Loh does a great podcast from the California Institute of Technology called The Loh Down on Science. A recent posting tells how Fourier analysis was used to break down the famous intro chord to 'A Hard Day's Night'.
The analysis let them eliminate the tones corresponding to guitars, bass, and drums and found that the remaining sounds were from a slightly out of tune piano. Loh says it was probably played by Beatles producer George Martin.
Oh yeah. George's lead was recorded at half-speed too!
---
Free Books
Microsoft Press books is turning 25 years old so to celebrate they are providing free E-Books.
Windows Vista Resource Kit (Second Edition)
Understanding Microsoft Virtualization Solutions
Microsoft Visual C# 2008 Express Edition
---

Village People at JCU
Geek Fun
So you thought that a meeting of entrepreneurs at 7:30 on a cold Saturday morning would be boring? The 100+ members of the John Carroll University Entrepreneurs Association gathered to learn about Advisory Boards from CPA Nobby Lewandoski but were treated to more than the usual PowerPoint presentation.
Lewandoski called up JCU EA Chairman Mark Hausermann, Dean Frank Navratil, EA Program Chair Andrew Connors and 2 guest entrepreneurs from Florida as he described how it takes a village to run th EA. He thus deduced that those in charge were the... Village People!
Out came the Village People headgear as YMCA blasted through the speakers. Fortunately they did not try to spell out JCU EA. That might have led to some serious muscle pulls.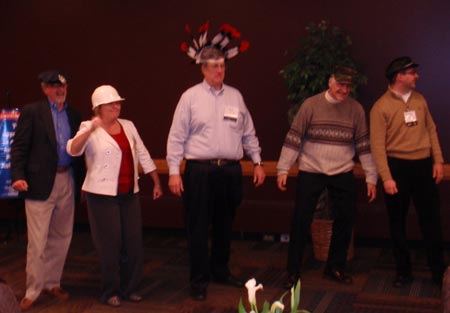 ---

UNIX Time - 1234567890!
Geek News
According to Wikipedia, Unix time, or POSIX time, is a system for describing points in time, defined as the number of seconds elapsed since midnight Coordinated Universal Time (UTC) of January 1, 1970, not counting leap seconds. It is widely used not only on Unix-like operating systems but also in many other computing systems.
It is neither a linear representation of time nor a true representation of UTC (though it is frequently mistaken for both) as the times it represents are UTC but it has no way of representing UTC leap seconds (e.g. 1998-12-31 23:59:60).
On Friday (Friday, February 13th 2009, 23:31:30 UTC) we will hit the Epoch time of 123456789
Top of Page
---

Definition of Recursion - See Recursion
Geek News
Wikipedia: The Missing Manual Posted on Wikipedia
The Missing Manuals series, published by O'Reilly Media, today announced the migration of its book about Wikipedia to Wikipedia. As of today, the entire contents of Wikipedia: The Missing Manual (O'Reilly, $29.99) by John Broughton is available for free online for editing and updating just like any other Wikipedia entry.
Top of Page
---

This (and every) site may harm your Computer
Google News
There I was Saturday AM minding my own business. I entered a term to search on Google and got a scare. All the search result sites had the warning "This site may harm your Computer." Yikes!
I checked my anti-virus and anit-malware and closed IE.
Same results next attempt. Uh-oh. I tried an old laptop with XP on it and got the same results. I saw that Lev Gonick posted a message on facebook that he saw the same thing. Good - it wasn't just me.
I tried GreatLakesGeek.com and other sites I do and the same message appeared.
Google posted this information later in the day:
If you did a Google search between 6:30 a.m. PST and 7:25 a.m. PST this morning, you likely saw that the message "This site may harm your computer" accompanied each and every search result. This was clearly an error, and we are very sorry for the inconvenience caused to our users.
What happened? Very simply, human error. Google flags search results with the message "This site may harm your computer" if the site is known to install malicious software in the background or otherwise surreptitiously. We do this to protect our users against visiting sites that could harm their computers. We maintain a list of such sites through both manual and automated methods. We work with a non-profit called StopBadware.org to come up with criteria for maintaining this list, and to provide simple processes for webmasters to remove their site from the list.
We periodically update that list and released one such update to the site this morning. Unfortunately (and here's the human error), the URL of '/' was mistakenly checked in as a value to the file and '/' expands to all URLs. Fortunately, our on-call site reliability team found the problem quickly and reverted the file. Since we push these updates in a staggered and rolling fashion, the errors began appearing between 6:27 a.m. and 6:40 a.m. and began disappearing between 7:10 and 7:25 a.m., so the duration of the problem for any particular user was approximately 40 minutes.
Thanks to our team for their quick work in finding this. And again, our apologies to any of you who were inconvenienced this morning, and to site owners whose pages were incorrectly labelled. We will carefully investigate this incident and put more robust file checks in place to prevent it from happening again.
Thanks for your understanding.
Top of Page
---

Oh Deer
Geek News
In Rush NY, the Google Maps Van hit a deer crossing a road. It was on maps.google.com. However, it seems Google removed the pixs of the dead deer. There is still one of the deer about to cross the road.
Google's response: "Gathering the imagery for Street View requires quite a bit of driving; as such, we take safety very seriously. Unfortunately, accidents do happen — as some people have noticed, one of our Street View cars hit a deer while driving on a rural road in upstate New York. Due to several user requests using the "Report a concern" tool, these images are no longer available in Street View.
The driver was understandably upset, and promptly stopped to alert the local police and the Street View team at Google. The deer was able to move and had left the area by the time the police arrived. The police explained to our driver that, sadly, this was not an uncommon occurrence in the region — the New York State Department of Transportation estimates that 60,000-70,000 deer collisions happen per year in New York alone — and no police report needed to be filed.
---

Definition of Recursion - See Recursion
Wikipedia: The Missing Manual Posted on Wikipedia
The Missing Manuals series, published by O'Reilly Media, today announced the migration of its book about Wikipedia to Wikipedia. As of today, the entire contents of Wikipedia: The Missing Manual (O'Reilly, $29.99) by John Broughton is available for free online for editing and updating just like any other Wikipedia entry.
"What makes this project different than any of the other zillion books online today is the format we've chosen--a wiki," explains Peter Meyers, Missing Manuals' managing editor. "Book viewers will be able to do all the same things they do on any other wiki: view the document, edit it, add to it--in short, whatever they want. The book is going to reside in the site's Help area, naturally, since the book is all about helping people edit and navigate their way around Wikipedia."
Adds Meyers: "Once it's live, our hope is that the Wikipedia community will flock to the book and 'curate' it by adding tips, tricks, and by updating the material to reflect changes to Wikipedia since we've published the original edition. Down the road, when it comes time for us to consider publishing a second edition of the print book, we'll think about whether to incorporate some of the community's changes into the new edition."
The drive to post "Wikipedia: The Missing Manual" to Wikipedia was spearheaded by author John Broughton. Broughton, a registered editor at Wikipedia since 2005 with more than 20,000 edits under his belt, says he's looking forward to seeing what changes and improvements his fellow Wikipedians will make to his book.
"Wikipedia already has thousands of pages of documentation on how to be a good editor. This 'Missing Manual' book is different--it offers systematic guidance for people who want to learn the 'core curriculum,' the critical information needed to avoid running afoul of the rules. The book is organized as a structured process for learning to edit, with numerous tips and tools for easier editing. With this book, Wikipedia now has something that charts the path from novice toward expert, with step-by-step illustrations for every topic along the way."
Top of Page
---

Flight Simulator Crashes?
Microsoft is laying off 5,000 people and that may spell the end for their oldest product, Flight Simulator.
Microsoft confirmed that they have shuttered ACES Studios, the developer of the Flight Simulator series of games, whose latest incarnation is Flight Simulator X. The simulation is considered Microsoft's oldest product, whose original version first shipped in 1982.
Microsoft spokeswoman Kelda Rericha said, "We are committed to the Flight Simulator franchise, which has proven to be a successful PC-based game for the last 27 years," Rericha added. "You should expect us to continue to invest in enabling great Live experiences on Windows, including flying games, but we have nothing specific to announce at this time."
The Flight Simulator franchise is a fairly broad one, and anything falling under the largely online Live umbrella would likely be fairly different than the game's traditionally resource-intensive online incarnation.
Top of Page
---

Flight Simulator Crashes
Geek News
Microsoft is laying off 5,000 people and that may spell the end for their oldest product, Flight Simulator.
Microsoft confirmed that they have shuttered ACES Studios, the developer of the Flight Simulator series of games, whose latest incarnation is Flight Simulator X. The simulation is considered Microsoft's oldest product, whose original version first shipped in 1982.
Microsoft spokeswoman Kelda Rericha said, "We are committed to the Flight Simulator franchise, which has proven to be a successful PC-based game for the last 27 years," Rericha added. "You should expect us to continue to invest in enabling great Live experiences on Windows, including flying games, but we have nothing specific to announce at this time."
The Flight Simulator franchise is a fairly broad one, and anything falling under the largely online Live umbrella would likely be fairly different than the game's traditionally resource-intensive online incarnation.
Top of Page
---

Senator Voinovich message
Geek News
After prayerful consideration and much thought, my wife Janet and I have decided that I will not seek a third term in the United States Senate.
As I spent time with my family during the holidays and celebrated Janet's birthday, I reflected on God's blessings on our family: my wife, our three children, our seven grandchildren and our health.
I also spent time thinking about the health of our country. In my lifetime of public service, I have never seen the country in such perilous circumstances. Not since the Great Depression and the Second World War have we been confronted with such challenges, as a nation and as a world.
Those of us that have been given the honor to serve in these times must step up to the plate and put this country on a course that will see it through these harrowing times and make it strong and viable for the 21st century.
These next two years in office, for me, will be the most important years that I have served in my entire political career.
I must devote my full time, energy and focus to the job I was elected to do, the job in front of me, which seeking a third term - with the money-raising and campaigning that it would require - would not allow me to do.
In addition, Janet and I have concluded that once my second term is complete, we should devote ourselves to our children and grandchildren. We have been blessed with good health, but we're no spring chickens. In 2010, I will be 74 years old and will have served 44 years in public office, having been elected to more public offices than any other person in Ohio history.
I am grateful for the opportunity that I have had to serve my statehouse district, my county, city, state and nation and feel good about the fact that with the help of some extraordinary people, many of whom are no longer with us, I have made a difference and will, with God's help and a great team in my Senate office, continue to make a difference during these next two critical years. We intend not to wind down-but to wind up, just like I did in the Mayor's office as well as the Governor's office.
We have a great deal to do in this Congress, and I will continue to focus on the areas that matter most: providing the nation a responsible stimulus package; jump-starting our credit markets; re-establishing confidence in the housing market and stemming the tide on mortgage foreclosures; harmonizing our nation's economic, energy and environmental policies; ensuring safe and stable highways; and continuing to improve the personnel and management of the federal government.
After the next two years, it will be time to give someone else the opportunity to serve our great state in the Senate, someone who can devote full time to organizing their campaign and raising the money necessary to win.
This has not been an easy decision for us. I still have the fire in my belly to do the work of our nation, but after serving the next two years, it will be time to step back and spend the rest of our time with our children and grandchildren, siblings and extended family and friends.
We both are confident that God has a plan for us to use the time, energy and talents that He has given us to make a difference in another way.
Sincerely,
Senator George V. Voinovich (R-OH)
Top of Page
---

Windows 7 Beta
Geek Download
At his keynote at CES, Microsoft CEO announced the release of the Windows 7 beta release to the public.
If you are a MSDN or Technet subscriber, you can download it here.
The general public link is here.
The minimum requirements for the beta as a 1-GHz processor, 1GB of memory, 16GB of free hard drive space and 128MB of graphics memory on a chip set or card able to support DirectX 9 graphics. Sound familiar? That's what they required for Vista. But believe me, you want lots more hardware for a good experience.
It comes as an iso file so you will also need a DVD burner. It is not an executable file.
It is also an upgrade to Vista SP1 so if you just have XP, don't expect it to install. It's also a huge file - 2.4GB for 32bit and 3.15 GB for 64 bit.
Or just sit back and read updates on the beta as the Great Lakes Geek plays with it.
Top of Page
---
---

See more Great Lakes Geek News items - not as timely, but still interesting