Click here for Frequently Asked Questions
You have too much to read. So do we. But there is great information available out there that we don't want to miss.
By listening to audio information, whether at our PC or via a podcast on our MP3 player, we can listen to the information while doing other things.
Podcasting is a term that comes from a combination of the name of the popular Apple MP3 player, the iPod, and broadcasting. But you don't need an iPod to listen to podcasts. In general, podcasts are audio content delivered through the Internet that you can download and then play on your PC (or laptop or Mac or...) or transferred to a portable MP3 player (like an iPod) so you can listen offline.
Normally when you (left) click on an audio link, your system will open your default audio software (maybe MusicMatch or Windows Media Player or...) and start playing it. You can also save the MP3 file to listen to later, burn to a CD or whatever you choose by right-clicking on the link and choosing to Save the file for later. Those are the easiest ways to get started hearing these interviews and shows.
But to take advantage of all the features of a true podcast, you need to go a little further.
Maybe you clicked on the orange PODCAST button in the menu bar at the left to subscribe to the podcast show and were surprised to see a page full of code. Actually, that is normal. A true podcast requires special podcasting software that uses that code to let you manage the shows - so only new (to you) shows get downloaded to your system or device for example.
There are many free podcast software applications available including: iPodder (now called Juice) for the PC, Mac and Linux.
Once you have a podcasting program, you just copy our podcast feed link (click on the orange PODCAST button on the left) and paste that URL

http://www.greatlakesgeek.com/glg.xml

into your podcast software and it will give you options to manage the show - like automatically downloading new shows when they are available.
---
Click here for Frequently Asked Questions
---
Recommended Podcasting Books
Click on each for more info or to buy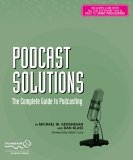 Podcast Solutions: The Complete Guide to Podcasting (Solutions)
---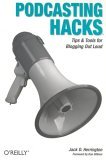 Podcasting Hacks : Tips and Tools for Blogging Out Loud
---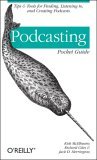 Podcasting Pocket Guide
---
Top of Page