Subscribe

to the free Great Lakes Geek e-news
for more Tips & Tricks
and don't miss the main Great Lakes Geek Tips Page

---
Password Reset Disk or Thumb Drive
The security in Windows Vista is pretty decent. If you forget your logon password, for example, you will be shown a password hint that you (hopefully) set up when you created the password. And hopefully, the hint will make sense for you.
You may want to change your password now and come up with a more useful hint. Here's a good way to re-set your password and keep it stored.
Click the Start Button and you will see your logon image and images of anyone else set up for that PC. Click on your image and you will be taken to a "make changes to your account" page. You can also get there via Control panel and User Accounts.
On the left-hand side you will see Create a Password Reset Disk. Click it and you will be prompted to insert a floppy disk (remember those?) or a USB drive. Go through the wizard and the information will be securely stored on your removable media.
If you then forget your password, insert the disk or thumb drive and click Reset Password to start the wizard to let you choose a new password and new password hint.
Warning - anyone who has access to that floppy or USB drive can log on to your system and reset your password and access your account so be careful.
Top of Page
---
Tablet PC without the Tablet
You don't need a Tablet PC (or even a digitizing pad or stylus) to write in an application in Windows Vista.
Open the program you want to insert your writing in - say Microsoft Word. Click on Start and type inp in the Search box and select Tablet PC Input Panel (if not already running)
A box pops up on your screen and you can "write" with the mouse (hold down the left mouse key as you move it). When I write DAN in script, it recognizes my scribbles and coverts it to standard digital text. I can click the insert tab to have DAN appear in my document as if I had typed it.
To edit the text just select it and it pops back into the writing box.
You can also choose where the text will be inserted and a slew of other options. There is even a training and correcting feature to help the PC decipher your handwriting and gestures better.
Top of Page
---
Another Snip Feature
Once you've snipped your screen image you can do some extra things with it. Of course you can save it as PNG, GIF, JPG or MHT and use your favorite image editor too.
But right in the Snip tool is a Pen tool that lets you write on the image, a Highlighter and an Eraser for mistakes.
There's also an option to e-mail the snip from within the Snip Tool.
Top of Page
---
Windows Vista Tip - Snip Snip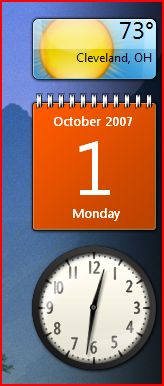 I love the new Snipping Tool in Windows Vista.
In the past if you wanted to capture part or all of the screen you could use the kludgy print screen key (Prt Scr). And most of us know that holding down Alt while pressing the PrintScrn key will just capture the current window. Then you could paste to a document.
In Vista, the Snipping Tool makes that obsolete. Click Start and in the Search Box type snip and then click Snipping Tool in the results box.
There's a pull-down next to the New button that lets you choose Full-Screen, Window-Snip, any Rectangular snip and, tad-da!, Free-Form snip.
At left is an example of a rectangular snip
For Free-Form or Rectangular snips, you hold the left mouse button and drag the shape you want. Full-screen is snipped automatically and for Windows-Snip, just click anywhere in the window you want.
Then use any of the tools to modify, save, crop or send your snip.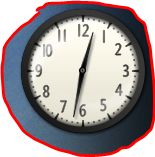 Windows Vista free-form Snip Tool example
Top of Page
---
Windows Vista Tip - How many Krones in a Dollar?
The Currency gadget that ships with Vista can be useful. The gadget goes online and updates exchange rates.
Say you are going to Norway and want to convert from Dollars to Krones. In the upper menu, choose the currency you are converting from (dollars) and then how many you want to convert. In the lower pop-up menu, select Krones.
Poof! Without any more clicks, you will see the conversion.
Note for those thinking this tip was about the 1967 Bewitched Episode, The Crone of Cawdor:
According to Hal Erickson in All Movie Guide, "Darrin doesn't know it, but he's in dire jeopardy. If he should fulfill his destiny and kiss the beautiful Terry Warbell (Julie Gregg) -- actually the hideous Crone of Cawdor (Dorothy Neumann) in disguise -- he will suddenly age 500 years.
Samantha and Endora combine their witchcraft to rescue Darrin, and also keep snoopy Gladys Kravitz in the dark.
Written by Ed Jurist, "The Crone of Cawdor" made its first network appearance on March 16, 1967.
Top of Page
---
Windows Vista Tip - $1000 Post-it Notes
The standard gadgets that come preinstalled in Windows Vista include:
Calendar
Clock
Address Book
CPU meter
Currency Converter
Stock Ticker
Picture Puzzle
Weather
Picture Slide Show
and Notes
You use Notes like you would a sticky yellow Post-it. Open it and type in a phone numer, brilliant idea or whatever. Right-click gives you Cut, Copy, paste commands. The wrench tool lets you change fonts, color or size and you aren't limited to yellow paper.
Click the + button on the lower right for another page and the X button (lower left) to delete a page.
So you can turn your $1000 PC into a 30 cent Post-it pad.
Top of Page
---
Windows Vista Tip - Inspector Gadget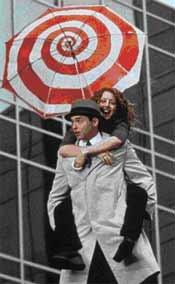 Gadgets in your Sidebar can be useful and fun. Here is another Geek Gadget Tip.
You can open more than one copy of a gadget. So, for example, if you wanted to have 3 analog clocks, each set to different city time zones, you could. Or if you wanted to track the weather at home and at a satellite office location. Maybe you maintain more than one stock portfolio.
All you do is double-click the gadget's icon more than once in the gadget bar.
Then, point at one of the gadgets (without clicking) and click on the tool that looks like a wrench to open the Settings. Then you can specify what time zones to monitor or weather to watch or stocks to track for each gadget.
Top of Page
---
Windows Vista Tip - Sidebar, Your Honor
A default Windows Vista desktop has a few gadgets running on the right-hand side of the screen. The analog clock (see the tip below) is one of the gadgets. Basically these gadgets are just some code written in a web language - JavaScript, VBscript, DHTML or XML.
If you don't see the gadgets on the screen, press Windows Key and Spacebar to bring them up. Or Start - All programs - Accessories - Windows Sidebar. You can drag the gadgets to other real estate on the desktop. To close a particular gadget, right-click on it and choose Close Gadget (Duh!)
To add a gadget (like the calculator or stock ticker or weather conditions or… )just click on the + sign at the top of the screen. Or right-click any gadget and choose Add Gadget.
Play around with the gadgets and come back for some more tips on using these handy items.
Top of Page
---
So Kramer, you won't wear the ribbon? - Office 2007 Tip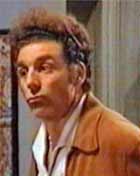 Remember the Seinfeld episode where Kramer is involved in an Aids Walk but gets beat up because he won't wear the ribbon?
The Ribbon is the most noticeable feature in the new version of Microsoft Office - Office 2007. The first few days you will hate it, and then you will love it.
If you continue to dislike it, you can turn it off. I recommend that you stick with it and learn to use it but if you really don't want to, here's what to do.
The easiest way (Microsoft always has many ways to do something, don't they?) is to press Control and F1. This toggles the Ribbon on and off.
You can also double-click on the current tab above the Ribbon.
If you click the down arrow to the right of the Quick Access toolbar button you can choose Minimize the Ribbon.
This temporarily gives you back some screen real estate but in the long run you will want to be Master of your Domain and master the Ribbon.
---
What time is it? - Windows Vista Tip
One of the things new users notice right away with the default Vista desktop is the fairly large, round analog clock on the right-hand side. Maybe it was included so a whole generation will know what clockwise and counter-clockwise mean.
One of the nice features is that you can add up to two more clocks - for different time zones - on your desktop. It will look like a hotel lobby with the clocks of various would cities displayed. This can be useful for companies that deal with other time zones or people with family/friends in other zones.
Click the Start button, type "time" in the Search box and then click Date and Time.
Choose the Additional Clock tab, check the additional clock box and select the time zone you want. Give it a name (London Office or Moscow) and repeat if you want another clock.
You don't have to have the clocks always on display. You can point to the clock in the taskbar and see a small window with all your clocks displayed.
---
Vista PC Tip - What the Great Lakes Geek built
The Great Lakes Geek needed to build a new PC for the Computers Assisting People (CAP Inc.) Resource Center. It will be used for CAP operations but also so that the volunteers and others can become familiar with Windows Vista and learn about it the CAP way - hands on.
The crew wanted to know the specs of the PC and why some of the components were chosen. This page tells what's in the PC, why those components were selected and what it all means. Lots of links to Windows Vista resources and info and reviews of the components.
If you are going to need a new PC sometime soon, check it out first.
Top of Page
---
Internet Explorer 7 Tip - Tabbed Web pages
As more and more people upgrade to Windows Vista, they are finding a significant amount of differences from familiar XP (or earlier) versions.
This tip is actually not just for Vista but for anyone running Internet Explorer 7 (Yes, Firefox users, you had tabs first).
Tabs are very convenient. In IE just click New Tab and enter the URL in the box. Repeat as desired. Then click on a tab to view that particular Web page.
Click the Quick Tabs button to view all the web pages you have opened.
With multiple web pages in tabs, click the down arrow next to the Quick tabs button for a list of all the open tabs.
If you right-click on a tab you can choose to close that particular tab or close all other tabs except that one. Sweet.
---
Migration to Windows Vista
How would you like to leave your office tonight and when you came in tomorrow morning hundreds of your Windows XP or 2000 or 98 PCs were migrated to Windows Vista? And all your familiar icons, favorites, applications, printers set up - are still there.
Sound like a dream? Altiris, now part of Symantec, provides just that service. They will do a premigration readiness assessment and turn a potentially huge migration headache into a smooth process. If you have a lot of Windows PCs and are dreading a lengthy, costly migration, here's a solution for you.
Listen to the podcast with Edward Chiles of Altiris.
They also offer a free eBook on migration for download here.
---
Pin the Tail on the File?
Older versions of Microsoft Word would keep (by default) the 4 most recently opened files in a list. The Most Recently Used (MRU) list was always at the bottom of the File menu.
In the new version (Word 2007) it's in the Office menu in the upper left. You can have a lot more files displayed (change defaults at Word Options - Advanced - Display).
One of the nice new features is that the files have a pin next to them and if you click on the pin, the file it is next to will stay on your MRU list until you un-click the pin. Great for keeping frequently accessed files on the list.
Top of Page
---
Office 2007 File Formats - X marks the spot
As we've told you (and maybe you've experienced) Microsoft Office 2007 has new file formats. You should try and use the new formats when possible because they are richer and smaller but if you really want to use the old formats (doc, xls, ppt) you can.
In Word 2007 go to Word Options then Save then Save files in this format. It's the same process in Excel 2007 and PowerPoint 2007. This sets the default doc type for new documents you create in each application.
You can also download the freebie Microsoft Office Compatibility Pack for Word, Excel, and PowerPoint 2007 File Formats.
But when you get a chance, give the new file formats a chance. You may be switching back to docx files faster than you might think.
And remember, Office 2007 will run on Windows XP. So while there are benefits to combining Office 2007 and Windows Vista you can be more cautious and update either your OS or your Office, get used to it and then update the other. Your call.
Top of Page
---
Office Upgrade?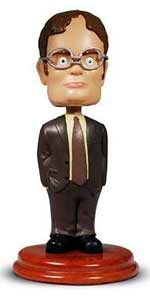 The Great Lakes Geek is a fan of The Office. He was even given a Dwight K. Schrute Bobblehead which sits atop one of his PCs.
Get your own Dwight Schrute Bobble Head
)
But it's that other Office that can get confusing.
Lots of people have skipped one or more upgrades to Microsoft Office because their version had all the functionality that they needed. The new version of Office has some interesting new stuff and with different file formats and extensions, may prompt a lot of people to upgrade.
But the problem is that you can't get the upgrade price/license unless you have a license for one of the two previous Office versions only. So when Office 2007 is on the shelves in January, you won't be able to upgrade your Office 2000 anymore - just Office XP and Office 2003.
So you can upgrade your Office 2000 now (before the Office 2007 launch) to Office 2003 (ouch!) or pay the non-upgrade price for Office 2007 next month (ouch again).
You can also take advantage of the Microsoft Technology Guarantee. Get details for boxed product and for software bundled on your new PC. The basics are that you can upgrade your Office 2000 to Office 2003 now and then get a freebie or inexpensive Office 2007 when it launches.
When you are buying Office 2007, make sure you get the version with the products that you need. For example, Office 2007 'Home and Student Edition' is significantly cheaper but has only Word, Excel, PowerPoint and OneNote (NOT Outlook or Access).
Look for retail price for Office 2007 Professional to be about $500 which means you'll find it for a little over $400. Upgrades will probably be around $300 so plan ahead.
Top of Page
---
XML Rules
Microsoft Office 12 is going to be the first jump into XML for a lot of people. But don't wait until you see the first .Docx or .Xlsx file extension to get up to speed.
Actually XML support came with Office 2000, kind of. As the MSDN website says "Binary files (.doc, .dot, .xls, and .ppt files), which for years did a great job of storing and transporting data, were not able to meet the new workplace challenges that included easily moving data between disparate applications, and allowing users to glean business insight from that data."
The Geek saw a great preview of Office 12 (and Vista and Exchange 2007) by Microsoft's Matthew Hester at the Renaissance Hotel June 21.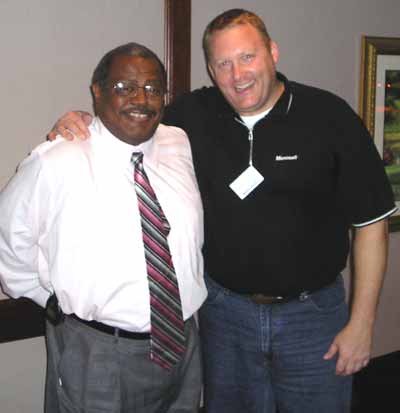 GCPCUG Prez Bert Boyd and Microsoft's Matthew Hester



You can get the free Office 12 Public Beta here.

GreatLakesGeek Tip: If you are also trying the Windows Vista beta, install them on separate machines if possible. On the same PC they are very slow and the beta issues of each mess up the other somewhat.

In the meantime, get familiar with XML in your Word 2003 app. Try this.

Open a new document in Word and type in a line like "This is my XML test". Then do a File - Save As and name it but choose XML as the Type instead of DOC.

Close the file and then use Explorer to locate the file and right-click and Open With and choose Notepad.

Yikes! Your one-liner is now a whole lot of stuff.

The 3rd line, for example, describes the schema. Mine says:

"w:wordDocument xmlns:w="http://schemas.microsoft.com/office/word/2003/wordml"

The schema describes how the XML is organized and what tags are allowed. As you browse the file in Notepad you will recognize a lot of the Word properties of the doc - like font, size, the text and so on.

Start playing with XML now - it's going to be huge!

Top of Page

---
---