How did you come to form Strategic Horizons LLP with Joe Pine, given his Minnesota residence?
Joe penned a book in 1993, entitled, Mass Customization: The New Frontier in Business Competition
, and I wrote him a brief letter since I was doing customization work with some clients. I had done some projects for Kellogg's and Whirlpool that each had front-end customer requirement components, and had concluded that every customer wanted something unique.
Joe was then living in Connecticut working for IBM, and we subsequently arranged a meeting in Chicago. Eventually I retained Joe, after he left IBM, to do some projects for my process innovation practice at CSC Consulting, a process innovation practice, where I was employed at the time.
We conducted a research project together that led to our first Harvard Business Review article, "The Four Faces of Mass Customization
"
Then in the first quarter of 1996, I left CSC and we formed Strategic Horizons LLP. The origin of our intellectual capital focused on mass customization, which led to our thinking around experiences, and in turn, authenticity.
In Authenticity you write, "Despite claims of 'real' and 'authentic,' in product packaging, nothing from business is really authentic. Everything is artificial, manmade, fake." Readers new to your work may find this hard to take.
Authenticity is not an easy subject and the book is not an easy read. But we believe the book will be enduring because of this fact. It's a book even academia should find challenging. We're basically setting out to establish Authenticity as a new business discipline, much like Deming did with Quality.
Chapter 5 presents our philosophical take on the subject. We outline our simple "3M" Model of Inauthenticity-it's fake if it's of Man, Machine or Money-formulated after reading much of what philosophers and social theorists had to say on the subject. We conclude that nothing offered by a business, based on these criterion, is therefore authentic; it's all artificial and utterly fake.
It's important to contrast the nature of The Experience Economy and Authenticity. In The Experience Economy we gave a name to something that was already happening. We introduced a whole new vocabulary to describe what many people who were already doing. In Authenticity, people are not yet doing what we suggest, but they're already using the term, and self-proclaiming their own authenticity. This inherently makes for more tense read.
Authenticity emphasizes the importance of honing business basics before focusing on the new discipline.
In business, it becomes ever more difficult to succeed. There is always something being added to the equation and nothing ever gets subtracted. You still need to manage supply chain availability, cost control, and improve quality. Now we're saying that you need to render authenticity too.
Placemaking is an idea addressed in Authenticity. Could you explain its business relevance today?
It's a bold concept that we hope attracts more long-term attention. We believe placemaking will come to rival marketing as the dominant means of demand creation in business. Marketing today is highly qualified. We've got guerilla marketing, viral marketing, emotional marketing, etc., etc.-you could rattle off hundreds of adjectives that today are placed before the term marketing. It's a telltale sign that the paradigm is about to crumble.
And marketing, especially traditional advertising is becoming less effective because it's viewed as fake. It's become a giant phoniness-generating machine, making promises that are seldom fulfilled in actuality.
In Authenticity, we outline two dimensions of authenticity based on the words Shakespeare places o the lips of Polonius in Hamlet: "To thine own self be true; And it must follow as the night and day, Thou canst not then be false to any man."
These are 1) Being true to your own self, and 2) Being what you say you are to others. In place you prove who you are. Companies need to think about creating places where they prove they are who they say they are.
Not only consumer businesses, but business-to-business companies also need to consider placemaking, including the physical places created in meeting rooms, trade show exhibits, company cars, even parking lots.
Your 1999 bestseller, The Experience Economy: Work Is Theater & Every Business a Stage
states that even mundane business transactions can be turned into memorable experiences. So, even during recessionary times, companies are leaving money on the table?
If business is slow, now is the time to invest in experiences, so that when the economy rebounds, you're more highly differentiated. Investing in experiences, not cost cutting, will fuel economic recovery. People may be spending less money overall, but they still value compelling experiences more highly than mundane goods and services.
It may be more challenging to attract customers, but I think those businesses that seize the current state of affairs as an opportunity to differentiate the experiences they offer will do better than those who retrench and leave their fate to conditions outside their control.
You acknowledge that one can layer an experience for free on top of one's goods and services. But not until you explicitly charge for the time people spend with you is such an economic offering. Could you explain?
Some of the best examples exist in subtle ways. Consider Netflix. There's a subtle but significant difference between paying a monthly subscription fee for Netflix than paying a per movie rental at BlockBuster. It's a service to pay for each movie rental and an economic experience when you charge for the time, per month. Time is after all the currency of an experience. Netflix is a form of timesharing.
Ask yourself in your business, "How can I Netflix this?" Innovation will come from finding ways to explicitly charge for time. By the way, any consumer durable, not used all the time by an individual consumer, is a candidate for timesharing.
The Experience Economy introduces the 3-S Model, which states that businesses must first increase customer service satisfaction, decrease customer sacrifice, and create customer surprise and suspense. Isn't that a huge task for today's enterprises?
We have lots of models. Someone once called Joe and me, "Frameworks R Us." I think the idea of reducing customer sacrifice the most neglected framework since The Experience Economy. Customer satisfaction focuses on the gap between what customers expect and what they perceive they get (that's the JD Powers definition). Customer sacrifice is the gap between what customers settle for and what they want exactly. There is huge opportunity for companies to identify where customers sacrifice each and every day.
A good illustration can be found with my daily newspaper delivery. It's thrown on my tree lawn and I accept that. But I sacrifice and settle for something other than what I want exactly, which is delivery inside my side door. It's a small example but iconically demonstrates how there is opportunity to create value by focusing on customer sacrifice. While the days of newspaper boys is long gone, a kid in almost any neighborhood could become a newspaper replacement boy, and charge to replace papers exactly where customers want them placed.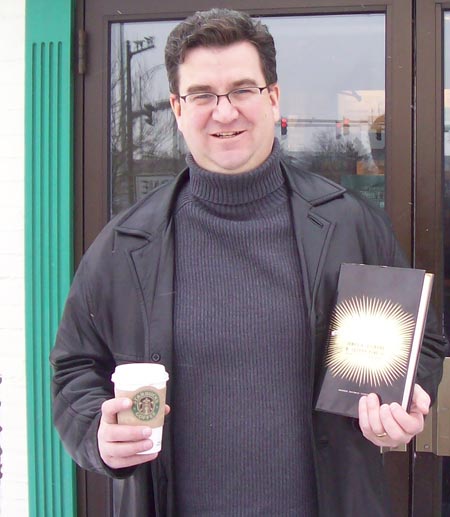 You offer Experience Economy "Expert Certification." Could you talk about it a bit.
I don't think we've had a Clevelander ever get certified. Thirty-eight people have completed the weeklong certification over the last four years. It's intensive, largely classroom-based instruction with a rich mix of experiential exercises.
Joe and I teach through our various frameworks and models for experiential design and staging. Applications are accepted online, with a maximum of 12 participants accepted for each class. We have three people who have already applied and been accepted for our next course on August 3-7, 2009, to be held right here in Cleveland.
Independent consultants from a cross-section of industries-cosmetic surgery, food, hair salons, health care, corporate education, and so forth-represent the majority of those currently certified. We also have a number of in-house trainers who have become certified experts. They've all become ambassadors for our work. The most valuable aspect of the certification, I think, is the time spent directly with Joe and me in a small group setting. We also include a follow up day as part of the certification. Many of those certified are doing some really incredible things in their particular industries.
What is the thinkAbout event that you and Joe host each year?
It's our annual gathering where we practice what we preach. I refer to it as our Raving Fans Festival. This year's event is being conducted in Philadelphia on September 16-17. I'm sure it will sell out, as we're capping attendance at 76(in honor of 1776, of course).
It's an amazing experiential learning event. The interaction between participants, all of whom are interested in the Experience Economy, is invaluable to many. We get more and more alumni returning each year, to get their fix of experiential energy. We also host an alumni-only social networking site. I' d love to see some Clevelanders' hop a plane to Philadelphia and join us.
You also originated your EXPY award. What is the honor?
We close thinkAbout with our annual top ten list of recommended experiences that we recommend participants take in over the coming year. We've treat the number one experience as our Experience Stager of the Year award. We commissioned sculptor, Trace Guthrie, to design and cast a bronze award based on the cover art of our book, The Experience Economy.
Past recipients have been American Girl Place, The Geek Squad, Joie De Vivre Hospitality, LEGO, Cerritos Public Library, Charthouse Learning, the architecture firm HOK, Cereality, TST Engineerium, and the Abraham Lincoln Presidential Library & Museum.
Three years ago we added the Experience Manager of the Year award. It's given to an individual who has made the biggest impact in a particular industry. Last year it went to Doug Johnson who has basically reinventing Santa Claus with an experience called Santastic. Go google it.
You travel the world preaching your message of experiences and authenticity. What do you think it will take to rejuvenate Northeast Ohio's economy?
Economic growth will come in the form of experiences, not just goods and services. We need to invest in new forms of tourism to attract visitors, as tourism represents the largest segment of the Experience Economy. We could invent myriad new forms of tourism. More effort is needed create a richer mix of experiences.
We need to challenge our business schools in the area to think more about experience-based innovation.
I would challenge our foundations to spend money more aggressively. I'm not advocating that they become self-liquidating, but I do believe the times call for much greater investment than what is legally required, and greater outlays I believe would force more prudent investments and even greater fiduciary accountability.
Lastly, some non-profits ought to consider becoming for-profits enterprises. Too many still see experiences as non-commercial activity to be performed on a non-profit basis, when the very fabric of business enterprise is shifting to experience-based output. As the region's largest employer, the Cleveland Clinic should consider privatizing some portion of its non-profit activity, especially in going beyond experiences to explicitly offer transformations. (Transformations are a fifth economic offering that we outline in the final two chapters of The Experience Economy.)
In today's health care, particularly around certain disease state, there is an opportunity to establish outcomes-based offerings as a radically new platform for promoting health. I'm afraid it won't happen when the existing enterprise is structured on a non-profit basis.
What concluding imprints do you hope to leave on Great Lakes Geek readers?
We have some city entrepreneurs doing great things, and we need more of them. Cleveland's future will depend on it.
I might also express a point of view about any new convention center. The starting point, as I see it, is not where such a venue is build, but what kind of venue is being built. Regardless of what location is being considered, I'm afraid we'll go about building a rather conventional convention center.
What we ought to do is invent the world's first convention center specifically designed to host winter events. Never-been-seen-before outdoor meeting space ought to created, ice bars ought to be integrated, venue-issued parkas provided, sled rides from one level to another built into the place, and so on. Make meeting planners want to come here in January for the wonderful winter-based experience.
To build a facility that resembles some warm-weather city is foolhardy. Let's instead make our cold climate a virtue. Include artificial snow machines when actual snow isn't available. Aim for a meeting footprint that offers a uniquely memorable experience.
I'd like to see us re-think Public Square. It's been cleaned up but needs a Wow. Think something radically different, like hiring Jon Jerde to enclose it under some uniquely designed dome.
I've always been intrigued by the RTA Shaker/Van Aken Rapid Line. It would be interesting to see economic development based around its stops, making them small hubs of experiential activity.
Interview by Tim Zaun. He can be reached at tim@timzaun.com.
---
Top of Page

Back to Great Lakes Geek Columnists


---
---