Andrew Winston, corporate environmental strategist, and coauthor of Green to Gold: How Smart Companies Use Environmental Strategy to Innovate, Create Value, and Build Competitive Advantage
, was in Cleveland on Tuesday, April 22, 2008 to deliver the keynote address for the Materials and Handling Show at the IX Center.


His message was entitled, Green to Gold: How Smart Companies Use Environmental Strategy to Innovate, Create Value, and Build High Performance Supply Chains.
The Materials and Handling Show is an annual production by the Materials and Handling Industry of America. The four-day event included the Center for Information Technology Solutions, the NA 2008 Green Pavilion, and Knowledge Center, offering daily educational seminars.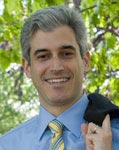 Winston's appearance reflects the growing trend among businesses, large and small, attuned to environmental concerns. Those interests arise from two major influences- the realization of rapid depletion of natural resources worldwide, and accountability demand from a variety of stakeholders, including consumers and investors.
Winston's keynote, and the preceeding Great Lakes Geek interview, focused on the greening of the supply chain. Highlights included: AUDIO analysis (brainchild of Winston and Green to Gold coauthor, Dan Esty), an anachrom for studying the whole value chain of a company, Companies partnering with nongovernmental agencies (NGO's), once viewed as advesaries, and NASA meeting business, as more companies adopt the Apollo 13 Principle of "Failure is not an Option," regarding environmental initiatives.
The 2009 ProMat Show will be held at Chicago's McCormick Place South, January 12 to 15. If you missed this year's exciting local extravaganza, as valuable consolation, take note: the sooner your company adopts complementary environmental practices, the sooner you'll reap an eco-competitive advantage.
Green to Gold introduces the AUDIO analysis. Could you preface the anachrom for our Great Lakes Geek readers?
AUDIO is a tool that we use to help companies study environmental impact on their business. A represents aspects of the environment that influence your business. U is upstream-signifying suppliers and raw materials, etc. D is downstream for customers. I is issues and O is opportunities. It's like a traditional SWOT analysis (strengths, weaknesses, opportunities, and threats), but adds the whole value chain perspective, from suppliers to customers.
Why is it important for companies today to take a proactive stance regarding environmental issues?
The case is getting easier daily. Since the book's release, oil prices have doubled, and commodity prices have continued to double and at times, triple.
Being proactive is a vital competitive force. The quicker you adopt environmental initiatives, reduce your carbon footprint, and market to customers, the quicker you'll enjoy a competitive advantage. Today's environmental movement is a lead or fall behind experience. There's no choice anymore.
How can companies avoid being accused of greenwashing, rendering their environmental actions disingenuous?
The easiest way is to speak the truth. It sounds obvious but it's not always done. Find quick, measurable environmental wins. Have the metrics available and communicate them in a clear, user-friendly way.
More companies are adopting the Apollo 13 Principle, "Failure is not an Option." Could you elaborate?
It's a critical mindset and a tough thing to achieve. Bigger companies do have an advantage to apply a more structured environmental initiatives approach.
At minimum, companies should establish a goal to be both economically and environmentally-conscious, and unleash vast creativity and innovation. Redefine your identity, state your green initiatives, and find ways to achieve them within the same economical constraints. You won't realize all of your goals, but the philosophy inspires green thinking throughout the organization. Take Dupont as an example. They were innovative and changed entire processes. They didn't just streamline and become more efficient but redesigned operations entirely.
Green to Gold advocates stretch goals. Why are they important?
Different kinds of goals exist. Again, I use Dupont as an example.They set a zero waste goal. It's not sexy but it conveys their message. Toyota envisions building a car that can traverse the continental United States on a single tank of gas, that's a visionary goal. Visionary goals mirror the Apollo 13 Principle, promoting lofty environmental initiatives.
Some companies choose not to promote their environmental initiatives to the general public. Is this still a good idea?
Today, green marketing abounds. Still, some companies avoid green PR. There is always room for product portfolio scrutiny once you announce green practices. NGO's and customers realize that you can't concurrently green your entire product portfolio.
More companies are becoming transparent regarding their green practices, and they should. If your green pratices are legitimate and measurable, you're decreasing market value by not announcing them. Don't start with green marketing but instead, integrate it over time to avoid the pitfalls of branding.
Oil prices remain above a record-breaking $100.00 per barrel. What opportunities can arise from such numbers?
Nobody thinks oil prices will be declining any time soon. One advantage to today's situation is that it forces innovative resource usage. Honing market price is an excellent way to reach our environmental needs. It's happening naturally already. The market is pricing resources much higher, requiring lean, efficient company operations. Long term marketplace benefits take time. We're already seeing quicker payoffs for some investments.
More companies are partnering with environmental organizations that were once viewed as advesaries. Why?
The days of waiting until an NGO protests, displays a banner, and companies issue a press release stating why they're wrong are over. Environmental NGO's (nongovernmental agencies), are now aligning with business. Cynics view such company actions as a way to co-opt their agenda, to keep NGO's from protesting. Co-opting agendas is fine, as long as everyone's voice is heard. You can also learn from some of these critics. They're often privy to marketplace or environmental challenges(i.e. AUDIO analysis), before you are.
Design for the Environment (DfE) is a growing business trend. How are companies implementing it today?
Design for the Environment (DfE), presents structural processes, checklists, tools, and approved substance lists for designers' use. Designers aren't chemists and toxicologists. Providing structural processes and tools for environmental design helps companies realize their green initiatives.
Green to Gold talks about the Life Cycle Analysis (LCA) as it relates to the supply chain. Is LCA viable for small businesses as well?
People often query me about Green to Gold's applicability to small and medium-sized businesses. I do think it is written for them too. One major difference is the supply chain question. Obviously, bigger companies like Wal-Mart can exert more pressure up the supply chain. But even they can't control an entire marketplace, or determine the cost of commodities.
Initially, Life Cycle Analysis could be more expensive for smaller companies to conduct. They need to unite with their business associations, define their industry-related environmental issues, and approach Life Cycle Analyis from that point.
Small and medium-sized companies may be more nimble, allowing greater creativity and faster speed to market regarding environmental practices. Some smaller companies' green actions are becoming deal breakers, enabling them to land major contracts with larger clients.
What concluding imprints do you hope to leave on your audience today and beyond?
The green movement is more expansive than many people realize, now including players like General Electric and Wal-Mart. There is no alternative anymore. Adopting environmental initiatives is a fundamental competitive business shift. The opportunities are tremendous. Whenever there is change, there are winners and losers. Make it your goal to emerge victorious.
Interview by business and environmental writer, Tim Zaun.
---
Top of Page

Back to Great Lakes Geek Columnists


---
---