To support IT executives, NEOSA launched the CIO Symposium in 2000; it's the longest-running gathering of CIOs in the region. 2010 Topics covered included:
Developing an Effective iDevice Strategy
Open Source 3.0
Social Media: Enterprise Version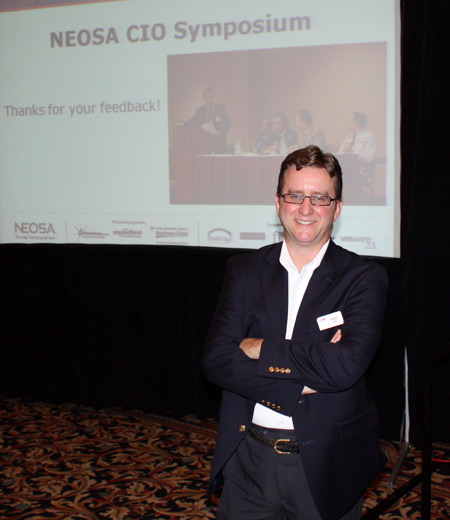 NEOSA director Brad Nellis



George Dufour, CTO of CBIZ, led an interactive survey at lunch.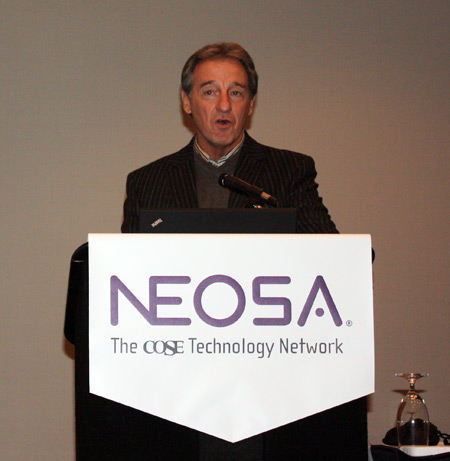 George Dufour



Anuj Dhanda, CIO of the PNC Financial Services Group, gave the lunchtime keynote address.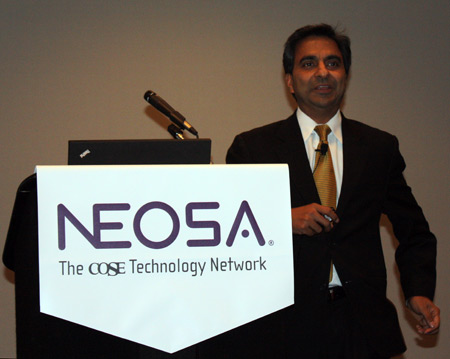 Anuj Dhanda



After the panels, the Great Lakes Geek caught up with two of the most interesting presenters for the following vidcasts.

Social Media at the Airport

Which airport was the first to have a corporate blog?

Not sure? OK, which US airport was the first on Facebook?

Which was one of the first on Twitter?

The answer to all three questions is the Akron Canton Regional Airport, CAK.

Kristie Van Auken, Marketing Director of the Akron Canton Regional Airport, says the airport uses Social Media to engage customers. The typical traveler may have a relationship with a particular airline but it is rare to have a relationship with an entire airport.

CAK has over 16,500 Facebook fans and uses it and their other social media outreach to connect and stay connected with travelers especially in their targeted demographic of college educated frequent travelers age 25-54.

Watch as Kristie Van Auken tells the why and how of CAK's social media strategy after a panel at the 2010 Neosa CIO Symposium.

See more of Kristie Van Auken

Top of Page

---
Matching the Device to the Job
There's an app for that. Are you sick of hearing that yet?
I've always had plenty of quality apps to choose from - they run on my Windows 7 devices.
Devices and gadgets have evolved significantly over the last 10 years. The key, as Microsoft Collaboration Architect Jerry Carlson told a NEOSA CIO Symposium crowd, is to match the right device to the job.
For me, multitasking is essential. And I need ports to plug stuff into. And I want to run my Windows apps, connect to Exchange, join domains, etc. The iPad doesn't meet any of those needs.
In the video below, Jerry Carlson gives some important advice about devices.
---
Top of Page
Back to Great Lakes Geek Events