Blair Levin became Communications & Society Fellow with the Aspen Institute Communications and Society Program on May 10, 2010, following his departure from the Federal Communications Commission, where he served as the Executive Director of the Omnibus Broadband Initiative.
In his role at the Federal Communications Commission, Mr. Levin oversaw the development of a National Broadband Plan, a project mandated by Congress in the America Recovery and Reinvestment Act. Mr. Levin rejoined the Commission in June, 2009, after eight years as an analyst at Legg Mason and Stifel Nicolaus. As Barron's Magazine noted, Levin "has always been on top of developing trends and policy shifts in media and telecommunications … and has proved visionary in getting out in front of many of today's headline making events."
Previously, Mr. Levin served as Chief of Staff to FCC Chairman Reed Hundt from December 1993 through October 1997. Mr. Levin oversaw, among other matters, the implementation of the historic 1996 Telecommunications Reform Act, the first spectrum auctions, the development of digital television standards, and the Commission's Internet initiative.


Blair Levin at City Club of Cleveland



Listen to Nortech founder Dorothy Baunach introduce Blair Levin, principal architect of the National Broadband Plan, at the Cleveland City Club.
2:06, 1978KB

Mr. Levin spoke at the City Club of Cleveland and then took part in a panel discussion. His topic was "The New Table Stakes: Winning in the 21st Century"

Though the phrase, "a Sputnik Moment" seems to be applied to too many situations, Blair Levin's usage might be appropriate. He cautioned the audience that in 1957, when Sputnik was launched, "we had the necessary resources to respond…Today's world is very different."

Quoting Peter Drucker, Levin said that Knowledge Work is the core and Knowledge Exchange is the core task. The way we do this has been completely transformed in the last 2 decades by 3 revolutions.
Data
Computing
Communications
His principle point was that the table stakes of responding to this Sputnik moment includes assuring a broadband ecosystem that facilitates high-performance knowledge exchange. Congress, in the Recovery Act, asked for such a plan to be developed. Levin said that during that effort certain things became clear:
Number one it's not just about networks
It's about the interaction of Networks, devices application and above all, people.
Number two it has to be Ubiquitous so all can benefit and all are included in the work of our economy and society.
Number three it has to be Diverse with different things driving innovation from all its different parts.
Number four it has to be Constantly Improving - with constant virtual feedback loops.
He said that none of this is surprising or controversial but it "is deeply, deeply at odds with prevailing government policies."
For example he stressed that it is a profoundly bad idea is focusing on bringing the highest speed to the furthest rural areas. The telling measure is improvement throughout the system not just in any single metric.
The 2nd problem is the knee-jerk focus on speed. Levin said that Korea is simply educating their kids better. "That's the real completion we face - not the broadband speeds."
The 3rd error is the primary focus on wireline services over mobile. He used the example of the Emergency Alert System. How many in the audience would get the Alert by TV or Radio> They would want it on their mobile devices.
Levin says that rural and residential should not be the main focus and that the market, not government, should sets broadband speeds.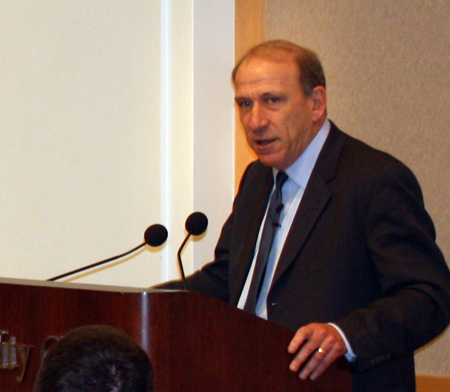 Blair Levin



Listen to Blair Levin talk about our Sputnik moment
4:00, 3759KB

The panel discussion offered a local perspective on how Northeast Ohio is building toward a broadband future. The Moderator was Lev Gonick, Vice President for Information Technology Services & CIO, Case Western Reserve University. The Panelists were:
Roy Church - President, Lorain County Community College
Bethany Dentler - Executive Director, Medina County Economic Development Corporation
Scot Rourke - President & CEO, OneCommunity
and Blair Levin joined the panel as well.

Listen to the entire program or watch it on the City Club's YouTube Channel.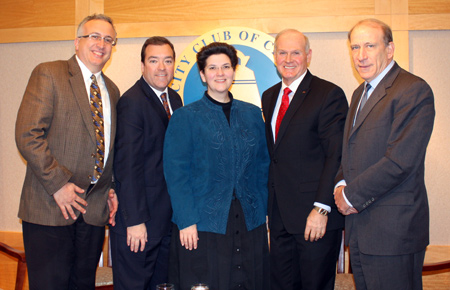 Lev Gonick, Scot Rourke, Bethany Dentler,
Roy Church and Blair Levin
---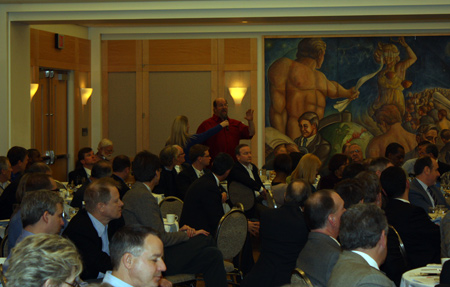 Question from Marc Canter


---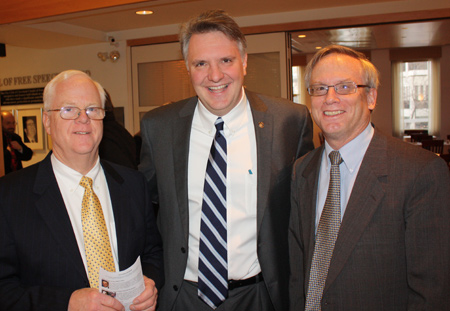 Jim Foster, Chris Ronayne and Jim O'Hare


---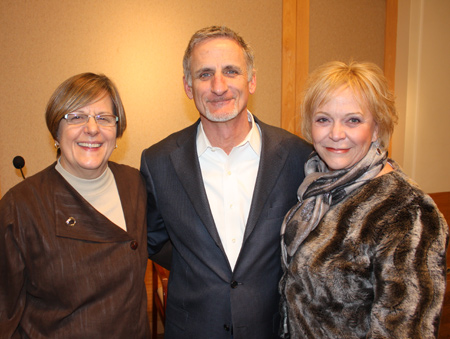 Dorothy Baunach, Ron Copfer and Marsha Powers


---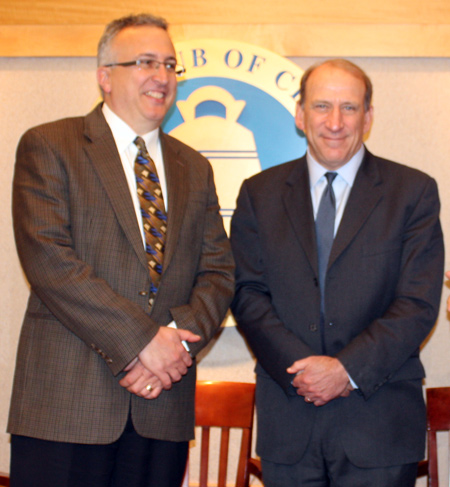 Lev Gonick and Blair Levin


---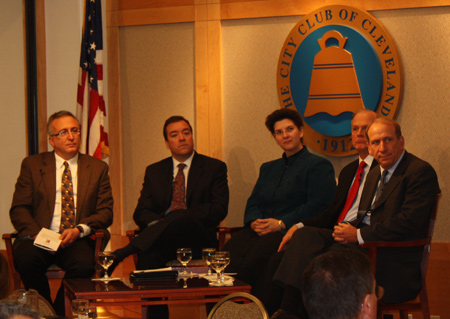 Panelists Lev Gonick, Scot Rourke, Bethany Dentler,
Roy Church and Blair Levin


---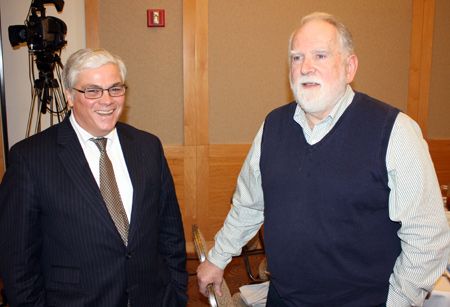 Kevin Cronin and Bill Callahan


---
---
Top of Page
Back to Great Lakes Geek Events