The Cleveland Foodbank is one of those institutions you know about in the back of your mind but, if you are fortunate enough not to be hungry, you don't really think about.
A recent tour of their massive operation changed all that.
The mission of the Cleveland Foodbank is to alleviate hunger by providing food and support to community organizations that feed the hungry.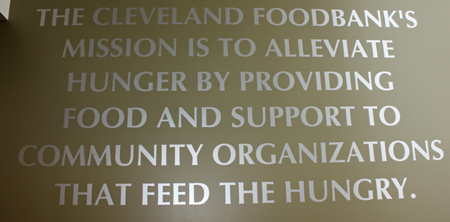 The Cleveland Foodbank supplies a majority of the food used in local hot meal sites, shelters, and food pantries. In addition, they provide food to child care centers, group homes, and programs for the elderly.
In 1979, a group of civic-minded individuals joined together to create the Cleveland Foodbank, an innovative method for confronting the critical issue of hunger in our community. Some of these people represented the food industry and expressed concern about the large amount of nutritious food going to waste each day. Others stood on the front lines in the fight against hunger and worried about the limited supply of food available to feed the hungry.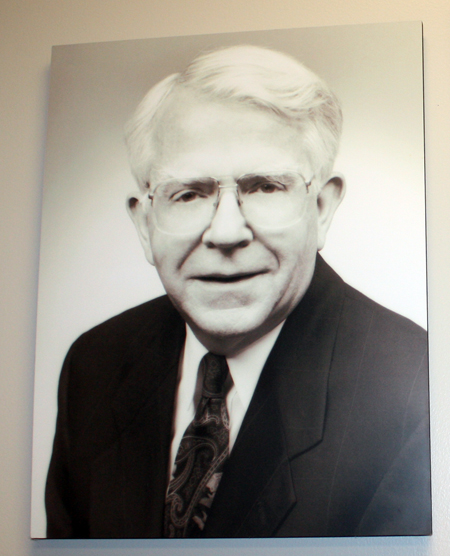 Edmond Worley,
Cleveland Foodbank Founding Executive Director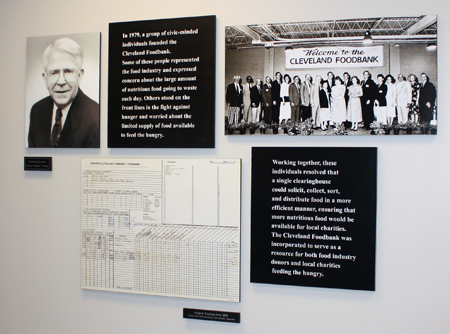 The Foodbank works closely with other Northeast Ohio hunger relief organizations, providing food and nonfood products to hunger centers administered by the Hunger Network of Greater Cleveland, the Catholic Hunger and Shelter Network, and the Salvation Army, among others.

The kitchen prepares 4-6000 meal equivalents each day. Cold meals for programs like the Backpack program for kids and hot meals for seniors and others.

The BackPack for Kids program provides food for kids to take home for the weekend. many get served meals in school but are on their own for the weekend. On average around 2,300 children each week receive backpacks from the Cleveland Foodbank. Each Backpack contains food for 6 meals over the weekend.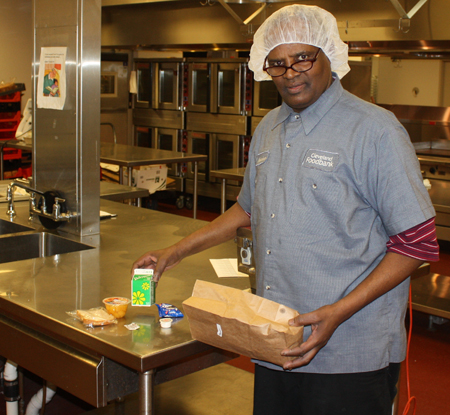 Contents of a sample cold meal
---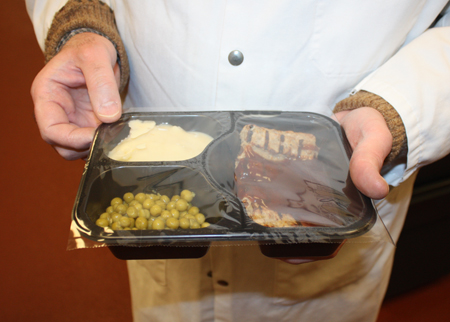 A sample hot meal prepared for Seniors
---
The kitchen is spotless and is inspected daily.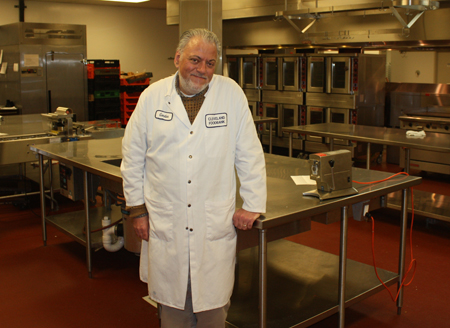 Chef Gordon Gray in the Cleveland Foodbank kitchen



The Foodbank solicits donated food and nonfood products from food manufacturers, wholesalers, retailers, and community groups and distributes it to more than 600 hunger programs that serve the needy in Northeast Ohio. About 84% of the food served at local pantries is provided by the Cleveland Foodbank.

In 2010, the Cleveland Foodbank distributed food and essential non-food products to more than 600 member hunger programs in six counties.

Northeast Ohio's hungry include children, the working poor, the unemployed, the elderly, the homeless and the chronically ill.

Food donations can be dropped off at the Cleveland Foodbank, 15500 South Waterloo Road, during normal business hours - Monday through Friday from 8:30 a.m. to 3:00 p.m. Please call ahead to schedule your delivery.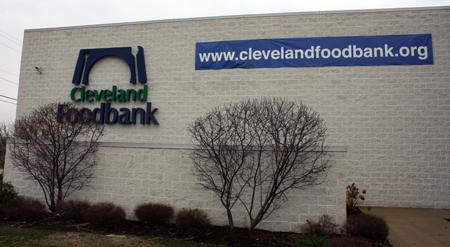 The Super 6 items that are always needed are:
Cereal
Peanut Butter
Canned Soup
Canned vegetables
Tuna Fish
Canned Beef Stew
In reality, their well-oiled operation can make your financial contribution go a lot farther than a food donation. They are able to provide 4 meals for every dollar donated. So a $10 donation, for example, can provide up to 40 meals for the hungry.
Mail financial contributions to the Cleveland Foodbank, 15500 South Waterloo Road, Cleveland, OH 44110 or donate online. Your donation is tax-deductible as provided by law.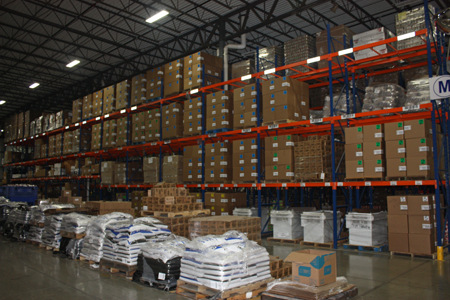 Cleveland Foodbank warehouse



Hugh Williams is VP of Operations at the Foodbank and is responsible for the barcode system in their massive warehouse. They expect a voice-enabled picking system to be implemented in July 2011.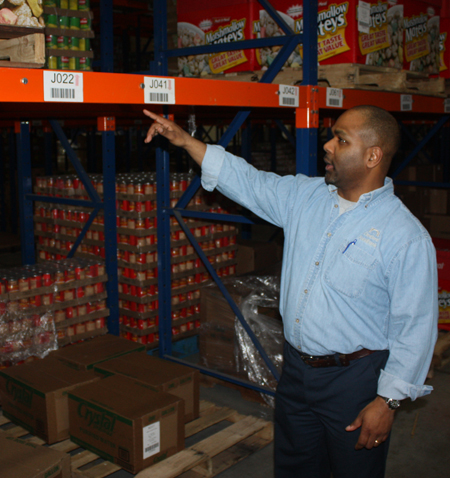 Hugh Williams



Donations are desperately needed now during the Harvest for Hunger campaign. Harvest for Hunger is one of the largest annual, community-wide food and funds drives in the nation. It provides critical resources to local hunger relief organizations in twenty-one counties in Northeast and North Central Ohio.

Last year's campaign raised the dollars and food needed to provide over 10 million meals to individuals and families who were struggling to make ends meet.

Harvest for Hunger 2011 is the most important campaign to date, as the downturn in the economy, rising unemployment, and higher food and heating bills are forcing more people to turn to local hot meal programs, food pantries and shelters for assistance.

It's easy to donate and the money is spent efficiently. Where else can 4 meals be provided to the hungry for every $1 donated?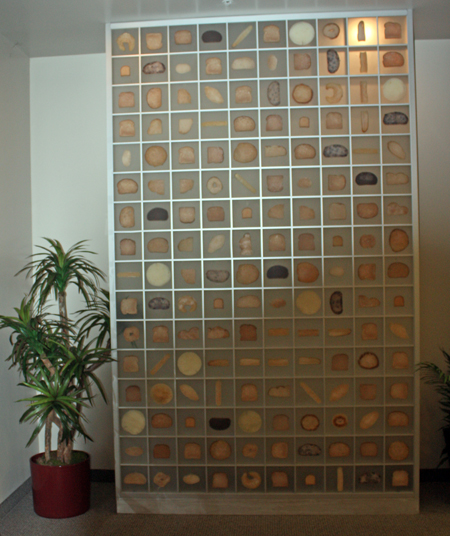 Bread Wall in the Cleveland Foodbank's lobby



Hunger in our community is something that we can do something about. Please contribute today.
---
Top of Page
Back to Great Lakes Geek Events