Cleveland Indians Snow Days at Progressive Field
Last year, The Coolest Place in Cleveland was at Progressive Field where the Cleveland Indians devised a creative way to use the ballpark to attract families downtown during the winter.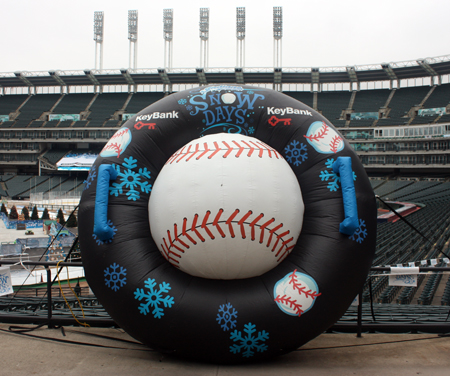 Over 50,000 people attended the Snow Days last year.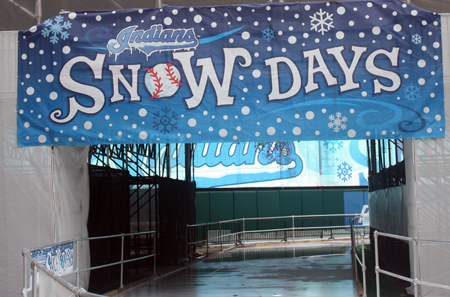 Compared to last year's inaugural event, this year's "Indians Snow Days" will nearly triple the amount of ice on the ballpark field, adding a regulation size ice hockey rink, and a huge ice tubing hill, nicknamed "The Batterhorn, presented by RTA".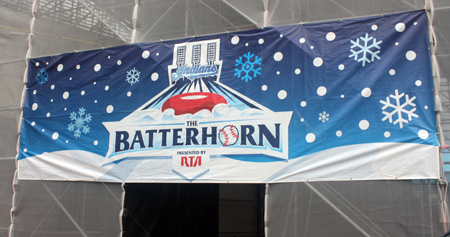 The tubing hill is really an ice rink, built on a 200-foot downhill slope, and 65 foot high where participants race on ten side-by-side lanes. The Cleveland ice-tubing hill is the largest refrigerated hill of its kind, in the world.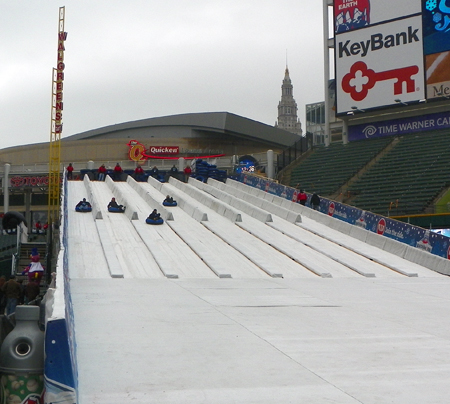 The Batterhorn is a lot of fun for all ages and admission allows for unlimited tubing.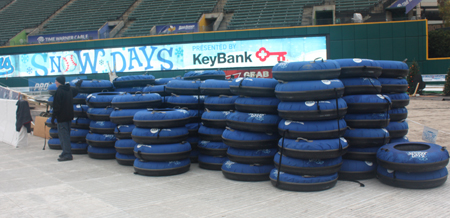 See how it looks to tube down the Batterhorn in the short video below where the Great Lakes Geek races a fierce competitor. .
"The Let's Move It! Frozen Mile, presented by The Cleveland Clinic" skating track circulates around the ballpark third base and outfield, and a mini "Rookie-Rink" is reserved for beginning skaters.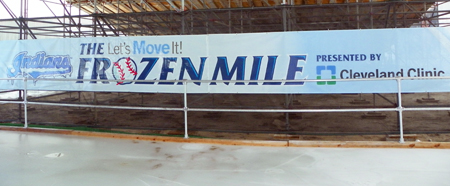 As you skate around the Frozen Mile, you will see various winter and holiday decorations and listen to Christmas and holiday music.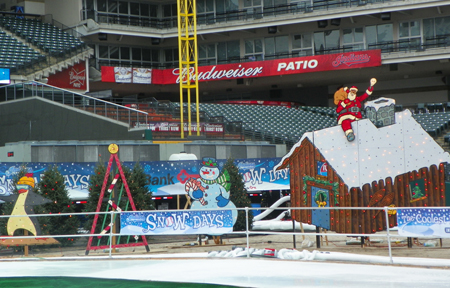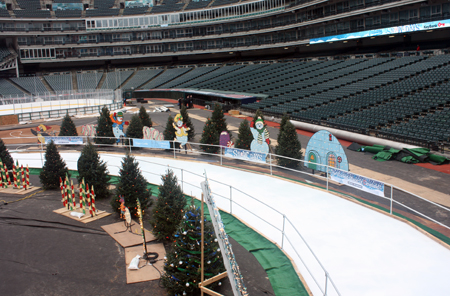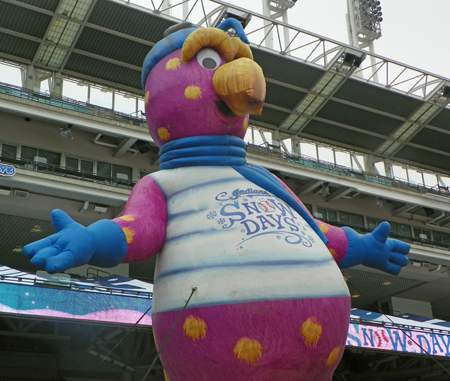 "Indians Snow Days'" newest attraction "The Frozen Diamond", a 17,000-square foot ice hockey rink, will be the memorable centerpiece of the downtown Cleveland event this season.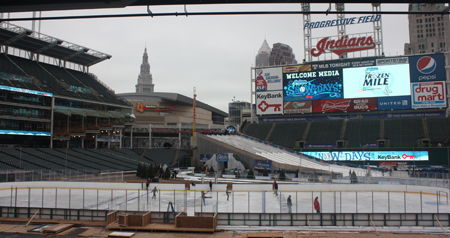 "The Frozen Diamond" will feature a series of youth and high-school hockey tournaments culminating in a January 15 match between the Ohio State Buckeyes and the University of Michigan Wolverines at Progressive Field- The Frozen Diamond Faceoff.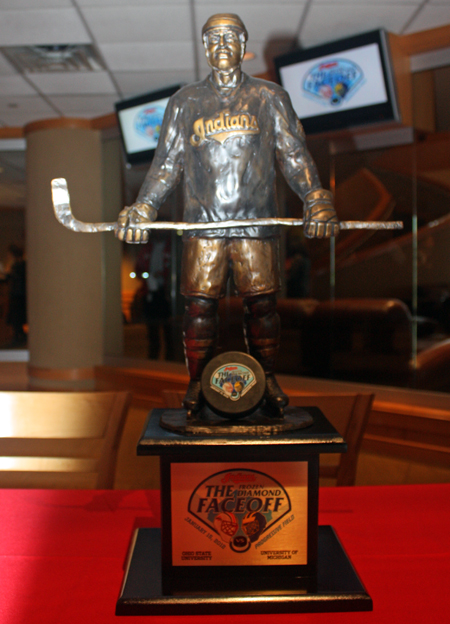 The Frozen Diamond Faceoff will be the first hockey game in Progressive Field history and the first-ever outdoor college hockey game in the State of Ohio. The Central Collegiate Hockey Association (CCHA)-sanctioned game will be the second of a two-game series between the two schools with the first game being held in Columbus on Friday, January 13, 2012.



CCHA Commissioner Fred Pletsch said, "An event at a venue like Progressive Field is great for both the institutions and the league as a whole. We're looking forward to coming to Cleveland this January to see a terrific rivalry showcased in a distinctive and memorable setting."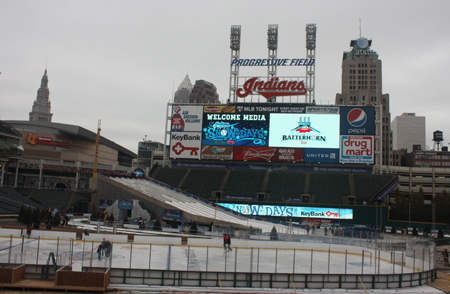 Local schools will use the hockey rink for tournaments as well. A marquis match up between rivals St. Edward and St. Ignatius will be played on Thursday, January 5, 2012 with a 7:00PM puck drop.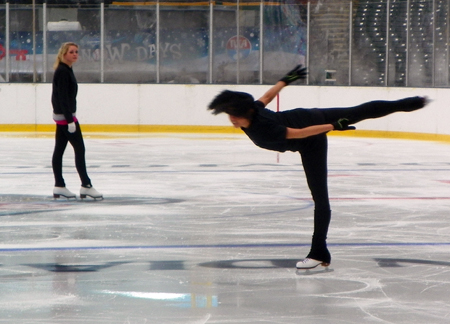 "Last winter, Indians Snow Days allowed over 50,000 Indians fans to create memories with their families," said Indians President Mark Shapiro.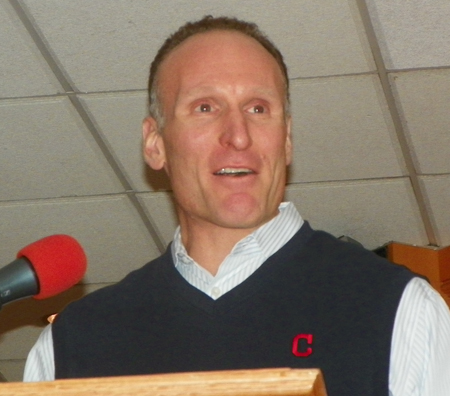 Cleveland Indians President Mark Shapiro





"We are excited that the return of Indians Snow Days and the addition of the Frozen Diamond Faceoff will allow even more fans to create wintertime memories at Progressive Field."

The Snow Days also features warming areas, including an indoor children's play area. Video games, pool table, speed pitch, air hockey and more are available as you warm up for the next round of outdoor fun.

The Terrace Club will also be open for warming up and fortifying yourself with some ballpark food.

See Page 2 of Indians Snow Days to see the Indians Mascots (Mustard, Ketchup and Onion) having fun and more from Indians Snow Days.

Indians Snow Days is open to the public each weekend (Friday, Saturday and Sunday) through January 16 while Cleveland-area public schools are in session and open seven-days-a-week during the holiday period of December 16 - January 2 (full calendar available at www.indians.com/snowdays).

Indians Snow Days will also be available for private group opportunities - Call 216.420.HITS for more information.

Tickets to both Indians Snow Days and The Frozen Diamond Faceoff are available on Indians.com/snowdays. at the Progressive Field Box Office, Indians Team Shops and by calling 216.420.HITS (4487).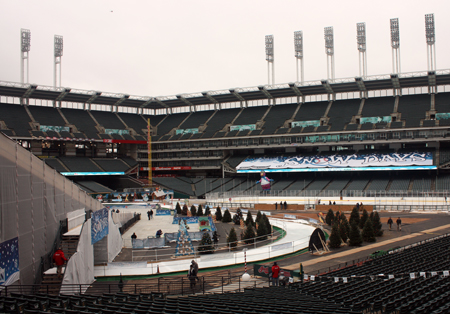 ---
Page 2 of Indians Snow Days
Top of Page
Back to Great Lakes Geek Events