OneCommunity and NTIA, the federal agency overseeing nearly $5 billion in broadband stimulus investment, sponsored a 3-day event titled Mid-Course Workshop for Broadband Awardees: Accelerating Deployments & Driving Towards Sustainability Conference in Cleveland, Ohio.
On the third day of the event, a panel of experts spoke on Technology is Changing the Way We Live, Learn, Work and Play.
The panel was moderated by Lev Gonick, Vice President for Information Technology Services and Chief Information Officer at Case Western Reserve University in Cleveland, Ohio. Lev is also President Emeritus of the Board of OneCommunity.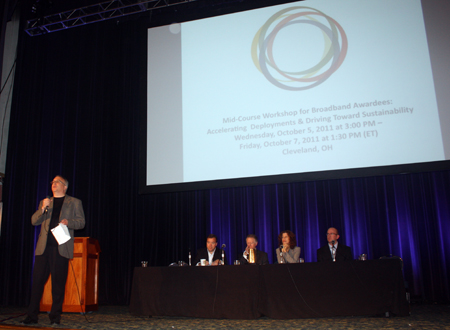 Lev Gonick introduction



Panelists included
Sari Feldman, Executive Director of Cuyahoga County Public Libraries
Brad Chilton, Chief Technology Officer at University Hospitals and former IT director at Eaton Corporation and TRW
Graham Richard, Former Mayor of Fort Wayne, Indiana and named to Government Technology magazine's "Top 25 Doers, Dreamers & Drivers" for Public Sector Innovation
Scot Rourke, President and CEO of OneCommunity and Winner of the Intelligent Community Forum's "Visionary of the Year" award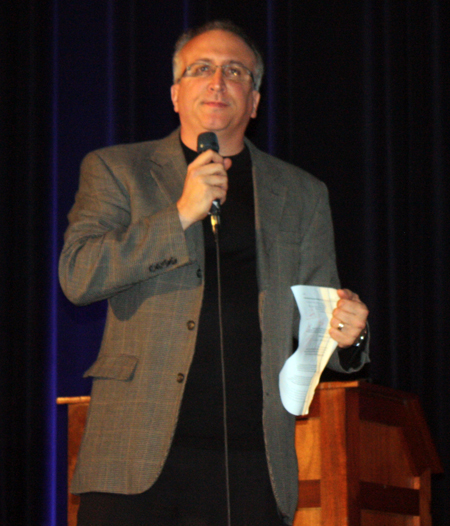 Lev Gonick, CIO of CWRU



After introductions in which Lev Gonick called them a panel of pragmatic visionaries, Sari Feldman spoke about the new model of library outreach using broadband technology.

Ms. Feldman has heard about the supposed demise of the public library for much of her 35 year career. Instead she has seen libraries embracing new technologies to make them even more vital components of a community.

She sees broadband technology as one of the reasons for the vitality. She quoted a report that said 77 million people used a library PC in 2009 and they used it whether or not they had a PC at home. She attributes this to the high-speed connectivity at the library. She quoted her colleague who says, "You can never be too rich, too thin or have too much broadband."

The opportunity is where broadband intersects with the library's mission of reading, lifelong learning and civic engagement.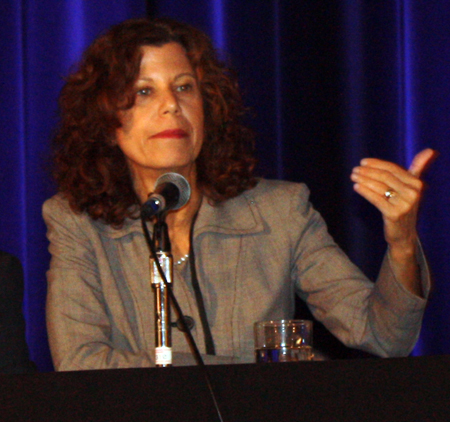 Sari Feldman, Executive Director of Cuyahoga County Public Libraries
Feldman credits the new model of library outreach made possible by technology such as Overdrive's digital content management tools and the growth of devices like the Amazon Kindle.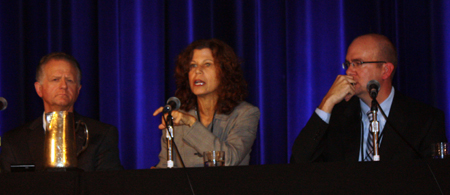 Next to speak was Brad Chilton, CTO of University Hospitals.
Chilton told how the healthcare model is moving from the traditional turnstile model where a patient enters, has a procedure and is released. Now there is a continuum of care which includes patient engagement and accountability which can be aided by broadband connectivity to devices that monitor health.
The high-speed connectivity allows the provider to stay involved in what happens beyond the hospital doors and results in a better way to take care of people.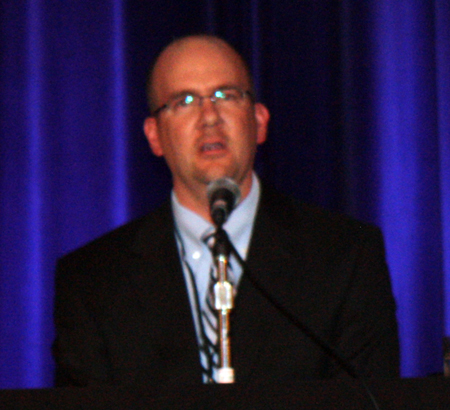 Brad Chilton, CTO of University Hospitals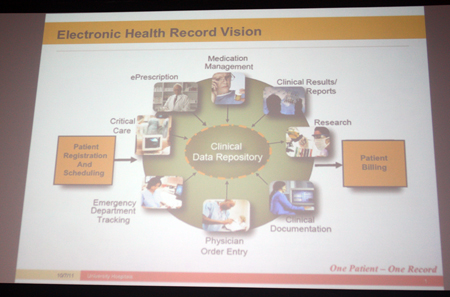 University Hospitals Electronic Health Record Vision



Graham Richard, the former mayor of Fort Wayne, Indiana, said it's a leadership challenge not a technology challenge in transforming to a gigabit nation. He reminded the audience that Better Broadband equals Better Lives.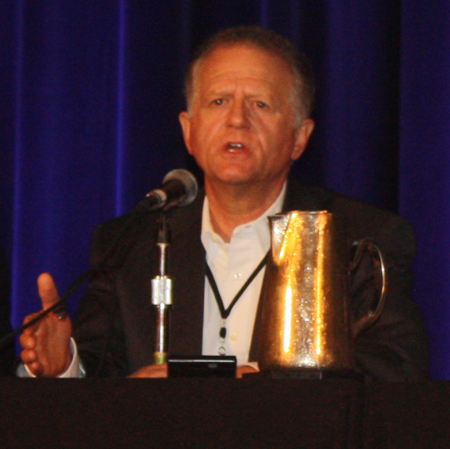 Graham Richard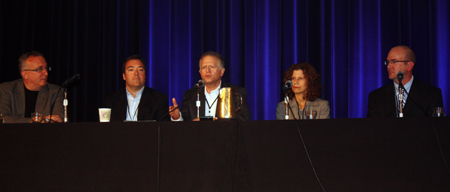 Scot Rourke, President and CEO at OneCommunity, called broadband the nervous system of a smart and sustainable community. He stated clearly that the US "does not have a competitive digital infrastructure." He warned that the US has to catch up in order to become leaders again rather than laggards and offered some provocative ideas to reaquire that status.

Rourke's provocative thoughts included Telework and he guessed that in the next 10 years about 40% will be working from home and about 70% of healthcare will occur at home. Rourke sees opportunity for high performance government, not just for the already proven eCampaigning model but for eDemocracy.

He also wondered why nobody is addressing the issue that most unemployed don't have broadband yet most jobs are posted online.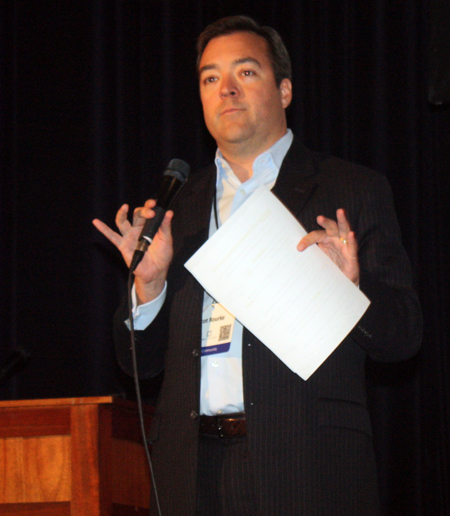 Scot Rourke, President and CEO at OneCommunity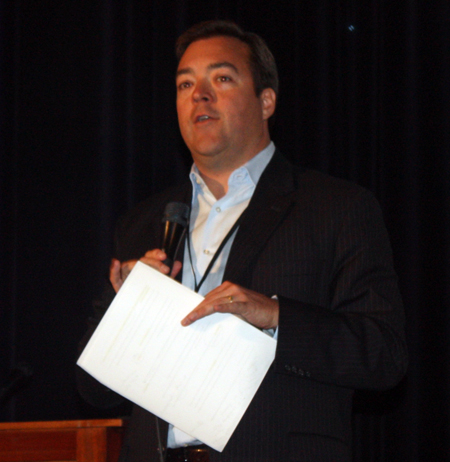 Then moderator Lev Gonick gave a view of the broadband future from an educator's perspective. He offered three theses to consider as the university is repositioned if not completely reinvented.
The Future is symbiotically connected. Connected to our institutions but also to our community. The health of a great university like CWRU is only as vital as the health of the surrounding community.

Dematerialization of Society. As the dematerialization of society occurs, education must figure out the connection between data and the human condition - people

The Challenge of repositioning if not reinventing the role of universities. From the notions of University Anywhere to Gig U, the role of higher education is changing.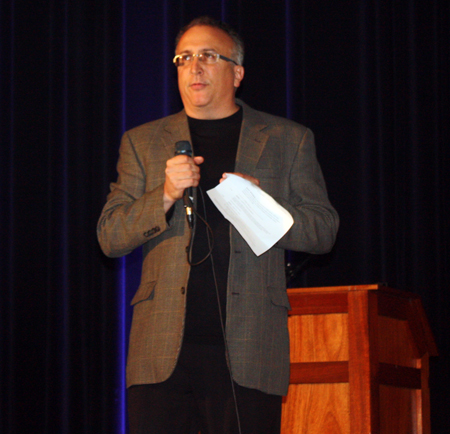 Lev Gonick, CIO of CWRU





Gonick also spoke about 4 major challenges of broadband technology
STEM education
Health & Wellness
Energy and Energy Management
Public Safety and Government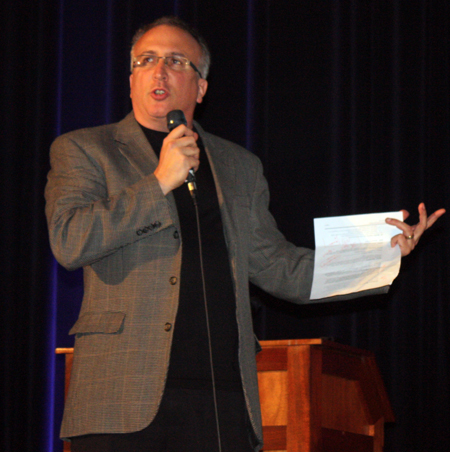 ---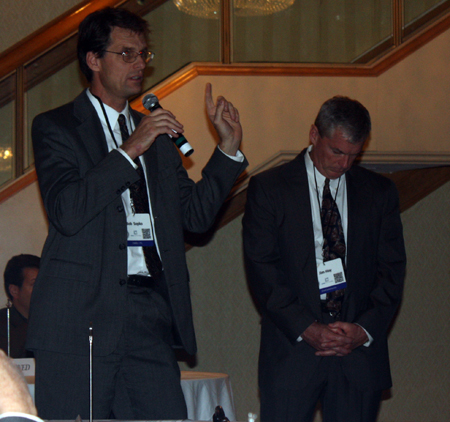 Robert Sopko asks a question


---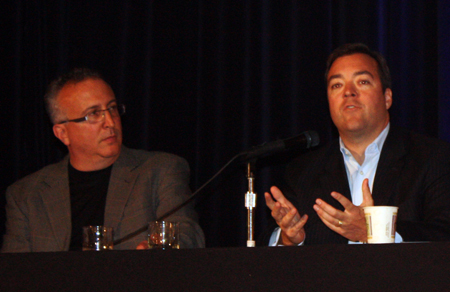 Lev Gonick and Scot Rourke


---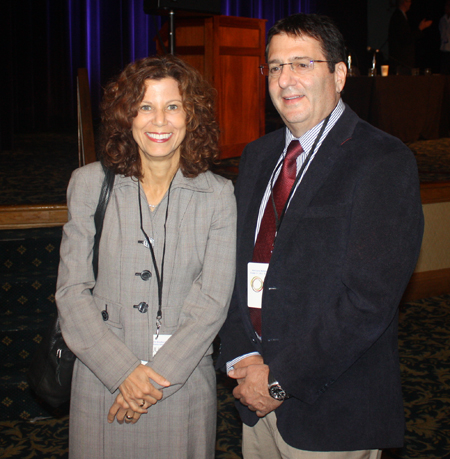 Sari Feldman and Overdrive's Steve Potash


---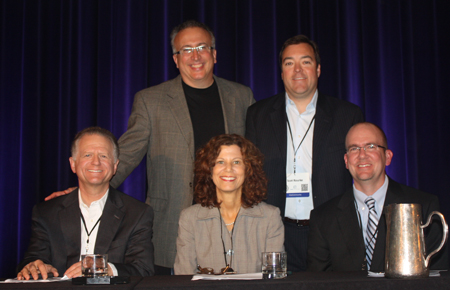 The panel of Pragmatic Visionaries
---
After the panel, Cleveland Clinic CIO C. Martin Harris, MD gave the keynote address.
---
Top of Page
Cleveland Clinic CIO C. Martin Harris, MD keynote address
Back to Great Lakes Geek Events