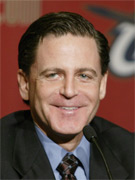 About 700 business people packed the Corporate Club at Landerhaven Thursday February 18 for the lunch and presentation. Why the record-setting crowd in this the 21st year of the Corporate Club?
To see Cleveland Cavaliers Majority Owner Dan Gilbert.
Gilbert was a popular choice for many reasons. Of course owning the team with the best record in the league (not to mention the hockey Monsters and Quicken Loans Arena) and the best player in the world sure helps. Just completing a blockbuster trade adds to the interest and even the "water-fountain-gate" situation made this event timely.
But many in the crowd came to see how one of the architects of the successful vote to bring casinos to Ohio did it. And what the next steps are.
And, of course, Dan Gilbert is the Chairman and Founder of Quicken Loans Inc. which posted a company record 25 billion dollars in home loan volume in 2009, during a down economy. All of these factors helped shatter the Corporate Club attendance record.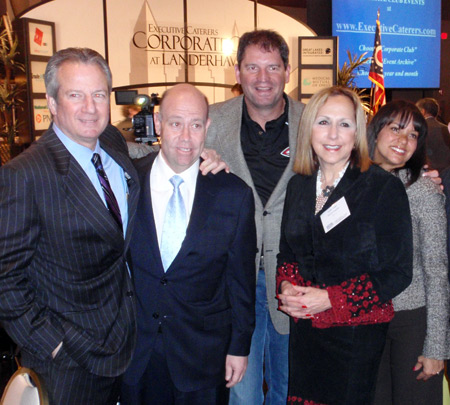 Umberto Fedeli with Bernie Kosar and other friends



Politicians, business titans (Umberto Fedeli must have had 15 tables reserved for his guests) and other business players enjoyed prime rib before Inside Business Magazine Editor Steve Gleydura sat down on stage with Dan Gilbert. Landerhaven looked its best and even the desserts reflected the popular speaker.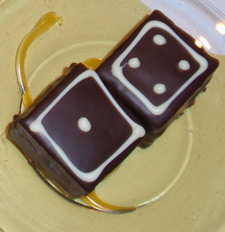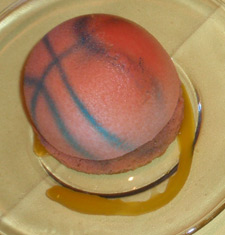 Dice and basketball desserts in honor of Dan Gilbert



Gilbert spoke about Zydrunas Ilgauskas, "a class act" that he hates to see go. He wishes him the best of luck but trades are "part of the business."

In this audio capture, Gilbert tells about the pressure around trading deadlines and how fast information appears on the Internet.

(The audio, especially in the first few clips, isn't as clear as we would have liked but it is worth the effort - especially the last clip.)

Listen to Dan Gilbert discuss the trade

So how do you build such a successful empire? Gilbert said that he spent years observing "what works and what doesn't work in business."

He looks to hire people who are web-centric and tech-focused. "In essence we are an internet technology company."

He has learned to" focus on great culture." With 5000+ people working for him, he knows that "10,000+ eyeballs see more" than a few managers and bosses. So what's the deal with the water fountains?

Recently, it was announced that the water fountains in Quicken Loans Arena would be removed, ostensibly for health reasons, with free cups of water offered to fans. Many decided that this must be a ploy to sell more bottled water at $4 per bottle. Gilbert laughed at the idea. He said that they had been speaking with various agencies for months about such a move - for health reasons. "People forget quickly how much panic there was."

Listen to Dan Gilbert discuss the water fountain situation

While it was not a requirement, he stressed how they try to be proactive and do the right thing. "You can walk into ½ the NBA Arenas without metal detectors," he claimed. That wasn't a requirement either but the Cavs proactively added metal detectors for safety reasons.

It's hard to imagine the Cavs and Q trying to make a few extra bucks on water. Especially when one of Gilbert's mottos is: "A penny saved … is a penny. That's it. A penny." He told a story from yesterday of how he learned that employees were being charged the 2nd time they broke their headsets. When he learned of this policy, he immediately changed it.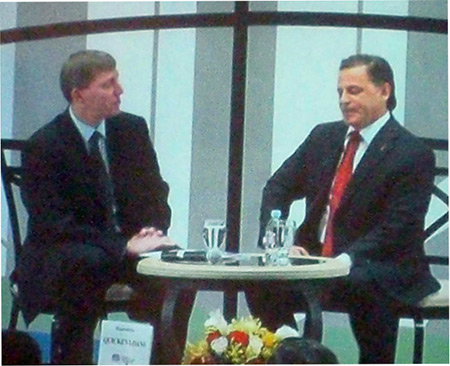 Steve Gleydura and Dan Gilbert



Gilbert then talked about the Casino issue. Gleydura asked why after so many failed attempts in Ohio, were he and his team able to pass it? Just as he observed business practices, Gilbert did research to learn what people wanted such as full gaming, not just slots, urban locations and more. He then "crafted the proposal based on that feedback."

He also credits his Michigan roots. "I'm not sure if anyone from Ohio could have got this through." It took someone from outside the state to show people that this wasn't just another proposal that would fail.

He told of the excitement from all over for people to "get involved in this opportunity." His hope is to have 24 months of construction and be up and running in early 2013. He may go along with plans for a temporary casino, maybe in the Higbee Building, until the full casino can be built.

But he wants people's "first experience to be great" and worries that this may not be the case with a temporary casino.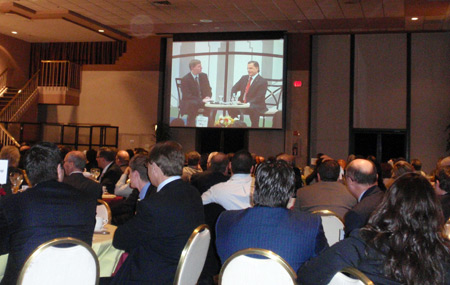 Part of the record setting crowd at Landerhaven



Gilbert understands that the management and organization can only do so much to win a championship. The rest comes down to the coaches and players on the court. Being a numbers guy he told how only 3.3% of the NBA wins a championship each year. 96.7% don't.

Listen to Dan Gilbert talk about his role in a championship

When asked if he feels he has done enough to make LeBron James stay in Cleveland, he had a terrific answer that drew applause. He likened it to dating a girl and being yourself rather than putting on an act.

Listen to Dan Gilbert discuss LeBron James

He also spoke of the "New York silliness" that suggests that LeBron James can't get enough media attention or endorsements in Cleveland.

Listen to Dan Gilbert discuss LeBron James going to New York

In the Q&A part of the event, I was able to ask about the impact of international exposure on the league. Gilbert told how NBA Commissioner David Stern was really pushing for it. "It's a lot easier to bring youth to basketball" than hockey for example. "We would love to become the favorite team in China."

Listen to Dan Gilbert discuss international impact of basketball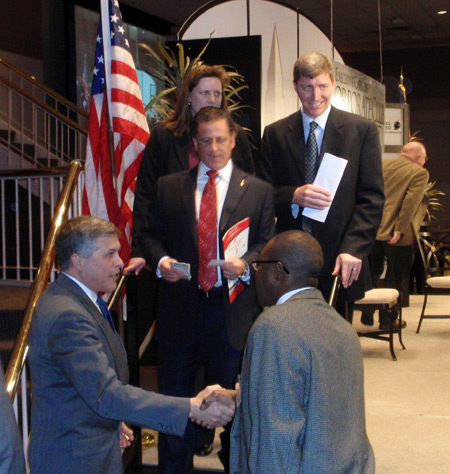 Dan Gilbert leaving the stage after the presentation



His answer to the difference between Detroit and Cleveland was not a surprise to most in the room. As you will hear in this short podcast, Dan Gilbert has noticed one glaring difference between Detroit people and Cleveland people. Take a listen.

Listen to Dan Gilbert discuss Cleveland vs. Detroit

The next Corporate Club event will be in March and feature high-powered Women in Business.