Jim Cookinham has had a tremendous impact on the Cleveland Business and Tech scene. He founded the Northeast Ohio Software Association back in 1998.
The organization of member companies was dedicated to tech companies in the region. The name soon evolved into NEOSA but its mission to promote the advancement of the Technology Community and IT Industry of Northeast Ohio remained unchanged.
NEOSA has about 700 member companies now - companies that are pure Information Technology (IT) and companies that have a strong IT component.
NEOSA was absorbed into COSE in a 2004 merger.
What made NEOSA survive and thrive was the vision and energy of Jim Cookinham, pure and simple. He simply refused to listen to the naysayers. Not all of his projects succeeded but most did and we all learned something from those that weren't an immediate success. We all have our own particular NEOSA/Cookinham favorite memories and here are a few of mine. (I was bummed that I couldn't participate in the video tribute but they shot the video when I was in Vegas at CES)
When it was discovered that the computers in Cleveland City Hall were several generations out of date, Cookinham spearheaded the AdoptAPuter program to get state-of-the-art PCs onto Mayor Jane Campbell's desk and the desks of about 24 other key officials including Tech Czar Tim Mueller. (It was because of Jim and a Neosa debate that the position of Tech Czar was created) Cookinham didn't complain about the City Hall embarrassment - he worked to change the situation.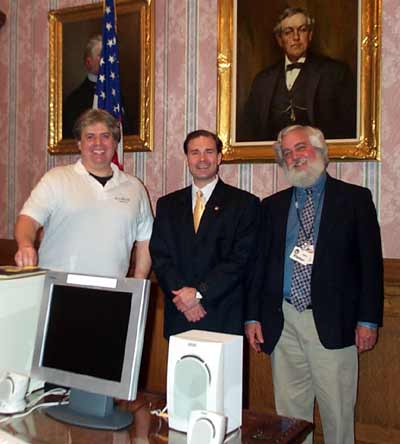 AdoptAPuter - Dan Hanson, Tim Mueller and Jim Cookinham



The Neosa Tech Thursday (NETT) events at Great Lakes Brew were legendary. A healthy mix of techies, marketing types, legal and financial folks would gather to drink good beer and connect with each other. No agenda, no speeches - just getting out there and doing stuff. Did I mention the beer?

And doing stuff was key for Jim. When the city seemed to be mired in a funk that would make Winnie the Pooh's Eeyore seem cheerful, he created the FunkBuster Awards to recognize and celebrate those people in the community who were busting through the funk and ignoring the pervasive negativity.

The FunkBuster website and award never really took off but it was another example of Jim doing something instead of just watching from the sidelines.

When I started using the word "entreprenerd" in my Inside Business columns, Jim took note and immediately registered some domain names. He started up Entreprenerd Boot Camp and had some great Entreprenerd T-shirts made up as well as the not-so-great 'Join the Herd Be an Entreprenerd' Pocket Protectors.

It was at an Entreprenerd Boot Camp that Jim introduced me to what Roy Church was doing out at Lorain Community College. I also met a former banking guy named Thomas Mulready who was looking for a new gig. I'm not sure if the sessions at the Entreprenerd Boot Camp helped Thomas solidify his ideas for CoolCleveland or not but it sure didn't hurt.

Jim had the ear of the bigwig movers and shakers that most of us lowly techies did not. He was able to reach C-level execs at the big firms and tell them some of the issues that were important to the IT community. The executives that showed up at the CIO Symposiums included all the big names.

I recall talking at lunch one day and commenting that we seem to overestimate the innovations that will emerge in the next year or two but underestimate what will happen in 10 years. Within a few weeks I learned of Jim's establishment of a NEOSA Future's Forum where he brought in big names to discuss their fields 5-10 years down the road. He didn't beat the idea to death, he just made it happen. That's Jim.

And he knew his stuff. When I was president of the Association of Personal Computer User Groups, I thought I was Mr. User Group because we had 400,000 members from around the world. Jim countered as having started the first IBM PC newsletter back when I was still messing with a TRS80.

He bested me again during a Neosa Computer Bowl. We came up with questions for a Computer Trivia Bowl at a NEOSA event and Jim won $5 off me for correctly identifying the size of the first IBM floppy disk drive. Of course, as I like to tease him, he has bought into the marketing hype and taken a drink of the purple KoolAid as he has embraced Apple products the last few years. But I am confident he will see the error of his ways and come around again. (grin)

Though the nouns Jim Cookinham and NEOSA could have been used interchangeably, he didn't do it all alone. You can't forget Dale Welsh, Pat Dobro and Colette Taylor. They were often referred to as the NEOSA babes. Jim sometimes seemed to play the role of Charlie and the NEOSA babes were his Angels.

The large and enthusiastic group at Jim's retirement party is a testament to the warm feelings we all have for him. It's in Jim's blood to 'do stuff' so I am convinced he will continue to make his presence known during his 'retirement.'

And I can't wait to see what he has planned next.

NOTE WELL - You HAVE to check out Jim's life story (and tons of photos - he didn't always have white hair and a beard you know)
---
Photos from Jim Cookinham's Retirement Party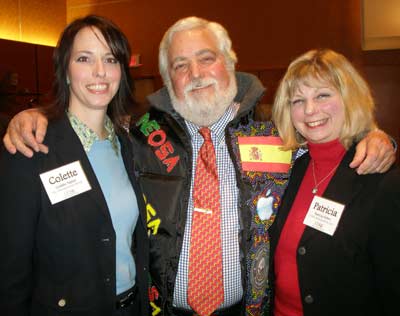 Jim Cookinham with 2 of the 3 Neosa babes
- Colette Taylor and Pat Dobro


---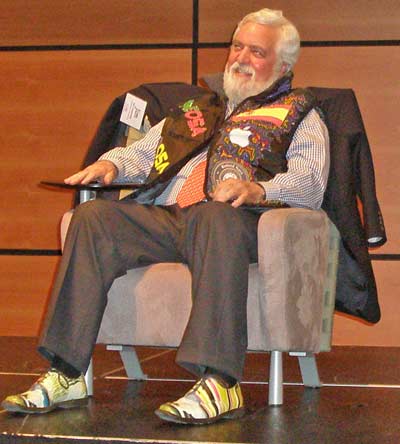 Jim Cookinham on stage listening to tributes
(check out those shoes!)


---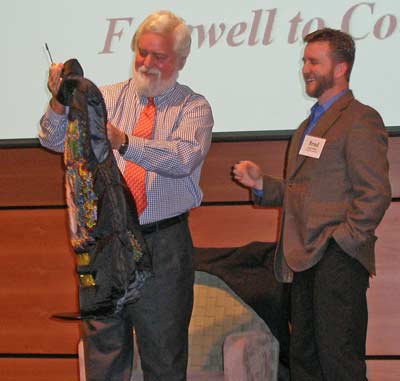 Current Neosa chief Brad Nellis gives Jim Cookinham a funky new coat


---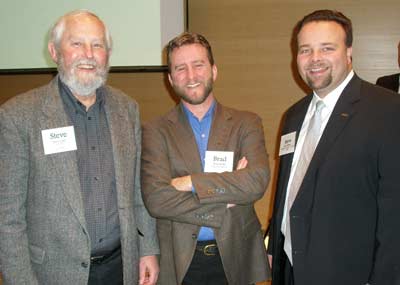 Steve Gage of Magnet, Brad Nellis from Neosa
and Steve Millard of COSE


---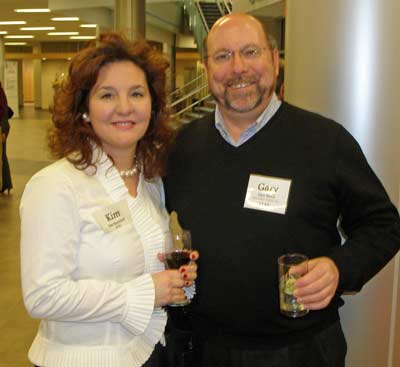 MCPC's Kim Kucinich and Boundless Flight's Gary Baney


---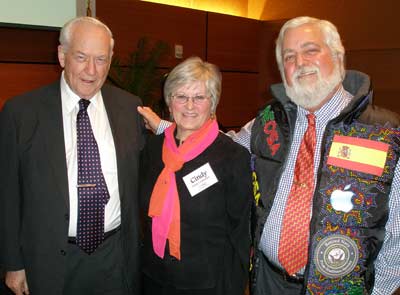 Dick Pogue with Cindy and Jim Cookinham


---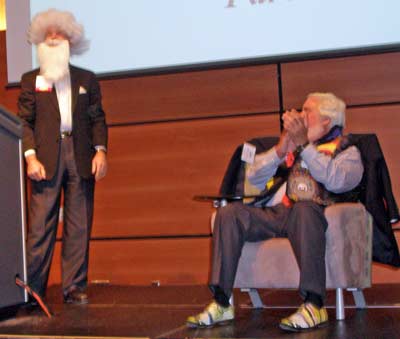 Calfee's Dan McMullen made sure attendees had white beards to surprise Jim but he went one step further, donning a white wig as well


---

A quick video of the bearded Cookinham fans


---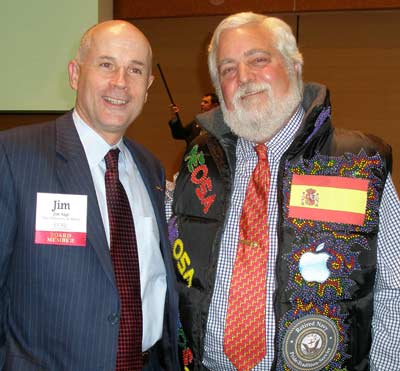 Jim Sage and Jim Cookinham


---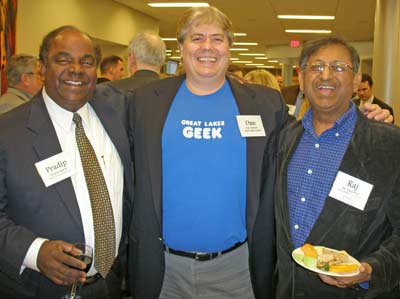 Pradip Kamat of Indus, Dan Hanson and Raj Aggarwal of the University of Akron


---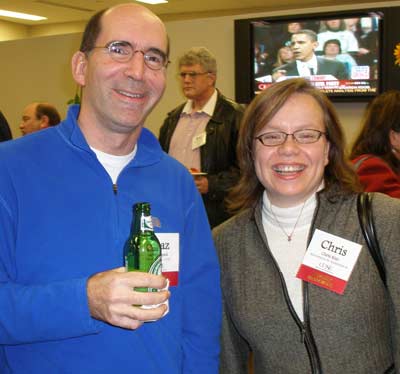 Chaz Napoli and Chris Kiec


---


From the Roast - Titles you had to call Jim


---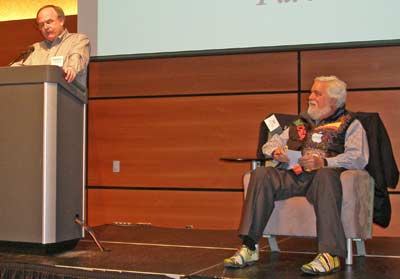 Tim Reynolds roasts Jim Cookinham


---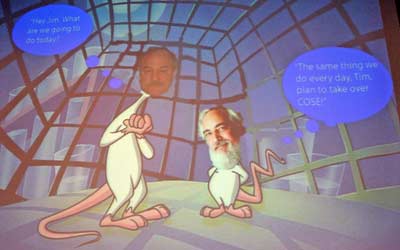 Tim Reynold's view of working with Jim Cookinham


---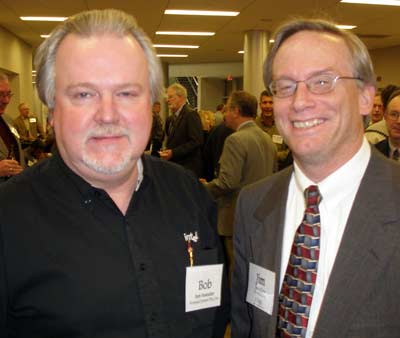 Bob Hostutler and Jim O'Hare


---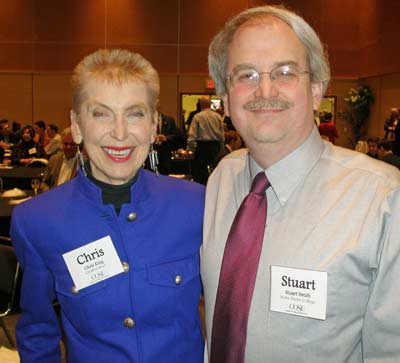 Chris King and Stuart Smith


---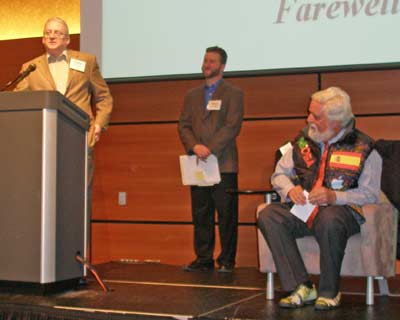 Chris Thompson, Brad Nellis and Jim Cookinham


---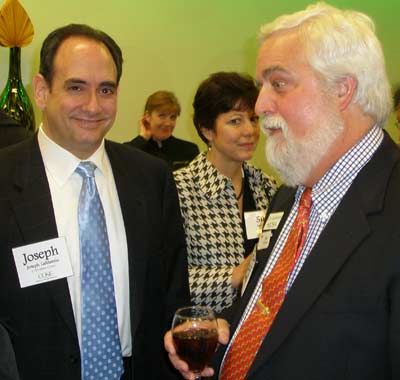 Joseph LaMantia and Jim Cookinham


---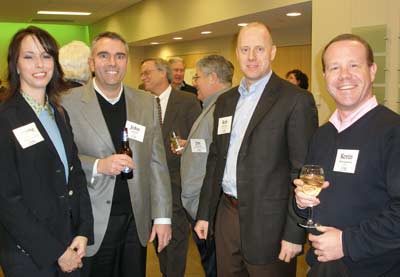 Colette Taylor, John Hill, Rob Taylor and Kevin Latchford


---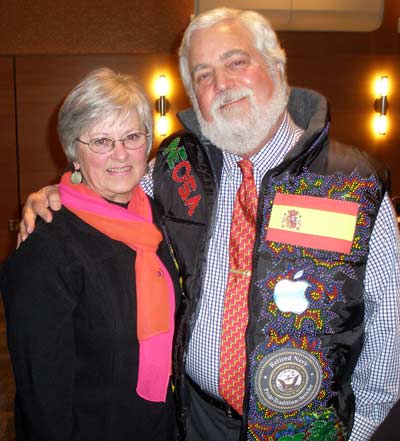 Cindy and Jim Cookinham


---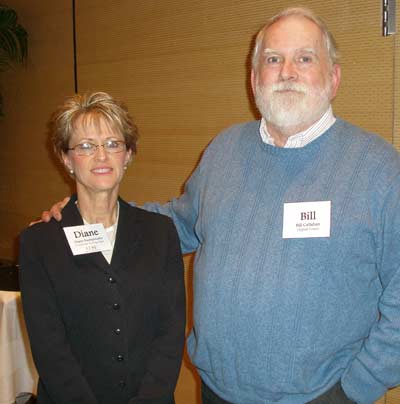 Diane Euchenhofer and Bill Callahan


---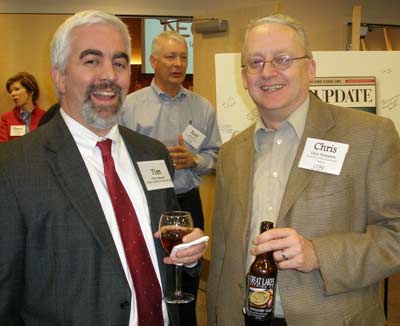 Tim Connors and Chris Thompson
Chris is drinking Great Lakes Brew for old times sake


---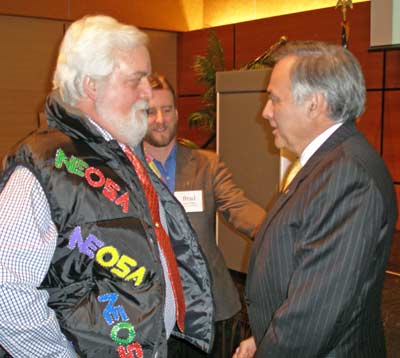 Jim Cookinham and University of Akron President Luis Proenza


---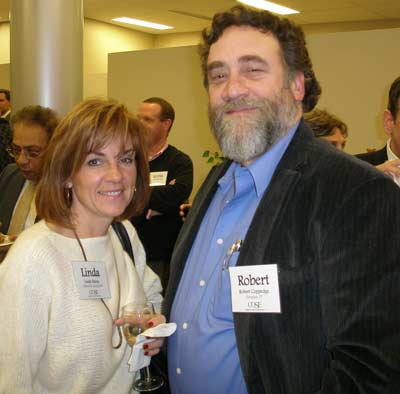 Linda Slama and Bob Coppedge


---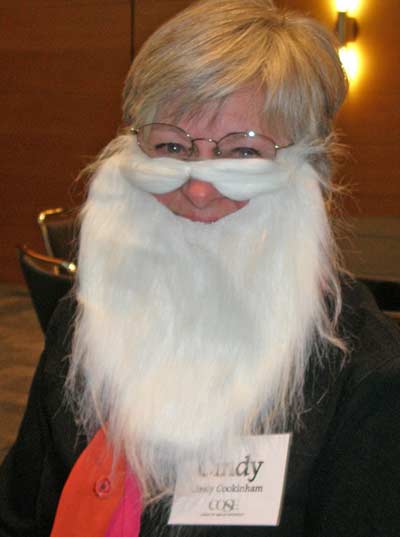 Cindy Cookinham tries a new look


---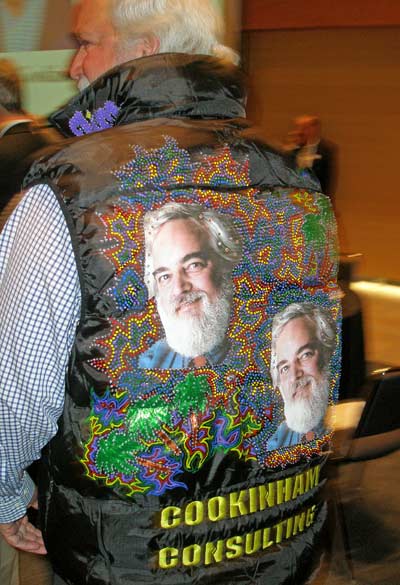 The back of Jim Cookinham's new coat


---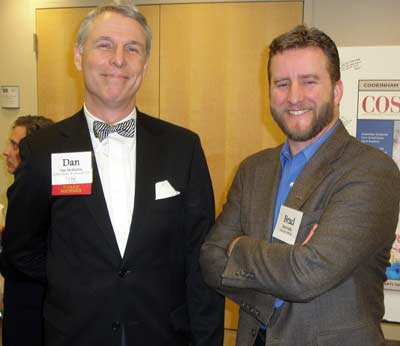 Dan McMullen and Brad Nellis


---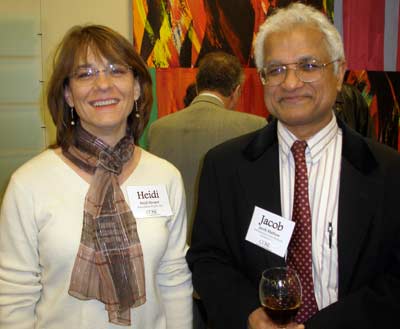 Heidi Hooper and Jacob Mathew


---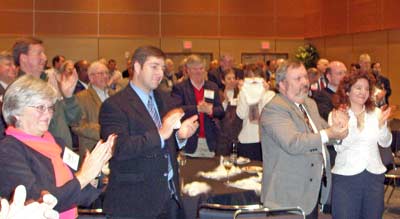 Standing Ovation for Jim Cookinham


---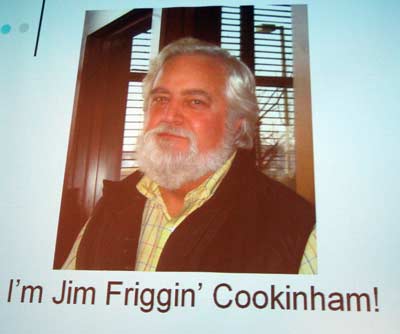 Jim 'Friggin' Cookinham and don't you forget it


---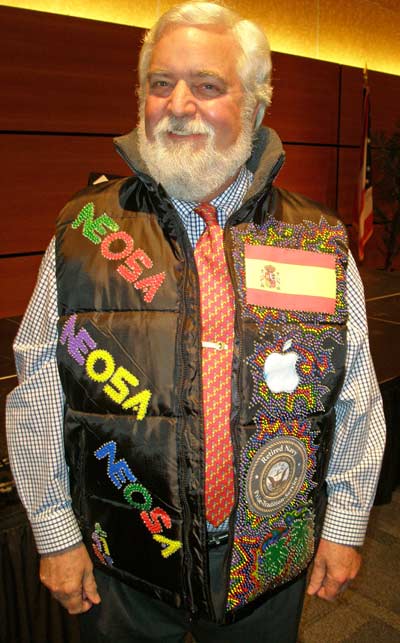 Jim Cookinham models his new coat


---
Watch some (4:36) of Jim Cookinham's 'Thank You' speech
---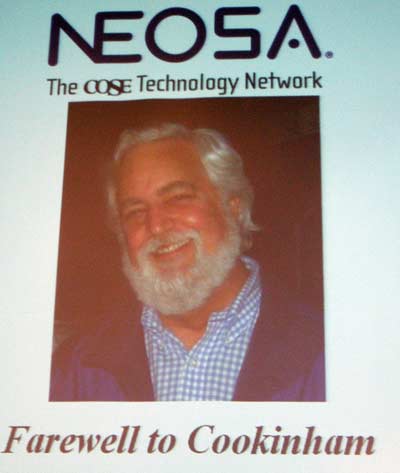 Farewell to Jim Cookinham



---
Don't miss the Profile (with lots of photos!) that tells the life story of Jim Cookinham on our sister site


---
Top of Page
Back to Geek Events
---