Noon@Nance is a series of interactive panel discussions on current trends and best practices in business. Sessions are moderated by Jim D'Orazio, Term Instructor at Cleveland State University and President of Practical Web Strategies.
Jim teaches courses in Internet Marketing, Marketing Strategy and The Business Environment at the Nance College of Business. His company works with small to mid-sized companies to develop effective internet business strategies.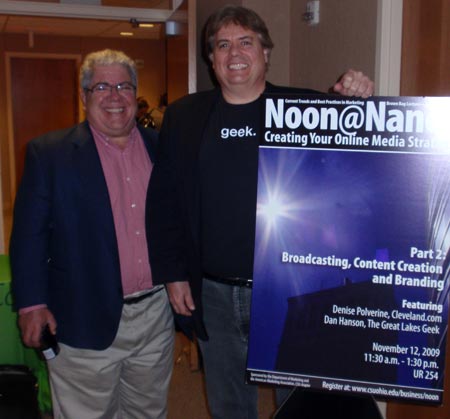 Jim Dorazio and Dan Hanson at Noon@Nance



Dorazio said, "Companies have the opportunity to broadcast their message in a variety of new ways. Creative companies are using blogging, podcasting and online video to develop their own "media channels". Learn how to use multimedia solutions to capture user attention, and to increase traffic and conversion from two of Northeast Ohio's best broadcast professionals."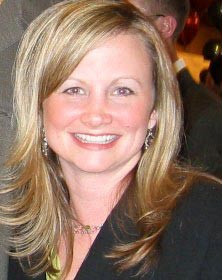 Denise Polverine has been the Editor-in-Chief of Cleveland.com since March of 1997.
Prior to that, Denise worked at Time Inc. New Media in New York City as a television news/business reporter and anchor.
Under Denise's editorial leadership, cleveland.com has become the most trafficked news and information Web site in Ohio and has won several prestigious awards including SPJ's Best News Web Site; Digital Edge's Best Sports Site and Most Innovative Site; and The Online News Association's Best Service Journalism.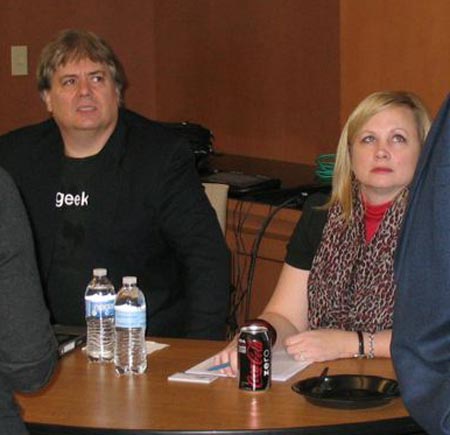 Dan Hanson and Denise Polverine



Dan Hanson was an alpha geek long before he became the Great Lakes Geek. He built his first computer in grade school and has been involved in cutting edge technology ever since. He was one of the first in Cleveland to blog and podcast and try other outlets and platforms.

The pair brought unique perspectives to the discussion. Both have created broadcasting channels to support their business strategy. And both have built up a "toolbox" to hone their platforms and outreach. Hanson uses podcasts as a major way to reach his audience and Cleveland.Com has opened up to blogging both by their own people and the community.

Opening up to the community leads to control issues as user generated content can vary in quality and acceptability.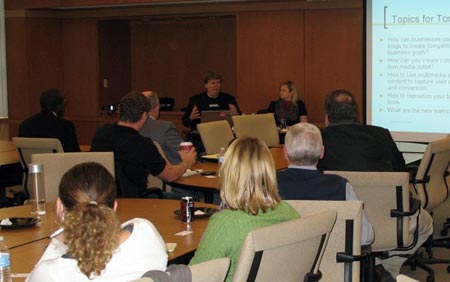 The Noon@Nance students were very engaged in the presentation and then asked challenging and thoughtful questions of the pair.
Come back soon for audio and video from the event.