Manufacturing is Dead. The Rust Belt economy is over. Service jobs provide all the economic growth.
We've all heard the pundits opine about the demise of our traditional manufacturing base. Are they correct?
Consider the fact that the US manufacturing economy would be the 8th largest world economy on a standalone basis. That doesn't sound dead.
The question asked, and answered at the Corporate Club at Landerhaven on August 5, 2010 was "Is manufacturing on the rebound?"
Inside Business Magazine Editor Steve Gleydyra posed that, and other questions, to an expert panel consisting of Dan Berry, the President & CEO of MAGNET, John Stropki, President & CEO of Lincoln Electric and John Grabner, CEO of Cardinal Fastener & Specialty Co., Inc.
MAGNET, the Manufacturing Advocacy & Growth Network, strives to support, educate and champion manufacturing with the goal of transforming the region's economy into a powerful, global player. Since 1984, MAGNET has assisted thousands of manufacturers through its Edison Technology Center programs, Manufacturing Extension Services and Business Incubation programs. Recently MAGNET has expanded its mission to assist manufacturers through programs that address manufacturing-related Education, Competitiveness, Innovation and Regulatory Affairs.
Lincoln was founded in 1895 and today is the world leader in the design, development and manufacture of arc welding products, robotic welding systems, plasma and oxyfuel cutting equipment. Lincoln Electric is headquartered in Cleveland but has 39 manufacturing locations, including operations and joint ventures in 19 countries and a worldwide network of distributors and sales offices covering more than 160 countries. Lincoln has a global work force of more than 9,000.
Since its founding in 1968, Cardinal Fastener & Specialty Co., Inc. has become the largest and most responsive company in the hot forge bolt industry. With an emphasis on the processes and principles of Lean Thinking, Cardinal Fastener provides same-day service on most orders.
So how is manufacturing doing in Cleveland and Northeast Ohio?
Dan Berry said that over the last year the growth in manufacturing employment in Cleveland and Northeast, Ohio was about 3.3% so Cleveland is actually doing better than most of the major US metropolitan areas.
John Stropki added that Ohio is the 3rd largest manufacturing state in the US.
John Grabner noted that 2 out of every 3 new jobs comes from a small company. This year alone Cardinal has increased their employment 42% so if they are a barometer for the industry, things are looking up.
Listen to the panel talk about the current state of manufacturing in Cleveland
Moderator Steve Gleydura asked the panel if they are able to find the skilled workers that they need.
Dan Berry told of programs to take people with general mechanical skills and train them on specific machines and technologies. MAGNET is also working with Tri-C to tailor courses to meet employer's demands.
John Stropki expects the shortage pf skilled workers to "persist for quite some time" with our aging population and young people not going into these professions. He told of predictions of a shortage of about 250,000 skilled welders over the next 5 years.
This need is being recognized and in the last 24 months in the US, "the fastest growing segment of our sales have been welder sales to vocational schools to train people to be welders."
Listen to the panel talk about the demand for skilled workers
Most of us have heard of the incredible 'no layoff' policy at Lincoln Electric. How do they do that?
Lincoln Electric CEO John Stropki confirms that they have not had a layoff in their Cleveland company in over 70 years. This has let them keep good workers during downturns and made the workers extremely loyal.
Listen to John Stropki talk about the No Layoff policy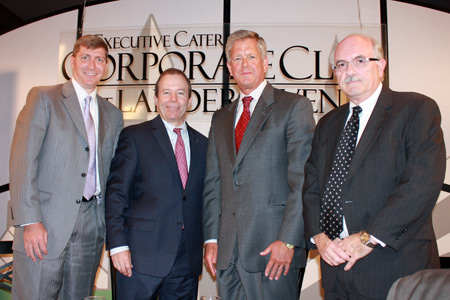 Inside Business editor Steve Gleydura, Cardinal Fastener & Specialty Co. president John Grabner, Lincoln Electric CEO John Stropki and MAGNET CEO Dan Berry at Corporate Club at Landerhaven

Energy and manufacturing are combined in the news on a daily basis it seems. The energy policy not only has to be sustainable but competitive.

Listen to the panel talk about an energy policy

What about the Carbon Tax? Stropki said, "The carbon tax format that's in place now will not be of good benefit to manufacturers." US laws can police and tax and regulate US companies but remember that we are in a global economy.

Stropki goes on to say that "The environment is a global environment... China is installing one new coal fire power plant every week." So that black air that China is creating not only hinders the global environment but their lack of national regulations lets them be more competitive in the marketplace.

Listen to John Stropki talk about the Carbon Tax and Energy Policy

Another problem we hear about is the lack of engineers in the US compared to the rest of the world. Stropki says that those concerns are valid. There are also issues with the difficulty of foreign students coming to our engineering schools and staying in the US. What can be done? Stropki says we have the laws in place already but they are not being made accessible.

Listen to the talk about engineers and students

It was a hot August afternoon but the hot place to be was at Corporate Club at Landerhaven. The next event is Wednesday September 8th with the topic: County Reform. For more information call 440-449-0700.