Landerhaven was the place to be for lunch on Thursday September 3, 2009 as the Executive Caterers Corporate Club featured 'A conversation with Umberto Fedeli.'
Fedeli is the President and CEO of The Fedeli Group, one of the largest privately held insurance brokerage firms in Ohio. The event was moderated by Inside Business and Cleveland Magazine Editor Steve Gleydura.
Of course if Fedeli was just an insurance firm officer, the room would not have been packed with people including a dozen or so local mayors, State Senator Tom Patton and former US Senator Mike DeWine.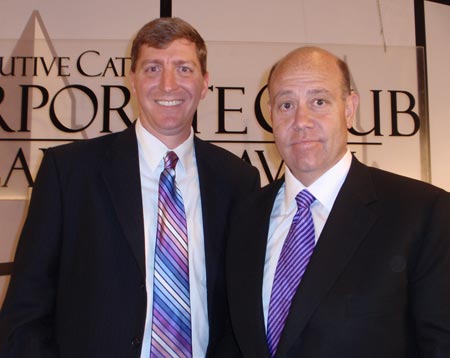 Steve Gleydura and Umberto Fedeli



Umberto Fedeli is well-known for his networking skills, often using a meal as a common ground in dealing with business, religion, politics and community issues. He contends that breaking bread with someone provides a great opportunity to spend some time and get to know them. To Fedeli, it's all about relationships.

Gleydura asked questions in many different areas such as local politics (Fedeli is supporting the re-election of Mayor Frank Jackson) and what Cleveland needs (Build the Medical Mart, Leverage our quality Health Care, Develop the Lakefront, use aviation as a niche, etc.)

Fedeli urged for a return to the public/private partnerships arranged by former Cleveland Mayor George Voinovich. To make it a 24-hour city where people live, work and play the city needs 3 things:
Jobs and Economic Development
Safety
Quality Education
Gleydura, a former college baseball player, told how the steroid scandals in baseball have given people the mindset to assume guilt for many players. He asked Fedeli if the local corruption scandals have had the same effect on our perception of politicians.
Fedeli said that he has seen over and over that one party rule does not work. He told how when Newt Gingrich was Speaker of the House, he helped President Clinton get things done. When Ohio was led only by the GOP, it suffered. Cuyahoga County is led just by Democrats and is suffering. And the current President and Congress are the same party and that leads to problems.
He says our region is "a little bruised right now but we're resilient."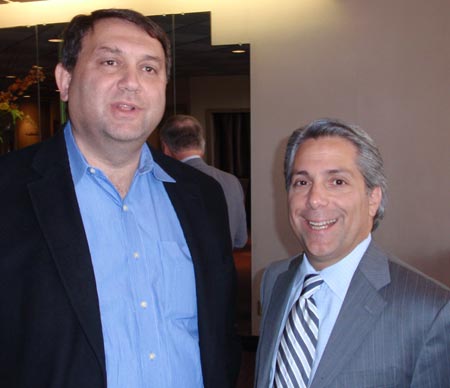 Writer John Ettorre and Inside Business Publisher Frank Bird



Despite the variety of topics, the questions that received the most audience attention, and that made up the majority of the Q&A session, concerned health care. When Fedeli said "We do not need to have a government takeover of healthcare to have improvements in the system," the audience burst into applause.

He continued that "If we have a federal option or single payer… Single payer would be devastating to innovation and research. It would cost Cleveland billions of dollars."

He did look at the other side saying "You can't deny sick people coverage" and urged for a compromise.

There is no room for compromise in one area as he declared, "Speaking as a Catholic, there's no way a Catholic hospital will allow abortions." The audience again applauded and Fedeli continued saying "If they ram this through, you'll see changes in 2010 that you've never seen before."

He lauded the quality of national, and especially local, healthcare. "People who have tens of millions of dollars fly to Cleveland for healthcare. They are not flying to London or Canada."

He argued against changing a system that works well for 300 million people to help 15 million or so. Why not just make improvements for the smaller group, he asked. To Fedeli, these improvements include Tort Reform, Defensive Medicine, Prevention, Education and measured outcomes.

He likened the expense of quality healthcare to a chocolate shop in his old Collinwood neighborhood. Their motto was 'Good chocolate is not cheap and cheap chocolate is not good."

The biggest round of applause came during the Q&A when someone asked why the leadership (Congress and the President) won't be part of the health plan that they want to put in place for everyone else.

"I would say they probably know better," Fedeli responded. "I have a simple rule. In my office I won't give you a meal that I won't eat. Harlan Diamond eats the food here that he serves. If you're not willing to take the health care that you want somebody else to take, how the hell could you offer it?"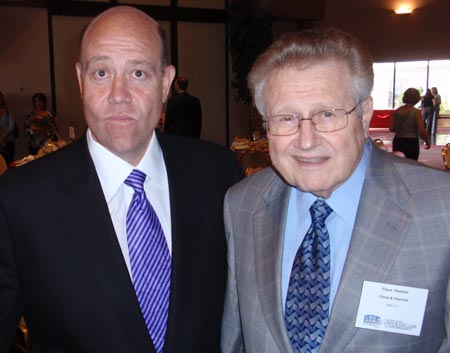 Umberto Fedeli and Vince Panichi of Ciuni & Panichi



Agree or disagree, it's discussions like this that make the Corporate Club such a unique and valuable experience. The next Corporate Club event will be in October and will deal with the Auto Industry. Check back soon for more details.