On a hot day like we've been experiencing, a lot of people will grab a few cold ones to try and cool off.
It's often said that beer and other drinks with alcohol don't actually quench your thirst as effectively as other drinks like water but that doesn't stop people from imbibing.
Of course, when your summer drinks include alcohol, you have to be careful. Drinking and driving is bad, wrong and stupid.
So is trying to beat the system. But that's not what BACtrack is all about.
BACtrack is a personal breathalyzer that quickly estimates your blood alcohol content (BAC). I tested the S75 Pro model ($140). It's the size of a small cellphone.
Insert a mouthpiece, press the power and a digital countdown begins. Blow into the mouthpiece for 5 seconds and in a few more seconds your blood alcohol content BAC will appear on the digital display.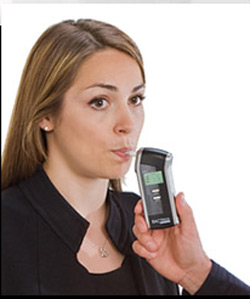 Besides trying the BACtrack on my own (I wonder if I can write off that beer purchase), I brought it to a picnic and to a volleyball game.
I've been living on the volleyball courts this summer. Tuesday and Thursday nights and then as much of Sunday afternoon at the beach as possible. It's typical for us to have a few beers after a match. After the game we often get pitchers of beer rather than bottles so it can be difficult to track what you have consumed when people are constantly topping off your glass.
A 120 lb volleyball teammate immediately stopped drinking when she blew a .07. She had a long drive home and the BACtrack let her know she should stop. Another half-glass may have put her over the legal limit. Not good.
At the picnic, a 175 lb friend was surprised that he blew a .05 after 2 Rolling Rocks. He drinks fairly regularly and said he didn't feel any effect from just the two beers. He made sure he ate a sandwich before having any more.
There are two series of BACtracks available. The BACtrack Pro Series are advanced breathalyzers that use patent-pending Xtend™ Fuel Cell Sensor technology and incorporate innovative features and form factors that are exclusive to the BACtrack Pro Series.
The BACtrack Select Series are functional and economical breathalyzers that provide reliable, trusted results for both personal and professional use.
You can learn a lot more at Bactrack.com.
BACTRACK Breathalyzers are manufactured and distributed by KHN Solutions LLC, a privately held company based out of San Francisco, CA. KHN Solutions LLC helped pioneer the consumer market for breath alcohol testers. KHN first offered breathalyzers online in 2001 and positioned them as an entertaining safety device that should be used by everyone consuming alcohol.
KHN expanded its product lines to include highly accurate fuel cell-based breath alcohol testers. These products are used by law enforcement, probations, clinics, hospitals, businesses, and other professional organizations for both evidential testing and alcohol screening applications.
In 2004, KHN Solutions was the first company to ever receive U.S. FDA 510(k) clearance to market breath alcohol testers to consumers for personal use. As part of the application, KHN was responsible for demonstrating that consumers could operate the product safely and correctly interpret test results.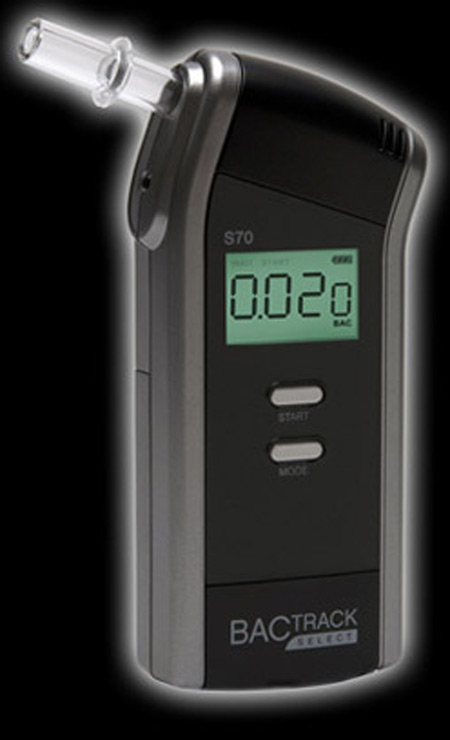 Parents will find the BACtrack useful to test their kids - or their kids' friends who are driving.
I can see it used before school events (like prom) and even in the workforce.
You shouldn't rely on the device to be 100% accurate but it's another way that technology can offer some guidance.
Give it a try before you order another summer cocktail before driving home.
Listen to the podcast review of the BACtrack.
---
Top of Page
Back to Product Reviews
---