A lot of us in the tech world complain about the commodization of our products and services. It's hard to attract and retain customers when price is the only differentiator.
Imagine a service such as haircuts - there doesn't seem to be a way to differentiate and attract loyal customers and make decent margins. After all, a haircut is a haircut. But John DiJulius, has managed to do just that.
John is the president of John Robert's Salon and Spa, which has been selected one of the top 20 salons in America. His strategies for customer service have led John Robert's Salons to the top and he has since shared his lessons as a speaker, consultant and author.
John was the featured speaker at a Smart Business Live luncheon at the Forum on June 8, 2006.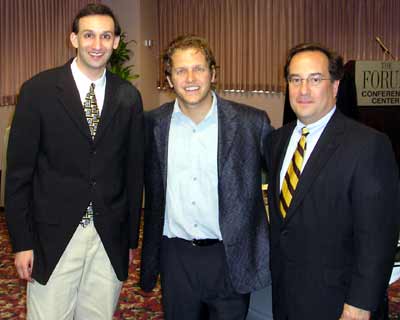 Dustin Klein of SBN, featured speaker John DiJulius
and Ken Haffey of Skoda Minotti



The service they offer makes a customer pay up to $110 for a haircut when they could get one down the street for a fraction of that amount. But it is more than the haircut they are offering. It is a lifestyle experience.

DiJulius follows the Cameron Mitchell philosophy of "The answer is yes. Now what's the question?" to attract and retain loyal customers.

Plus they make a point of hiring great people. Only 1 out of 25 people who apply make it through the 4 interview process. That helps insure that they are "a jerk-free facility."

Check out John's book or visit his website to see where he is speaking next and to learn more.

Secret Service:
Hidden Systems That Deliver Unforgettable Customer Service
---
Top of Page
Back to Geek News