Any basketball fan knows the accomplishments of NBA Hall of Famer Bill Walton. Walton played center for John Wooden's UCLA team for three seasons (1972-1974), and was a three-time recipient of the NCAA Player of the Year Award for those years.
He was a member of two NCAA championship teams compiling an NCAA record 88 consecutive game winning streak. Bill Walton was a 3 time All-American College Player and winner of the Sullivan Award for the United States Best Amateur Athlete of 1973. He was named to the Pacific 8 All-Conference first team 3 times and was conference player of the year for three consecutive years.
At UCLA Walton was a scholar-athlete who also earned Academic All-American honors three years in a row. He graduated with honors with a B.A. in History.
Walton's professional career began when he was the number one over all pick in the 1974 NBA Draft by the Portland Trailblazers. He was a member of their championship team in 1977. Nine years later he earned another championship title, this time with the Boston Celtics in 1986.
He played with the Trailblazers 1974-1979, the San Diego Clippers 1979-1984, the relocated Los Angeles Clippers in 1985, and The Boston Celtics 1985-1988.
Bill Walton was the NBA's Most Valuable Player, 1978; all-NBA First Team, 1978; NBA All-Star Team, 1977 and 1978; NBA Playoff's MVP, 1977; all-NBA second team, 1977; winner of the NBA Sixth Man Award, 1986.
Walton is also the second of only four players in the history of the NBA to lead the league in both blocked shots and rebounding in the same season.
Younger fans will recognize him as he remains active in basketball through clinics, camps, coaching, and television commentary.
Bill Walton was the emcee for the 2008 Greater Cleveland Sports Awards held in Cleveland on January 24, 2008.
Along with his comments about LeBron James, I had to ask him about Notre Dame and Austin Carr in particular. It was Notre Dame that handed the Bruins their last loss before the streak in 1971 and ended the 88 game winning streak with a 71-70 victory.
---

January 24, 2008

4,757 KB

5:04



Listen to Bill Walton
---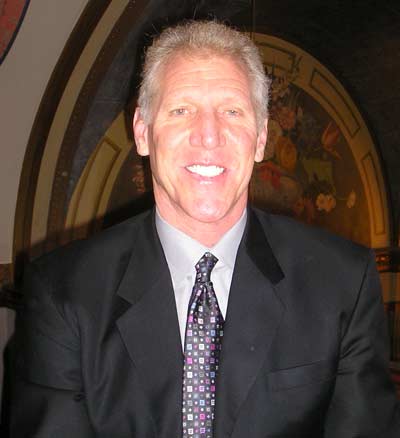 NBA Hall of Fame basketball player Bill Walton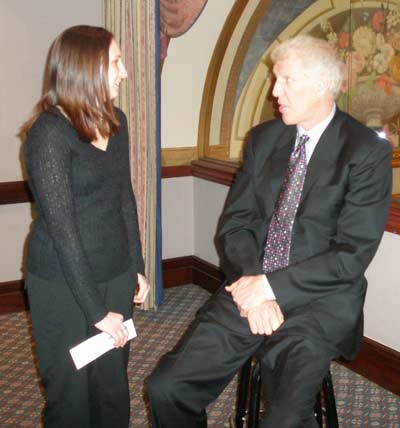 Bill Walton with fan at Greater Cleveland Sports Awards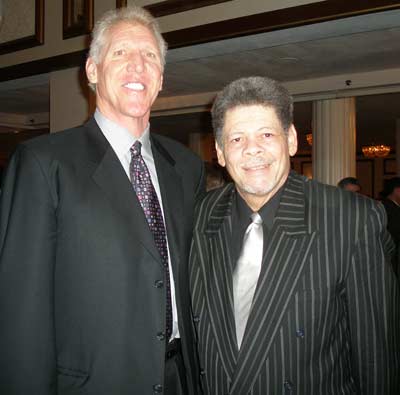 Bill Walton with Cleveland Cavalier
legend Bobby Bingo Smith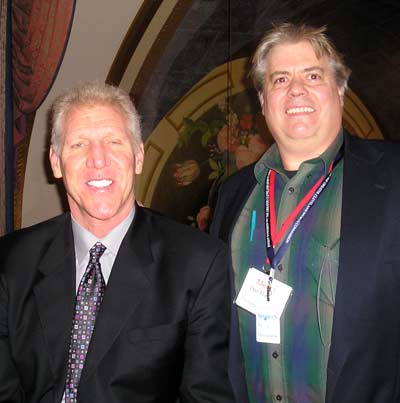 Bill Walton and Dan Hanson
---
Top of Page