Charles Geschke co-founded Adobe Systems in 1982 with John Warnock.
A respected and inspiring leader in the software industry for more than 30 years, Geschke retired from his position as president of Adobe in 2000 and continues to share the chairmanship of the board with Warnock.
October 28, 2011 City Club of Cleveland
Speaking at the City Club of Cleveland, Chuck Geschke gave insights into the birth of Silicon Valley and the computer industry.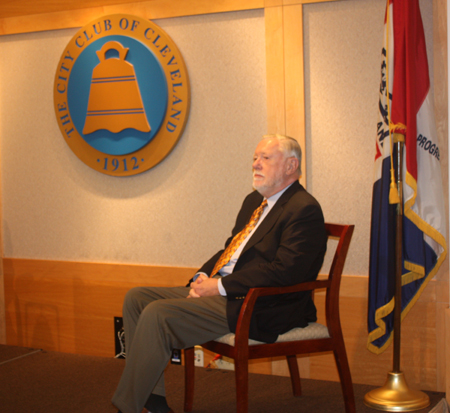 Chuck Geschke at the City Club of Cleveland



Dr. Geshke was introduced as the "Gutenberg of Digital Type." In his introduction, Chuck Geschke gave a shout out to his colleague from his John Carroll University math department days, Dr. Robert Kolesar, who couldn't be there that day. The Great Lakes Geek told Dr. Geschke that he too was a fan of Dr. Kolesar. In fact it was Bob Kolesar who convinced the Geek to pursue and earn his math degrees.

Chuck Geshcke's Cleveland connections go father back then JCU though. He was born in Cleveland and attended St, Ignatius High School and his wife attended Magnificat High School.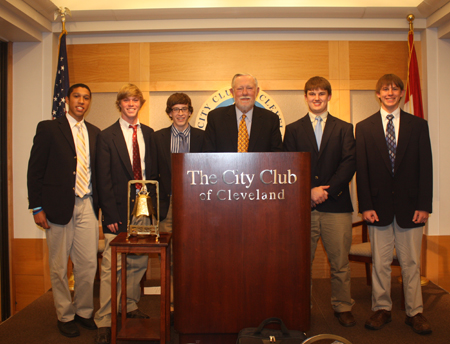 Chuck Geschke with students from his alma mater St. Ignatius High School (left to right) Nick Hallisy, Kevin Anderson, Greg Blanc, Stephan Franco, Peter Landoll



Geschke told stories from the early days at Stanford Industrial Park and the push that became ARPA after Sputnik. Many of the "ARPA Brats" ended up in the Stanford Industrial Park which became Silicon Valley. Geschke recalled that in 1976 while at Xerox PARC he had a personal computer with a mouse, e-mail, Word-like word processor, Ethernet connectivity (courtesy of his officemate Bob Metcalfe) and a laser printer.

When he learned that his and John Warnock's InterPress graphics language might not become a Xerox product for 7 years, they started Adobe. He told how Steve Jobs wanted to buy the entire company but they only wanted to sell their products.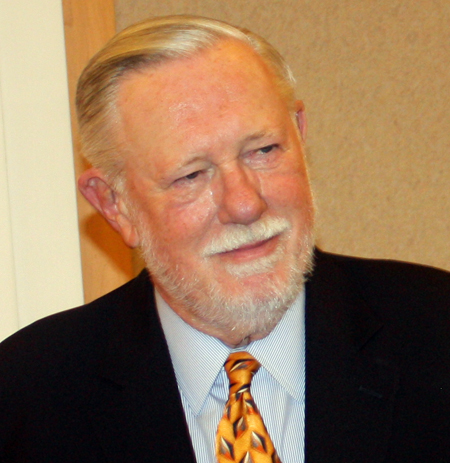 Chuck Geschke



Geschke is very concerned by the "dramatically vanishing pool of US born engineers." 45% of PhD physicists in 2005 were born outisde the US. China now produces more scientists with doctorates than the US. He lamented that the "best and brightest" are not going into the sciences.

You can view the entire speech (it's worth the time) on the City Club's YouTube channel below.

As is often the case, the Q&A period brought out some interesting ideas.

Here are some audio snippets of Geschke's answers to audience questions.

What did the Great Lakes Geek ask Chuck Geschke after the speech? Of all the revolutionary products that Adobe has released (Photoshop, Acrobat and PDF, Postscript, etc.) what was the one defining product? The machine-independent Postscript, which led to desktop publishing and much more, was his answer.

What does a region, like Cleveland, need to be a source of entrepreneurs?


---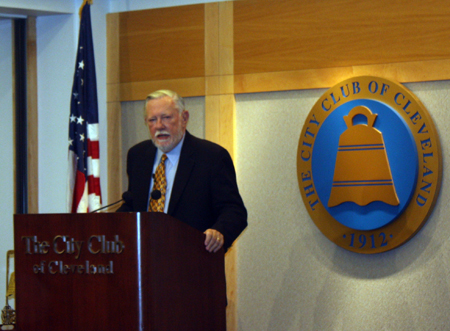 ---
What about the Waldorf Schools approach?
where kids learn without PCs or calculators?


---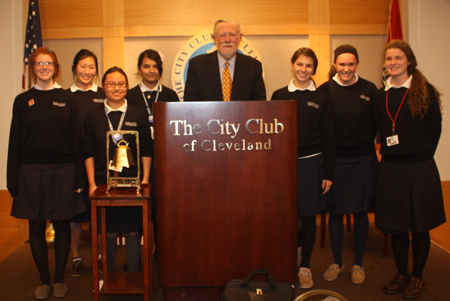 Chuck Geschke with Magnificat High School students Bridget Armanini, Chloe Altieri, Ilona Kereki, Lara Khan, Janie Walborn, Shannon Walton, and Bridgette Coyne
---
What disciplines to study?
Geschke was a Latin major in college and he advises students to take a variety of liberal arts courses along with pure science because that will stick with them


---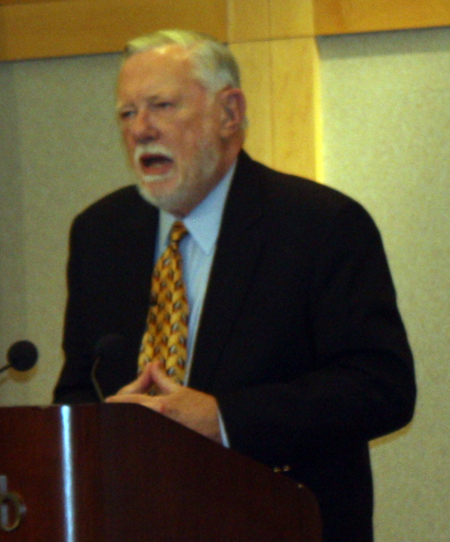 ---
An example of new applications when technology matures.
Using Adobe Connect in Iraq


---
We need more pure R&D in this country
The private sector looks towards it shareholders first so government needs to be involved.


---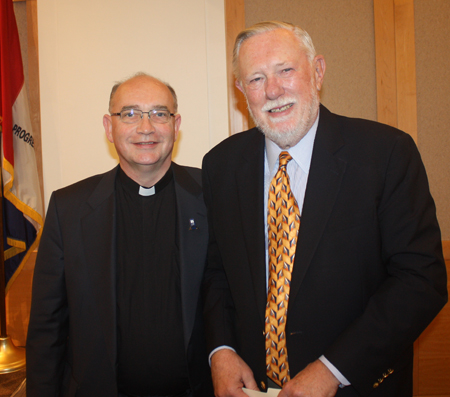 John Carroll University President Fr. Robert Niehoff, S.J. with former JCU math prof Chuck Geschke
---
We need to promote science and engineering more.
The financial field is getting much of the talent.


---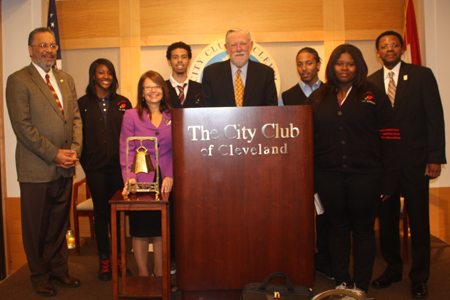 Chuck Geschke with Shaw High School students
---
What kind of people to hire.
He and John Warnock set out to build a company that they would like to work for.


---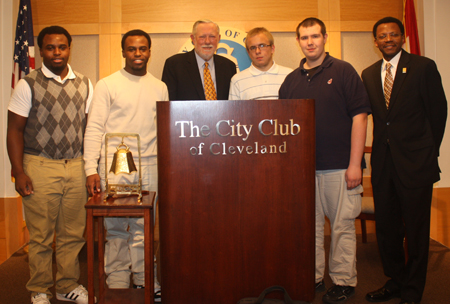 Chuck Geschke with Max Hayes High School students
---
September 13, 2005 Interview
---
In this interview, held before a speech at the John Carroll University Entrepreneur Association, Mr Geschke talks about leaving Xerox and starting Adobe, how Apple and DEC approached them resulting in the creation of desktop publishing, why they targeted professionals and later consumers, how he left the safety of a teaching position, why Acrobat and PDF took off, what the Macromedia acquisition means, the paperless office and what the future holds.

The Great Lakes Geek apologizes for the poor quality of some of the recording - Hey, even a geek has to learn from his mistakes. But the interview is worth the sound quality issues.

September 13, 2005 Interview

13,354 KB
14:14