October 7, 2011 Update
Lev Gonick moderated a panel at a Broadband Workshop in Cleveland. He also gave a view of the broadband future from an educator's perspective. He offered three theses to consider as the university is repositioned if not completely reinvented.
The Future is symbiotically connected. Connected to our institutions but also to our community. The health of a great university like CWRU is only as vital as the health of the surrounding community.

Dematerialization of Society. As the dematerialization of society occurs, education must figure out the connection between data and the human condition - people

The Challenge of repositioning if not reinventing the role of universities. From the notions of University Anywhere to Gig U, the role of higher education is changing.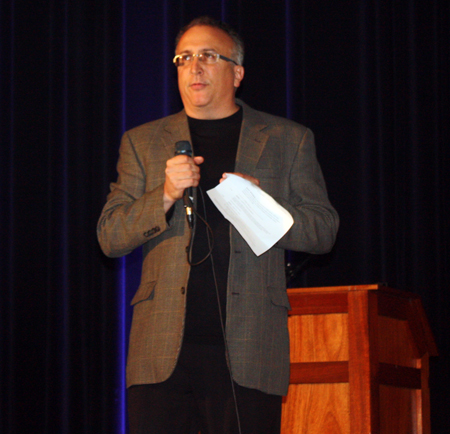 Lev Gonick, CIO of CWRU





Gonick also spoke about 4 major challenges of broadband technology
STEM education
Health & Wellness
Energy and Energy Management
Public Safety and Government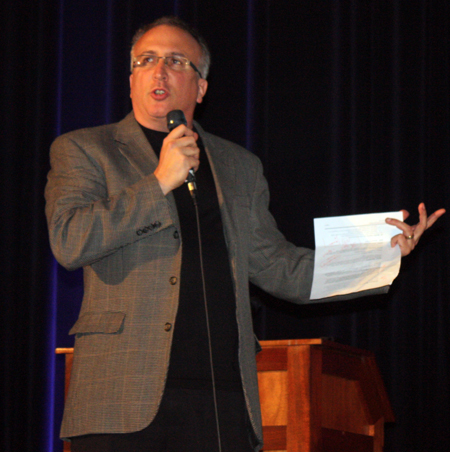 ---
2009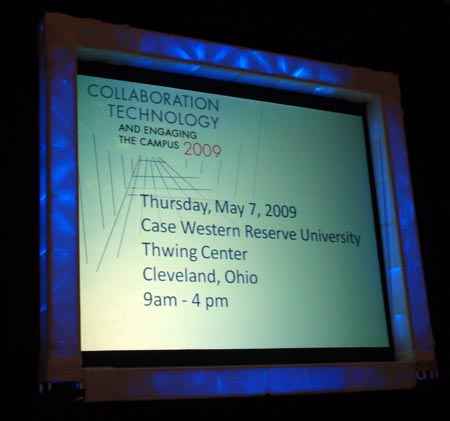 Collaboration Technology & Engaging the Campus 2009 was held on May 7, 2009 at CWRU's Thwing Center.
Lev Gonick, CIO of CWRU, says "CollabTech is a collection of presentations and people to talk about the intersection of technology, innovation and education."
Over 50 speakers shared best practices from across education as well as industry with the 400 or so attendees. While most of the attendees were there in person, others participated virtually via Second Life and also through a live H.323 hi-def video stream.
While geared toward higher education, and many faculty members participated, the broad menu of topics was of interest to the broader business world. Topics included Mobility, Green IT, Collaboration Technology and the Future of Publishing. Visit the CollabTech website to access the sessions.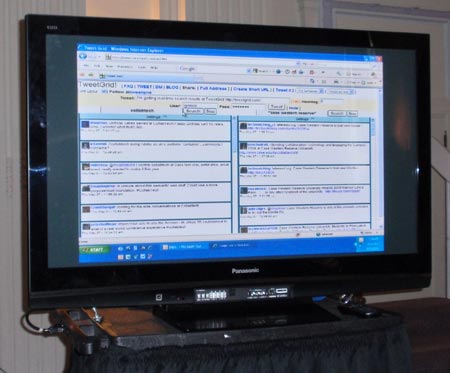 Tweets from particpants using Twitter were displayed throughout the conference using TweetGrid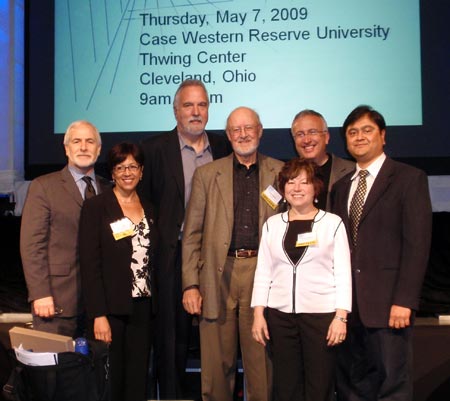 Participants in one of the CollabTech panels (above) included Kenneth C. Green, the founding director of The Campus Computing Project, Joan Falkenberg Getman, Sr. Strategist for Learning Technologies at Cornell University, Acrobat expert Steve Adler from Adobe, ePortfolio guru Trent Batson, former Communications Strategist in MIT's Office of Educational Innovation and Technology, Wendy Shapiro who serves as Senior Academic Technology Officer at Case Western Reserve University, Host Lev Gonick and Neil Mehta, MD, Staff Physician at Cleveland Clinic and Director of Education Technology in the Cleveland Clinic Lerner College of Medicine of Case Western Reserve University.

The event was also the official announcement of 3 collaborations that CASE has engaged in. The first took place the day before in New York when CWRU President Barbara Snyder and Amazon CEO Jeff Bezos announced a partnership to use the new Amazon Kindle DX to see the impact on student learning.

The second announcement is that CWRU has been selected by Linden Labs (Second Life), to be the beta site in the Second Life world to launch a new education only 'gardenwall' experience for education. (Gardenwall instead of the traditional firewall)

Gonick says, "Our goal is to begin to carve out private grids for Second Life experiences and along with the New Media Consortium, CWRU will be piloting this activity in the summer."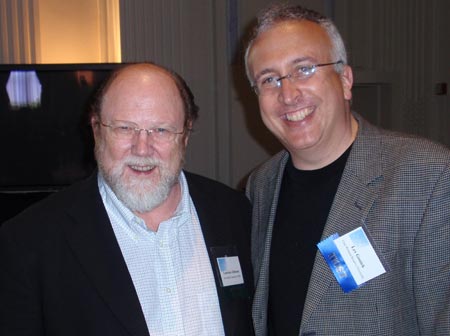 Larry Johnson, CEO of the New Media Consortium
with CWRU CIO Lev Gonick



The third announcement was a plan to work with Cisco Systems to bring a smart building technology into play for college campuses across the country with Gonick's goal of "meeting our strategic goal of being green, smart and using IT."

These are 3 important partnerships that bring acclaim and respect to both CWRU and the region. Gonick says, "The reputation of the university is obvious and building. There's a lot of great momentum."
---

May 7,2009

5,366 KB

5:43



Listen to Lev Gonick discuss Collabtech 2009.
---
At the conclusion of Larry Johnson's keynote at lunch, he invited the 300+ in attendance to light the candle on the birthday cake at each table and join him in singing 'Happy Birthday' to Lev Gonick.

Not only Lev was caught surprise by the Happy Birthday wishes. So unfortunately only the tail end of the song is captured here on video.





---
Top of Page
---
See more from Lev Gonick as he presented with Optiem Internet marketing Director Linda Nawrocki at Noon@Nance at CSU on September 10, 2009.
---
Lev Gonick, vice president for information technology services and CIO at Case Western Reserve University, has been teaching, working, and living on the Net since 1987.

He is also president of the board of OneCommunity, a metropolitan-wide strategy to extend high-speed network connectivity to the nonprofit sector in northeast Ohio. Gonick serves on multiple national and local boards and has been named one of the country's top CIOs by both InformationWeek and ComputerWorld.

Previously, he served as chief information technology officer for Cal State Monterey Bay. From 1996 through 1999, Gonick was university dean for instructional technology and academic computing at California State Polytechnic University in Pomona, California.

Gonick's extensive international efforts in education and technology date back to 1985. Thirteen years ago, he supported the development of HealthNet and Mango, one of Southern Africa's first Internet nodes, facilitating connectivity between health-care professionals and nongovernmental organizations in the field in Southern Africa.

He has been involved in designing and implementing digital learning network projects in West African countries and in Israel, Egypt, Jordan, and Palestine. Gonick received his PhD in international political economy from York University in Ontario, Canada.

OK, that was part of the 'official' resume for Lev. But there is much more.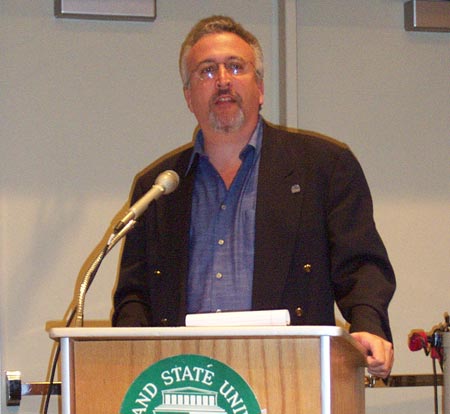 Lev Gonick speaking at a
Greater Cleveland PC User Group meeting



Since his return to Cleveland, Lev Gonick has served as a respected visionary in the IT, education and community arenas.

Yet his influence has gone far past the "vision" stage as his record for implementation has been outstanding. His work on the OneCleveland project, for example, has steered it toward the award-winning OneCommunity project that is a model for other regions across the globe.

Using bright minds and exciting tech resources as his sandbox, Gonick has brought Web 2.0 tools and applications to students that demanded it and faculty and administrators that may have been unaware, but are now hooked.

Don't miss Lev's blog, Bytes from Lev, where the current topic is Top 10 IT Trends for Higher Education in 2009.

In this first in a series of podcasts with Lev, he explains the difference between being CIO of a university and in the for-profit world. He'll talk about how education is different than it was 20 years ago and why it's such an exciting time for technology and education.
---

September 4,2008

8,267 KB

8:49



Listen to the first podcast with Lev Gonick.
---
In this next podcast with Lev Gonick, he explains the international makeup of the CWRU student body and what we can learn from them, and they from us. He also offers suggestions to attract and retain these talented students as well as our own local talented kids.
---

September 4,2008

4,458 KB

4:45



Listen to this podcast with Lev Gonick.
---
---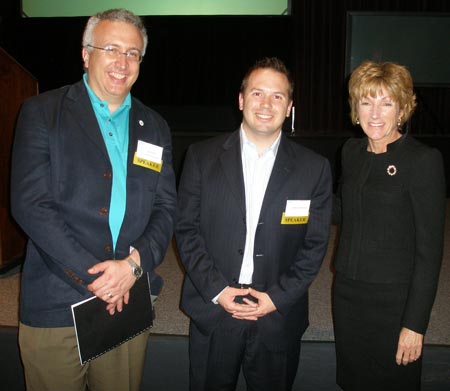 Lev Gonick with Wikinomics co-author Anthony Williams
and CWRU Dean Barbara R. Snyder


---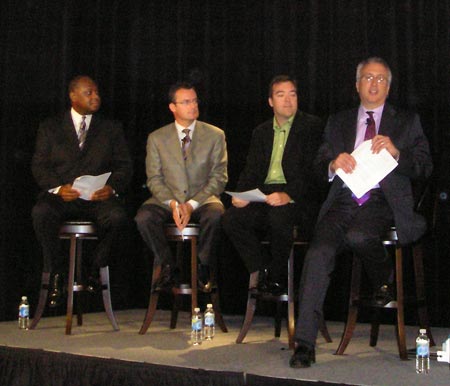 Lev Gonick, Scott Rourke and others making a OneCommunity announcement


---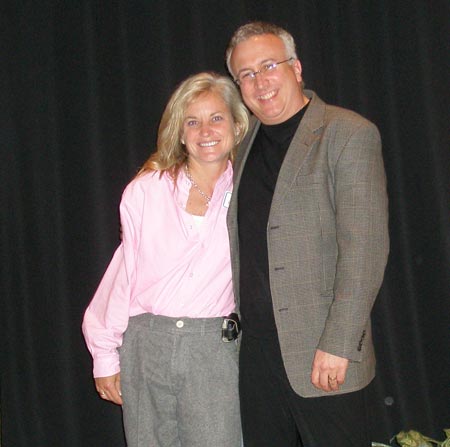 Cathy Horton and Lev Gonick at Craig (Craigslist) Newmark's presentation in 2008


---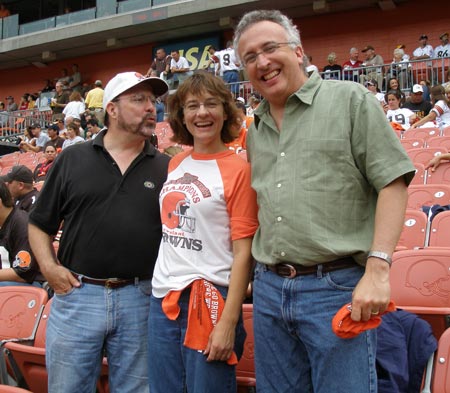 Gary Baney and Heidi Hooper of Boundless Flight
with Lev Gonick at the Browns game


---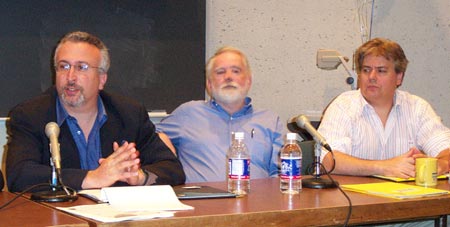 Lev Gonick, Bill Callahan and Dan Hanson
---
Top of Page