The Noon@Nance event on September 10, 2009 featured two distinguished speakers: Linda Nawrocki, Director of Internet Strategy at Optiem and Lev Gonick, CIO of CWRU. Moderator Jim Dorazio framed the conversation around Creating Your Online Marketing Strategy.

Linda Nawrocki stated that with a bad economy, people are spending less but there are opportunities for online marketing. When a CXO wants proof that a marketing campaign is working, the easier-to-track measurability of online marketing is a selling point.

Lev Gonick addressed the degree of change in technology. He said that in the past you could study the Bible of a discipline and be pretty much set for life. But everything changed around 1993 with the Internet. Because things change so fast Lev says we should "fall in love with your eraser" rather than your business plan or tech specialty. They could be "irrelevant in 3 years."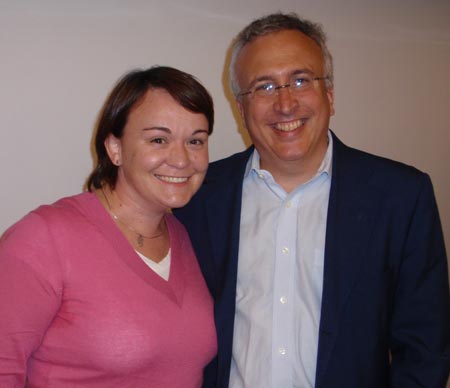 Linda Nawrocki and Lev Gonick



Nawrocki added that "You have to perpetually re-evaluate". Friendster used to be king, then MySpace, now FaceBook. But you can't plan on it lasting for years. Gonick said that lifelong learning is what the tech platform demands of us.

Nawrocki also spoke to the shifts in consumption. Consumers have more of a voice now. She shared the example of cyclist Lance Armstrong who, fed up with the media, created his own media channel which he controls himself. Gonick chimed in that the "Consumer reigns supreme."

Both agreed that we cannot continue to perceive ourselves as the center of the universe. It's a global economy. Gonick says we should export our virtues particularly the value and innovation of our:
Healthcare
Aesthetics
And our 23 universities in NEO
Nawrocki spent some time living in Ireland and it gave her a different perspective on marketing. She tells how when she was in France to watch the Tour de France, she used Google to search something.
Of course it was google.fr not google.com so there was an option to just return sites where the content was in French. She realized that anything she might have posted in English would not even be seen by most of the searchers.
Online Marketing is constantly changing and both speakers agreed that you need to be a generalist and to keep current with evolving specialties.
---
Watch a video interview with Linda Nawrocki from September 10, 2009



You can also listen to the audio in this podcast with Linda Nawrocki

5,963KB
6:21



---
Top of Page