Marc Canter, CEO of Broadband Mechanics, is known for his work in Silicon Valley (founder of the company that became Macromedia, for example) and now is in Cleveland Ohio teaching at CWRU and working on his Digital City project.



In this video, Entrepreneur Marc Canter talks about creating jobs with technology at "The Maze" in Shaker Heights on April 9, 2011.
---


In the video above, Marc Canter tells the story of the Osborne portable computer and why the first portable computer failed. A lesson we now take for granted.

Don't miss Marc's daughter Miriam singing at The Maze.
---
When Marc Canter spoke to an audience of NEOSA CEOs he told them that he is focusing on 3 areas.
Workforce Development
Online multimedia content and services
Digital City open platform software infrastructure
Canter uses Wikipedia as an example of where we are and where we can be. Wikipedia is good, like the Encyclopedia Britannica online but it's mostly text and photos. He says that about 1% of Wikipedia users actually create content, another 9% engage that content and 90% just lurk.
He thinks it's important, especially to capture and retain the attention of the digital "have-nots" to have more than text and pictures. Canter wants to see animation, exploding diagrams, more video and other "next steps" in sites such as Wikipedia. That will get the technology "have-nots" engaged and familiar with the technology that they will need for future work and everyday life.
Canter went to college at Oberlin before his long, successful career in Silicon Valley. He was a founder of MacroMind which became the well-known Macromedia software company. He has been a well-respected, innovative thought leader and blogger for years and his journey now brings him back to Northeast Ohio.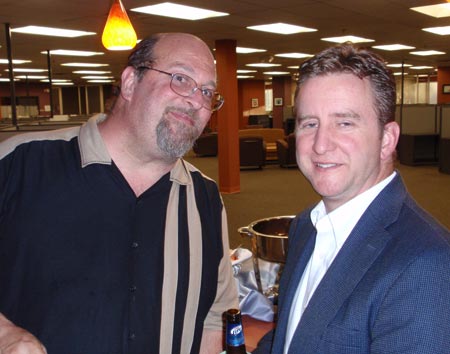 Marc Canter and Neosa chief Brad Nellis



Canter is teaching a course at Case Western Reserve University and working on his Digital City project. He says that in the 1990's, being a Digital City meant having access, usually Wi-Fi. In this decade, Social Media became an important component of the Digital City. The next decade, he predicts, will merge social media, services and access on a software infrastructure platform.

Canter says that "all software is about people" so the "traction" happens when you connect the cyberworld to the real world.

He is back in Northeast Ohio because "there's a great environment and great community of people here, world-class assets, lots of foundations with lots of money and quite frankly one of the places that needed me the most." We're glad to have him here.

Be sure to visit his blog at marc.blogs.it (Marc blogs it)
---
Watch the video interview of Marc Canter from the NEOSA CEO event on September 1, 2009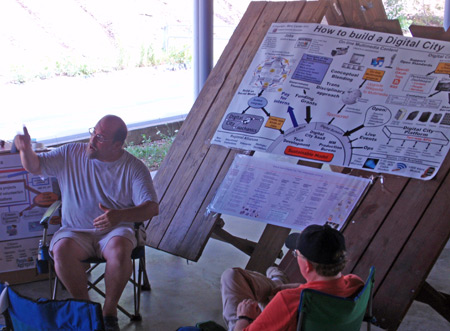 Marc Canter at 2010 Technic discussing Digital City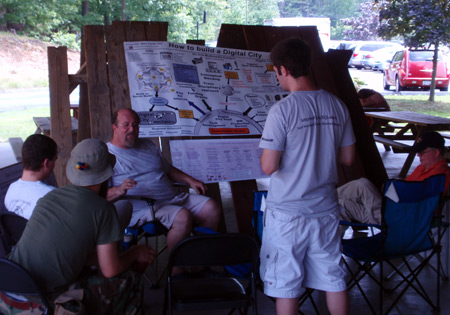 ---
Top of Page