For eight years from 1987-95, Robert X. Cringely wrote the Notes From the Field column in InfoWorld, a weekly computer trade newspaper.
He is also the author of the best-selling book Accidental Empires: How the Boys of Silicon Valley Make Their Millions, Battle Foreign Competition, and Still Can't Get a Date
Most recently, Cringely is the host and writer of the hit PBS-TV miniseries Electric Money.
Cringely's work has appeared in The New York Times, Newsweek, Forbes, Upside, Success, Worth, and many other magazines and newspapers.
His web site says, "The sex symbol, airplane enthusiast and adventurer continues to write about personal computers and has an active consulting business in Silicon Valley, selling his cybersoul to the highest bidder."
You may have heard of the existence of "other" Robert X. Cringely's. As Cringely explains it, "Through a cruel twist of fate having to do with federal judges and unscrupulous lawyers there is, for the moment, more than one Robert X. Cringely. You are right now reading the one true Cringely, author, raconteur, TV personality, and pizza delivery specialist. The "other" Cringely writes a column on the back page of InfoWorld, a weekly PC trade rag."
Cringely gave the keynote speech at the 2008 NEOSA Best of Tech Awards at Corporate College East on May 22, 2008.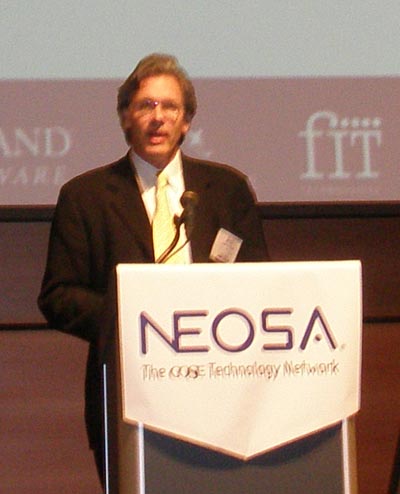 ---
Robert X. Cringely is from Apple Creek, Ohio and got a degree in Physics from Wooster College.
After a brief (6 week!) stint at teaching, he became a war correspondent in Africa and then headed to Silicon Valley.
In the late 1970's, Cringely joined the Homebrew Computer Club and met Steve Jobs and Steve Wozniak. They invited him to join their new company, Apple. Steve Jobs said they were low on cash and offered stock options. Listen to what Cringely did.
---

May 22, 2008

821 KB

0:52



Listen to what Robert X. Cringely told Steve Jobs

Cringely was employee # 12 at Apple. He spent some time at Stanford and then an investigative journalist. When working on a book on his "word processor - a line editor on a terminal attached to an IBM Mainframe, he hit the wrong keys and deleted his 96,000 word book.

When he re-joined Apple he worked on the Lisa team (Cringely says the Lisa was based on software technology stolen from Xerox and hardware technology stolen from Hewlett-Packard). With the book deletion fresh in his mind, he created the Trash Can icon and the two step deletion process.

Oh yeah, he also added a processor intensive fly circling the tarsh can that got him fired.
---

May 22, 2008

4,645 KB

4:57



Listen to the story behind the Trash Can icon with Robert X. Cringely

If you've read his book or seen his specials or movies, you know that Cringely has a ton of stories like this. He shared many with the NEOSA audience including how he was fired by Apple's John Scully over an e-mail callback that didn't call back, how Cisco was started to check on the status of a couple's cats, what the CIA had to do with the creation of SUN (Stanford University Network) and more. If you enjoy the history of our still young industry, be sure to check out Cringely's stuff.

He also looked to the future. He spoke about "What happens when Moore's Law ends?" and had a great line: The stage after ubiquity for a technology is invisibility.

So I asked Cringely, the book author and a longtime magazine columnist, what the future is, if any, of print.
---

May 22, 2008

1,812 KB

1:55



Listen to this podcast with Robert X. Cringely
Top of Page