The fourth meeting of Adaptive Motion of Animals and Machines (AMAM 2008) took place from June 1-6, 2008 at Case Western Reserve University in Cleveland, Ohio, USA. This meeting brought together an equal representation of engineers and biologists who are interested in movement.
There was a public robotics demo at the Great Lakes Science Center on June 5, 2008.
Listen to Dr. Roger Quinn and see more photos and videos.
---


Andrew Horchler of CWRU demontrates a
one motor propulsion robot


---


Video of Andrew Horchler controlling the robot


---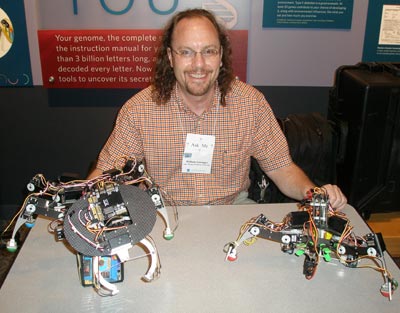 Bill Lewinger of CWRU with robots modeled after insects.
Lewinger said most of the robots are bio inspired. "Insects have been around a long time - they must be doing something right." He studies the way things happen more than movement.


---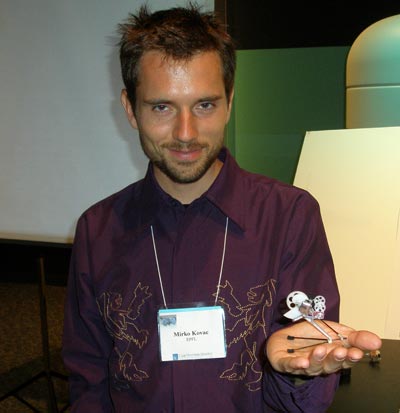 Mirko Kovac of EPFL (Ecole Polytechnique Fédérale de Lausanne) in Switzerland with his self-deploying microglider robot. Based on a cricket, the robot jumps more than 27 times its body size.


---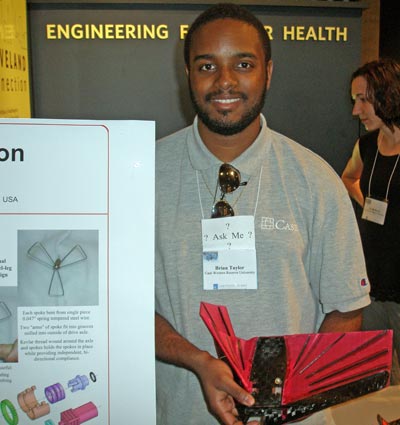 Brian Talor of CWRU shows a Morphing Micro Air and Land Vehicle which can fly and land and then walk after landing.


---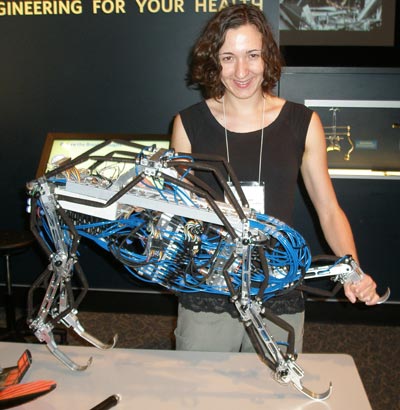 Nicole Kern of CWRU with robot based on a greyhound. The robot weighs 15 pounds but can lift 50 lbs. It models the motions of the greyhound in the plane - not 3D.


---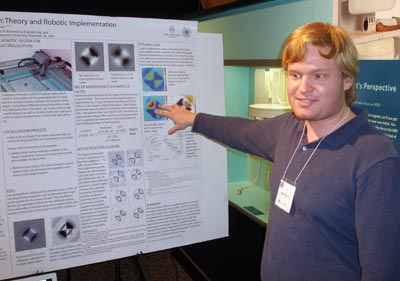 James Snyder


---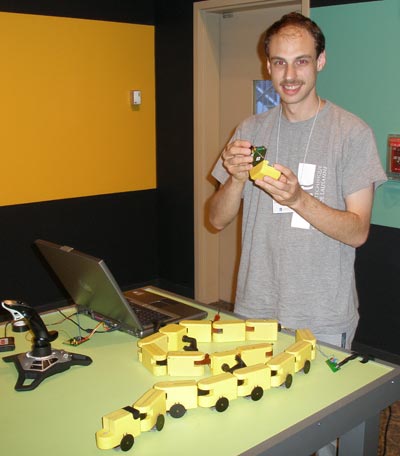 Salamander robot creator Alessandro Crespi


---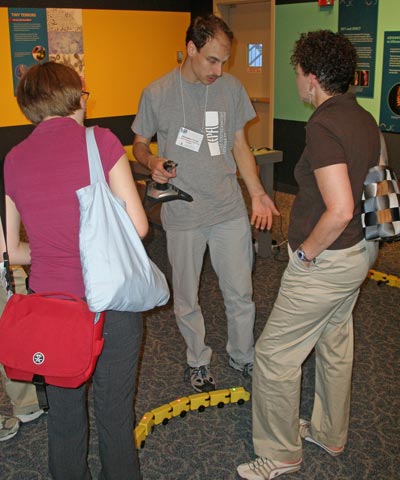 ---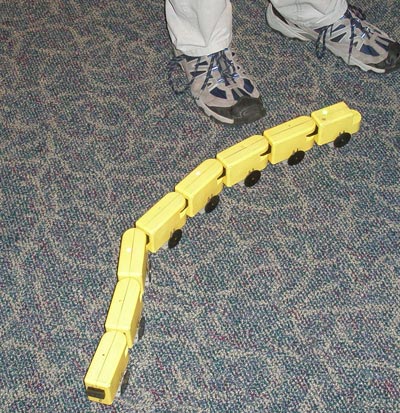 ---


Video demo of salamander robot


---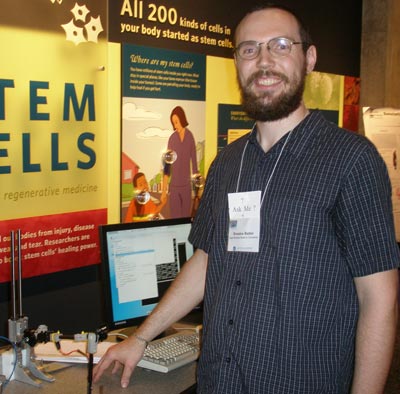 Brandon Rutter of CWRU


---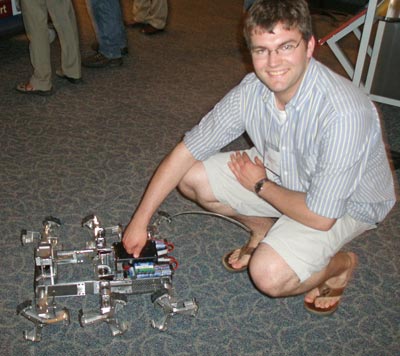 Philip Dunker with Lunar exploration vehicle concept robot that has a laser sensor on front


---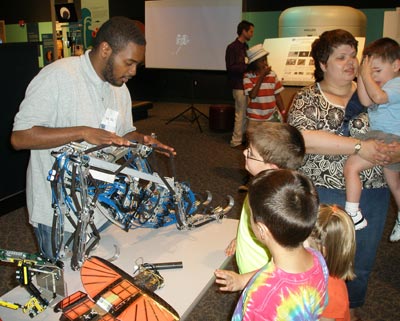 Kids love Robots! Brian Taylor explains the greyhound


---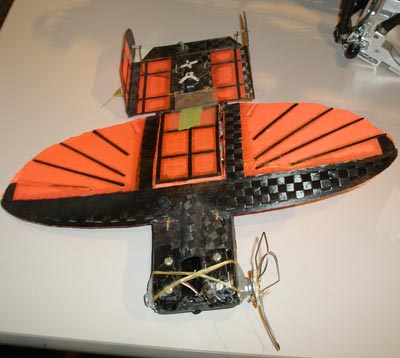 Morphing Micro Air and Land Vehicle (MMALV)


---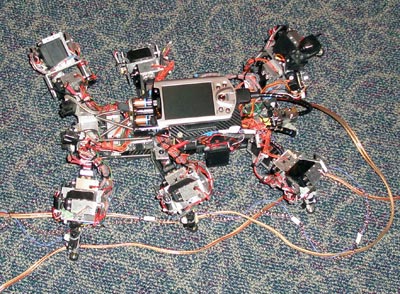 Note the PDA control in the middle


---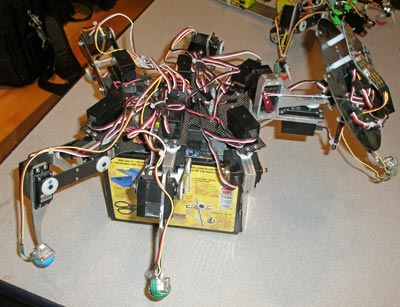 ---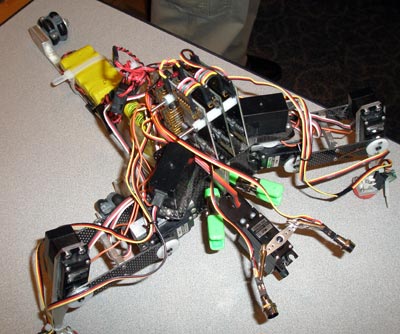 ---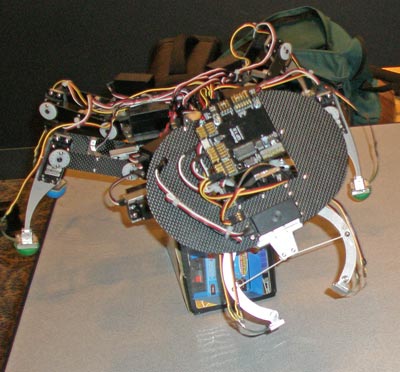 ---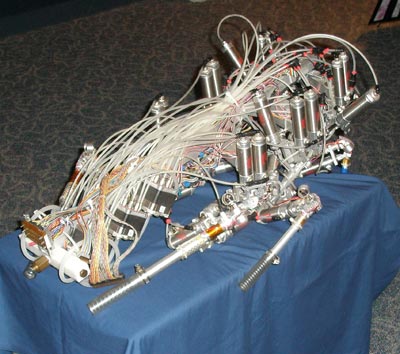 The famous Cockroach Robot


---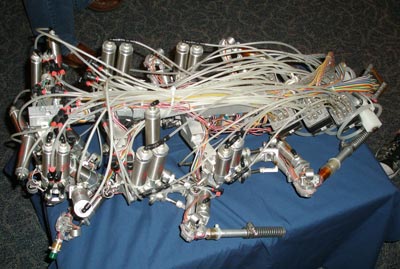 ---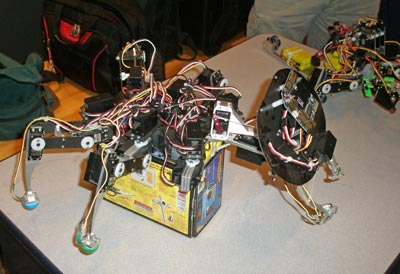 ---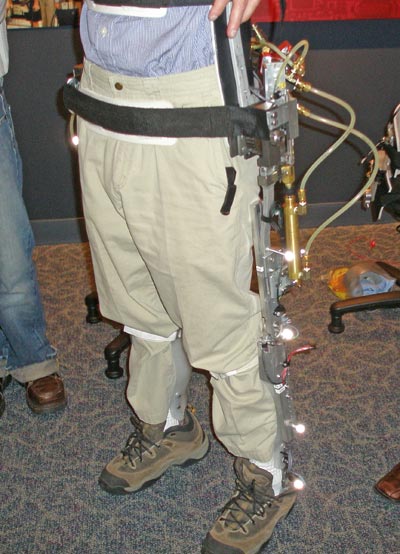 Human application for robot


---


Video showing biomechanical joint - a bracing system to help paraplegics walk. Demonstrated by Curtis To and Rudi Kobetic of the VA Medical Center.


---
---
Top of Page
Back to Dr. Roger Quinn
---


Visit our CompUSA StoreFront

---