October 7, 2011
Scot Rourke, President and CEO at OneCommunity, spoke at a Broadband Workshop at the Renaissance Hotel in Cleveland.
Rourke called broadband the nervous system of a smart and sustainable community. He stated clearly that the US "does not have a competitive digital infrastructure." He warned that the US has to catch up in order to become leaders again rather than laggards and offered some provocative ideas to reaquire that status.
Rourke's provocative thoughts included Telework and he guessed that in the next 10 years about 40% will be working from home and about 70% of healthcare will occur at home. Rourke sees opportunity for high performance government, not just for the already proven eCampaigning model but for eDemocracy.
He also wondered why nobody is addressing the issue that most unemployed don't have broadband yet most jobs are posted online.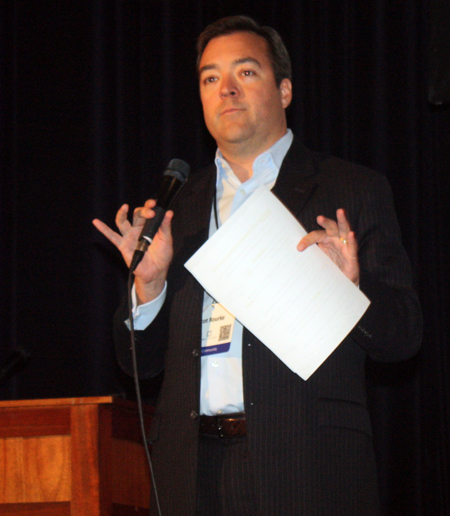 Scot Rourke, President and CEO at OneCommunity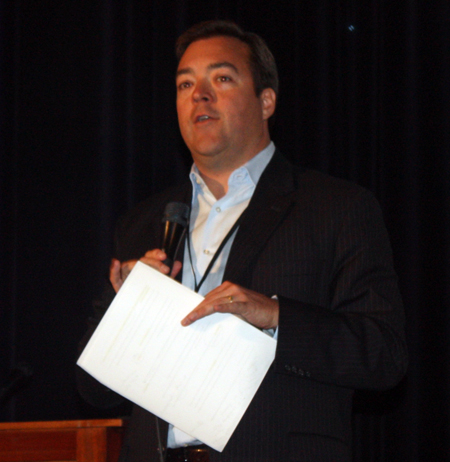 2008 Profile
Scot Rourke, CEO of OneCommunity, was named the Intelligent Community Visionary of the Year for 2008. The Intelligent Community Forum announcement says,

"In late March, ICF named Scot Rourke, President of OneCommunity in Cleveland, Ohio as the Intelligent Community Visionary of the Year for 2008. Mr. Rourke was selected based on his groundbreaking work as a social entrepreneur in Northeast Ohio and his willingness to share hard-won lessons in ICT-based economic development with communities across the United States and around the world.

Under Rourke's leadership, OneCommunity forged partnerships with the region's telephone and cable carriers, under which the carriers donated unused fiber-optic circuits to OneCommunity and OneCommunity contracted for last-mile fiber and VPN services from the carriers. The result was an "ultra-broadband" network connecting the major government, institutional and nonprofit users in the region. In recognition of OneCommunity's achievements, the Intelligent Community Forum named Cleveland as one of its Top Seven Intelligent Communities of the Year in 2006, and honored Northeast Ohio with a Top Seven ranking in 2008.

"ICF exists to identify and share best practices in the development of competitive and inclusive communities in today's Broadband Economy," said ICF Co-Founder and Executive Director Robert Bell. "We are proud to honor Scot's success with OneCommunity, but honor even more his efforts to share the secrets of his success with others."

That's quite an accomplishment and the list of previous winners and candidates is very impressive. Congratulations to Scot.

The Intelligent Community of the Year 2008 was awarded to Gangnam District, Seoul, South Korea whose development as an Intelligent Community began in 1995, when the district launched its first "electronic government" project.

Read more about the 2008 awards.

In this interview with Scot Rourke, he gives us some personal background and then an explanation of what OneCommunity is all about. He speaks about the partnerships necessary to create such a dynamic program and what the Intelligent Community designation means to the region.

Listen to what Robert Bell, Executive Director of the Intelligent Community Forum had to say about Scot Rourke and OneCommunity
---
Scot Rourke explains OneCommunity

Robert Bell, Executive Director of the Intelligent Community Forum, explaining the selection of Scot Rourke
---

March 26, 2008

16,775 KB

17:53



Listen to this podcast with Scot Rourke
---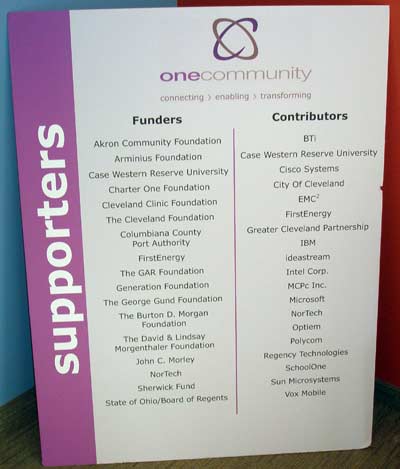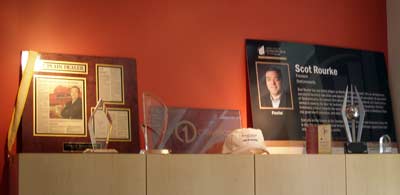 A few of Scot Rourke's many awards
for his OneCommunity work