July 2012 Update:
OverDrive Digital BookMobile
74-foot, 18-wheel tractor-trailer for Digital Content


---
Wow, has OverDrive grown!

We last did a podcast with Steve Potash, the founder, President and CEO of OverDrive, Inc. back in 2006. That was before the Amazon Kindle, smartphones and the iPad. Since then, the market for eBooks and Audio Books has exploded and OverDrive has been providing solutions for the entire ride.

Be sure to check out what we posted back then to gain some perspective on where Steve and OverDrive have been and are now.
I asked Steve for the elevator pitch for those who don't yet know the company.
"OverDrive provides world-class infrastructure for distributing premium digital content. We empower publishers, enterprises, libraries, schools, and retailers to maximize their presences in the digital world by enabling them to securely manage, protect, and lend or sell digital audiobooks, eBooks, music, and videos."
Digital media is a rapidly evolving space and OverDrive has grown with it since the mid-80's when they worked in DOS with floppy disks and CD-ROMs.
One of the issues that has been persistent in all that time is Digital Rights Management or DRM. Legitimate users typically don't like to be put out by obtrusive DRM schemes but copyright holders need a way to protect their easily copied digital property from the crooks.
OverDrive has some open content such as MP3 files but much is protected with encryption or DRM services. Steve says DRM is "required to access the best content."
I can personally vouch for the ease-of-use of the OverDrive digital library solutions. As a rabid borrower from both the Cleveland Public Library and Cuyahoga County system, I have downloaded dozens of eBook titles with no problems. The Cleveland and Cuyahoga County libraries are only 2 of the 10,000 or so institutions that use OverDrive's custom digital library services.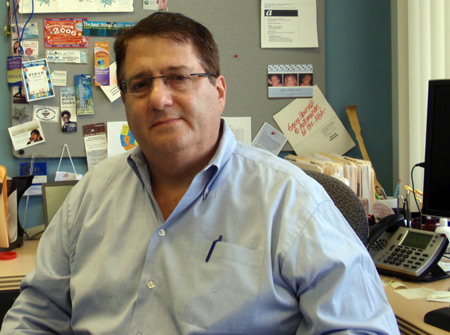 Schools are a natural extension of libaries so it's no surprise that OverDrive has a growing presence in schools. They offer both a 24x7 online download platform and another option that I think will be a huge success. OverDrive now offers a media drive that they ship to a school. The media drive is plugged into the school's network and with a little tweaking the students are able to access thousands of titles that are stored on that box.

Of course, digital media got a huge boost with the introduction of the Amazon Kindle. Potash calls the Kindle a "great catalyst" that "accelerated the urgency" of book publishers to have their content available in eBook format.

And with smartphones, the Apple iPad and other new devices, the space is booming. Potash says that "almost anything with a screen, big or small, is potentially a consumer electronics device for OverDrive's inventory."

This was illustrated at the recent Consumer Electronics Show in Las Vegas where OverDrive exhibited in a new eBook Zone at the show with about 50 new device manufacturers from around the world. The global demand is surging.

Though headquartered in Cleveland, OverDrive is a global company. They exhibit at 40-50 of the major book shows each year all over the world.

Be sure to check out OverDrive's semi-trailer. It's called the Digital Bookmobile and it tours the country stopping at New York's Central Park, the National Mall in Washington DC and other spots showing the latest eBooks, audiobooks, computers and devices.

As you will hear, I asked Steve if he was able to find enough hard-core developer talent in Cleveland. Fortunately, enough residents of Encodia (how cool is that!) are found to handle OverDrive's growth.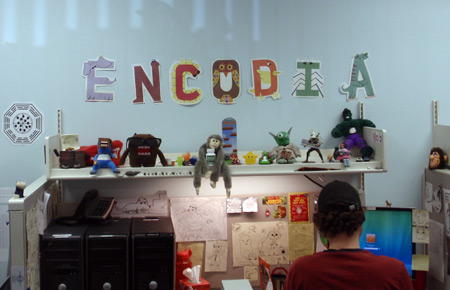 Every Geek's dream - the Land of Encodia



Check out the OverDrive website for more on the company.
---
April 21, 2010 Interview

Listen to Steve Potash from April 21, 2010
---
---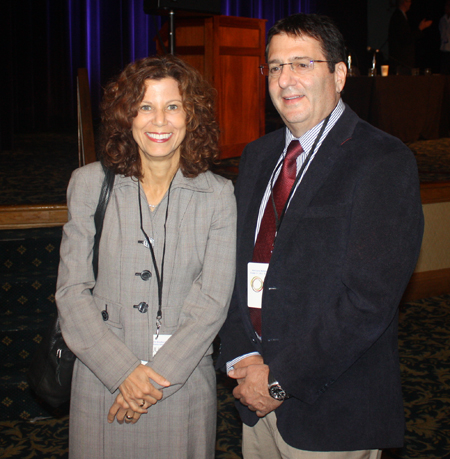 Cuyahoga County Public Library Executive Director Sari Feldman and Overdrive's Steve Potash
OneCommunity Broadband Workshop October 2011
---
Steve Potash - May 2006. Steve Potash is CEO of OverDrive, Inc., a leading provider of enterprise Digital Rights Management (DRM) and associated digital media solutions enabling the management and distribution of premium digital content over global networks.

OverDrive's web-based services enable the secure distribution of eBooks, digital audio books, and other digital media throughout multiple channels.

OverDrive is the most experienced company in the world for all of the services associated with eBooks formatted in Adobe Reader (PDF), Mobipocket, and Microsoft Reader, as well as digital audio books in Microsoft® Windows Media® format.

Mr. Potash has been actively involved in the electronic publishing industry since its nascent beginnings in the early 80's. He pioneered and developed interactive media products for consumers encompassing popular trade, legal and reference titles such as interactive legal forms and eBooks on diskettes and CD-ROM. Mr. Potash holds US and Canadian Patents for document and form processing systems.

He serves as President of the Open eBook Forum, an international standards body and trade association for digital book applications

In this interview, Steve explains DRM and the various options for accessing digital content - whether it is text, audio or video.

Visit the OverDrive website

Visit the Cleveland Public Library

Visit the Cuyahoga County Public Library


---
May 12, 2006 Interview

14,848 KB

15:50



Listen to this interview