People in the tech world are used to throwing around terms and acronyms that draw blank stares from non-techies. We're used to that and it can be fun. But even the geekiest of us sometimes struggle to keep up with the latest.
And some of these concepts are becoming so integral to the future - the very near future - of computing that it is essential that they be understood thoroughly.
Plus, not all terms have one agreed upon standard definition - think Web 2.0
There's a little of that ambiguity in a couple terms that we hear about in this podcast.
Woody Walton works with Microsoft Partners to bring solutions to customers. At a Microsoft Partner event, Woody explained some of the new offerings that take advantage of what is called the Cloud.
We know that Software as a Service or SaaS is an increasing popular way for thin clients, basically just a browser, to get work done using the applications and resources that exist out there somewhere in the Cloud.
Many are concerned about the loss of control, security, downtime and other issues with a complete SaaS solution. That's where Software + Services comes in. Software + Services is a way to capture the best features of the Cloud model while retaining the familiar and trusted local software model. Walton says it provides the best experience for the end user.
Microsoft has introduced Microsoft Online Services (MOS) and a suite of offerings called Business Productivity Online Standard Suite (BPOS). The suite offers tools that Microsoft hosts so the business doesn't need to. Microsoft is responsible for the maintenance, upgrades and security. The customer just pays a monthly fee to access the tools.
The Business Productivity Online Standard Suite includes: Microsoft Exchange Online, Microsoft SharePoint Online, Microsoft Office Live Meeting and Microsoft Office Communications Online. Pricing is reasonable, at about $15 per user per month.
Walton quoted a Gartner Report saying that by 2011, 25% of all software will be hosted as a service. Wow!
Along with SaaS and the Cloud, the other hot buzz technology is Virtualization. As Woody will tell you, server (hardware) virtualization offers many benefits including the ability to consolidate many servers into one running virtual machines (VMs). This saves in hardware, energy and management costs.
Windows Server 2008 includes Hyper-V so you can run several VMs on one physical server.
If you wonder about scalability, don't. I asked Woody how it scales and he told me that 50% of Microsoft.com, one of the most popular sites on the web, runs on Hyper-V. And 100% of MSDN and TechNet are on Hyper-V. If it can scale to handle those millions of hits, it can scale to handle your business apps.
If you are a Microsoft Partner or interested in becoming one, there is a lot of good information on Walton's blog. Check it out.
By this time, old-timer mainframe guys will be pointing out the Cloud and Virtualization sure seem familiar. Mainframes had similar technologies 40 years ago! True, but obviously the technology has come a long way as Woody will tell us.
---
February 26, 2009

12,259 KB

13:04



Listen to Woody Walton.
---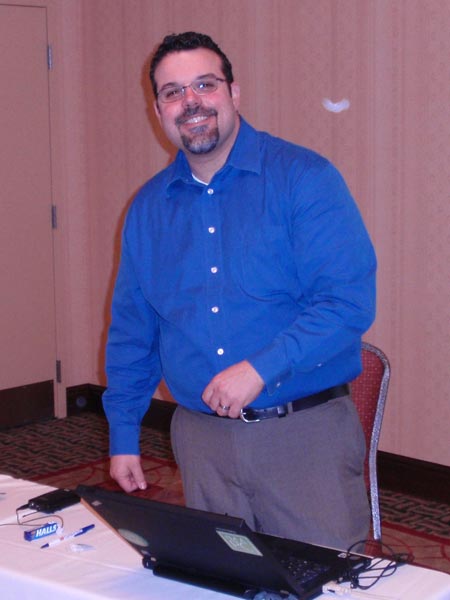 Woody Walton at Cleveland Microsoft Partner Event
---
Top of Page