Author, Editor and SEO coach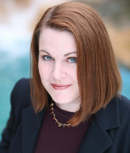 Miriam Carey is an author, editor and SEO coach living in Chicago. Currently Carey contracts with Motorola Solutions, Inc. and Info.com developing SEO strategies and best practices to help marketers and Web editors write fluently and effectively with search results in mind. In the past, Carey has worked with Orbitz, Kohler, HowStuffWorks and Mobil Travel Guide on Web content development and SEO.
As an editor, Carey launched LongWeekends magazine, a travel publication that provided travel tips and ideas for the region between New York and Chicago, and was also the travel editor for Ohio Magazine. Carey is the author of three books, "52 Romantic Outings in Greater Cleveland", "365 Ways to Meet People in Cleveland" and "Backroads of Ohio". Carey also served as a ghost editor for financier Ivan Gelfand's book, "Your Money - Your Future".
Presentation topics include:
Writing with Keywords - SEO strategies for Web Editors
Integrating SEO into your Long-term Web Strategy
Five Easy Ways to Build and Maintain Your Social Media Presence
Traveling Ohio: Backroad Destinations
Located in Chicago
Request More Information

Top of Page


---