Gururaj Deshpande's first entrepreneurial venture netted $26.95. Since then he has had numerous successes including the 1997 sale of Cascade to Ascend Communications for $3.7 billion.

So when a successful, billionaire entrepreneur visits your city, you need to be there and listen to him. Deshpande spoke at the annual David Deioma Lecture series on October 15, 2009 in the Allen Memorial Medical Library at CWRU.

Deshpande was born in India and his appearance was part of a celebration of the one-year anniversary of the Cleveland chapter of TiE, The International Entrepreneur.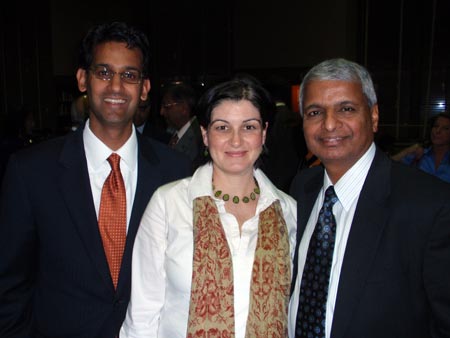 TiE Cleveland co-founder Baiju Shah, TiE Executive Director Reka Barabas and Gururaj 'Desh' Deshpande



Besides his many successful for-profit companies, Deshpande has also created several non-profits and contributed $20 million to the Deshpande Center for Technological Innovation at MIT's School of Engineering.

The lecture was accurately previewed in the following blurb: "Innovation is the process of coming up with new ideas, entrepreneurship is all about making it happen. To create a sustainable economic growth we need them both; ability to come with new ideas and to make them happen. In the new connected world, ideas flow freely and Innovation is rampant. The opportunity to adopt the innovative ideas to local and global solutions is now open to everyone in the world. "

Deshpande used his own experiences to describe how to set up "an ecosystem that fosters both innovation and entrepreneurship." His positive and inspiring message was devoured by the students and aspiring entrepreneurs in the audience.

Desphande said that an entrepreneur needs to have conviction. "Everybody that you talk to is only going to try to discredit you. They're going to try to tell you that it's probably not something that is going to work."

And a serial entrepreneur needs to innovate and grow. "You always have to do, at least in order of magnitude, more and different than what you've done in the past."

Doing something different and growing related to the answer he provided to my question on why so many successful entrepreneurs (look at Silicon Valley!) are immigrants. As you will see in the video below, Deshpande says that we need to get away from our familiar surrounding to really see and appreciate what we have.

That's why Deshpande suggests (only partly in jest) that everyone in Cleveland should go to Bangalore.

Note: Deshpande is just one of the many immigrant entrepreneurs covered in Richard Herman and Bob Smith's book Immigrant, Inc.: Why Immigrant Entrepreneurs Are Driving the New Economy (and how they will save the American worker)


Asian Indians in Cleveland

Top of Page