Mr. Kenny HUANG Jian Hua, is a Chinese-born, U.S-educated businessman who runs QSL Sports Limited. QSL is a Hong Kong-based sports investment company. The company was built upon China's success at the 2008 Beijing Olympics. Their is a growing interest in sports in China and the rest of the world is interested in reaching the huge Chinese population.

Mr. Huang introduced the Cleveland Cavaliers to Tsingtao Brewery which resulted in the recent historic agreement between the two. Tsingtao Brewery Co. signed a multi-year agreement with the NBA Cleveland Cavaliers to become the exclusive Chinese beer of Quicken Loans Arena.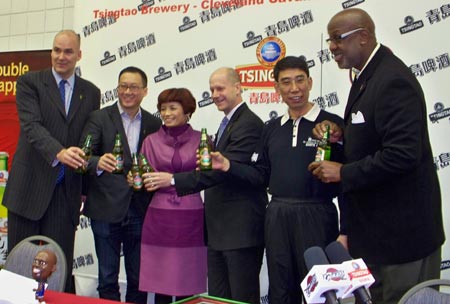 Cleveland Cavaliers GM Danny Ferry, Kenneth Huang, Tsingtao's Xu Yan, Cav's President Len Komoroski, Tsingtao's Guo Yu Sun and Cavalier legend Campy Russell toast the agreement with a Tsingtao beer



The partnership is the first between Tsingtao (pronounced CHING dow), China's most popular beer company, and an NBA team and arena in the United States.

In this video clip from the press conference, QSL Chairman Kenneth Huang answers why, with his many good relationships with Chinese companies, he chose to present Tsingtao to the Cleveland Cavaliers.
---
You can see much more of the contract signing and festivities (including numerous photos and videos) at the Cleveland Cavs - Tsingtao Brewery agreement page.

Chinese in Cleveland

Top of Page