In 1965, while a student at John Hay High School in Cleveland, Madeline Manning-Mims won her first national title in the 440-yard run at the girls' AAU championships and was named to the U.S. team that competed in meets against the USSR, Poland and West Germany.
From 1967 to 1980, Manning-Mims won 10 national indoor and outdoor titles and set numerous American records as well. After setting a national record of 2:02.3 in 1967, she improved on that record three times, eventually running 1:57.9 in 1976.
One of the first female American middle distance stars of world-class caliber, Madeline Manning-Mims was the 1968 Olympic 800m champion at Mexico City while attending Tennessee State University.
She set three world indoor records, culminating with a best of 2:02.0 in the 800m in 1969. Her 1968 Olympic victory was unexpected but decisive, as she won by more than 10 meters in an Olympic record of 2:00.9.
She also was a member of the 1972 and 1976 Olympic teams and in 1980, at the age of 32, won the U.S. Olympic Trials. Only the U.S. boycott of the Moscow Games kept her out of her fourth Olympiad.
Coming out of retirement three times during her career, at the 1972 Games in Munich she won a silver medal in the 4 x 400 m relay with teammates Mable Fergerson, Kathy Hammond, and Cheryl Toussaint. She was the 1975 Pan-American champion and in 1966 won the 400 at the World University Games.
She is the first and only American female to win an Olympic gold medal in the 800-meter event, accomplishing this feat in Mexico City in 1968.
She is a graduate of Tennessee State University and a famed member of their TigerBelles.
Madeline Manning-Mims was recently honored as part of the Cleveland Cavaliers Black Heritage Celebration Martin Luther King Jr. Tribute Night. She was honored along with Lenny Wilkens, Bill White, Earl Lloyd and Reggie Rucker.
See photos and more from that event
We caught up with Ms Manning-Mims after the awards presentation and she told us about how she was inspired by legends Jesse Owens and fellow Tennessee State University TigerBelle Wilma Rudolph. Also how she was 'tricked' into running the 800m - right before she set the world record.
She also gives advice for young people and discusses the impact of politics in the Olympic Games.
January 23, 2008

6,898 KB

7:21



Listen to this interview



---
Don't miss the profile of the life of Madeline Manning Mims (with more photos) on ClevelandWomen.Com

---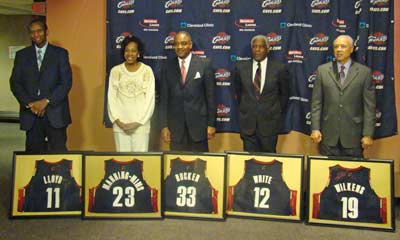 The 2008 Cleveland Cavalier Black Heritage Celebration legends on Martin Luther King Jr. Tribute Night - Earl Lloyd, Madeline Manning-Mims, Reggie Rucker, Bill White and Lenny Wilkens