Great Lakes Science Center has a new periodic table of chemical elements exhibit thanks to a donation from the Northeastern Ohio Science and Engineering Fair (NEOSEF).

NEOSEF donated the funds for the exhibit in honor of Dr. Glenn Brown and Dr. Jeanette Grasselli Brown. It was dedicated at a private ceremony during the Science Center's current closure for cleaning and maintenance.

"We are grateful to the entire Board of NEOSEF for this wonderful gift in honor of Glenn and Jenny, said Science Center President & CEO Kirsten Ellenbogen. "We are especially grateful to NEOSEF President Oanh Loi-Powell for her work to make this ambitious tribute happen."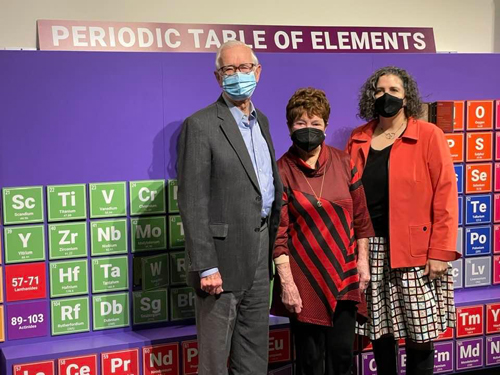 Great Lakes Science Center board member Tom Brick,
Jeanette Grasselli Brown and
Science Center President & CEO Dr. Kirsten Ellenbogen.



The legacy of Jenny and the late Glenn's board service throughout the Cleveland area is one of leadership and strategic partnership. Glenn, a chemical engineer and senior vice president at Standard Oil, was instrumental in the strategic merger of the Case Institute of Technology and Western Reserve College, and served on more than 20 boards including as chairman of the Playhouse Square Foundation.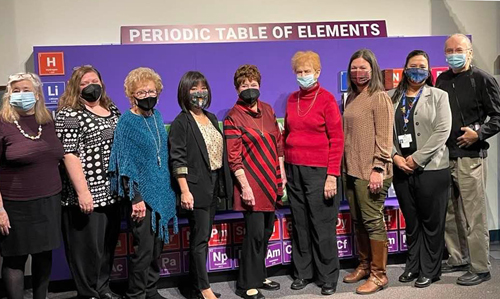 Oanh Loi-Powell and Jenny Brown in center
in front of new Periodic Table



The Browns had a strong leadership role with NEOSEF as well, and were instrumental in bringing the organization into a partnership with the Science Center to host the International Science and Engineering Fair when it came to Cleveland in 2003. When the organization began looking for a gift to honor the legacy of the Browns, their board agreed it was only fitting for them to have a presence at the Science Center, a place Jenny, an analytic chemist, helped found, going back to the formation of the non-profit organization in 1991 before the building even opened.

NEOSEF President Oanh Loi-Powell says "We owe a huge debt of gratitude to Glenn and Jeanette Brown, both of whom have been passionate supporters of science education and of the need to encourage and foster scientific explorations by and in our youths.

The board of the NEOSEF recently started exploring ways to pay tribute to Glenn and Jeanette for their contribution to our organization. We wanted something that reflect the love the two of them had for science and science education, something that can impact many people, and something that can leave a long lasting legacy. This wonderful permanent exhibit fit the bill perfectly and we are excited to be part of it. I believe that this will serve as a constant tribute to Glenn and Jeanette's passion of scientific education, the chemistry theme is a perfect reminder of their own contribution to science."

Jenny served as a Science Center board member for many years, eventually being named Board Member Emeritus.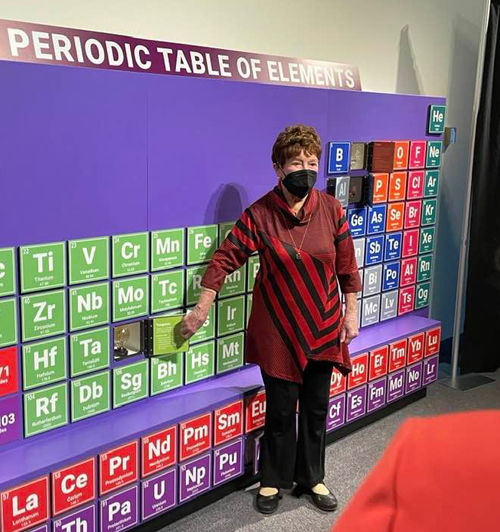 Jenny Brown and the new Periodic Table exhibit at GLSC



The periodic table exhibit is located on the second floor of the Science Center in the Science Phenomena gallery. The larger-than-life exhibit allows families to explore chemical elements, their interconnections, and how they're used in everyday life. The Science Center installed this new iconic piece alongside the PPG Demo Lab, where frequent chemistry workshops allow guests and school groups to experiment with diverse topics such as polymer chemistry, spectrometry, acid/base reactions, and stoichiometry.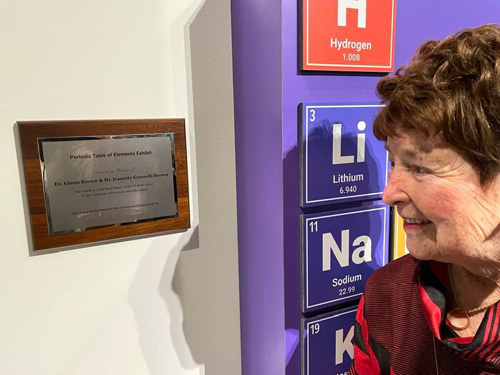 Jenny Brown and GLSC Periodic Table plaque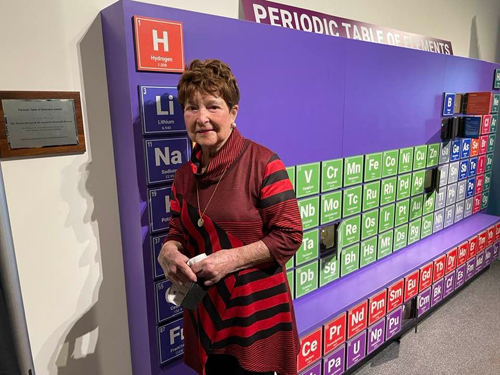 The plaque reads:

"Periodic Table of Elements Exhibit
Named in Honor of
Dr. Glenn Brown & Dr. Jeanette Grasselli Brown
We thank you for your many years of dedication
to the missions of science and education.
Sponsored by Northeastern Ohio Science and Engineering Fair"

A fitting tribute to two icons of science in Cleveland and beyond.

Thanks to Greg Polyak for sharing these photos with us.



---
---
Subscribe to the e-mail version of the free Great Lakes Geek e-news
for timely news, events, tips and more

---
Follow us on Twitter for breaking news and updates.
@DanHanson and @greatlakesgeek


---
---
Top of Page
Back to Great Lakes Geek Science