Information Security Summit
October 31, 2017 80% of businesses believe they will be hit by a cyber-attack within this year according to a June 2017 study. That's not news to Gary Sheehan and Glenn Brzuziewski.
For the last 30 years, Gary Sheehan has been working in information technology and in the last 20 years he has focused on information security, specializing in security management, assessments, policy and awareness development, compliance and security project management. Currently Gary is the Director of GRC Services and Solutions for Advanced Server Management Group, Inc. (ASMGi).
Glenn Brzuziewski is an attorney with an emphasis on technology law. For the last 13 years he has served as Owner/managing Partner of Hurricane Labs providing and managing companies' security services, including Security Monitoring, Network Monitoring and Vulnerability management.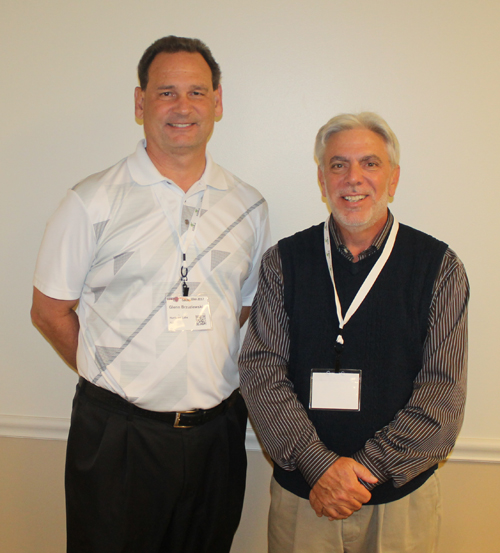 Glenn Brzuziewski and Gary Sheehan



In 2002 Gary and Glenn decided to create an all-volunteer security conference for professionals right in their own backyard to eliminate the time and costs of travelling to out-of-state conferences. They formed the Information Security Summit (ISS) and 150 professional attended the first fall ISS in 2002 on the campus of Tri-C East.

Watch this short interview with Gary Sheehan about the Summit, why it is growing, the reaction from students and more.

NOTE:The images below with a white arrow in the middle are videos. (The other images are just photos) You can click on the white arrow to watch the video of whatever is described. Make sure your speakers are on and you can make the video full screen once it begins by clicking the icon in the lower right corner.





With support and participation from the top IT security companies in the region, ISS took off. It has become the largest gathering of security professionals in the Midwest and has outgrown several spaces, now meeting at the huge IX Center to accommodate the crowds.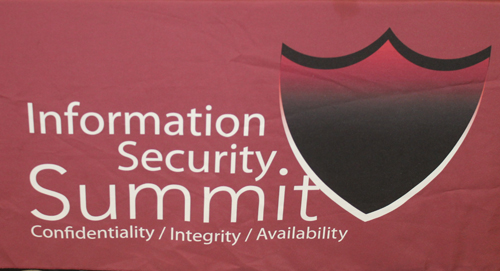 Gary Sheehan said, "With all that is going on in Cybersecurity globally as well as our involvement locally, we've simply outgrown our original (2) venues."

The event has also grown from a one day event to 5 full days of Security Summit Week (SSW) to cover attendee demand and the changes in the technology, law, practices, etc. The weeklong format allows days to be allocated to specific audiences. The first day of ISS focused on the Internet of Things and included a free Career Connection for students and veterans to learn and meet companies and recruiters.

That's important. We have all heard the statistics of the thousands of unfilled computing jobs in the region and state. Plus the US Department of Labor counts more than 500,000 open IT-related positions in the country. Many of these are what IBM CEO Ginni Rometty called "new collar" jobs earlier this year. These jobs don't require a 4 year degree but do require a good amount of practical skills. Programs like Tri-C's workforce curriculum are offering short-term certificates in mobile computing, web development, computer maintenance, network support, coding, OnBase and CISCO.

Greg Coloian was one of the principals of the 15th annual Information Security Summit at the IX Center in Cleveland. In this short interview he tells about the Summit and how Cybersecurity is something you have to get ahead of. He also told why everything is better with mustard.





Day two came about from requests by Cleveland's legal community. The legal community gathered at Law Day at the Summit presented by Benesch Law and discussed Artificial Intelligence, Big Data, the Cloud, IoT and Cybersecurity - all from a legal perspective. Best practices for prevention of breaches and other issues were discussed and remedies for when something bad happens. With millions of American affected by breaches such as Yahoo and Equifax, Cybersecurity has grown from the IT realm to the broader business community and to individuals.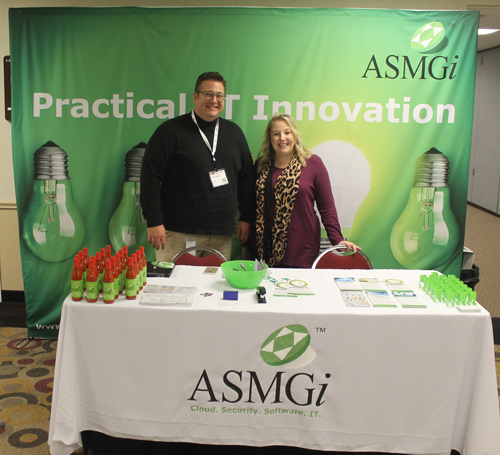 ISS sponsor ASMGi's Andy Netzel and Danielle Schinke

One of the most anticipates presentations was about Privacy and Cybersecurity by Mike Stovsky of Benesch Law. Mike Stovsky is a Partner and Chair of one of Benesch's core practice groups, Innovations, Information Technology & Intellectual Property (3iP). Benesch is a business law firm with offices in Cleveland, Columbus, Chicago, Hackensack, Indianapolis, Shanghai and Wilmington. The firm serves national and international clients that include public and private, middle market and emerging companies as well as private equity funds, entrepreneurs, not-for-profit organizations, trusts and estates.

In this interview before his presentation Mike spoke about Data breaches, Cyber Security, Preventing and reacting and even Quantum Computing.





Another popular presentation was by Mehmet Munur and Dino Tsibouris of Tsibouris & Associates, LLC.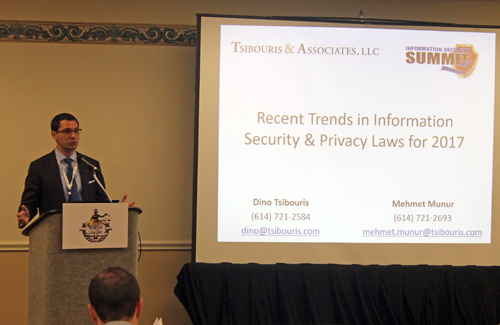 Mehmet Munur, partner at Tsibouris & Associates, LLC

Tsibouris is a boutique law firm focusing on business, financial services, technology, information privacy and security law located in the Polaris area of Columbus, Ohio.

Their topic was 'Recent Trends in Information Security and Privacy Laws for 2017.' This part of the presentation deals with the Yahoo breach.





The Health Insurance Portability and Accountability Act of 1996 (HIPAA) has brought legal and IT together for years and day 3 of the ISS is Healthcare Day at the Summit presented by Oswald Companies. Don Sinko, Chief Integrity officer at Cleveland Clinic delivers the keynote titled "IT/Cybersecurity and the Future of healthcare."

Days 4 and 5 of Security Summit Week are dedicated to product-specific or industry-wide training programs and thought leader keynote addresses.

As a first time attendee I was pleasantly surprised by the number and quality of exhibitors who could be accessed during breaks. The sessions were led by high-quality speakers and panelists and the hosts made the event fun with food, mixers, casino night, Halloween fun and more.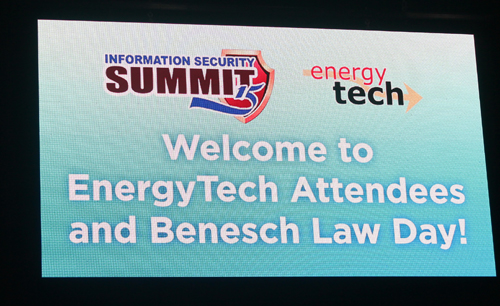 New this year is the ability to register on-site for a single day of the event. Visit www.informationsecuritysummit.org for more information.
As cyber security plays an increasingly important role in our business and personal lives it is good to know that Cleveland has such a resource available for the professionals and students in the Midwest.
---
---

Want to learn about tech, science and business events in Cleveland and NEO such as this? Sign up for the free Great Lakes Geek eNews. It's easy and free.

Fill out the form for the free Great Lakes Geek eNews.
***

---
---
Follow us on Twitter for breaking news and updates.
@DanHanson and @greatlakesgeek

Check out Dan Hanson's YouTube videos and Dan Hanson's Blog
---
---
Top of Page
Back to Great Lakes Geek Events