Great Lakes Geek Reviews
Event Recaps and Summaries


The Great Lakes Geek and members of Team Geek go to a lot of events. Some are terrific. Others are a waste of time. This section will provide summaries (text, pictures and sometimes audio and video) of some events of interest.
If it is a recurring event, it may earn the coveted Great Lakes Geek Seal of Approval. But be warned. It's not easy to impress the Great Lakes Geek.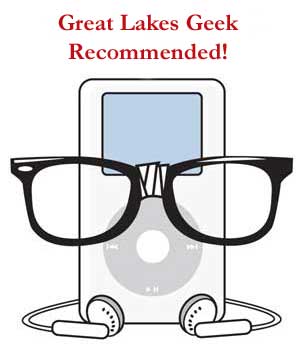 ---

Don't miss Great Lakes Geek Organizations
Team Geek attends local business, tech and science events to give you a taste of what to expect before you attend


---
2017
Information Security Summit
Now in its 15th year, the Information Security Summithas become the largest gathering of security professionals in the Midwest and has outgrown several spaces, now meeting at the huge IX Center to accommodate the crowds.

The event has also grown from a one day event to 5 full days of Security Summit Week (SSW) to cover attendee demand and the changes in the technology, law, practices, etc. The weeklong format allows days to be allocated to specific audiences such as Internet of Things, Law and Medical.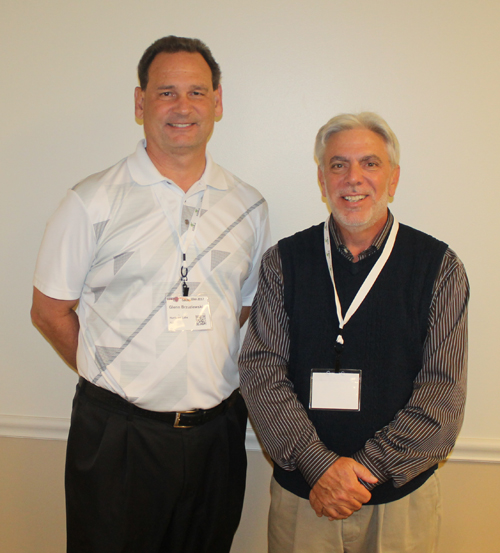 Summit founders Glenn Brzuziewski and Gary Sheehan
See videos and more from the Information Security Summit
---
How 3D Printing is Revolutionizing the Operating Room
The 2017 Cleveland Clinic Medical Innovation Summit brought together more than 2,250 of the brightest leaders from around the world to Cleveland to discuss the investable technologies that will deliver on the powerful promise of Genomics & Precision Medicine. Along with the keynotes, interviews, demonstrations, panels, etc there were several Impact Sessions.

One Impact Session that caught the eye of the Great Lakes Geek was titled 'Made-to-Order Surgery: How 3D Printing is Revolutionizing the Operating Room.' featuring Moderator David Cassak, Managing Partner, Innovation in Medtech LLC and panelists Jihad Kaouk, MD, Institute Vice Chair for Surgical Innovations and Director, Center for Laparoscopic & Robotic Surgery, Glickman Urological & Kidney Institute, Cleveland Clinic, Karl West, Director, Medical Device Solutions, Cleveland Clinic, Jacques Zaneveld, PhD, CEO, Lazarus 3D Printing and Nizar Zein, MD, Chair, Global Patient Services, Cleveland Clinic.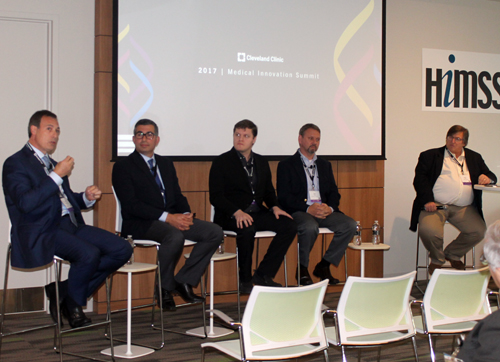 Dr. Nizar Zein, Dr. Jihad Kaouk, Jacques Zaneveld,
Karl West and David Cassak
See videos and more from the 3D Printing for surgery session
---
Solar Eclipse Event at Villa Angela St Joseph High School
Great Lakes Geek Dan Hanson went back to his high school alma mater Villa Angela St Joseph HS in Cleveland for a solar eclipse watch event. It was St Joseph HS went Dan went there a long time ago but what has remained the same is a strong science curriculum and great teachers. Though it was not a school day, students, teachers and members of the community came to the VASJ parking lot for solar eclipse activities.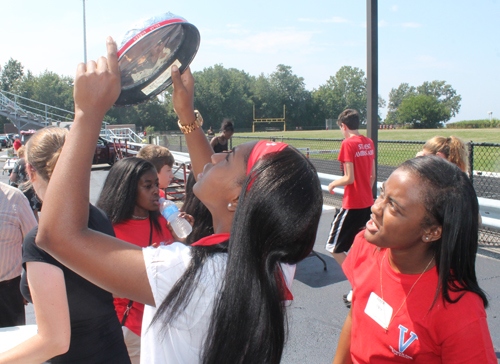 Watching the Solar Eclipse at Villa Angela High School


See photos and videos of the Solar Eclipse event at VASJ
---
Asian Highlands Groundbreaking at Cleveland Metroparks Zoo
Cleveland Metroparks Zoo officially broke ground on Thursday August 17 on Asian Highlands, a new state-of-the-art exhibit that will enhance animal habitats as well as create a more engaging guest experience focusing on conservation.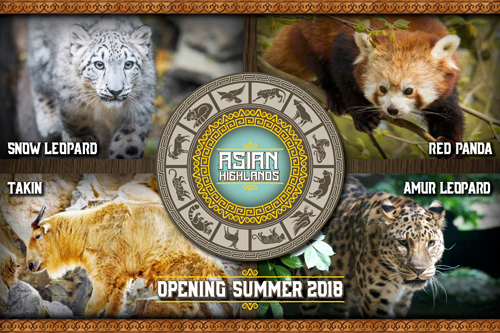 See photos and videos of the Zoo's Asian Highlands Groundbreaking
---
City Club of Cleveland CEO Dan Moulthrop at the Rotary Club of Cleveland
Dan Moulthrop, CEO of the City Club of Cleveland, spoke at the Rotary Club of Cleveland meeting on August 10, 2017 at Windows on the River.

He spoke about Freedom of Speech and the 105 year history and future of the City Club of Cleveland.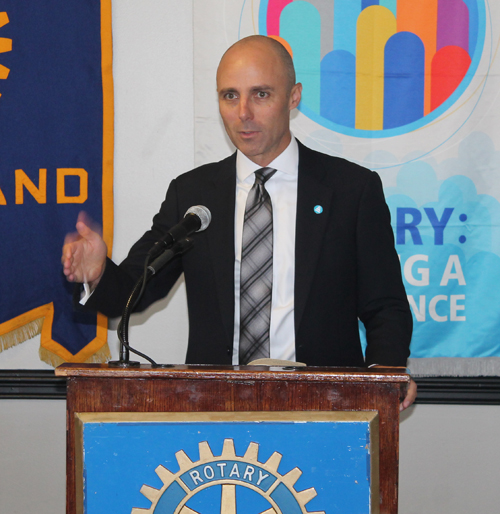 Dan Moulthrop
See photos and videos of Dan Moulthrop at Rotary of Cleveland
---
Wizard World Comic Con 2017
Wizard World Comic Con was back in Cleveland the weekend of March 17-19, 2017. There were a lot of celebrities on hand for panels, photos and autographs such as Incredible Hulk Lou Ferrigno, Gene Simmons of KISS, Barry Bostwick from Rocky Horror Picture Show, Hercules Kevin Sorbo, Monkees Mickey Dolenz and Peter Tork, Lt Uhura from Star Trek and more. There were lots of vendors selling collectibles, original art, comic books, toys, games, clothes, gear, etc. There were gaming sessions and interesting exhibits such as the Sanford and Son truck, Speed Racer, Ghostbuster car, Dalek and TARDIS from TRACE the Doctor and more. As always the costumes of the vendors and attendees were the best part of the event.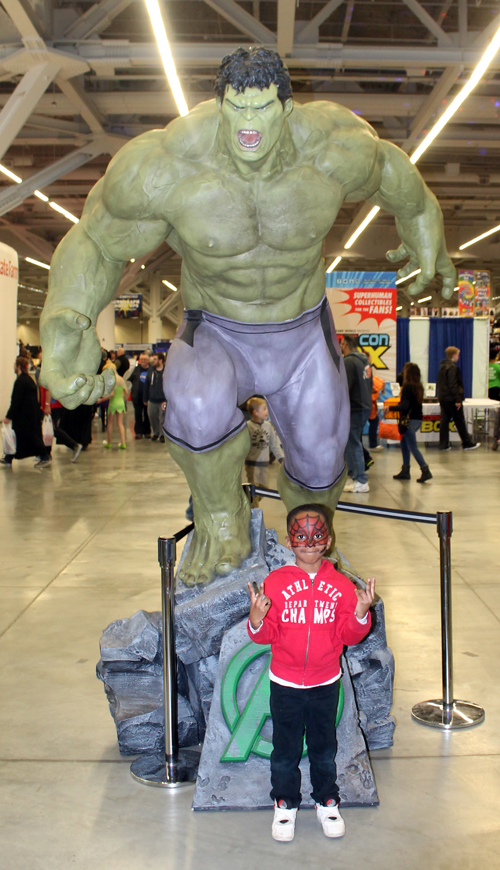 See lots of photos from Comic Con Wizard World Cleveland 2017
---
Data Days Cleveland 2017
Clevelandís first annual celebration of civic technology, data & the doers working to improve our region, Data Days Cle was presented by the The Cleveland Civic Tech + Open Data Collaborative (The Collaborative) at the HIMSS Innovation Center, 4th floor of the Global Center for Health Innovation.

The Collaborative is a joint initiative of five original partner organizations, including the CWRU Center on Urban Poverty and Community Development, Open Cleveland, of Code for America, Hack Cleveland, OpenNeo, the Cleveland City Planning Commission as well as, and more recently, the Cleveland Shapers, of the World Economic Forumís Global Shapers venture, and the Ward 14 office of Cleveland City Council.

Data Days was spread over 3 days (Thursday-Saturday) under the ehadings: CTRL, ALT and CLE.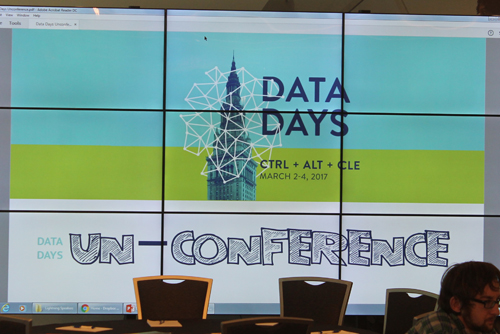 Main 2017 Data Days CLE Page
---
2016
Annual Magnum Holiday Lunch
Each year we like to gather an eclectic group of friends and business associates for a holiday lunch. No, it's not just techies. Media, non-profits, politicians, business, cultural - they were all represented.

The food and atmosphere at Bo Loong at 38th and St. Clair is always terrific and our 70 guests maxed out the party room.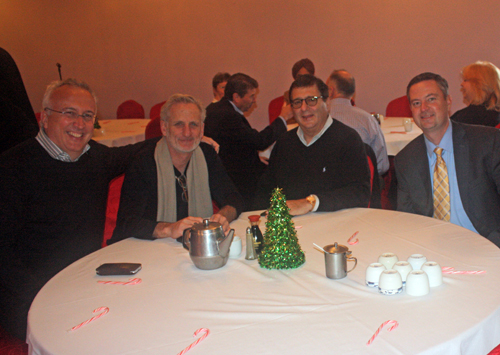 Lev Gonick, Ron Copfer,
Steve Potash and Dean Brainard



See how to get invited next year, who was there and view Photos from the Magnum Party


---
Dr. Ben Carson in the Purple Tent at the RNC in Cleveland
2016 Republican presidential candidate and neurosurgeon Dr. Ben Carson spoke at the Purple Tent at the 2016 Republican National Convention (RNC) in Cleveland hosted by Project Love-Purple America. Project Love-Purple America erected a large Purple Tent during the 2016 Republican National Convention (RNC) in Cleveland. Purple America supports and encourages Americans to engage in civil dialog.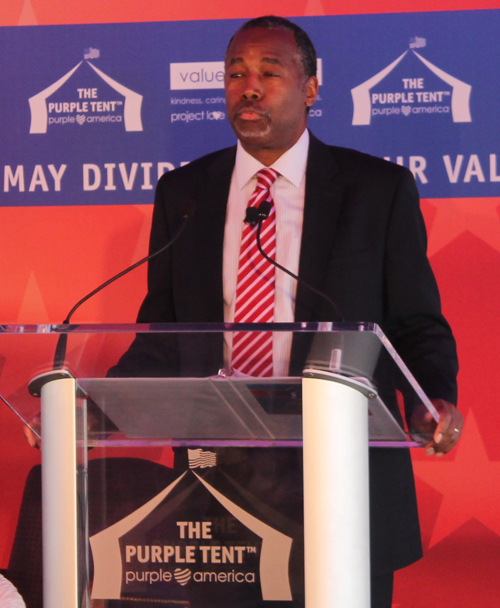 Dr. Ben Carson
Dr. Ben Carson's thought on America in the Purple Tent
---
Cleveland City Hall Centennial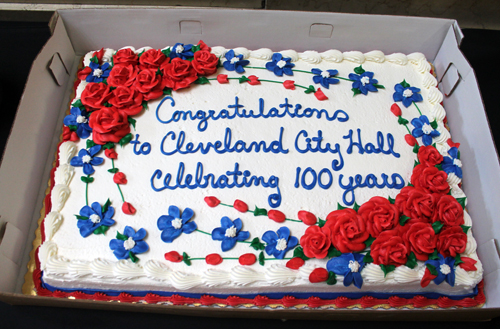 Photos and Videos of the Centennial Event
---
Project Love Goodness Awards 2016
4 people were honored at the 2016 Celebration of Goodness put on by Project Love, Purple America and Values in Action. Honored were Former Pepper Pike Mayor Bruce Akers, Dr. Akram Boutros, President and CEO of MetroHealth Hospital, William Considine, President and CEO of Akron Children's Hospital and Cleveland Police Chief Calvin Williams.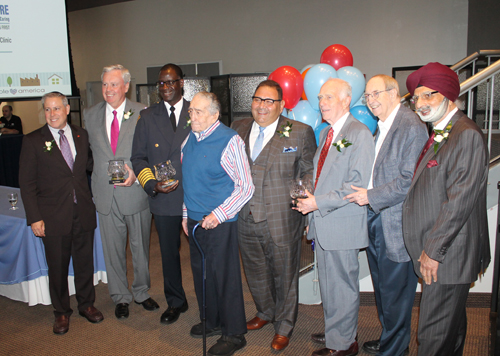 Project Love leaders and honorees
Photos and Videos of the awards
---
Dr. James Zogby talks politics in Cleveland
Dr. Zogby is founder and president of the Arab American Institute (AAI), a Washington, D.C.Ėbased organization which serves as a political and policy research arm of the Arab-American community. He received an award from Cleveland American Middle East Organization (CAMEO) and then took questions from the audience.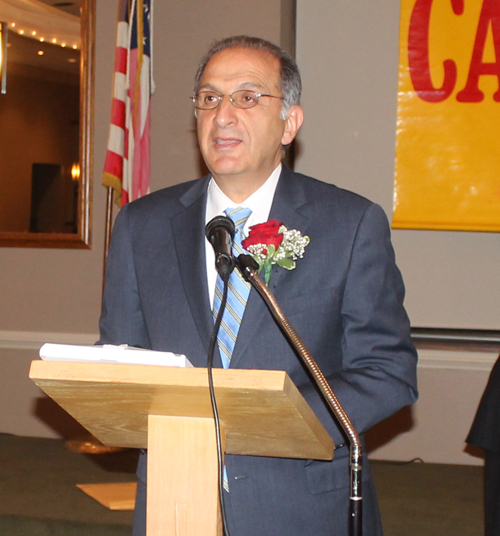 Dr. James Zogby
Dr. James Zogby ansers on politics, Refugees and the Middle East
---
Alan Freed Memorial Event and Unveiling
Alan Freed was a Cleveland disc jockey who has been called the "Father of Rock and Roll." He coined and popularized the term "rock and roll" and produced the nation's first rock concert, the Moondog Coronation Ball at the Cleveland Arena, in 1952. This was an important part of the decision to have the Rock and Roll Hall of Fame and Museum built in Cleveland, Ohio.

A memorial was held and an unveiling of a monument at Lake View Cemetery in Cleveland on May 7, 2016. and hundreds of fans and music industry people attended.
Little Steven Van Zandt and Norm N. Nite
with newly unveiled Alan Freed monument
Photos and video of the Alan Freed event
---
Costumes at Comic Con Cleveland 2016
The most fun at Comic Con is seeing how people dress.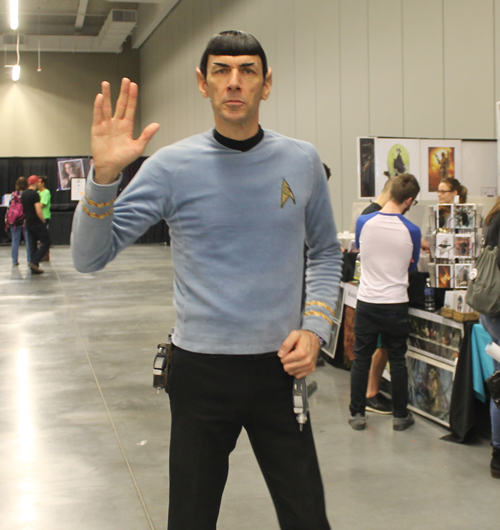 Live Long and Prosper
See the Comic Con costumes
---
Comic Con Cleveland 2016
TRACE the Doctor, new Cleveland superhero Apama and more fun from 2016 Wizard World Comic Con in Cleveland.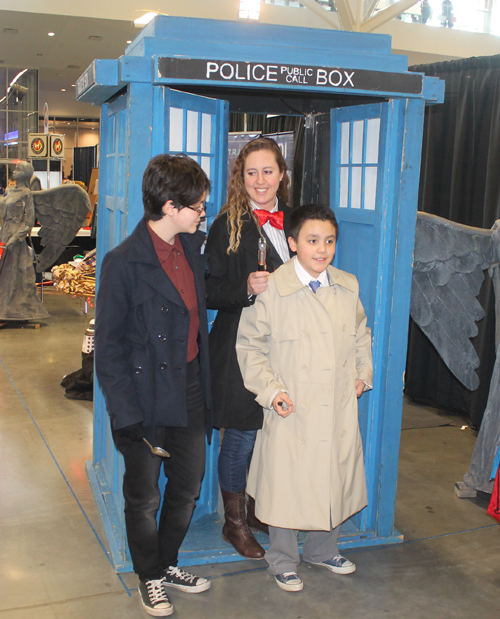 Comic Con Cleveland 2016
---
2015
OHTEC (NEOSA) CIO Symposium
One of the panels at the 2015 OHTEC CIO Symposium dealt with Innovation - how to come up with, judge and manage lists of ideas. The Great Lakes Geek captured a few highlights on video.

Innovation ideas - CIO Symposium


---
Redevelopment of Slavic Village in Cleveland
Slavic Village, a historical neighborhood located outside of downtown Cleveland, was devastated by the national housing crisis and continues to struggle in the aftermath of economic decline. A once vibrant neighborhood rich in history and culture has been plagued by blight, vacant homes and financial hardships. But it's on its way back.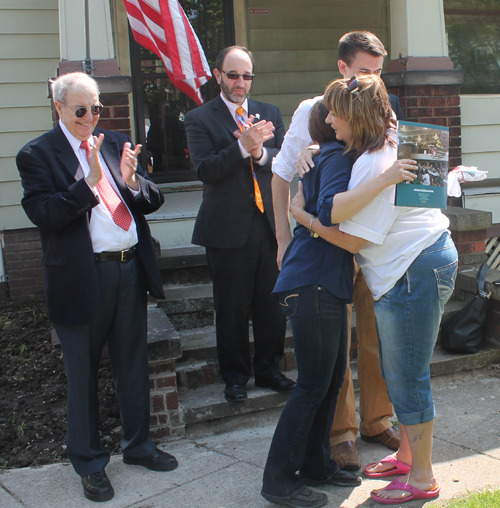 New Slavic Village neighbors
Slavic Village recovery and celebration of its 25th homebuyer
---
OneCommunity Cleveland [R]Iot
The Internet of Things [IoT] is the heart of innovation and has an enormous impact on the way we do business. By 2020, 50 billion devices will be connected and the market will be worth $14 trillion.

OneCommunity realizes this is an exciting time in the world of technology, and in the city of Cleveland, so they organized this introductory event to bring together local leaders to discuss the creation of a smarter, more inter-connected world, with the goal of transforming ideas into reality over the next year.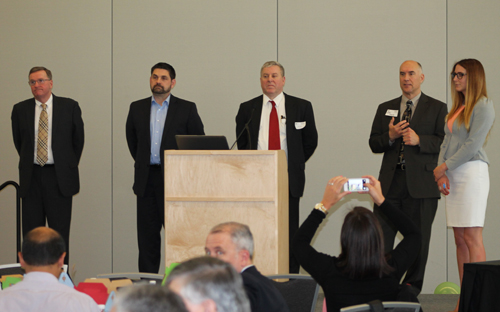 David Kalb of AT&T, James Benson of GE Lighting, John Kerg of Arrow Electronics, Matt Hoover of Embedded Planet
and Catherine Bules of One Community
Photos and Videos of the presentations at the Cleveland [R]IoT.


---
BlueBridge Networks 10th Anniversary
BlueBridge Networks in Cleveland Ohio provides best-in-class Datacenter Services, including Work Group Recovery, Virtualization, Cloud Computing, Disaster Recovery and Managed Storage and Services.

To celebrate their 10th anniversary, they hosted a party for community and business leaders, customers, techies and more.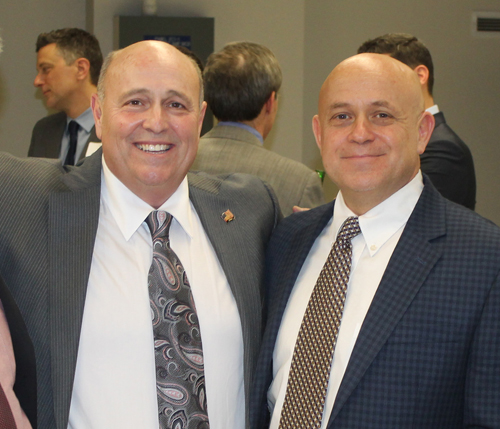 John Goodman and brother Kevin Goodman



Speakers included Brad Nellis, Director of NEOSA, Jack Schron, CEO of Jergens, Inc. and also a member of Cuyahoga County Council, Jon J. Pinney, Managing Partner of Kohrman Jackson & Krantz, City of Cleveland Executive Small Business Development Director Kevin Schmotzer and BlueBridge Chairman John Goodman.

Videos of the presentations at BlueBridge 10th anniversary event.


---
2014
Great Lakes Geek - Magnum Computers 2014 Annual Holiday Party

Bo Loong - December 11, 2014
Photo Page - Who do you recognize?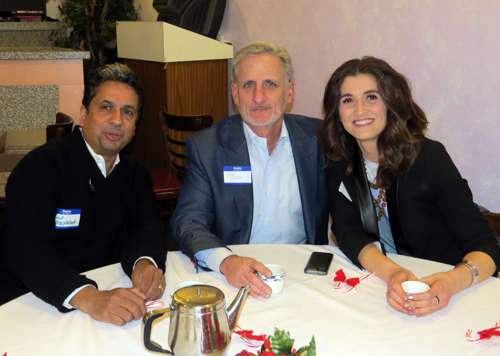 Phil Alexander, Ron Copfer and Leslie Carruthers
2014 Great Lakes Geek Annual Holiday Party
---
Philanthropia 2014
Philanthropia, phil∑an∑thro∑pi∑a, is Executive Caterersí Annual Fundraising Luncheon at Landerhaven designed to benefit non-profits throughout Northeast Ohio. After the tragedy of 9/11, New York City absorbed such a large portion of all charitable donations that many local non-profits struggled to reach their own goals.

2014's donations to over 100 Cleveland area charities was over $143,954 dollars bringing the Philanthropia total to 1.7 million dollars!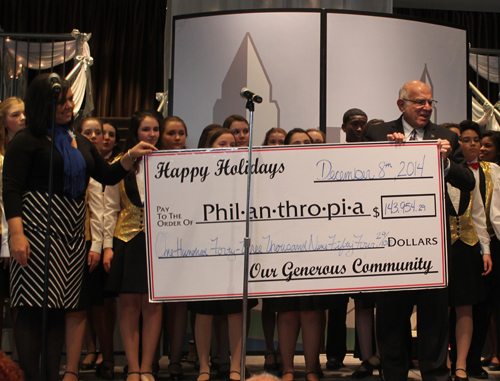 Harlan Diamond and the 2014 Philanthropia check
More from Philanthropia 2104 including Singing Angels songs
---
City of Cleveland's Economic Development Website Launch
Ariel International Center
July 24, 2014

The City of Cleveland launched a new website and marketing/branding campaign to showcase Cleveland as a destination for industry and innovation. The focus of the effort is to help businesses and site selectors rethink Cleveland.

Cleveland's Economic Development Website Launch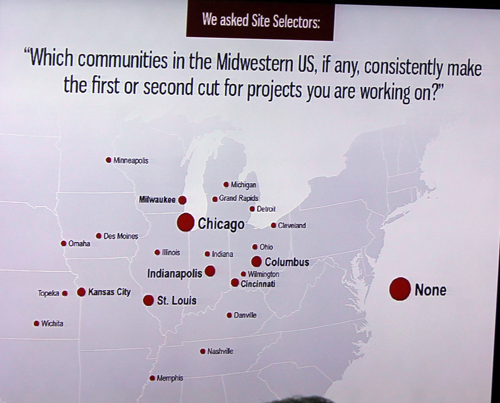 ---
Cleveland GiveCamp 2014
Burke Airport and LeanDog
July 18-20, 2014

GiveCamp is a weekend-long event where software developers, designers, database administrators, project managers and creative professionals donate their time to create software and web-based applications for non-profit organizations.

21 local non-profits were helped this year.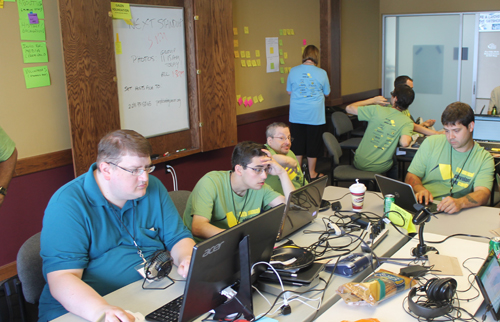 Bill Davis, Michael Smith, Jim Evans and David Perish


---
Cleveland Mayor Frank G. Jackson Inaugural Address
Cleveland City Hall Rotunda
January 6, 2014

Despite the historic low temperatures, the Rotunda of City Hall was full of well wishers as Cleveland Mayor Frank G. Jackson took the oath of office for the 3rd time on Monday morning January 6, 2014.

Read a transcript of the Inaugural Address and see photos from the event.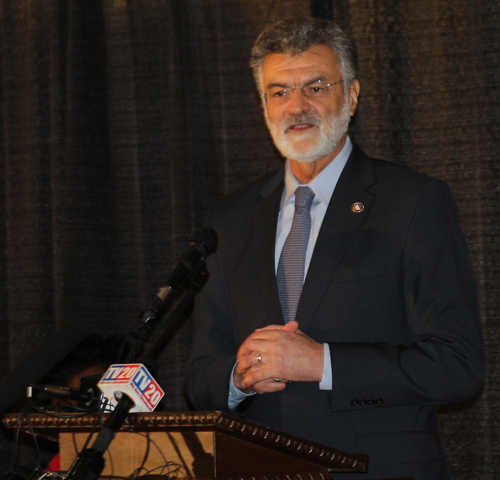 Cleveland Mayor Frank G. Jackson
---
2013
Great Lakes Geek - Magnum Computers Annual Holiday Party

Bo Loong - December 12, 2013
Photo Page - Who do you recognize?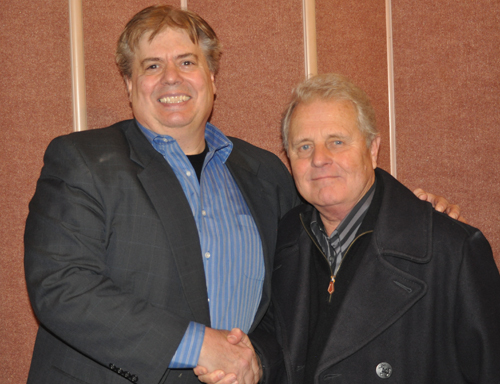 Dan Hanson and Tim Taylor
Great Lakes Geek Annual Holiday Party
---
OneCommunity's Annual Report to the Community
Shaker LaunchHouse
September 18, 2013

OneCommunity presented their annual Report to the Community at Shaker LaunchHouse in Shaker Heights, Ohio. It was a fitting setting for the innovative group.

The inaugural OneCommunity Broadband Hero Award was given to Susan Crawford for her body of work which, combining scholarship with activism, and policy work with a commitment to an open Internet, has exerted a far-reaching influence on our times. Dr. Crawford also gave the keynote address.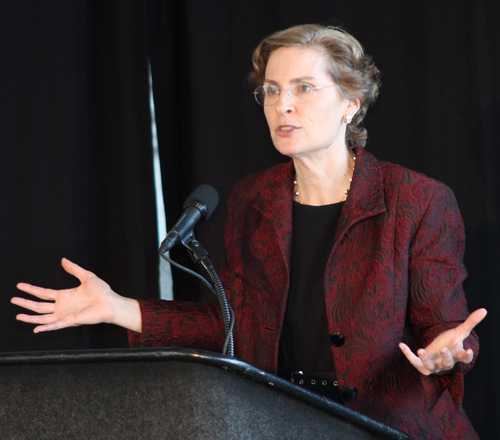 Susan Crawford
---
The Digital Divide in Cuyahoga County
June 28, 2013

Karen Mossberger, Ph.D. spoke about the Digital Divide in Cuyahoga County at the City Club of Cleveland. Her presentation was the first in a series about Broadband championed by One Community.

Mossberger said that mobile-only Internet is a second-class form of access, as they offer evidence that users with such limited access have dramatically lower levels of online activity and skill. Many minorities and urban poor rely on mobile Internet which is difficult for filling our forms, creating content and other applications.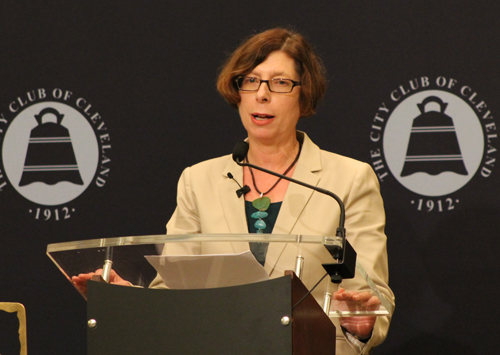 Karen Mossberger
---
Microsoft Store
Preview - April 12, 2013

If you think a "Microsoft Store" doesn't make sense because Microsoft is "just a software company", you need to visit the new Microsoft Store in Beachwood Place. Before this, the nearest Microsoft Store was in Cincinnati. Now Cleveland and NE Ohio have our own.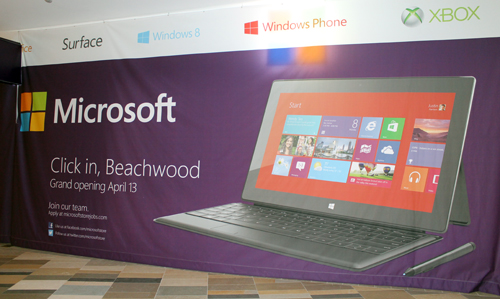 Outside the new Microsoft Store
---
Gallery One at Cleveland Museum of Art
Preview - January 18, 2013

Gallery One at the Cleveland Museum of Art is a unique, interactive gallery that blends art, technology and interpretation to inspire visitors to explore the museumís renowned collections.



Collection Wall at Gallery One at Cleveland Museum of Art



This revolutionary space features the largest multi-touch screen in the United States, which displays images of over 3,500 objects from the museumís world-renowned permanent collection. This 40-foot Collection Wall allows visitors to shape their own tours of the museum and to discover the full breadth of the collections on view throughout the museumís galleries.

The interactive displays, the fun exhibits and the incredible Collection Wall make this world-class Gallery a must see.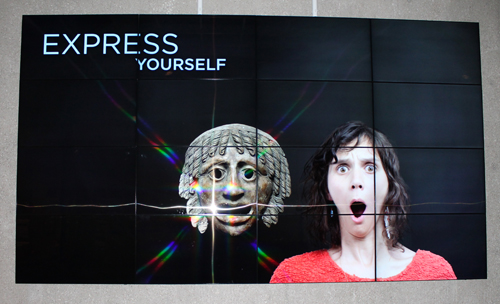 ---
2012
Great Lakes Geek Annual Holiday Party
Bo Loong - December 13, 2012
Who do you recognize?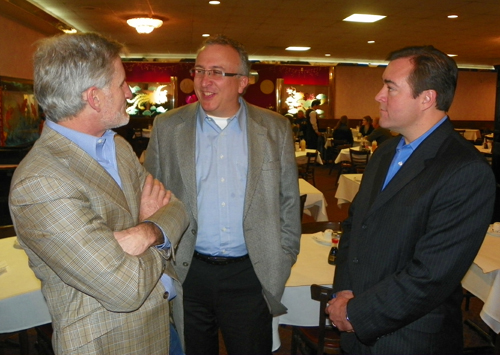 Ron Copfer, Lev Gonick and Scot Rourke
---
Unleashing Innovation - Corporate Club at Landerhaven
November 14, 2012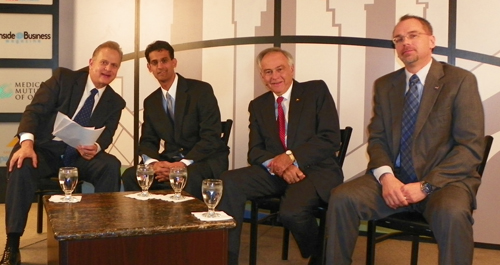 Moderator Lou Maglio with Baiju Shah, CEO of Bio Metrix,
Dr. Luis Proenza, President, The University of Akron and
Jim Free, Executive Director NASA Glenn Research Center
---
International Journalists in Cleveland on Election Day
Saigon Plaza
November 6, 2012

The eyes of the world were focused on Cleveland on Election Day 2012 to see how the closest Presidential race in modern history played out. The Council on World Affairs, along with its Cleveland affiliate, hosted a group of journalists put together by the East-West Center of Hawaii to cover the election. They had a particular interest in the Asian vote.



International Journalists and Cleveland guests on Election Day 2012
---
Report on Asian Americans, Native Hawaiians and Pacific Islanders in Cleveland Ohio
Ariel International Center
October 29, 2012

Asian Americans are the fastest growing ethnic group in Cleveland with a 42% growth rate from 2000 to 2010. Such growth offers opportunities and challenges so ASIA Inc. convened a meeting to discuss the Report.



Michael Byun, Marita Etcubanez, Michael Fleming, Johnny Wu,
Radhika Reddy, Tom Mrosko, Eunice Parks and Vi Huynh
---
TiE Ohio International Entrepreneur Awards
Ariel International Center
September 20,2012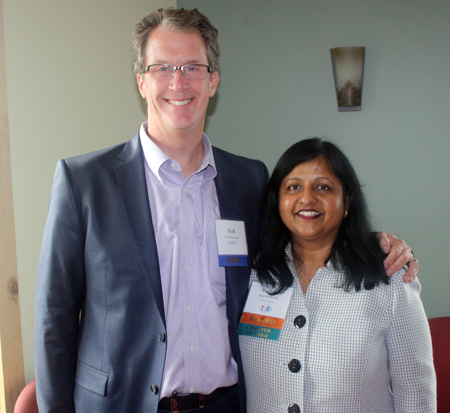 Keynote speaker Mark Kvamme, President and CIO of JobsOhio and host Radhika Reddy of Ariel Ventures LLC
---
NEOSA CIO Symposium
September 13,2012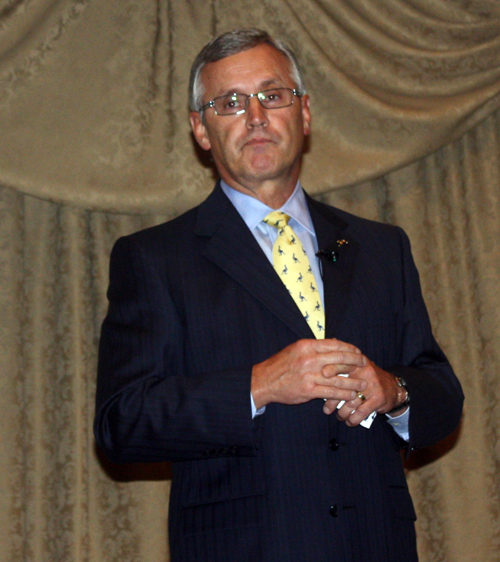 Jim Tressel at the NEOSA CIO Symposium
---
CWRU Gigabit Breakfast Club
Severance Hall
September 7, 2012
Almost 350 people attended the Gigabit Breakfast Club at at Severance Hall. The event combined 10-minute talks with live demonstrations to showcase "Ideas That Inspire-Initiatives That Matter."


---
Naren Bakshi in Cleveland
August 3,2012

Indian-American serial entrepreneur Naren Bakshi spoke at a special meeting at the Ariel International Center in Cleveland on August 3,2012 that included members of TiE Ohio and other area business leaders and entrepreneurs.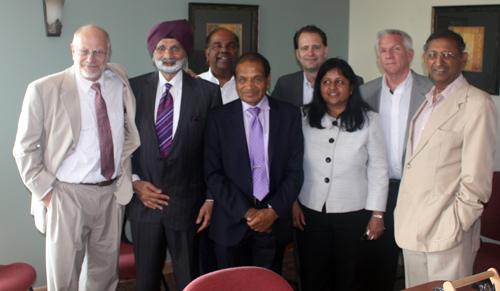 TiE Ohio Charter Members Harry Weller, Ratanjit Sondhe,
Pradip Kamat, Naren Bakshi, Richard Herman, Radhika Reddy,
Richard Eastburn and Raj Aggarwal
---
Chinese Ambassador in Cleveland
Consul General of People's Republic of China in New York Sun Guoxiang
NEO International Business Network
July 26,2012
Growing Business between Northeast Ohio and China


---
Ariel International Center Ribbon Cutting
July 12,2012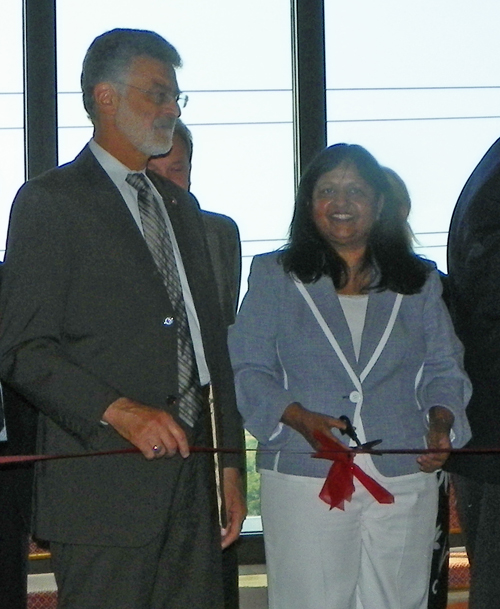 Mayor Frank Jackson and Radhika Reddy
---
Cleveland GiveCamp
July 21, 2012

Geeks in the home of rock and roll coding for charity


---
East Meets West: Medical Research and Education Collaborative US and China
Margaret W. Wong Offices - July 19, 2012

Speakers included George Kikano, MD, Department Chairman, Family Medicine, UH Case Medical Center, Li Li, MD, PhD Department of Family Medicine and Community Health, CWRU and fellowship graduate student in biomedical research Yan Yan.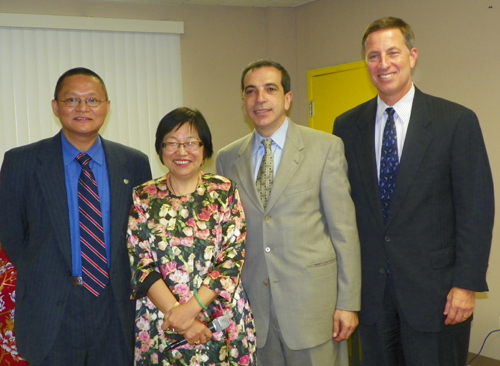 Dr. Li Li, Margaret Wong,
Dr. George Kikano and David Fleshler
---
The Great Lakes Geek has always been fortunate to live near a physical library. But many, especially in rural areas, have had to rely on Bookmobiles to deliver books.

Now that we have digital content, Internet delivery capability and great software from Cleveland's own OverDrive, Inc. people can download all kinds of digital content 24x7 from any Internet connection to almost any device.

The OverDrive Bookmobile travels the continent showing people what they can do and how easy it is.

The Geek caught up with the BookMobile at Shaker Heights Public Library and took a quick tour.



It turns out that the Great Lakes Geek was friends with and played football with the father (Pat) of the BookMobile guide, Dan Conochan. A looooong time ago.

OverDrive Digital BookMobile
Pics and info


---
Top of Page
---
Project Love - Purple America Sam Miller Celebration of Goodness
June 6, 2012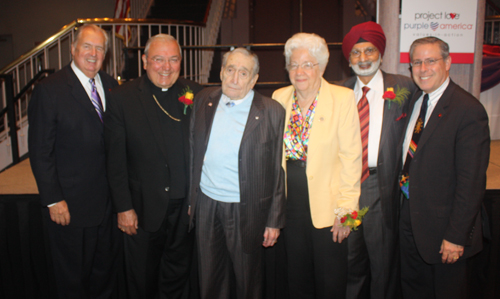 Lute Harmon Sr., Bishop Roger Gries, Sam Miller, Eleanor Fanslau,
Ratanjit Sondhe and Stuart Muszynski
---
NEOSA Best of Tech Awards
April 19,2012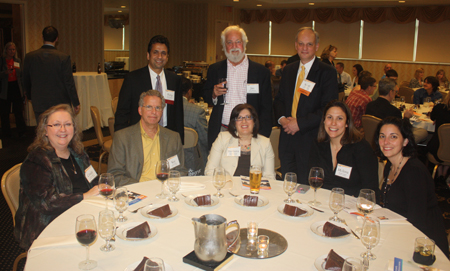 Timken Company table with Phil Alexander and Jim Cookinham


---
IBM Watson - NEOSA Tech Week
April 17,2012

Eric Brown, Research Scientist at the IBM T.J. Watson Research Center works on the DeepQA project which created the Watson Jeopardy playing system spoke at a NEOSA Tech Week event in Cleveland.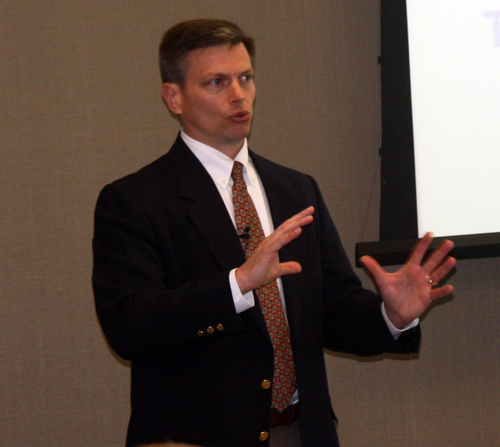 Eric Brown, IBM Research Scientist
---
Rotary Club of Cleveland honors Sen. George Voinovich
April 12 21, 2012


Sen George Voinovich at Rotary Club of Cleveland
---
Women of Excellence - Corporate Club at Landerhaven
March 21, 2012


Stefani Schaefer, Tami Longanberger and
Lieutenant Governor Mary Taylor
---
Cleveland Indians Experimental Wind Turbine at Progressive Field
Pioneering Sustainability efforts continue
March 28, 2012

Cleveland Indians and Social Media
Google+, Pinterest, TribeVibe and more
March 28, 2012

Search Engine Strategies: Techniques and Tools
Web Association and DMA Cleveland
February 28, 2012

Rock and Roll Hall of Fame and Museum
Terry Stewart and Joel Peresman at Corporate Club
Landerhaven - February 21, 2012

International Manufacturing Conference & Expo
The Manufacturing Mart at The Galleria in Cleveland
February 14 & 15, 2012

Greater Cleveland Sports Awards
February 2, 2012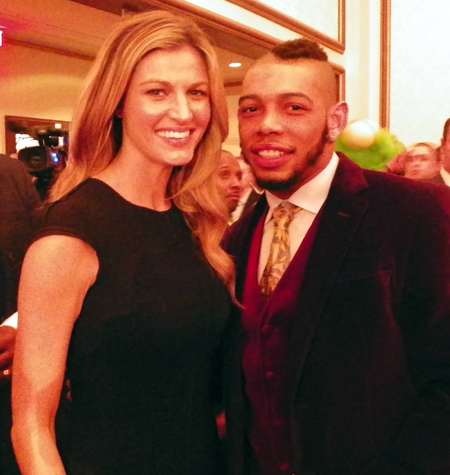 ESPN's Erin Andrews and Cleveland Brown Joe Hayden



Joe Tait and Terry Pluto - It's Been a Real Ball
Corporate Club at Landerhaven - January 19, 2012

The Art of Reinvention: China, Ohio and the New Global Economy symposium
Cleveland Museum of Art - January 4, 2012


---
2011
Great Lakes Geek Annual Holiday Party
Bo Loong - December 8, 2011

Philanthropia 2011
Executive Caterers at Landerhaven - December 5, 2011

Project Love Rescuer of Humanity Awards
Executive Caterers at Landerhaven - November 30, 2011

Cleveland Indians Snow Days
Progressive Field - Ice Hockey Rink, Batterhorn and more

Cleveland Indians Snow Days - Page 2
Indians Mascots having fun at Snow Days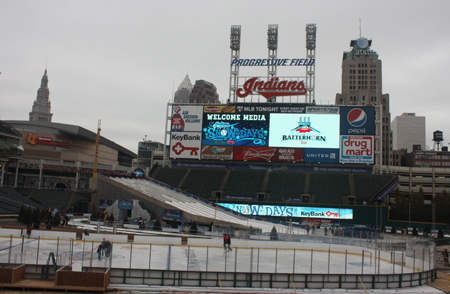 ---
OneCommunity's Broadband Workshop
Renaissance Hotel Cleveland - October 7, 2011

Regionalism - Merging 4 Suburbs
Landerhaven Corporate Club October 6,2011

Cleveland Clinic Medical Innovation Summit
October 3-5, 2011

The focus was State of the Heart: Cardiovascular Technologies and about 1,000 senior executives, investors, entrepreneurs and clinicians gathered at Cleveland Clinic to discover the future of medicine.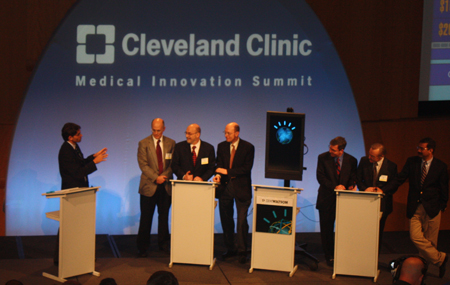 IBM Watson Jeopardy! challenge at Cleveland Clinic Summit
---
TiE Ohio International Entrepreneur Awards
Windows on the River, September 20, 2011

Globalizing Cleveland
Landerhaven Corporate Club September 15,2011

NEOSA CIO Symposium
September 15, 2011

Lincoln Electric Wind Tower
August 23, 2011 - Dedication and Ribbon Cutting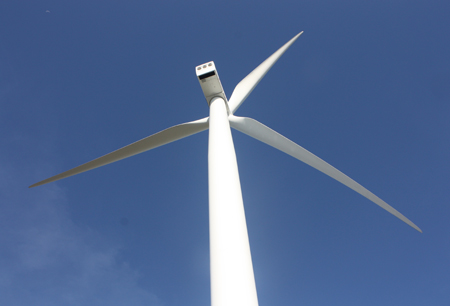 Lincoln Electric wind turbine



Lincoln Electric Wind Tower
August 23, 2011 - FAQ and construction pictures

Lincoln Electric Wind Tower
Dan Hanson column

Lincoln Electric Wind Tower
A Look Inside

Cleveland Browns Kardiac Kids
Landerhaven Corporate Club August 18,2011

Greater Cleveland Sports Commission
Continental Cup June 30, 2011

New Bridge, Cleveland Center for Arts and Technology
June 2, 2011

JCU Entrepreneur Association Hidden Gems
Ray's Indoor Mountain Bike Park

April 20, 2011

Ratanjit Sondhe - Creating our own Immigrants
City Club of Cleveland - March 25, 2011

Cleveland Foodbank Tour
Harvest for Hunger Campaign


Global Cleveland means Business
Geek News
The Global Cleveland initiative held a launch event Tuesday to announce funding and a home for the Welcome Center. A room full of politicians and movers and shakers took part.
From the speeches you will see that Global Cleveland is geared toward economic development. Check out video and pics from the launch.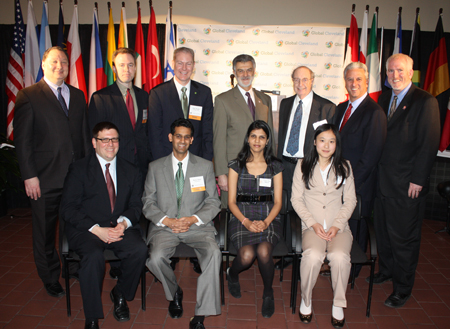 Speakers at Global Cleveland press event launch
Top of Page
---
Team NEO
Geek Event
Team NEO markets the Cleveland Plus region collectively to site selectors, real estate consultants and targeted companies across the globe to increase awareness of Northeast Ohioís business assets in order to increase business opportunities for the region.
They held a forum to announce their direction for 2011 and answer questions.
Team NEO's International Business Attraction Strategy

Top of Page

---
Cleveland Indians and Social Media
2011 Season Social media updates

Team NEO
March 16, 2011 Event

Marketing Cleveland- Corporate Club Panel 3/15/11
David Gilbert, Ivan Schwarz and Baiju Shah

Cleveland Orchestra honored by Cleveland Rotary
2/17/11 at Windows on the River

Is Cancer Curable? Corporate Club Panel
2/17/11 at Landerhaven

National Broadband Policy with Blair Levin
1/10/11 at the City Club with panelists Lev Gonick, Roy Church, Bethany Dentler and Scot Rourke


2010
Famous Magnum Holiday Gathering
12/9/10 Annual Holiday Gathering - Bo Loong

2010 Philanthropia
Executive Caterers at Landerhaven - December 13, 2010

NEOSA CIO Symposium
November 16, 2010

CASE Connection Zone
Alpha House walk through with Colleen Nagy, Project Director

Global Midwest at TiECon Midwest Conference
October 28, 2010

TiE Ohio International Entrepreneurship Awards
September 21, 2010

TiE Ohio Community Catalyst Awards
September 21, 2010

Is Manufacturing on the Rebound? - Corporate Club at Landerhaven
August 5, 2010

TECHnic Gathering of the Geeks Picnic
July 24, 2010 - including the Computer Bowl winner

VOIP Roadshow from Ohio.net
July 22, 2010 - House of Blues Cleveland

CSU president Ronald Berkman - Corporate Club at Landerhaven
July 13, 2010

Shaping University Circle - Corporate Club at Landerhaven
June 9, 2010

NEOSA Best of Tech Awards
May 19, 2010

Dan Gilbert at Corporate Club at Landerhaven
February 18, 2010

Greater Cleveland Sports Awards
Renaissance Ballroom February 3, 2010


2009
Cleveland Cavaliers and Tsingtao Beer
12/14/09 Historic agreement signed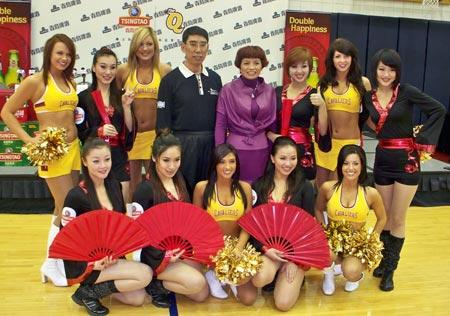 ---


Famous Magnum Holiday Gathering
12/10/09 Annual Holiday Gathering - Bo Loong

Famous Magnum Holiday Gathering
More photos from the blast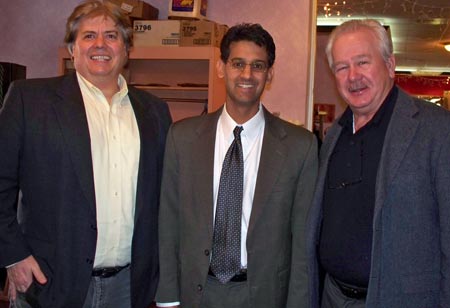 Dan Hanson, Baiju Shah and Don Cockroft at Bo Loong
---
LimeRibbon.com Launch party
December 7,2009 - Crop Bistro

Denise Polverine and Dan Hanson
November 15,2009 - Noon@Nance

Cleveland Clinic Medical Innovation Summit
October 6, 2009 - superDimension inReach(TM) System

Umberto Fedeli at Corporate Club at Landerhaven
September 3, 2009 - Moderated by Steve Gleydura

TECHnic Gathering of the Geeks Picnic
June 20, 2009 - grudge match race for charity

Henry 'Hank' Aaron - 03-06-09
Yoder Brothers Memorial Scholarship Dinner

Corporate Club at Landerhaven - 02-12-09
Rock and Roll Hall of Fame with Terry Stewart and Joel Peresman

Corporate Club at Landerhaven - 01-15-09
2009 Economic Forecast


2008
Gathering of the Geeks
12/11/08 Annual Holiday Gathering - Bo Loong

Cleveland Clinic Medical Innovation Summit
November 10-12, 2008

Jim Cookinham Retirement Party
January 31, 2008




---
Great Lakes Geek Product Reviews
Great Lakes Geek Book Reviews
Other Great Lakes Geek Reviews
Top of Page
---
---


Sponsored in part by