Many of us accumulated stacks of vinyl LPs over the years, not to mention audio cassettes and even 8-track tapes.
But we may not even have a turntable hooked up to our stereo anymore. Some of you younger readers are asking "LP? 8-track? Stereo? What's he talking about?"
Now we listen to our music in digital format - CD or mp3 or Internet stream - but something digital.
Acoustica has a great product that lets you import all that old vinyl and tape into digital format for CDs or mp3 players. It removes those annoying pops, clicks and hiss so you can listen to your old favorites again.



As you will hear, it's easy to use for newbies but audiophiles can get in there and tweak settings if they so choose. Acoustica has a nice slate of products for Audio & Music and CD burning and labeling.

In this interview David Raimondo and Dan Goldstein of Acoustica explain the company and the products live from CES in Las Vegas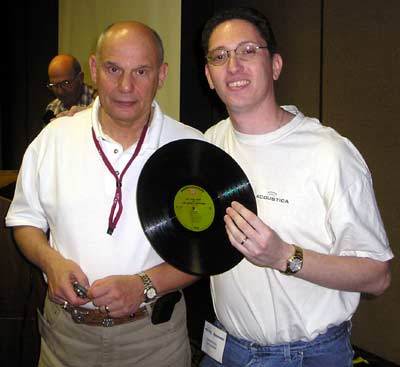 David Raimondo and Dan Goldstein of Acoustica
---

January 2007 - CES - Live from Las Vegas
David Raimondo and Dan Goldstein of Acoustica

11,865 KB
8:26



Listen to this interview
---
Top of Page
Back to CES 2007 News