With 1.8 million net square feet of exhibit space - the largest show floor in its 40 year history - and over 140,000 attendees from across the globe experiencing the latest consumer technology products from 2,700 exhibitors, the 2007 International CES reinforced its status as the world's largest consumer technology tradeshow.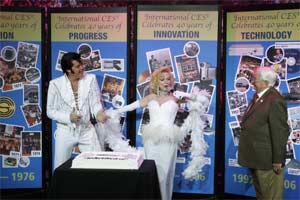 Happy 40th Birthday CES - CES founder Jack Wayman enjoys celebrity impersonators Elvis and Marilyn Monroe's singing of happy birthday for the 40th anniversary of the tradeshow.




In addition to the world's largest display of consumer electronics, the 2007 International CES also featured a distinguished lineup of industry speakers.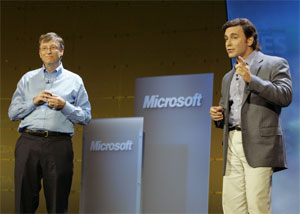 Bill Gates and Ford President Mark Fields
at BillG's Sunday Keynote


Featured CES keynoters included Microsoft's Bill Gates, Motorola's Ed Zander, Disney's Robert Iger, Dell's Michael Dell and CBS' Leslie Moonves.

The CES Industry Insider Series, with a new home at the Las Vegas Hilton Theater, featured industry heavy-weights including Nokia's Olli-Pekka Kallasvuo and Cisco's John Chambers, as well as leading executives from major broadband, cable, satellite and telecommunications companies, and FCC Chairman Kevin Martin.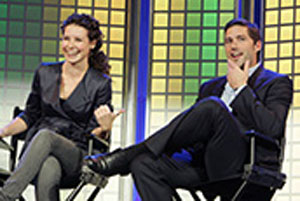 Evangeline Lilly and Matthew Fox of ABC's "Lost" talk about the show and the audience's increased involvement due to blogging and the Internet at the Walt Disney keynote address on Monday.

The Great Lakes Geek traveled to Las Vegas for the show and captured information, photos and audio interviews for this site and his column in Inside Business Magazine.
---
Able Planet Linx Audio technology sound products

Acoustica Vinyl LP and Audio Tape Restoration

Audio Technica LP-to-Digital Recording System

CardScan Enter all those business cards you've collected

CMS Products Backup and hard drive solutions

D-Link Building Networks for People

Jitterbug Cell Phone for Seniors and others

Bend it Baby with Lenbabies for the photographer looking for cool effects

Ojo Personal Video Phones live from the show floor - not just for Judy Jetson (schwing!) anymore

OnGuard for Kids Safety Watch for kids

Playaway Books on tape for the iPod age

The Tornado The easiest way to connect 2 Windows PCs




---
Top of Page
Back to Geek News