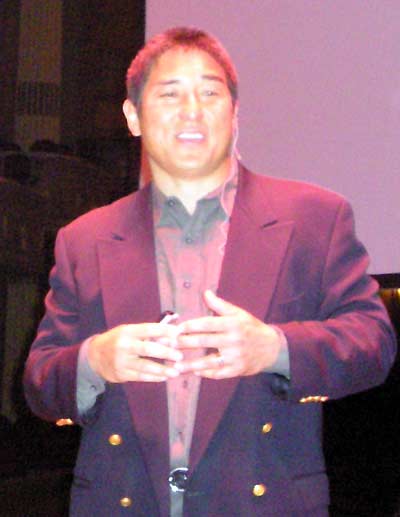 Guy Kawasaki
---
Cathy Panzica and the Red Room Revolution brought Guy Kawasaki to town Wednesday September 6th to keynote the Tech Synch event. A who's who of the local tech scene joined Guy on stage at the State Theater for his presentation.
Guy Kawasaki worked at Apple as a Macintosh Evangelist from 1983-87 with "the largest collection of egomaniacs in the history of Silicon Valley." He joked that the Apple II division, the group actually making the money for Apple, wasn't even allowed to enter the Macintosh building.
Kawasaki's presentation was titled The Art of the Start reflecting his role as managing director of Garage Technology Ventures, an early-stage venture capital firm. He began his speech by "getting rid of the big hairy monster that's in front off me" by explaining his blog comment from a few months earlier. In an entry titled "How to kick Silicon Valley's butt", Kawasaki talked about "Stuff you can't do jack about."
One of those items is "change the weather" and he used Cleveland as an example of a city that could build a great environment for entrepreneurs but would always have some people wanting to leave because of the weather. He joked that he had just left Columbus and didn't expect to be back in the area soon so thought Cleveland was a safe target. "It was a lack of foresight on my part," he mused.
The Art of the Start presentation gave practical advice on getting a great venture going. Kawasaki has the street cred from his days at Apple and Garage and his no-BS style enhanced that image.
He began with the instruction to Make Meaning as opposed to having Make Money the main purpose of the venture. He urged the group to do something to Increase the Quality of Life, Right a Wrong or Prevent the End of something good.
It's important to distinguish between Milestones, Assumptions and Tasks. Kawasaki said we should Weave a MAT. A milestone is something you excitedly call to tell your spouse about - shipping a product, finishing a design, etc. Assumptions need to be documented. Sure the dog food market is huge but you have to look at shipping costs and the number of sales calls you can make in a day.
Tasks are needed to help you reach a milestone or test an assumption so don't confuse getting new letterhead with a business milestone.
Kawasaki also gave directions that Cleveland should consider. Number One is Focus on Engineers. He suggests that we work toward building a world class engineering school and make Case into Carnegie Mellon or MIT. VCs will follow engineers: "you can depend on VC's greed."
A few points that seemed to really speak to Cleveland included Forgive your Failures and Don't focus on creating jobs - great companies and tech will lead to jobs.
And maybe most importantly, Don't let the Bozos get you down. Kawasaki used his own rejection of an interview for a CEO position at a local company as an example. He thought "It's too far to drive and I don't see how it can be a business." He says he still thinks about the $2 billion or so he would have if he had gone for that job - at a local company called Yahoo.
Kudos to Cathy Panzica and the Red Room Revolution for bringing in such a high-caliber speaker and props to Nikki DiFilippo for a great job with the Tech Synch events.
---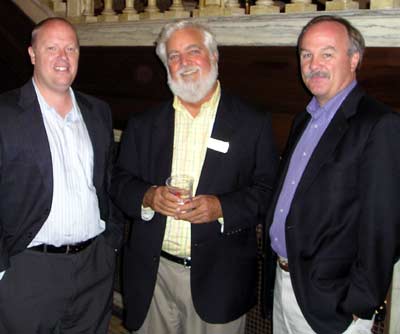 Gary Bowling, Jim Cookinham and Tim Reynolds
---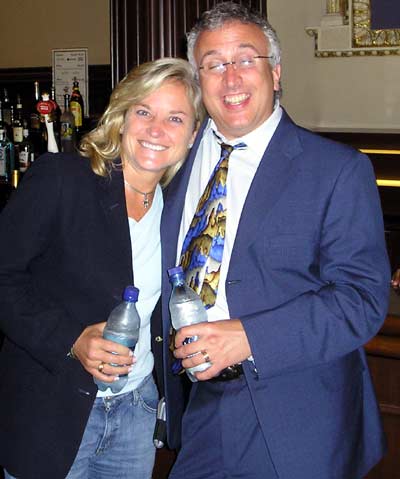 Cathy Panzica and Lev Gonick
---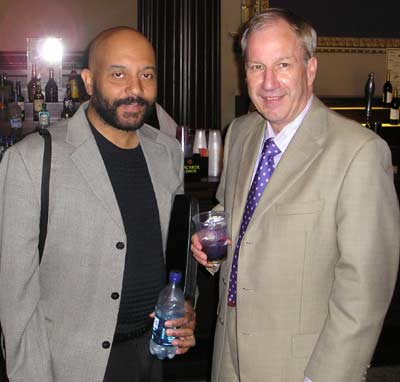 Charles Burkett and Richard Henry
---
Guy Kawasaki
---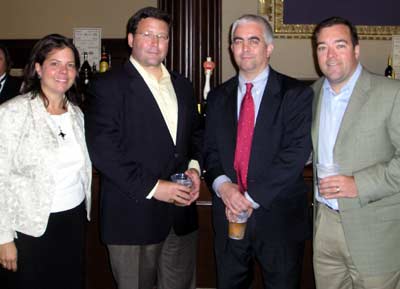 Nikki DiFilippo, Ted Theofrastous,
Tim Connors and Scott Rourke
---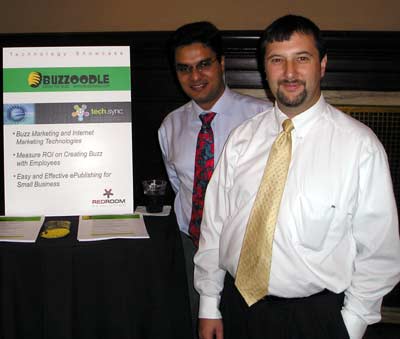 Tech Synch particpant Buzzoodle's
Ron McDaniels and Yasir Drabu
---
Top of Page
Back to Geek News