Entrepreneur Jack Kahl took a commodity tape business and turned it into a multi-million dollar, best-of-breed company. Along the way he learned valuable lessons about business - and people.
Jack has earned numerous recognitions such as the School Home Office Products Association's "Lifetime Achievement Award," Beta Gamma Sigma's "National Medal for Entrepreneurship," and Cleveland's "Philanthropist of the Year Award."
He was named one of "America's Most Admired CEOs" by Industry Week magazine in 1993. Inc. Magazine honored him as one of three CEOs in America to benchmark leadership practices, and Cleveland Magazine named him the "Best Boss in Town" in 1996 and 2000.
Jack has always been, and still is, a self-motivated student. His reading list is a great start for any would-be entrepreneur to begin.
Jack's story is truly a David vs. Goliath tale as tiny Manco matched its "Duck Tape" against the giants at 3M and other competitors.
In this series of Conversations with Kahl, Jack tells some of the lessons he learned in his rise to the top, recalls stories with business legend Sam Walton and others and gives advice to current and future entrepreneurs.
---
Entrepreneurs - Born or Made?
Conversation with Kahl #1

3,705 KB
3:57
Succeeding in a Commodity Business
Conversation with Kahl #2

3,552 KB
3:47
Business Inspiration from a Horse?
Conversation with Kahl #3

2,053 KB
2:11
Being from the Wrong Side of the Tracks
Conversation with Kahl #4

1,990 KB
2:07

Listen to this interview
What makes a Good/Great Boss?
Conversation with Kahl #5

2,633 KB
2:48
---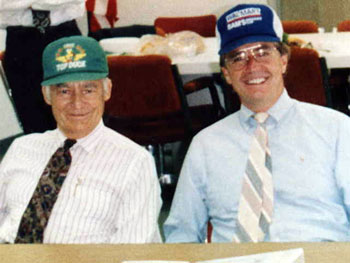 Sam Walton and Jack Kahl