From the birth of the PC about 25 years ago to just a few years back, the PC was the undisputed center of the computing world. But lately the PC is just another component in our connected tech lifestyle. PC Magazine has been around for almost as long as the PC and it was recently updated to reflect some of the changes in how we use technology.
Jim Louderback is an Alpha Geek. He gets to see and play with the latest and coolest technology months before the rest of us even hear about it.
In this interview you'll hear about some of the changes to PC Mag and about a new online trade show experience that you can check out for free. And of course, Jim tells us about a couple of cool new items he's seen and tries to figure oput how to have a virtual Spencer Katt party.
Jim Louderback's What New Now Blog and e-mail news

Get more info and sign up for the free Virtual Trade Show

Send us feedback if you attended the Virtual Trade Show
---
August 17, 2006 Interview

9,423 KB

10:03



Listen to this interview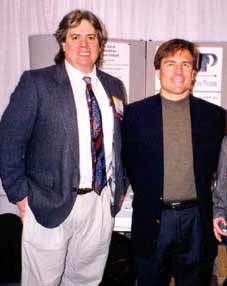 Geek and Alpha Geek -
Dan Hanson and Jim Louderback