"We were, and still are, an industrial powerhouse but the core of that is we are where things get made."
Joe Cimperman represents Ward 13, which include downtown, for Cleveland City Council. He expands on his above statement to suggest that while in the past the things that got made were limited to products like steel, today the things getting made may also include great artwork, technology and music.
As business people, we sometimes dismiss the arts community as fluff - not the hard asset that it really is. Cleveland Ward 13 Councilman Joe Cimperman has been ahead of the curve in understanding that art and culture should be intertwined in the business districts.
For example, he sponsored ordinances to allow artists to live and work in the same space which created emerging pockets of artists in the city.
The local arts community itself employs about 4,000 and generates almost $1 billion dollars for the region. Even COSE has recognized artists as businesspeople by establishing their own arts subset of the organization.
Whether it's the resurgence of Tremont, due in large part to the Tremont Arts Walk or the community arts corridor in the St. Clair-Superior neighborhood, art helps revitalize an area. As Cimperman says, "People don't want to live in a place that's boring."
Councilman Cimperman's attitude toward the city certainly isn't boring - and his enthusiasm breaks free as he ends this short interview by bursting into song.
---
July 19, 2007 Interview

4.941 KB

5:16



Listen to this interview
---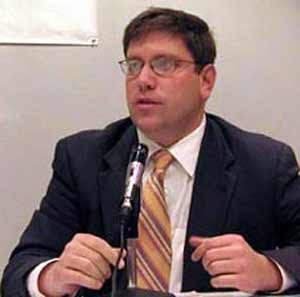 Ward 13 Councilman Joe Cimperman
speaking at John Carroll University
---
If you haven't seen the Year of the Pig statues that are scattered throughout St Clair-Superior, plan on paying a visit. For a look at some of the painted porkers (as shown below), take a look at the photos on our sister site.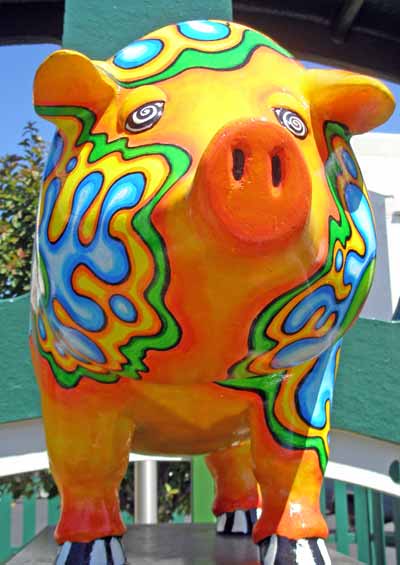 ---