Bringing Gandhian ideals to the Modern World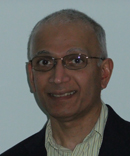 Raj Pillai is an alumnus of Penn State University and a former research scientist at the National Institutes of Health and the Cleveland Clinic. He changed gears and entered the field of finance, advising clients, teaching and becoming a resource for financial journalists.
For more than 20 years, he has been active in the Asian Indian community of Cleveland. He has served as the editor of the community newspaper, The Lotus, and as president of the Federation of India Community Associations (FICA).
He was instrumental in making the India Cultural Garden a priority for FICA, and is still serving as the chair of the Garden Committee which was set up in 2002 to make the garden a reality. He has also brilliantly portrayed Mahatma Gandhi in presentations.
Presentation topics include:
Ethics in Public Service: a Gandhian Ideal
India Cultural Garden: an Overnight Success That Took 20 Years
Assimilating without Losing Yourself: An Immigrant's Tale
India through the Perspective of an Indian American
Request More Information

Top of Page


---