If you really like your sports, movies, TV shows and other items from the content cloud, Sling has a product for you.
The classic SlingBox, the new SlingCatcher and the next release called the SlingBox Pro HD all allow you to easily watch your content when and where you want to


Sling Media, Inc., a wholly owned subsidiary of EchoStar Holding Corporation (NASDAQ: SATS), is the world's leading digital lifestyle company offering consumer services and products that are a natural extension of today's digital way of life.
Sling Media's product family includes the internationally acclaimed, Emmy award-winning Slingbox™ that allows consumers to watch and control their living room television shows at any time, from any location, using PCs, Macs, PDAs, and smartphones.
In the podcast, you will hear an interesting use of the SlingBox by CWRU CIO Lev Gonick.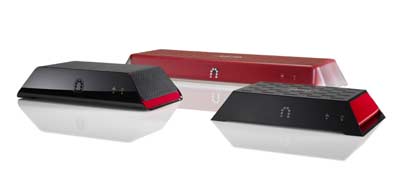 The SlingBox Family



The highly anticipated SlingCatcher™ product was shown for the first time publicly at CES. The SlingCatcher is a set-top box that seamlessly delivers broadcast TV, Internet-based content and personal media to the TV. The SlingCatcher acts as a repository for content and is able to pull from multiple sources and places, unifying the content for easy navigation and playback.



Front of the SlingCatcher



SlingCatcher is slated for Q2 retail availability at a price of $249.99.

"We're thrilled to be showing the SlingCatcher with its full set of features here at CES and it's great to see the enthusiasm in the market for this product. We have been spending a lot of time perfecting new technology that is vital to the SlingCatcher's user experience but sometimes these things take longer than expected," said Blake Krikorian, co-founder, chairman and CEO of Sling Media. "We had hoped to deliver the product for the Christmas holiday, but to plagiarize a well known wine maker; we shall sell no SlingCatcher before its time."

The Sling booth at the Sands hotel was both huge and packed as you can see from this photo.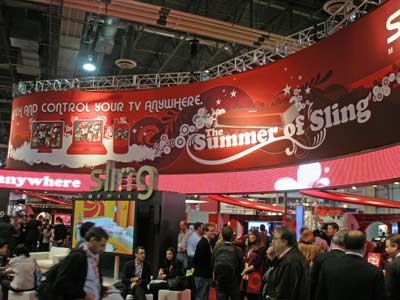 The SlingCatcher includes both standard definition and high definition AV outputs to connect to a TV including HDMI, component, S-Video and composite video, as well as analog and digital audio.
In regards to network connectivity, the SlingCatcher features a standard Ethernet jack to connect to the home network either directly or via SlingLink powerline Ethernet adapters. In addition, Sling Media will sell a wireless USB adapter called SlingLink Wireless for $49.99, which can also be used to create the network connection.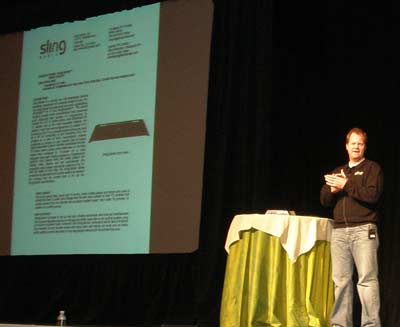 Sling Media's Brian Jaquet showing the new SlingCatcher at Cherry Picks at the Wynn Hotel at 2008 CES



In this podcast with Sling Media's Brian Jaquet, learn more about the SlingBox, the new SlingCatcher and the new product called SlingBox Pro-HD to be released in Q3.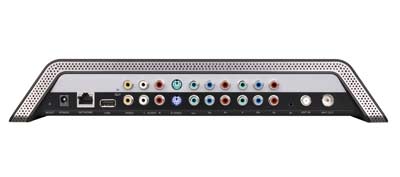 Back of the SlingBox Pro-HD



And, as mentioned, hear how Lev Gonick used his SlingBox.

January 6, 2008

7,040 KB

7:30



Listen to this podcast

---
Top of Page
Back to CES 2008 News
Back to Product Reviews
---