Connie Atkins is the Executive Director of the Consortium of African American Organizations (CAAO). CAAO is an umbrella group of over 25 African American business and tech organizations representing almost 10,000 members.
CAAO offers an extensive series of programs for its members. Among them is the famous annual auction where the community can bid on time with executives and CEOs of the major institutions in town.
The 2006 Auction includes time with Cavs owner Dan Gilbert, Paul Clark of National City Bank, Henry Meyer, CEO of Key Bank, Cavs guard Eric Snow, the Rock Hall's Terry Stewart and many more.
In this interview, Connie explains CAAO - its history and mission - and why it is needed in the community. She tells how black people were "trained in the 60s not to trust each other" and how CAAO is working to change that.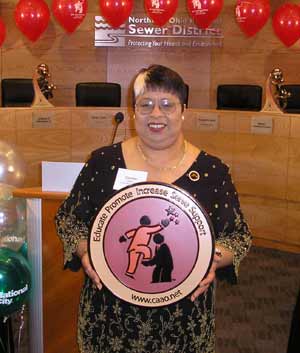 Connie Atkins at CAAO's
5th Anniversary Celebration



Learn more about CAAO

May 8, 2006 Interview

12,150 KB

12:57



Listen to this interview